Tenerife Weather in October - Is It Still Hot?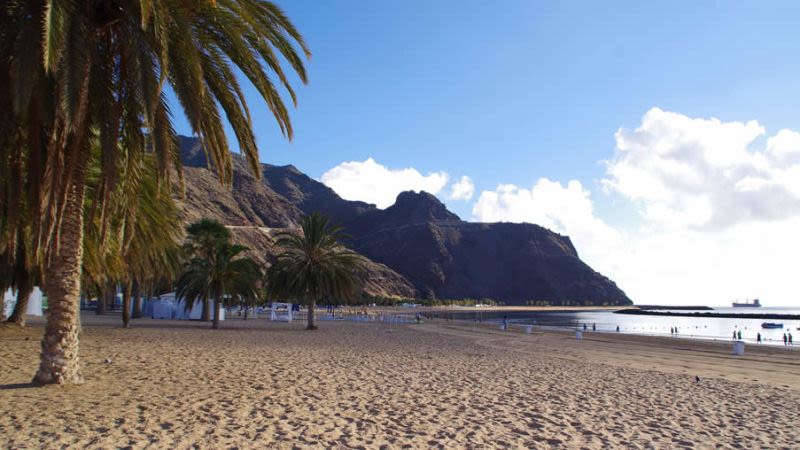 October is still a beach month in Tenerife, especially in the south of the island.
Although temperatures start to drop and the chances of rain increase towards the end of the month, the sea is still at its warmest and the midday sun is perfect for lounging on the beach.
If during the hot summer months we prefer the cooler north of the island, come October we tend to opt for a holiday in Tenerife South, where the temperatures are still in summer mode.
If you've never been visited Tenerife in autumn before, you may be wondering how is the weather and if it's still hot enough for sunbathing in October.
Weather in Tenerife in October
Unless it's half term, the month of October is a perfect time to visit Tenerife, as the island quiets down for a bit after the crazy summer months.
The island gets busy again during the half-term holiday when families from the UK make their way to the Canaries for a well deserved sunny break.
The weather in Tenerife in October is still warm enough for sunbathing and swimming in the south, so there's no need to leave your swimsuit at home.
Sun cream with 30 or 50 SPF is mandatory as well, since the sun continues to burn during the day and you will regret not using sun cream, even when if it's cloudy.
The weather in Puerto de la Cruz starts to cool down faster than in the south, but the weather is still pleasant and many people actually prefer it to the blazing sun in the south. Although you will probably need a cardigan at night when in Puerto de la Cruz in October, during the daytime the temperatures will still be in the mid 20s°C, so a T-shirt and shorts will be all you need during the day.
Tenerife South in October
Tenerife South in October is a bit quieter than in summer, but there is still plenty going on. The good thing about Tenerife is the fact that the weather is pretty much nice all year round, which means that the tourist season here never ends. But there are different types of tourists visiting at different times of the year. October is one of the more chilled and relaxed months, up until the week when families with children on half term holidays arrive.
Which resort to choose in October?
In October we prefer the weather and atmosphere in Playa San Juan or Puerto de Santiago over the more popular resorts like Playa de las Americas or Costa Adeje.
You can still go to pretty much any beach in Tenerife South and it will be absolutely perfect for swimming. We love Playa Troya and Playa del Duque, as they are not as packed in October like they are in summer.
Depending on where you are from originally, the weather in Tenerife South in October will probably seem like summer back home or even better, since you can sunbathe almost every day, the ocean is perfect for swimming and the days are still long and hot.
Average temperature in Tenerife in October
Temperatures in October in Tenerife are still what most people would consider as beach appropriate. The days are warm and sunny, although on some nights towards the end of the month you might need to take a cardigan with you.
Average high temperature: 26.8°C (80.2°F)
Average low temperature: 20°C (68°F)
Daily mean temperature: 23.4°C (71°F)
In Tenerife South the daily mean temperature is 23.4°C in October, which is calculated as a mean between the average high temperature of 26.8°C and the average low of 20°C.
Record low & record high temperatures
The highest temperature ever recorded in Tenerife in October (at Tenerife South Airport station) was 37°C and the lowest temperature was 14.6°C.
Rainfall
Average rainfall: 12 mm
Average rainy days: 2
From an average of 1 rainy days in September in Tenerife, this number rises to 2 rainy days in October for the south and up to 4 to 7 wet days in the north of Tenerife and other parts of the island, meaning that it's starting to look a bit like autumn, at least in the northern region.
October is usually a month of light rain or drizzle, not big storms or huge rainfalls. The south is still pretty much sheltered from the rain in October, although you might see the odd rainy day even there.
Sunshine hours
Monthly sunshine hours in October: 222
Daily average sunshine hours: 7
UV index: 7
Tenerife gets an average of 7 hours/day of sunshine in October.
The days are getting shorter, but there's still enough sunshine left for you to get your daily portion of vitamin D.
The UV index is still high in October, situated at a 7 on a scale that goes up to 11 as max. You should still use a sun lotion with a high SPF if you want to protect your skin, or simply avoid being in the sun between noon and 4 pm.
Sea temperature in October in Tenerife South

Average water temperature in October in Playa de Las Americas: 23.6°C / 74.5°F
The sea around Tenerife is still warm and perfect for swimming and many people actually consider that in October the water is at its warmest.
In fact, the ocean in October is usually at its highest temperature, very similar to how it is in September as well.
What's Tenerife like in October
October weather averages for different parts of Tenerife
As you can see from the numbers below, October is still a hot month almost all over the island. Some parts of Tenerife have more precipitation than others, which is the main characteristic that creates the difference between the climate in the south and the one in the north.
October Weather
Average
High °C (°F)
Average
Low °C (°F)
Rain
mm (inches)
Rain
Days
Average
Sun Hours
Puerto de la Cruz
26.3 (79.3)
20.2 (68.4)
32 (1.26)
7
7
Tenerife North Airport (SC La Laguna)
22.5 (72.5)
15.2 (59.4)
47 (1.85)
7
6
Izana (Teide)
14.3 (57.7)
6.9 (44.4)
37 (1.46)
4
8
Santa Cruz de Tenerife
26.3 (79.3)
20.3 (68.5)
19 (0.74)
6
7
Guimar
26.2 (79.2)
18.1 (64.6)
46 (1.81)
7
7
Tenerife South Airport
26.8 (80.2)
20 (68)
12 (0.47)
2
6
Los Cristianos
26.9 (80.4)
20 (68)
15 (0.6)
3
7
Costa Adeje (Playa de Las Americas)
26.9 (80.4)
20 (68)
15 (0.6)
3
7
Garachico
22 (71.6)
15 (59)
47 (1.85)
7
7
Things to do in October
Since October is a bit cooler than the previous summer months, the weather is perfect for walks and hikes, as it is easier to endure the sun during the day.
Palmetum de Santa Cruz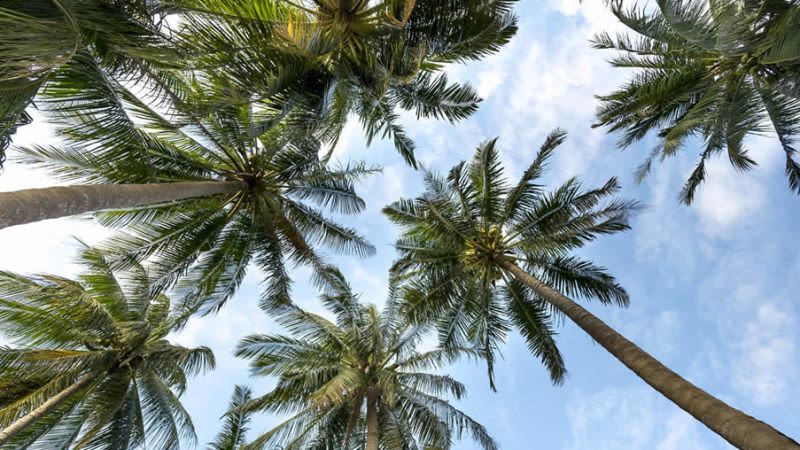 Ever wondered how many species of palm trees there are around the world?
You can visit the Palmetum in Santa Cruz de Tenerife and you will see an impressive collection of palm trees from all continents, while enjoying the beautiful views over the city and the Atlantic ocean.
Explore Tenerife's most charming little towns: Garachico & Icod de los Vinos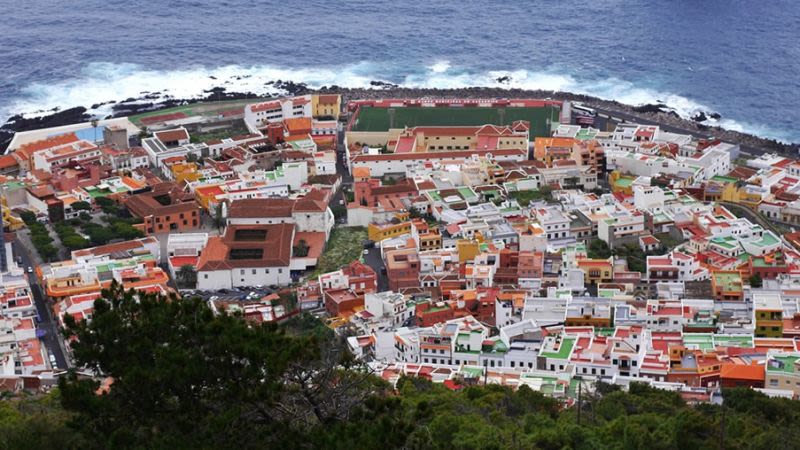 After the summer madness is over, it is a pleasure to walk around Garachico, taking in the amazing views. Stroll around town and admire the architecture, enjoy a fabulous ice cream (right across the street from the big parking lot and the Tourist Info Center), then go to Icod de los Vinos to see the magnificent Dragon Tree, Tenerife's pride and joy.
October is still warm enough to provide a pleasant walk and the weather up there is still in your favour. But you do need to check the forecast before heading out, in order to check for rain, even if it's sunny and bright in the south.
Events in October
Fiestas de Machado
Celebrated in the municipality of El Rosario, Tenerife, Fiestas de Machado is dedicated to Nuestra Senora del Rosario, patron saint of the village Machado.
FAQ about Tenerife in October
Is is still hot in Tenerife in October?
Yes, in October the weather is still mostly hot and perfect for sunbathing.
What is there to do in Tenerife in October?
Our top recommendations are: sunbathing, swimming and hiking, since the weather is perfect for long walks.
Is October a good time to visit Tenerife?
October is a good time to come to Tenerife if you're looking for a sunny place and a warm getaway. Half-term week is busy, but other than that October is a great month to visit Tenerife, especially the south of the island.