10 Best Things To Do in Arguineguin, Gran Canaria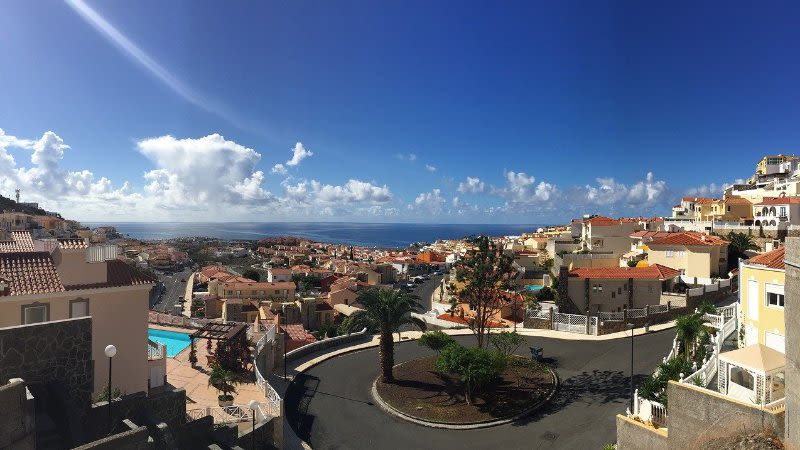 Read our travel guide for Arguineguín, if you are planning a holiday in this area of Gran Canaria. Arguineguín is an ideal destination for people who want a relaxing and quiet holiday, away from the noisy bars and clubs.
Arguineguín is one of the largest towns in the south of Gran Canaria, with a local feel and a lot quieter compared to the popular resorts of Maspalomas, Puerto Rico or Playa del Ingles.
Most of the places to stay for tourists are on the sea side of the GC-500 road (it's the main road that crosses through Arguineguín) and the rest of the town is actually the part where the residents live, since this is mostly a residential area, not so much a tourist area.
What to do in Arguineguín, Gran Canaria
Arguineguín can be a good base if you plan to explore more of Gran Canaria.
With easy access to the GC-1 Autopista, Arguineguín is a good place to stay if you want to go out to explore all day long, and then return home to a quiet town, where you can rest and relax.
1. Playa Las Marañuelas
This is a beautiful beach, where you can admire lovely sunsets.
There are no showers on the beach and although there is parking along the entire promenade, it is not easy to find a place. The sea is usually quite calm and good for swimming.
2. Playa Arguineguín
A beach with dark sand and pebbles, a lot quieter compared to other beaches in the area.
It is close to the location of the Arguineguín market.
Playa Arguineguín is sheltered and with calm waters, good families with kids. From there you can admire beautiful sunsets, and on days with high visibility, you can even see Mount Teide in Tenerife.
3. Boat trip to see the dolphins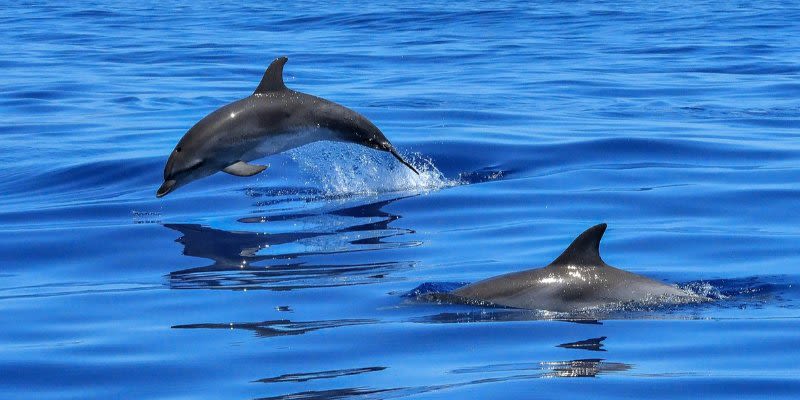 Climb aboard a spacious speedboat in Puerto Rico, Gran Canaria, and then head for the open ocean to look for dolphins, whales and other animals in their natural environment.
Break for a refreshing swim after approximately 1 hour.
Soft drinks included
Free cancellation up to 24 hours before activity starts
4. Playa Santa Agueda
Beautiful beach, clean and not very popular (although during some months, especially during summertime, it can get quite busy).
Despite the nearby cement factory, the place is a quiet and pleasant alternative to the most popular beaches. Free parking a few meters from the beach, but not always easy to find a place.
You also have a good restaurant right on the beach, so you can spend the entire day here since there's an option for drinks and lunch during your stay.
5. Arguineguin Market
The market in Arguineguin is happening each Tuesday and it's the typical market in the Canary Islands (if you've ever been to one before, you know what to expect).
It is actually the same vendors and stalls that travel all around the island on different days, so if you're staying in Arguineguin it's better to go here on Tuesday, as there's no reason to travel to some other town since you will most likely see the same stuff there are well.
Travel tips: Best time to visit Gran Canaria
6. Playa La Carrera
A small and undeveloped beach, not among the most popular beaches in Gran Canaria.
If you want a secluded place, away from the crowds, Playa La Carrera might be for you.
7. Relax for a day at Anfi beach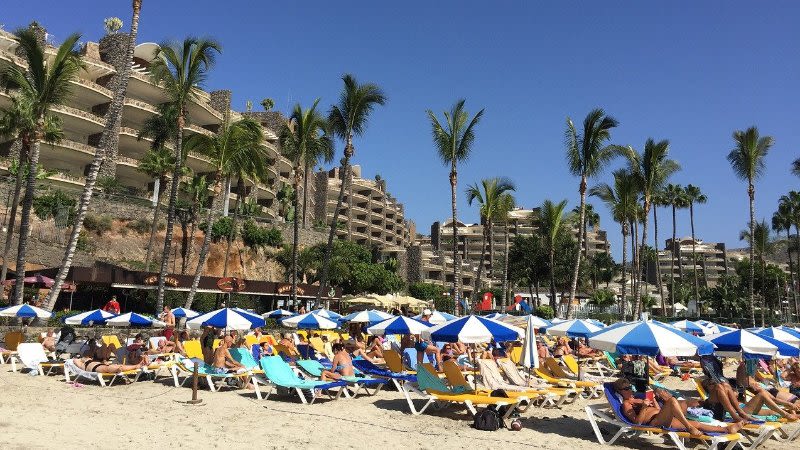 From Arguineguin, it's easy to get to Anfi, one of the best beaches in Gran Canaria, extremely popular and extremely beautiful (it's popular for a very good reason).
Here you'll find all the amenities of an urban beach: sun loungers, umbrellas, showers, lifeguard on site. It's a really popular beach in the south of Gran Canaria, with clear water which is ideal for swimming.
8. Walk to Patalavaca
Patalavaca is only a short stroll away, so you can simply walk there on a day during your stay.
Spend a day on the beach and try some of the many local bars and restaurants - what more can you wish for during a relaxing holiday in Gran Canaria?
Gran Canaria or Tenerife? Which island to choose?
9. Go to the amazing Maspalomas Dunes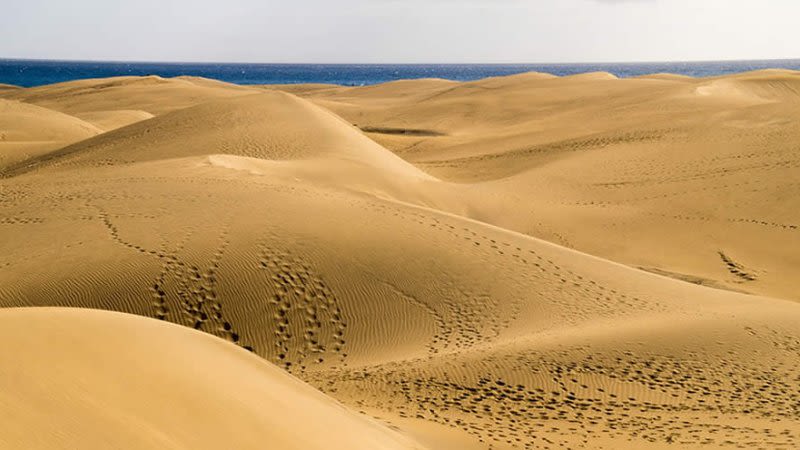 For us, no visit to Gran Canaria would be complete without a day spend exploring the Maspalomas Dunes. This is an iconic spot in Gran Canaria and you'll even see the dunes on many of the postcards picturing the island.
It's one of the amazing landscapes in the Canary Islands, similar only to the Corralejo dunes in Fuerteventura.
Walk on the dunes, spend some time on Maspalomas beach and watch the sunset from the lighthouse, followed by a dinner at one of the restaurants on the promenade. Sound like a pretty full and perfect day to spend in Gran Canaria! Plus, the dunes are only a short drive away (or a short trip with one of the local buses).
10. Spend a day in Puerto Rico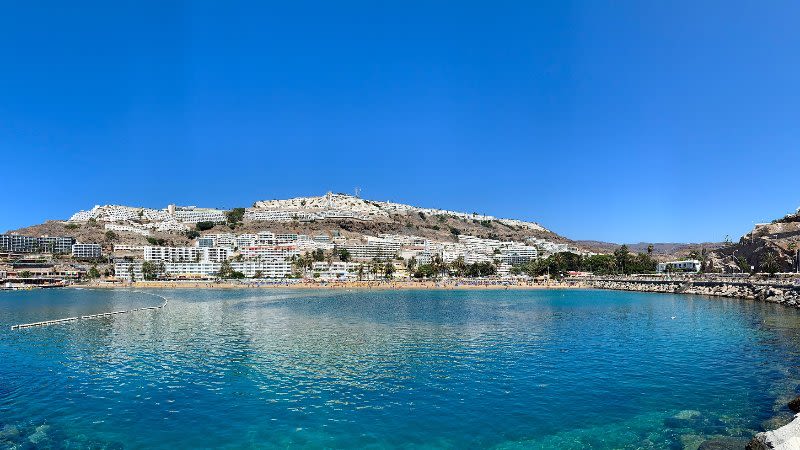 Puerto Rico is another gem in the south of Gran Canaria and home to one of the best beaches on the island.
It's easy to get to Puerto Rico from Arguineguin by using public buses, or you can drive there if you decide to rent a car. Located only 6 km away, a ride there shouldn't take you more than 10 - 15 minutes each way.
Puerto Rico is lively and busy at most times of the year, so you'll find plenty of things to do in there, as well as many good restaurants and bars.