11 Best Things To Do in Arrecife - Discover Lanzarote's Capital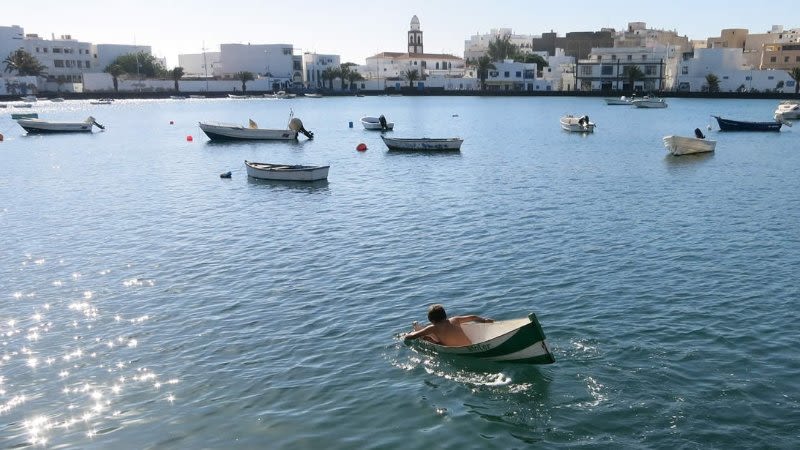 Arrecife is the capital of Lanzarote and you can easily spend at least half a day walking around the city. There are plenty of things to do in Arrecife, from going to local markets to visiting an art museum situated in an old stone fortress.
What to do in Arrecife - Lanzarote's capital
Arrecife is not only the capital of Lanzarote but also the island's largest city, at around 57,000 residents.
How to get to Arrecife
If you have a rental car you can drive here but keep in mind that the traffic in Arrecife can sometimes be crazy and it's hard to find a parking place. So look out for the paid parkings around Charco San Gines if you want to be close to everything.
Coming to Arrecife by bus is another easy and handy option. Since this is the capital of Lanzarote there are direct buses from most places on the island.
Also, there's always the option to walk to Arrecife if you're staying either in Puerto del Carmen or Costa Teguise, but you'll probably be tired by the time you arrive to town.
1. Spend the morning at Arrecife Handicraft Market
The market in Arrecife is held every Saturday and here you can find everything from local food to souvenirs.
It's smaller than the market in Teguise, but it's less crowded also. Parking is still difficult, since the city has lots of narrow streets and you will have to find a paid parking place for 2-3 euros.
Days: Saturday
Location of the market: in the old quarter of the city - around El Charco and the Church of San Gines
Market hours: 09:00 - 14:00
2. Visit Castillo de San Gabriel (Castle of Saint Gabriel)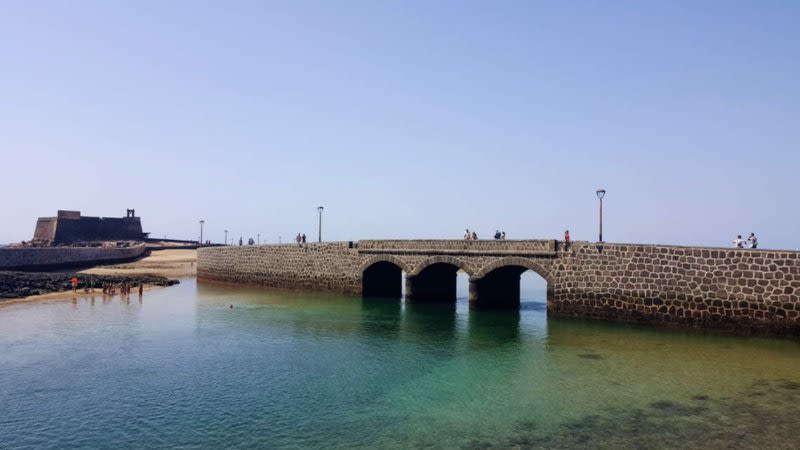 Castillo de San Gabriel was originally built as a wooden fortress and was then rebuilt as a stone castle, after pirates had burnt it down.
It is located on an island called Islet of the English and it will offer you a gorgeous view over the Atlantic. The waters surrounding it are of turquoise color, very calm and shallow, especially during low tide.
The walk around Castillo de San Gabriel is very pleasant and you can admire the place and the views. Also, if you wish, you can visit the Museum of History for Arrecife, which is hosted inside the fortress.
3. Castillo de San Jose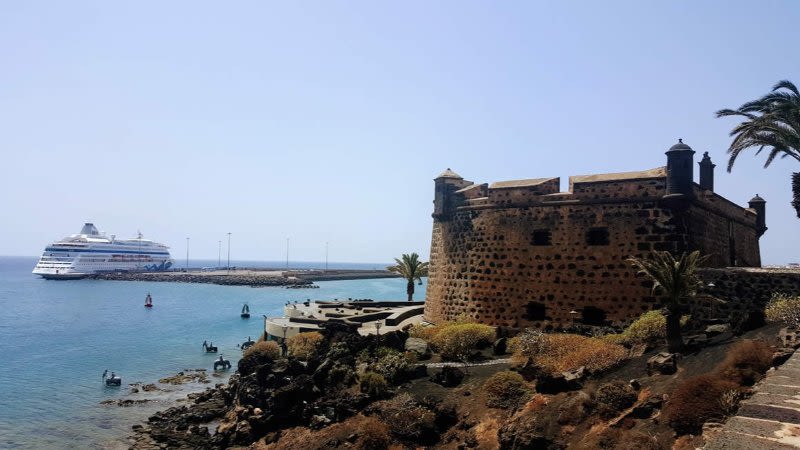 A visit at the Museo Internacional de Arte Contemporáneo, MIAC-Castillo de San José is a must if you have a passion for art.
The museum is the result of a collaboration between the Cabildo and Cesar Manrique, so you will be following in his footsteps here.
A complete visit takes around 1 hour. You will certainly enjoy also the gardens and the top terrace, with amazing sea views.
Castillo de San Jose is actually a bit outside of city center, but even though you don't plan to visit the museum inside, you should still go for the views.
4. Walk around Charco san Gines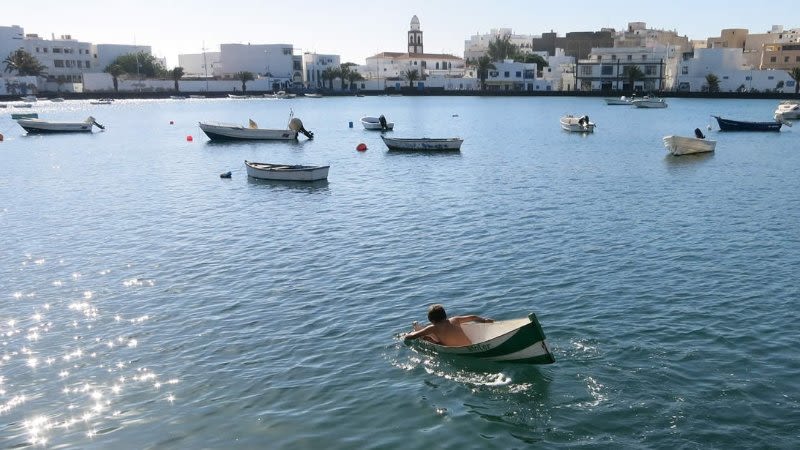 Charco San Gines is a lagoon of natural sea water, situated right in the heart of Arrecife. The area has a lovely vibe, with old buildings and a lot of fishing boats. There are some restaurants and cafes around Charco san Gines, or you can walk on the palm tree promenade, that will take you towards Castillo de San Gabriel.
You could also stop for a visit at the Church of San Gines while in the area.
5. Walk around the pedestrian street and stop for a cup of coffee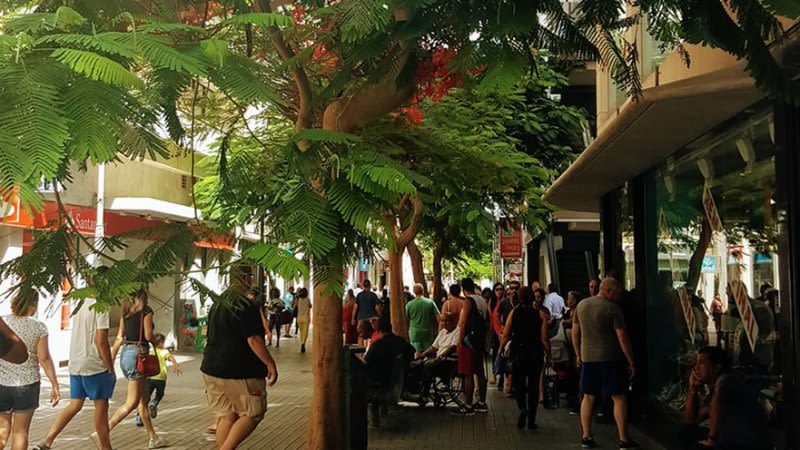 Arrecife is an old town and the pedestrian street in the center is quite lovely, full of small shops and cafes. You can join the locals and order a cafe and churros, for a well deserved break. If you love the Spanish lifestyle, laid back and relaxed, then a walk around the center and Charco san Gines is what you need. This is one of the best things to do in Arrecife, as it will give you the chance to sample the local lifestyle.
6. Go shopping at Centro Comercial Marina Lanzarote
If you want to do some shopping, then the Centro Comercial Marina Lanzarote is the best place you can come. You will find some local brands and also big international brands, a Hiperdino, rental car offices and also a food court.
Address: Avda. Olof Palme s/n 35500 Arrecife
7. The shipwreck in Arrecife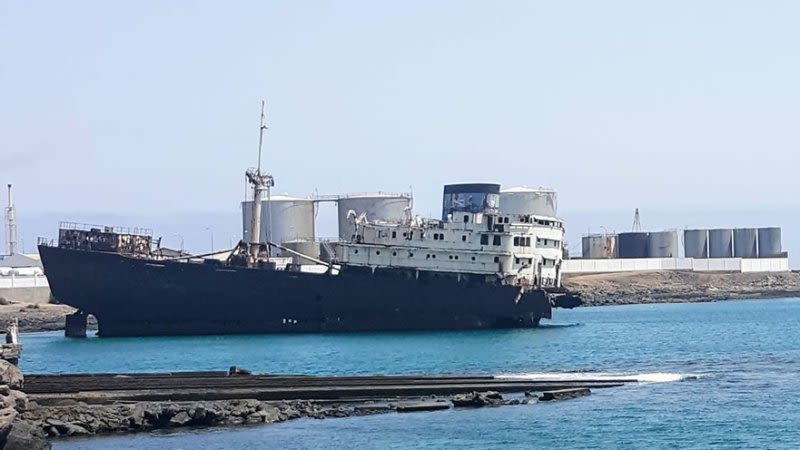 If you drive on the old road by the port Muelle de Los Marmoles, you will be able to see the remainders of a ship that was built in Dundee, Scotland in 1954. The ship was called Temple Hall when it was first launched, but it later changed owners and was renamed Telamon.
Many tourists come here just for the photos and you can easily enter by car in the industrial marina, in order to take better photos of the shipwreck.
You could also walk here, but it's not really worth the effort to walk all the way here just to see the ship. But if you happen to be in the area, especially by car, and you can spare a few minutes to make a detour, you can stop here for a few photos maybe.
8. Playa del Reducto in Arrecife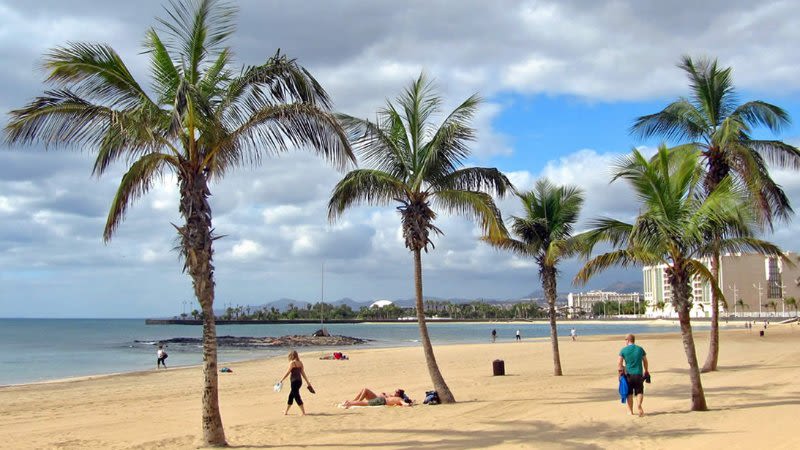 Playa del Reducto is the main beach in Arrecife, with golden sand and palm trees. The water here is very calm and good for swimming, since the beach is protected by natural reefs.
After a few hours of walking through the town streets you can take half a day to relax on this beautiful beach while enjoying the view and the change of scenery from your usual beach in the resort.
9. Arrecife carnival
Every year, sometimes between the months of February and March, there's a carnival in Arrecife and the entire town is celebrating.
You can find in our dedicated article more info about the next edition of the Arrecife Carnival, including the dates, theme and other important information.
10. Have a coffee or a cocktail in the top floor restaurant of Arrecife Gran Hotel
The Arrecife Gran Hotel is the tallest building in Arrecife, and also the tallest in all of Lanzarote.
It was built before Cesar Manrique put in place the height rule regarding new constructions, which says that no building should be so tall that it obstructs the views of other building and becomes an eye sore for visitors.
The restaurant on the top floor offers amazing views though, so if you come to visit Lanzarote you should go up there to have at least some cocktails, if not a proper lunch. The restaurant offers a gorgeous view of Playa del Reducto, especially during sunset, so it's a nice place to visit for a romantic date.
11. Marina Lanzarote
This is a new and modern marina in Arrecife, which has a few shops and restaurants, where you can take a break if you've walked here from town.
This stylish marina is quiet on some days and it usually comes to life when the big cruise ships arrive to port. On the rest of the days you can walk on the waterfront and admire the beautiful yachts, do some relaxed shopping and maybe enjoy a drink at sunset, taking in the view.