What's El Medano (Tenerife) like? - 5 Best things to do & Events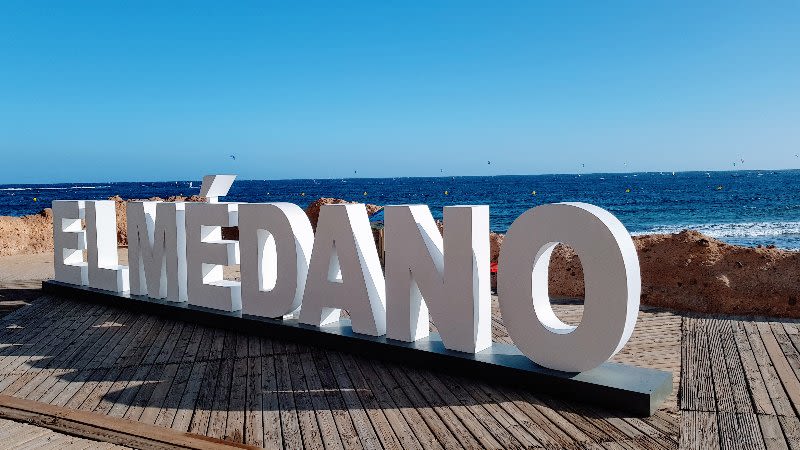 El Medano is one Tenerife's most chilled and laid back resorts, popular among German tourists and surfers.
El Medano is located very close to Tenerife Sur Airport and it's a good base also for travelers who want to explore more areas of Tenerife.
Where is El Medano, Tenerife
Located in the south part of the island of Tenerife
El Medano is part of the municipality of Granadilla de Abona
Closest airport: Tenerife South Airport (Reina Sofia TFS) is located only 7 km away by car
There is no direct bus between Tenerife South Airport and El Medano, so you would need to change buses in San Isidro. We would advise taking a taxi instead (€12 - €15 each way) or renting a car in order to drive around Tenerife during your stay.
What is El Medano like?
El Medano has a more chilled vibe compared to other resorts from the South of the island, but the good thing is that due to its position on the island, it is easy to explore in every direction, either by rental car or by using the public buses.
If you have hire a car, from El Medano you have easy access to TF-1, which means that you can explore further south towards Los Cristianos, Playa de Las Americas and Costa Adeje or you can go towards Santa Cruz or Puerto de la Cruz using just the motorway.
What to do in El Medano
El Medano is the ideal place to stay in Tenerife if you're into kite surfing and water sports in general. This part of the island is popular with surfers and there are many surfing schools in the area.
1. Windsurfing in El Medano
During the summer months, the trade winds are a constant presence in El Medano, which means the place is a true paradise for kite surfers and surfers. El Medano has ample beaches, which means there is room for everyone, including people who just want to chill in the sun.
See more: How windy is Tenerife?
2. Relax on the beach in El Medano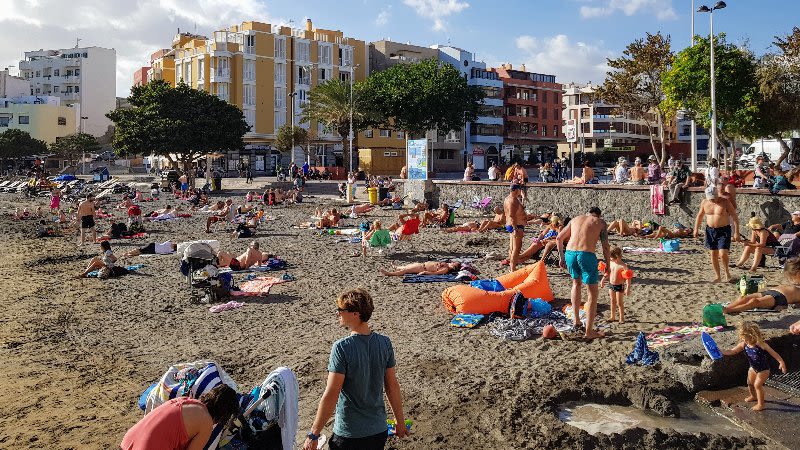 From El Medano you have easy access to several great beaches, some of the largest natural beaches in Tenerife.
The small beach near Hotel Medano is always full and busy, but if you walk for just a few minutes you can spend the day on Playa Leocadio Machado. Afterward, you have Playa Montana Roja, situated close to Montana Roja as the name implies.
3. Playa La Tejita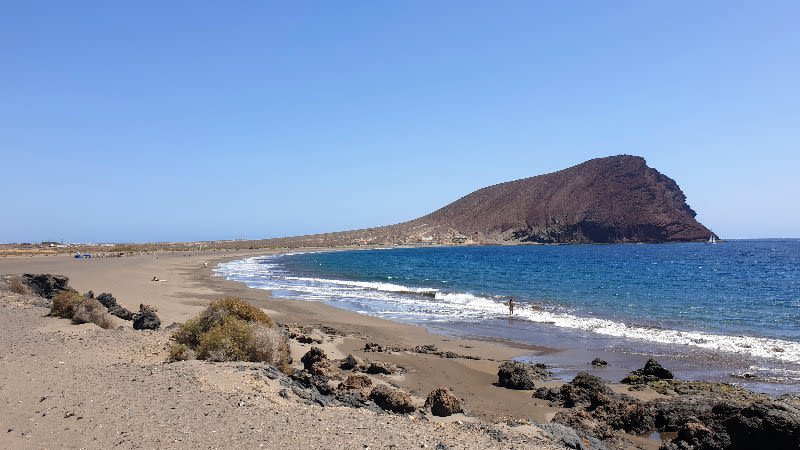 A bit further away from El Medano, you have Playa La Tejita, which is a beautiful natural beach with views towards Montana Roja as well.
So if you want, you can explore every day along the coastline and spend your time in a different setting.
4. El Medano Market
Every Saturday, from 9 am to 2 pm in the square near the beach
Every Saturday morning the plaza close to the beach is filled with stalls that sell everything from souvenirs to handmade objects and also food items. The scene gets really busy and some people travel from other parts of the island to come to El Medano market.
5. Montana Roja
The volcano of Montana Roja changed and defined the present coast. This volcano owes its reddish colour to a process of oxidation produced by the air in the materials that were expulsed from its entrails thousands of years ago. The continuous arrival of the sands created the fields of current medanos, as well as an amazing cove that you can enjoy today. All this natural space is a protected area, classified as a Special Nature Reserve.
Events and fiestas in El Medano
If you want to visit El Medano during the winter months, don't miss the chance to take part in the celebration of the carnival.
Although it's a newer event compared to the big carnival in Santa Cruz, it has a more authentic feel because it's mostly attended by locals.
Check the dedicated page to El Medano carnival to find out the dates for the next edition.