Best Things To Do In La Orotava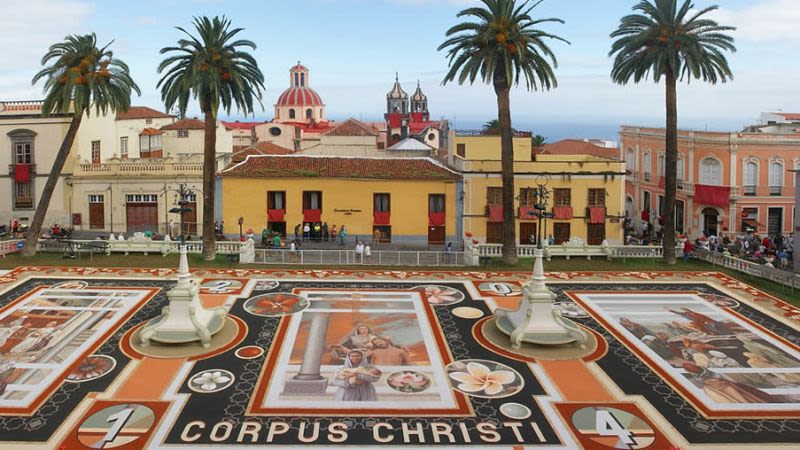 Almost every time he have visited La Orotava up until now it has been pouring rain, but even so, we loved discovering the town and just walking up and down on its narrow streets.
How to get to La Orotava
La Orotava is a town in the northern part of Tenerife, close to Puerto de la Cruz and less than 30 km away from the capital of Santa Cruz de Tenerife (the TF-5 motorway passes through the northern part of the city).
We always rent a car for the duration of our stay whenever we are in Tenerife, so we always drove to La Orotava and we believe it's the fastest way to get there.
Otherwise, from Los Cristianos for example, you would have to take a bus either towards Puerto de la Cruz (line 343) or towards Santa Cruz (line 110) and change there for another bus line that goes to La Orotava. The journey will take at lest 2 hours one way with all the bus changing, so this means that if you're staying in the South on the island you will have to travel for around 4 hours in total to go visit La Orotava.
Best Things To Do In La Orotava
La Orotava is a place full of history and old buildings, so it's a beautiful place to just walk around and admire the architecture. We really admired the town each time we visited and for us it's like an open air museum, with all the beautiful houses and wooden balconies.
Casa de los Balcones - the most popular landmark in La Orotova
Address:

Calle San Francisco, 3, 38300 La Orotava, Santa Cruz de Tenerife, Spain

Hours: open daily from 8:30AM to 7PM
Many visitors come to La Orotava just to see the famous Casa de los Balcones.
If you come by car you have to know that parking may be difficult in the area, but there is a free parking for visitors right across the street from Casa de los Balcones.
The house is a historic landmark and was built in 1632. The house features wooden balconies specific to the Canarian architecture, which you can see in the interior courtyard, where you can enter for free (even if you don't pay to visit the inside of the house). Inside you can see several works by the artist Eladia Machado.
Eat at a guachinche in La Orotava
We always go to eat at guachinches in Tenerife whenever possible and this part of the island is filled with options.
In Orotava we can recommend Guachinche La Casona, where we had a full meal for two with water and a beer for the price of 16 Euros. The food was great, the service friendly and they also have a beautiful view.
Visit the Garden Hijuela del Botánico
This is a public garden with many species of trees and flowers from all over the world, not just the Canaries. It is free to visit and it's like a small botanical garden. It's lovely at every time of the year, even during the winter months, when we usually come to visit.
Hours to visit Jardin Hijuela del Botanico:
From Monday to Friday: 9 am to 6 pm
Saturdays, Sundays and Holidays (Festive Days): 10 am to 3 pm
Other points of interest - what to see in La Orotava
While walking through the city, you can look for these interesting places in La Orotava:
Town Hall (Ayuntmiento La Orotava)
Homenaje al Alfombrista (sculpture in La Orotava)
Plaza Patricio Garcia
Church of Our Lady of Conception
Museo Sacro El Tesoro De La Concepcion
Iglesia de San Juan Bautista
Victoria Garden
Jardínes del Marquesado de la Quinta Roja
Parque cultural Doña Chana
Iglesia de San Agustin
Latin American Craft Museum of Tenerife - MAIT (Museo de Artesanía Iberoamericana de Tenerife - MAIT)