17 Best Things To Do in Playa Blanca, Lanzarote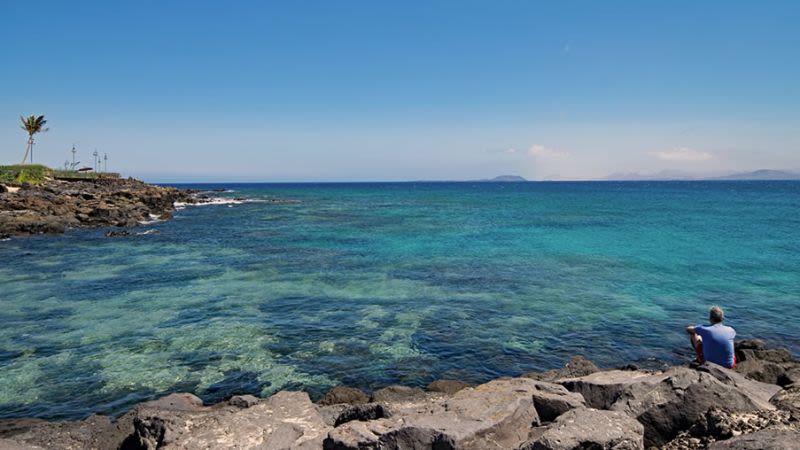 Playa Blanca is the southernmost resort in Lanzarote and it has grown quite a bit in the last few years, from the sleepy fishing village it once was. If you're planning to spend your holiday in Playa Blanca, you may be wondering what there is to do in the resort and what can you expect in terms of hotels, beaches, restaurants and entertainment.
Playa Blanca is quieter compared to Puerto del Carmen and even Costa Teguise, but it's an ideal place for a family holiday in Lanzarote. Here you have great beaches within walking distance, nice restaurants, a water park for kids and lots of opportunities for boat trips directly from Marina Rubicon.
1. Spend your day sunbathing on Playa Blanca beach
The resort of Playa Blanca has not one, but 3 beaches in total, all great for swimming and spending the day in the sun.
Playa Blanca beach, named just like the resort, is right in the center of town, close to all the bars and restaurants, so it's obviously very popular and gets busy quickly.
On Playa Blanca beach you will find all the normal amenities of an urban beach: sunbeds (around 10 Euros for 2 sunbeds for the day), shower and foot showers, toilets and a lifeguard on site.
Playa Blanca beach, also known as the White Beach, has been awarded the Blue Flag distinction and it's a really nice and clean beach, although a bit small compared to its big popularity.
2. Playa Dorada
Playa Dorada is a golden sand beach, staying true to its name which translates to Golden beach. This beach is located close to Marina Rubicon.
Playa Dorada beach is a wide and spacious beach, with plenty of sunbeds and the water is clear and calm, ideal for swimming and safe for children.
Very close to Playa Dorada you have 2 options for great hotels in Playa Blanca:
3. Playa Flamingo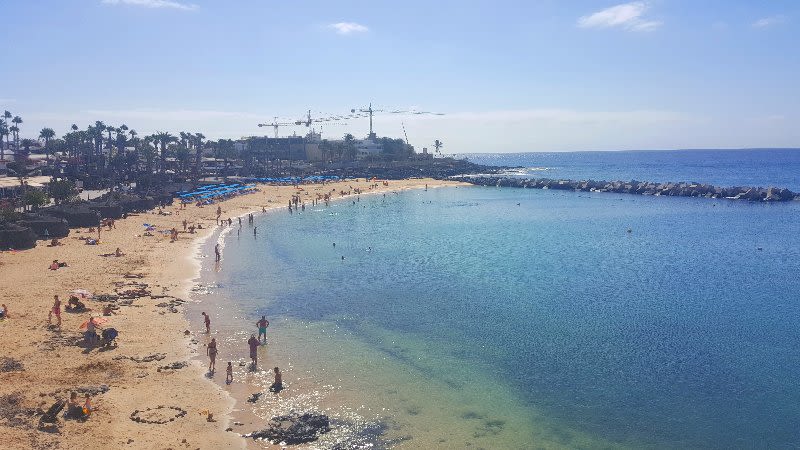 Playa Flamingo may well be the prettiest of all 3 beaches, but this is a personal opinion and you should explore all of them in order to make up your mind.
Playa Flamingo is further from the heart of the resort, but you still get restaurants and small shops to find something to eat and drink during the day.
This beach has all the amenities you would expect, from sunbeds to toilets and showers. It is a safe beach for children, with turquoise water, very calm and with no big waves or currents.
You have 2 great hotels close to Playa Flamingo beach:
4. Atlantico Museum - First underwater museum in Europe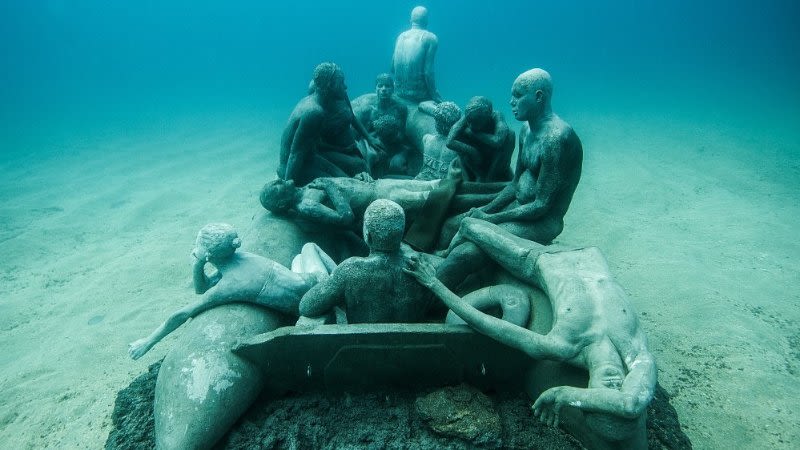 This may not be everyone's cup of tea, but Atlantico Museum is a unique attraction in Europe and situated right off the coast of Playa Blanca.
You can go underwater to see the beautiful statues, that have started to attract marine life and in doing so they've revived the ecosystem around this part of Lanzarote.
If you like diving, don't miss this experience in Playa Blanca!
5. Take long walks on Avenida Maritima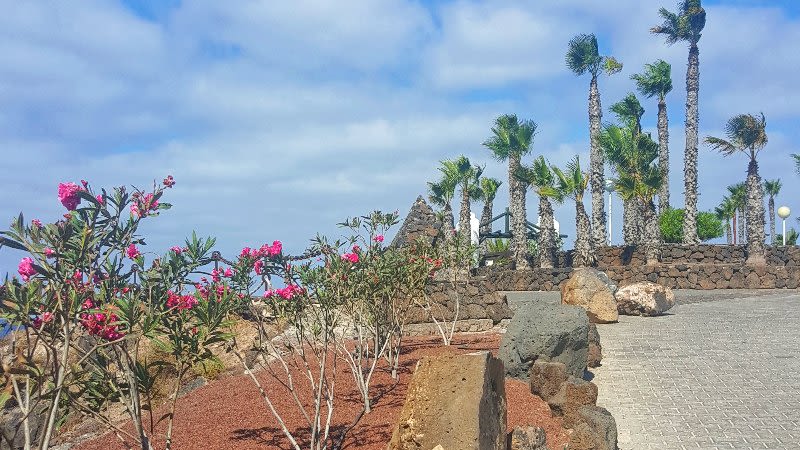 One of the best activities in Playa Blanca is to take longs walks along the coastline on the Paseo Maritimo, admiring the great ocean view. You could even walk all the way from Playa Flamingo to Playa de Montana Roja.
6. Playa de Montana Roja
This beach is further away from the center of the resort, so it's less popular and less crowded than the other 3 beaches mentioned before. This beach is great for people looking for a rather quiet place in Lanzarote, which is still part of a resort, so you do have quick access to restaurants and bars.
In fact, there are some good hotels close to the beach and a lot of private villas as well:
7. Playa Blanca Market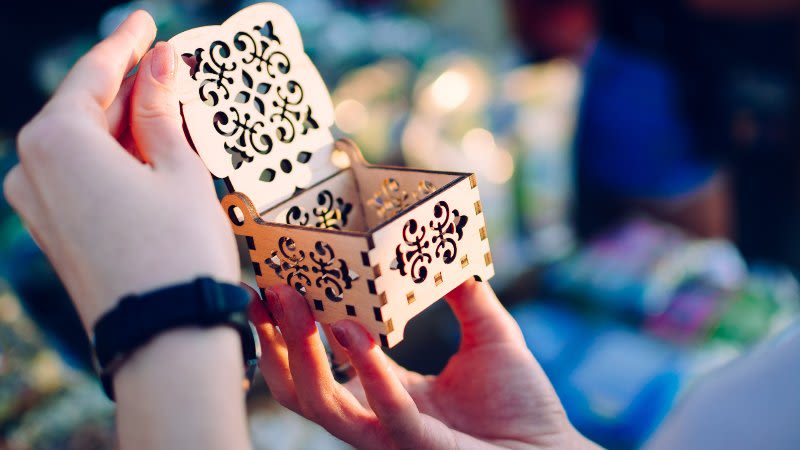 Playa Blanca Market happens twice a week, on Wednesdays and Saturdays.
Although not as large and busy as the market in Teguise, this event attracts people from other neighboring resorts such as Puerto del Carmen.
One or two hours is more than enough to see all that it's on for trade, but then you can spend another hour or so drinking a coffee while taking a break from all the souvenir shopping.
8. Papagayo Beaches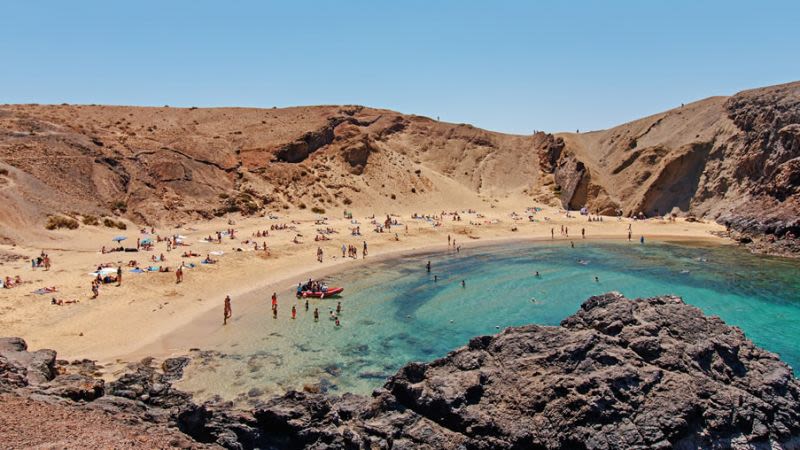 Playas de Papagayo may well be the best beaches in Lanzarote and a visit there is a MUST while in Lanzarote, especially if you are staying in Playa Blanca.
You can even walk from Playa Blanca to Papagayo beaches, but we wouldn't recommend it, especially if you've got children with you. There's nowhere to hide from the sun on the way and by the time you get there, you will most likely be very tired.
By car, it's just 10 minutes away and there you have a set of 5 amazing beaches, ideal for swimming. Just bring your own water and snacks with you, as there are no shops inside the natural park, but there is a restaurant overlooking the Papagayo beach, which has really beautiful views.
We absolutely recommend a visit to Papagayo beach, especially if you're staying in Playa Blanca, which is the closest resort. It's the best day trip from Playa Blanca if you wish to see picture-perfect beaches, with mesmerizing turquoise water.
9. Catamaran cruise to Papagayo beaches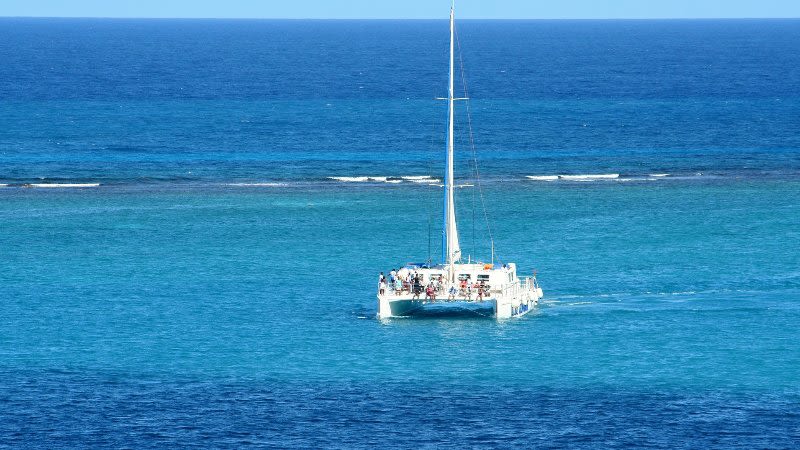 If you don't have a car rental and you don't feel tempted on walking that much either, the boat trip to Papagayo beaches may be exactly what you need.
So why not take a cruise to the Papagayo Beaches on a sailing catamaran? You will enjoy a free lunch, an unlimited bar and watersports activities. All equipment is provided.
Pickup included
Duration 4 hours
Lunch on board
Unlimited draft beer, sangria, soft drinks and water
Free cancellation up to 24 hours before the activity starts
10. Aqualava water park - a great day out for kids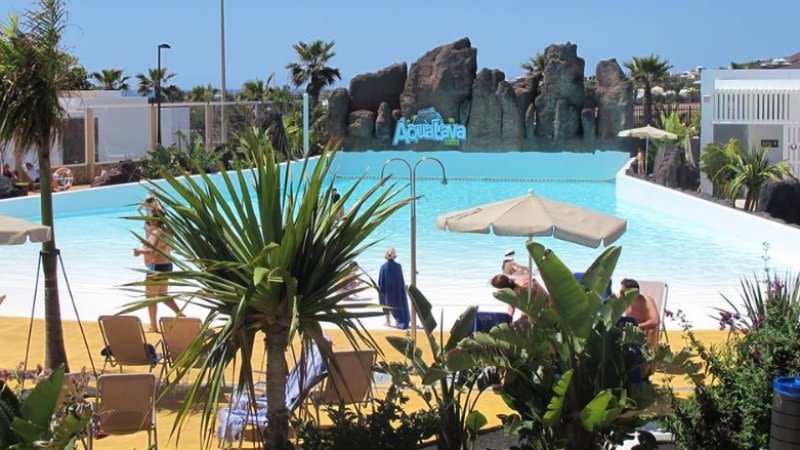 If you're looking for things to do in Lanzarote with kids, then a day out at the waterpark may be exactly what you need.
The park is not large, but it has enough slides and attractions to keep most kids happy.
11. Marina Rubicon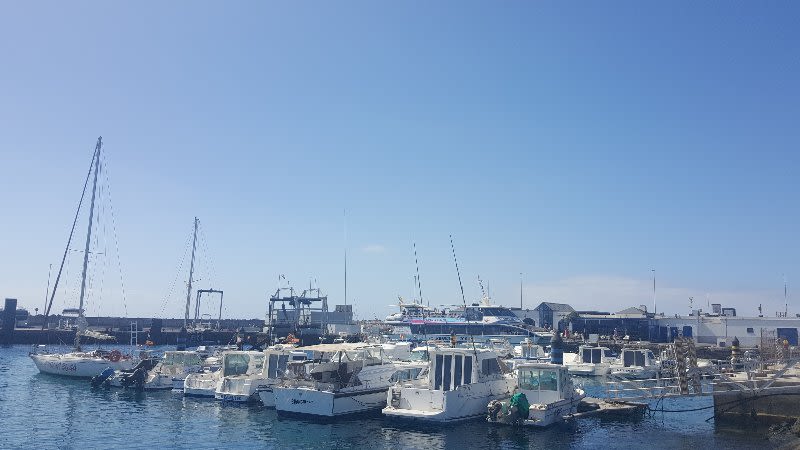 One of the best things to do in Playa Blanca is to just walk and take in the landscapes, the lovely weather and pleasant temperatures.
Marina Rubicon is just 15-20 minutes away from the town center and it's the place from where all the boat trips leave, either for snorkeling trips, or to go to Papagayo Playas, Fuerteventura or Los Lobos island.
You will find some nice cafes and restaurants to try out after looking at the boats and it's a nice walk to do in the mornings, before the sun starts to really burn, especially during the summer months.
12. Take the ferry to Corralejo, Fuerteventura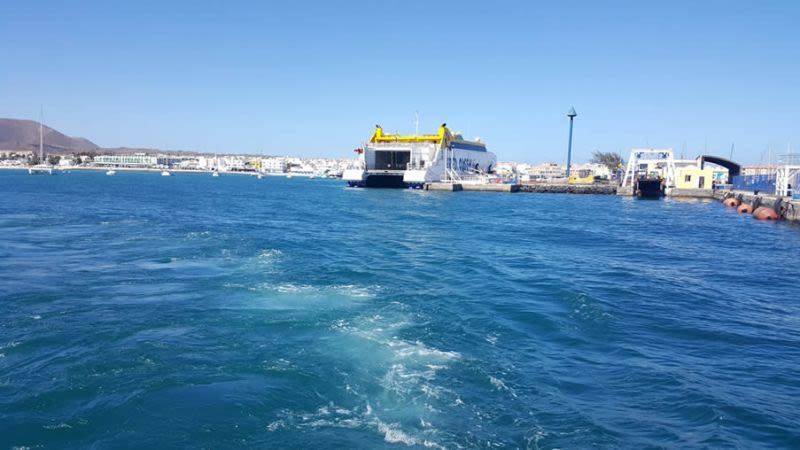 While in Lanzarote, why not explore a bit of the sister island Fuerteventura, especially since the two of them are so close to one another?
The trip on the ferry between Lanzarote and Fuerteventura takes around 45 minutes to one hour and you will soon arrive in Corralejo, the most popular resort in Fuerteventura.
There you can have an entire day to explore the town, so read our list of things to do in Corralejo. You can also take a short taxi trip to Corralejo Natural Park and explore the dunes and the endless beaches - Oliva beach and Flag beach, some of the most popular and best beaches in Fuerteventura.
Transport to the ferry and back to the pickup point
Roundtrip ferry ticket & 5 hours of free time
Free cancellation up to 24 hours before activity starts
13. Boat trip to Los Lobos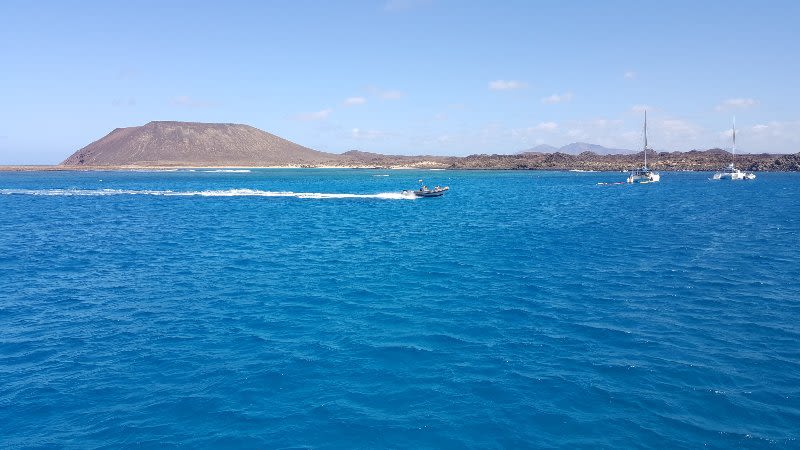 If you want to explore one of the smaller islands close to Lanzarote, then Los Lobos is the closest and the ships leave right from Marina Rubicon.
You can opt for a full day with a guide, where you will explore the small island and swim in the most pristine waters. The island of Los Lobos is not inhabited, so you will see a truly untouched landscape, with no asphalt roads or houses, just nature and small beaches, ideal for relaxation.
Pickup included
Duration 5 hours
Picnic lunch and drinks
Free cancellation up to 24 hours before the activity starts
14. Find the spoon in concrete
This is somewhat of an unusual attraction in Playa Blanca and it's more of a wild hunt started from holiday forums on Facebook.
There is a certain spoon stuck in concrete somewhere in Playa Blanca and people are walking about looking at the pavement trying to find it. It's sort of a challenge!
So if you see people looking down at their feet while walking along the promenade... now you know why. And maybe who knows... you will even find yourself! If you do, take a photo of it and post it on your dedicated Lanzarote Forum group on Facebook (you will find the link in the blue box below the article).
15. Los Charcones
This is a set of natural pools close to Playa Blanca, where you can go swimming and snorkeling.
However, you need to be careful as the landscape is rocky and not friendly for small children. Also, be careful at the tide level and the state of the ocean when you go there, because it's not advisable to get in the water when the ocean is rough and there are big waves. Otherwise, the landscape is nice and provides a pleasant walk on an exploration day.
16. Los Hervideros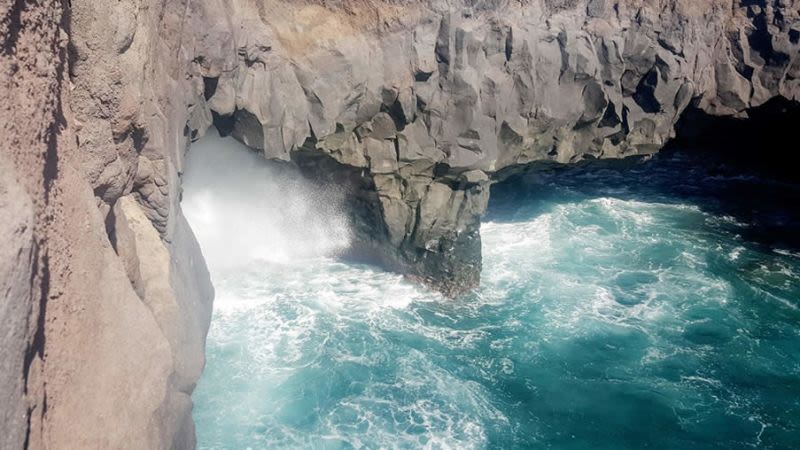 Less than 15 km from Playa Blanca you can find one of the most incredible place to see in Lanzarote: Los Hervideros.
Go there to see the force of the ocean and take your time to admire the landscape, while you get to see another side of Lanzarote.
17. Events in Playa Blanca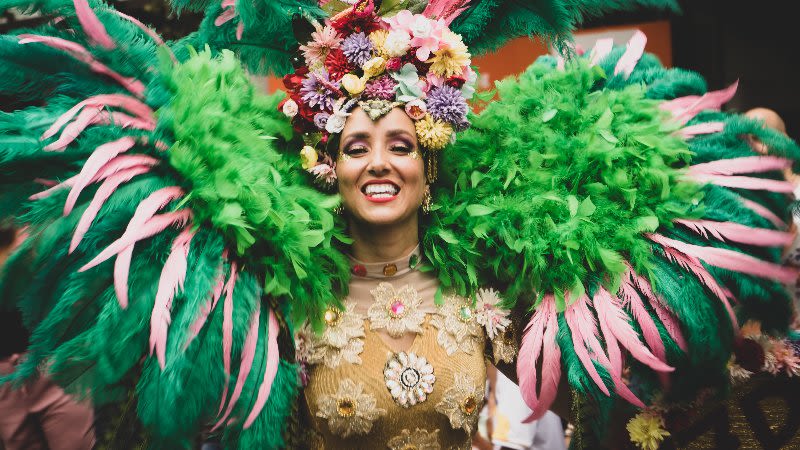 There are lots of things happening in Playa Blanca, from the annual carnival in February or March, to the cheese festival and also other types of concerts and events.
These provide a nice way to pass the time and it's a great way to know more about local life and their culture and traditions.
Playa Blanca is a great resort in Lanzarote, ideal for couples and families with kids, maybe not so much suited for people who want to party all night long. There