12 BEST Things To Do in Maspalomas, Gran Canaria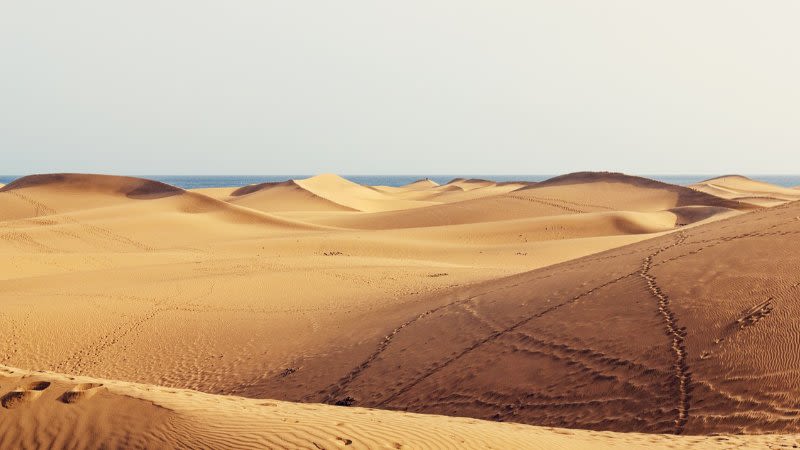 Maspalomas is one of Gran Canaria's most popular resorts, due to its all-year-round good weather, which makes it a good destination even for a winter holiday in the sun.
Maspalomas is located in the municipality of San Bartolome de Tirajana, one of the largest municipalities on the island, which occupies almost 22% of the surface of Gran Canaria.
In this area, you will see diverse landscapes that range from amazing sand dunes to high mountain peaks, and from fresh pine forests to the lovely blue of the Atlantic Ocean down by the coast.
Distance from Maspalomas to Gran Canaria Airport: 32 km / 20 miles
Public transport to/from the airport: buses no. 36, 66 and 90, depending on where you need to go. See more details on the dedicated page on the Gran Canaria Aiport website.
Annual weather in Maspalomas - you can read a detailed report for every month of the year
What to do in Maspalomas - Best places to visit and attractions
Maspalomas was the first tourist resort developed in Gran Canaria and it is still a popular destination for all types of travelers. Here you'll find amazing landscapes, a unique nature reserve, great bars and lots of options for day trips or night time entertainment.
1. Maspalomas dunes (Natural Dune Reserve of Maspalomas)
Whenever you look up pictures of Maspalomas, the first ones that pop up are the ones showcasing the beauty of the dunes and of the entire nature reserve, which will make you feel like you're in the middle of a desert.
You can admire the dunes from afar but we recommend exploring the area, as it's really beautiful. Be careful that the sand can be quite hot at noon, so we would advise visiting in the morning or in the evening.
2. Playa de Maspalomas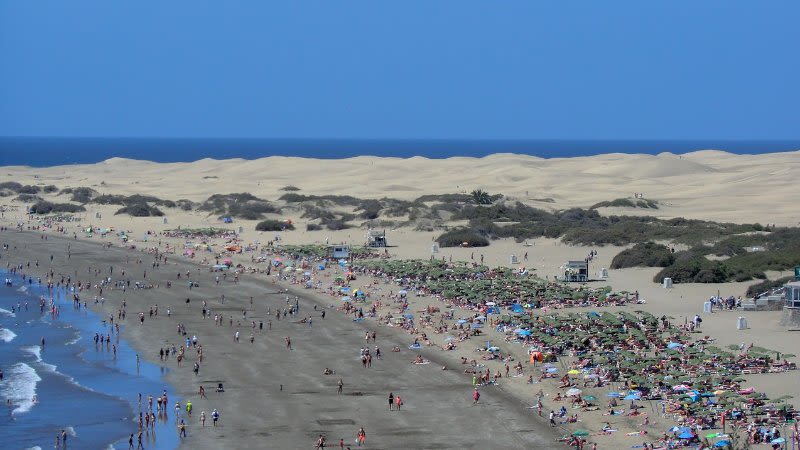 Once you've crossed the dunes you'll get to the Maspalomas beach, which is, of course, the most famous beach in this resort.
You'll be able to pay for sunbeds, umbrellas and you can sit and enjoy this lovely beach all day long in great comfort. Just be careful when you go in the water to swim, as the currents can be quite strong and the waves high, so take care.
There's a small bar that serves drinks and snacks and there's also some toilets which you can use for a small fee, around €0.50 each time.
3. Maspalomas Lighthouse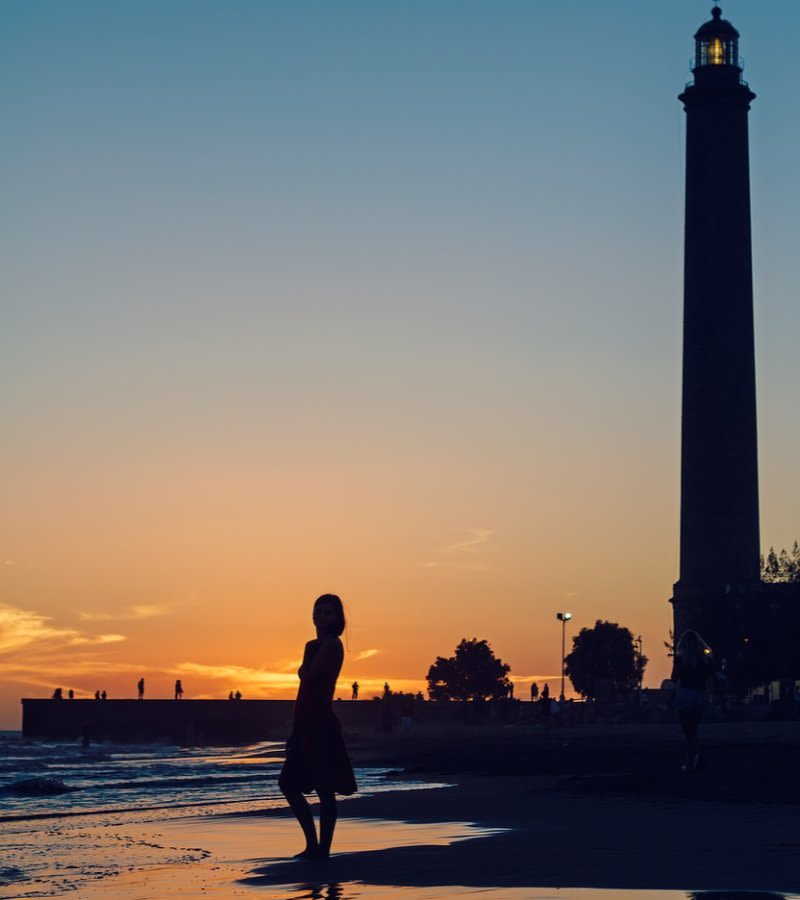 This place is really lovely in the evening when you can take a stroll on the beach and admire the sunset.
The lighthouse itself is quite impressive and there are lots of shops and also cafes and restaurants, so you can have drinks here admiring the view.
4. Palmitos Park
Palmitos Park is a zoological botanical park located 10 kilometers away from the Maspalomas Lighthouse.
Palmitos Park is a good option for families with kids visiting Maspalomas as it's close and provides a fun day out for both children and adults.
5. Sioux City Park Western Adventure
Did you know that you can enjoy a Western adventure right here in Gran Canaria? Travel back to the days of the Wild West, enter a replica town and watch cowboy demonstrations and gunfights. They also have some animals on site, like dwarf crocodiles and Jersey Giant chickens.
6. Maspalomas botanical park
This is a park in Maspalomas where you can see various types of plants, but unfortunately, not all of them are labeled.
Entrance to the Parque Botánico De Maspalomas is free.
If you want to escape the busy streets of the resort and walk in a green oasis, then this small park might be just the thing for you.
7. South urban park Maspalomas
Beautiful park if you want to walk or jog.
They have some great facilities for the children and it's a chilled place to enjoy some quiet time during your visit to Maspalomas. Inside the park, you will find a café and a small bar too, where you can have some drinks after a nice walk.
8. Dolphin Watching Cruise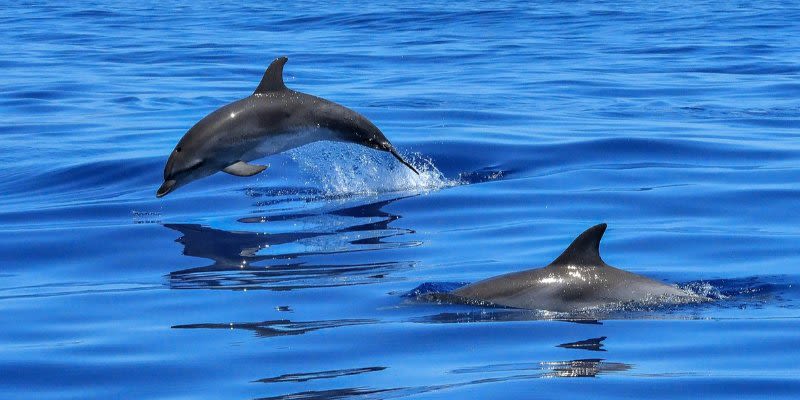 Doing a boat trip is one of the best things to do in Gran Canaria and you shouldn't miss this opportunity. The boat leaves from Puerto Rico, but the trip includes the transfer from your hotel in Mogan, Taurito, Playa del Inglés, Maspalomas, San Agustin, and Bahia Feliz.
Sail along the southwest coast of the island in search of marine animals like pilot whales, bottlenose dolphins, green turtles, and flying fish.
Pickup from Mogan, Taurito, Playa del Inglés, Maspalomas, San Agustin, and Bahia Feliz.
Duration 2 - 3 hours
Unlimited soft drinks
Free cancellation up to 24 hours before activity starts
9. Holiday World Maspalomas
This amusement park has been renovated and was recently reopened in August 2019, so it's one of the newer attractions in Maspalomas since all the place has been completely redone.
Besides the rides from both adults and children they also have bowling, an escape room and karaoke. Although the rides may not be that thrilling for adults, but the park itself is fun for kids, which is why it's also .
10. Port Mogàn Market Half-Day Tour from Maspalomas
The market in Puerto Mogan is the most famous market in the south of Gran Canaria and it draws in large crowds.
Puerto de Mogan gets very busy on market day and it can be very difficult to park (if you come by rental car), so the air-conditioned coach might be the best choice.
You'll have time to visit the market (where you can get some interesting souvenirs) and afterward we advise you to stroll through the town, which has some really lovely streets, with balconies decorated with colorful flowers.
11. Yumbo Centre
This is the epicenter of fun and nightlife in Maspalomas.
Yumbo Centre was opened in October 1982 and since then it's become the most popular shopping centre in Gran Canaria. The complex includes over 200 businesses, a park, green areas and the main plaza where all major events and parties like the Maspalomas Carnival and Gay Pride take place.
12. Maspalomas Golf
This is an 18-hole golf course covering a surface of 988-acres.
The golf course in Maspalomas is considered by many truly fantastic, as it's well maintained, the staff is nice and they also have a restaurant on location. All in all, what could be better than golfing under the Canaries sun, especially when it's the middle of winter and here in the south of Gran Canaria you are enjoying warm and sunny weather?