10 BEST Things To Do in Puerto de Mogan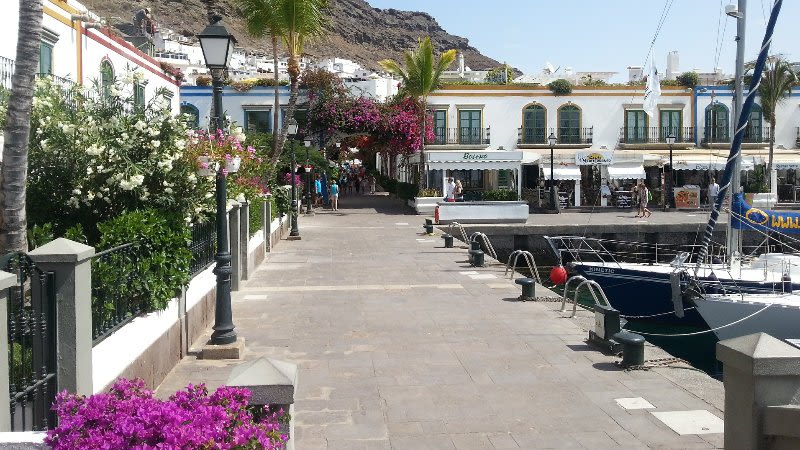 Puerto de Mogan is a fishing village situated in the municipality of Mogan, one of the sunniest parts of the island Gran Canaria, part of the Canary Islands. If you're visiting the island, you should not miss the chance of seeing this lovely place.
Puerto de Mogan has changed a lot over the years and from the sleepy village it used to be, it's grown into a charming place to stay in Gran Canaria, especially if you're looking for a relaxing and quiet holiday in the south of the island.
The place is also a preferred destination by mature couples, looking to escape the noisy resorts like Maspalomas or Puerto Rico.
What to do in Puerto de Mogan - Best places to visit and attractions
You'll find that Puerto de Mogan has a bit of everything for all types of travelers, from a beautiful beach to colorful streets and amazing mountainous landscapes, which can be easily accessed from town.
1. Mogan Beach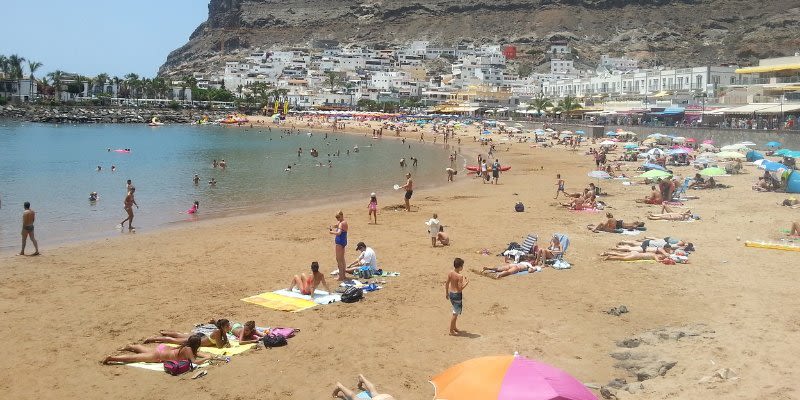 Playa Mogan is a small but beautiful public beach, where you can enjoy the gorgeous weather in the south of Gran Canaria.
With plenty of bars and cafes around the beach, you won't have to go far if you want to have lunch in the area. Sunbeds are €3.50 per day and you also have all the facilities typical for urban beaches in Spain.
Mogan beach can get crowded since it is so small compared to other beaches on the island, but this highly depends on the season when you decide to visit (it's quieter in spring in autumn, compared to summer or to hot winter days).
2. Mogan Marina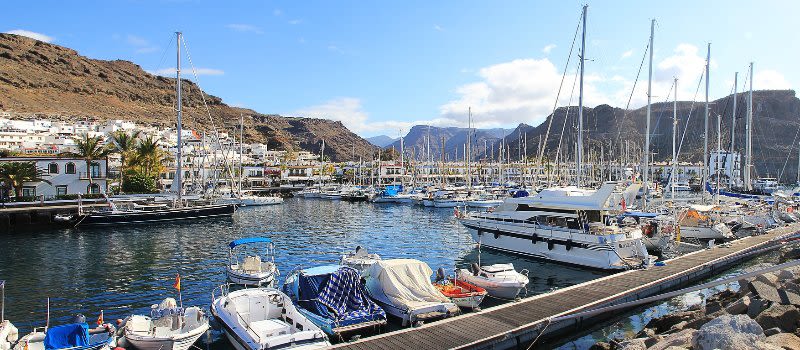 For many visitors, the marina in Puerto de Mogan is the town's main attraction.
We recommend a long walk so you can fully enjoy this scenic spot in Gran Canaria. The streets are really charming and quaint, with balconies adorned with colorful flowers, which will make a great background for holiday photos. In our opinion, Puerto de Mogan is one of the prettiest towns in Gran Canaria and even if you don't stay here during your trip, you should still come and visit for an afternoon.
3. The Friday Market
The famous Mogan Market, held every Friday and spread throughout the town.
There are many stalls, selling typical stuff for markets in the Canaries, like souvenirs, knock offs like watches and handbags, leather products and even aloe vera products. Since it is quite busy usually, be really careful with your belongings and keep your documents safe.
4. Submarine tour
Get into this submarine and discover all the charms of the seabed of Puerto de Mogán for 40 minutes. You will be able to see some shipwrecks and the wonderful marine fauna from its big windows.
Especially for the kids, this can be a really fun activity and it's a great way to spend the morning during your family holiday to Gran Canaria.
40-minute submarine tour & TV screens for every passenger to watch maneuvers
Free cancellation up to 24 hours before activity starts
5. Mirador Mogan
After all the eating and drinking during your visit to Mogan, you may want to do some exercise to make room for some more cocktails or beers. So in this case, our best recommendation would be to take the stairs that lead up to the Mirador Mogan, from where you can enjoy one of the best sunsets in Gran Canaria.
Just follow the signs through the city, make your way among the narrow streets which may seem like a labyrinth if you're not used to the town, and go up to enjoy the most beautiful view of the marina Puerto de Mogan.
6. Sail Boat Trip from Puerto de Mogán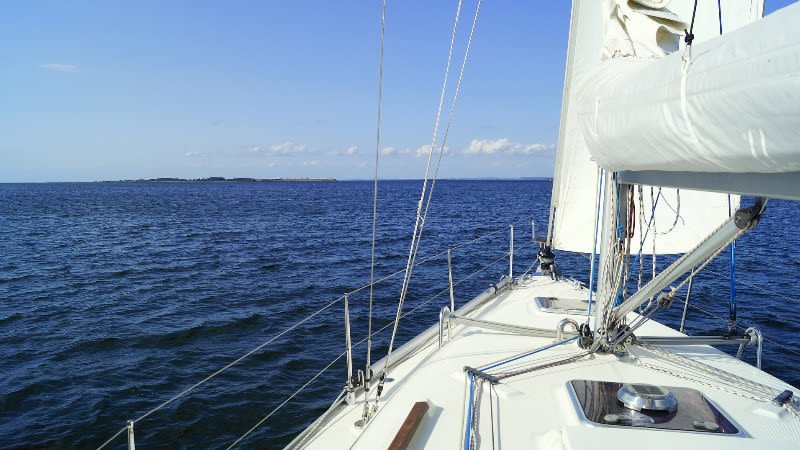 Become part of the crew on this beautiful sailing ship, which will take you from Puerto de Mogán along the southern coast of Gran Canaria on a memorable 5-hour trip. Food and drinks are included.
7. Church of San Antonio de Padua
This church is under the patronage of San Antonio de Padua and was built around the year 1813. A local man who had emigrated from Tejeda to Havana (Cuba) financed the project at the time, although he never got to see it finished.
8. The burnt mill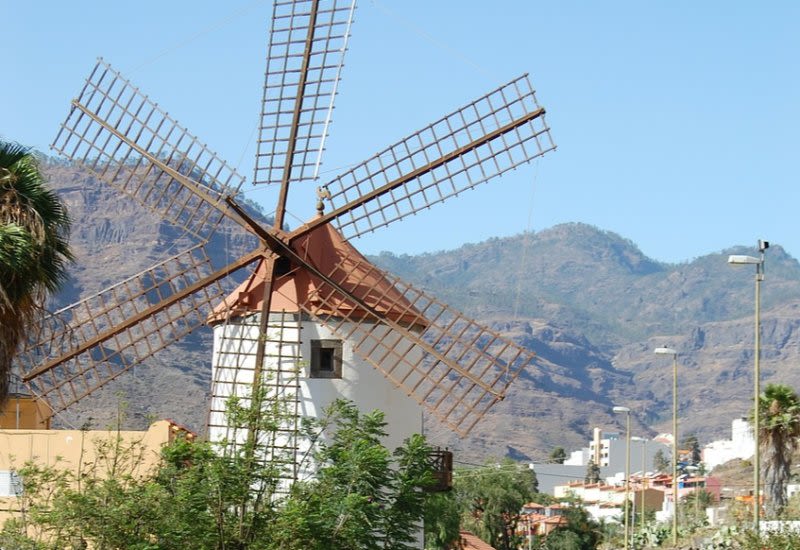 This is one of the largest windmills in Gran Canaria and nowadays is used as a Tourist Information center.
El Molino Quemado de Mogán is commonly known under this name (The Burnt Mill) because, according to residents of the area, it was set on fire in 1875 by a neighbor from the village of Aldea de San Nicolás. Since then, it has been restored and nowadays you can stop and visit it on your way from Mogan to Puerto de Mogan.
9. Archaeological area Lomo de los Gatos
Lomo de los Gatos (The Cats Back) is an aboriginal archaeological area that contains a village made up of stone houses called La Cañada de Los Gatos.
It is interesting to see the first settlements of the people who used to live in Gran Canaria and it's one of the more authentic places to visit in Puerto de Mogan, besides the more commercial areas which nowadays are full of shops and bars & cafes.
The complex is located in Calle de La Puntilla in Playa de Mogán and can be visited (there is a small entrance fee).
10. Try the local fruits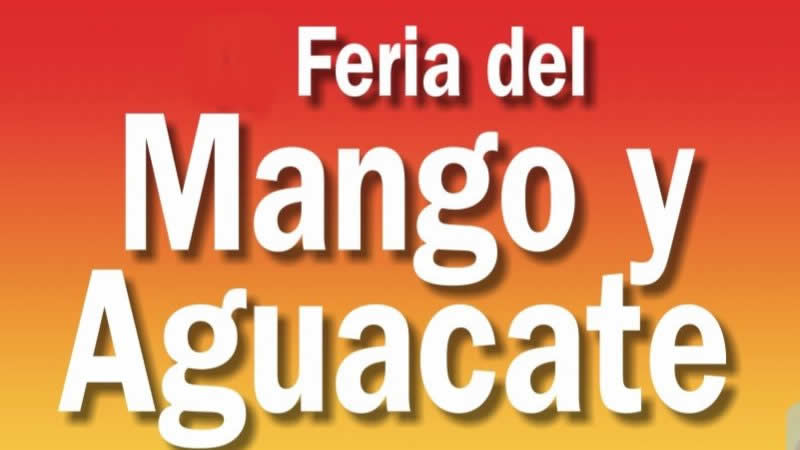 The mango and the avocado are the most important types of agricultural produce in this area of Gran Canaria and they are really tasty and you should try them - just try to buy them at the local market from small farmers, to make sure you get something genuine.
There's even a summer mango and avocado festival in September in Puerto de Mogan and another event for winter avocados in December.