10 Best Things To Do in Puerto Rico de Gran Canaria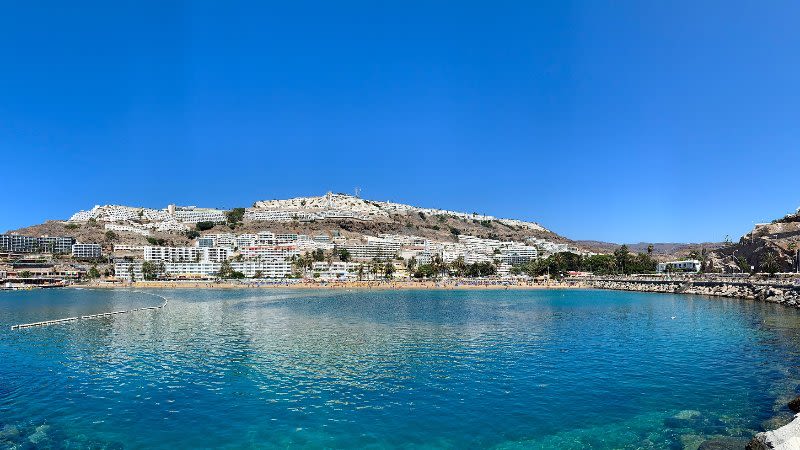 While the name of Puerto Rico might at first make you think of the Carribean Sea and distant places, you must know that the Spanish resort with the same name has equally beautiful beaches and an exotic feel, perfect for a holiday in the sun.
Puerto Rico de Gran Canaria is a popular resort on the island of Gran Canaria, due to the year-round warm climate, which makes it the perfect destination for sunny winter breaks in Europe.
Since it is located in the southwest part of the island, Puerto Rico is great place to stay in Gran Canaria if you want to explore the coast (it's easy to go to either Maspalomas, Playa del Ingles or Puerto de Mogan), as well as the interior of the island, where you can go on hiking trips or simply drive and enjoy the beauty of the mountain roads.
What to do in Puerto Rico de Gran Canaria - the best attractions and places to visit
Puerto Rico is a lively resort with many activities and options to spend your time, so you definitely won't be bored if you decide to base yourself here.
1. Puerto Rico Beach
Playa de Puerto Rico is a beautiful beach with lots of bars and restaurants along the front, so it's quick and easy to grab a bite to eat or a coffee.
You'll find also sunbeds, umbrellas and lifeguards on site.
With fine golden sand and tranquil waters, the beach in Puerto Rico is a perfect place to spend a day lounging in the sun.
2. Dolphin watching boat tour
Climb aboard a spacious speedboat in Puerto Rico, Gran Canaria, and then head for the open ocean to look for dolphins, whales and other animals in their natural environment.
Break for a refreshing swim after approximately 1 hour.
Soft drinks included
Free cancellation up to 24 hours before activity starts
3. Puerto Rico Market
This is one of the newer attractions in Puerto Rico de Gran Canaria, being recently opened. It's actually a modern looking shopping center, with good food and nice shops, a great place to unwind after a "hard" day at the beach.
4. Sioux City
Did you know that you can enjoy a Western adventure right here in Gran Canaria? Travel back to the days of the Wild West, enter a replica town and watch cowboy demonstrations and gunfights. They also have some animals on-site, like dwarf crocodiles and Jersey Giant chickens.
5. Maspalomas dunes
The Maspalomas dunes should definitely be on your list of things to see, especially if it's your first time holidaying in Gran Canaria.
The dunes deserve at least a half-day trip so that you can have time for a walk, as well as for spending time on the beach. The dunes are also great at sunset, when the view from Faro de Maspalomas is really incredible on clear days.
6. Angry Birds Activity Park
This is a great place to visit in Puerto Rico if you're traveling with your family and you have small children, as they will have the best time at this park. The karting and the splash area are the top favorites for most kids, but there are several other attractions to explore.
The Angry Birds park is easily accessible by bus. The ticket gives you all-day access to the park, which means that you can come and go as you please throughout the day. The food and drinks inside the park can be pricey, so you can go out for lunch and then come back for a few more hours of fun.
7. Coastal walk to Amadores beach
Since Puerto Rico is situated right in middle between Amadores and Anfi del Mar, why not dedicate a day to each of these other resorts to see how you like them?
Getting to Amadores beach is easy even if you decide to walk there, as there's a beautifully paved coastal path that links the two places. It's a lovely stroll that should take less than 1 hour, depending on where you start. You'll be rewarded with beautiful views of the ocean along the way and once you get to Amadores you can spend the day at the beach or you can wander around, bar hopping and sampling on cocktails and beers.
8. Gran Canaria Guided Buggy Tour
Discover Gran Canaria from a different perspective on a buggy drive along some of the island's adventurous roads. Marvel at the impressive natural landscapes of Fataga. Enjoy panoramic views of the Ayagaures Valley and its surrounding mountains in a 90-kilometer buggy drive through the southern half of Gran Canaria.
Includes pickup from various resorts and towns in the south
Drinks included
Free cancellation up to 24 hours before activity starts
9. Spend a day on Anfi beach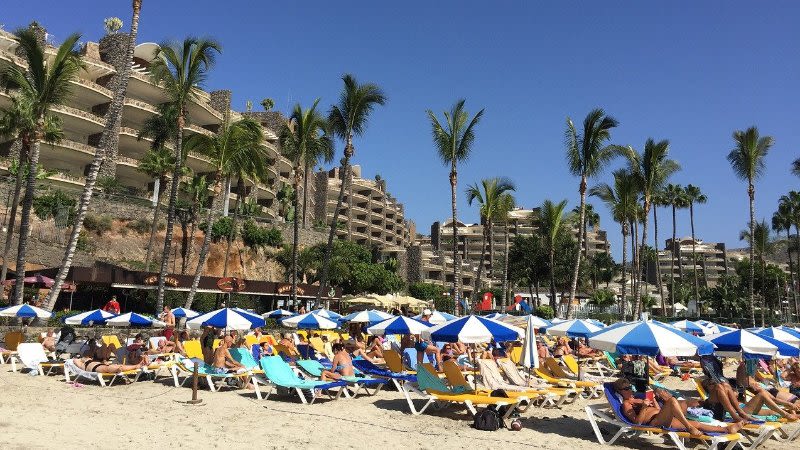 Like we previously mentioned, Anfi del Mar is located on the other end of Puerto Rico and it's easy to drive there, take a cheap taxi or get a bus (not so easy to walk there).
Anfi del Mar is a really beautiful and relaxing place, and the beach there is gorgeous, so it's a great place to spend an entire day there, enjoying the water, the views and all the facilities. So if you're looking to change it up a bit without traveling too far from Puerto Rico, Anfi del Mar is probably your best choice for a lovely beach day in the south of Gran Canaria.
10. Anfi Tauro Golf
Golfing is one of the top reasons why many people visit the Canary Islands, so if you fall into that category, you'll be glad to know there's a good golf course very close to Puerto Rico.
You can even stay in one of the villas located on the grounds of the golf course, which will be really convenient if this is the main purpose of your holiday in Gran Canaria. But the unique thing about this golf course is the fantastic view it offers, which is really unbeatable and you'll definitely want to come back.