The Three Kings Parade in Fuerteventura 2021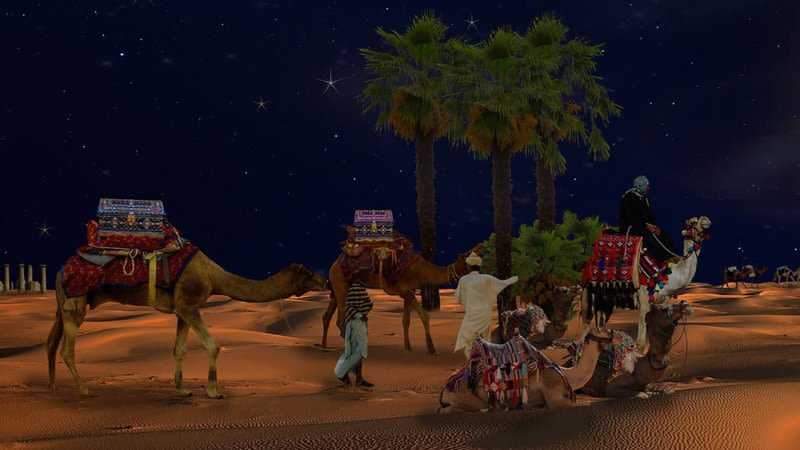 The arrival of the Three Kings is an important event in the Spanish Culture, with festivities taking place in almost any city in Spain. The celebration starts on the night of 5th January, with a parade called Cabalgada de los Reyes Magos.
On January 6th, Spain celebrates the Epiphany or the arrival of the Three Kings from the Orient, an event which is highly anticipated by everyone, but especially by children, who receive gifts on this day (similar to Christmas day in other cultures).
The day of the Epiphany, January 6th, is a public holiday and so many businesses will be closed on this day.
However, the celebration starts a day before, on January 5th, with a highly anticipated event: the Three Kings Parade (La Cabalgata de los Reyes Magos). The kids will write letters asking for toys or other gifts and they will and these letters down to the Three Kings when they meet them before the parade.
In Fuerteventura, there are usually several parades, organized in every big resort and city on the island. Check the schedule below to know the time and schedule of events for each municipality on the island.
Gran Cabalgata de los Reyes Magos in Fuerteventura: January 5th, 2021
If you're planning a holiday in January in Fuerteventura, it would really be a shame to miss such an important event like the big parade which is organized each year on January 5th.
See where to stay in Fuerteventura

Best things to do in Fuerteventura
What to expect in 2021 from the Three Kings Parade in Fuerteventura
Things will be different in 2021 compared to previous years, due to the ongoing pandemic and restrictions in place. There will be no large events with big crowds in attendance, so no big parades like in normal years. Instead, there will be some events dedicated to children, which will require booking ahead of time (entrance is free).
MUNICIPALITY OF LA OLIVA
The Three Kings Parade in Corralejo 2021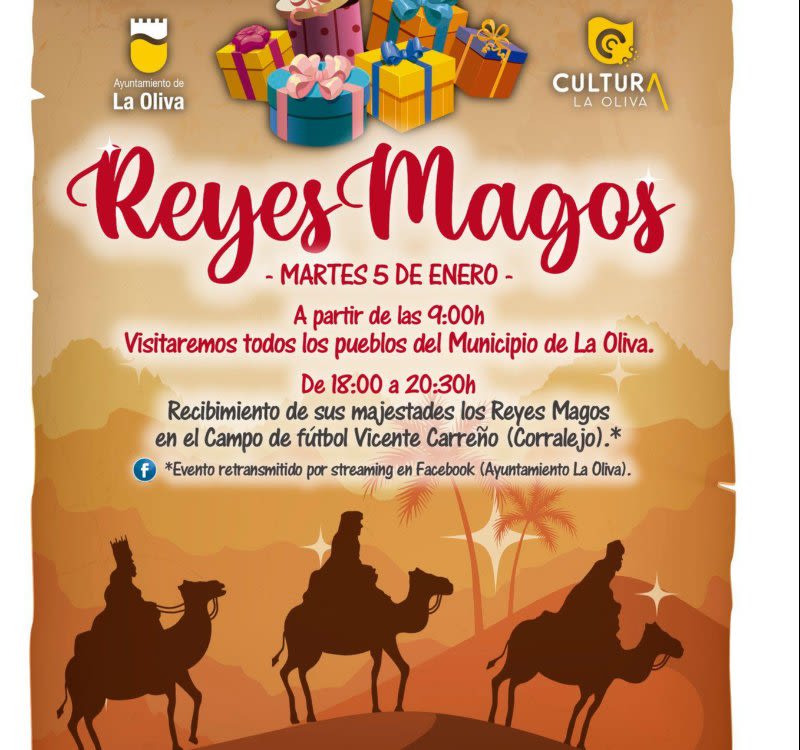 The Three Kings will attend a meeting with the residents of the municipality on January 5 at the Vicente Carreño Football Field in Corralejo.
Tickets are free, but you need to book them online via www.ecoentradas.com
MUNICIPALITY OF ANTIGUA
The Three Kings Parade in Caleta de Fuste 2021
When: January 5, from 17:30 until 21:30 h
Where: Plaza de Antigua
In order to attend to the visit of the Three Kings on Tuesday, January 5, you will have to reserve a place, by previously calling the mobile number 606675287 from Monday to Friday from 11 a.m. to 2:00 p.m.
MUNICIPALITY OF TUINEJE
Gran Tarajal (yet to be confirmed)
Start time: -
Starting point: -
Tuineje (yet to be confirmed)
Start time: -
Starting point: -
MUNICIPALITY OF BETANCURIA
Vega de Rio Palma (yet to be confirmed)
Start time: -
Starting point: -
MUNICIPALITY OF PUERTO DEL ROSARIO
Kings Parade in Puerto del Rosario 2021
The Three Wise Men will visit the little ones on January 4 and 5 at the Recinto Ferial in Puerto del Rosario, where three tents will be set up, each with a Wise King from 10:00 to 14:00 and from 16:30 to 20:00.
The tents will be accessed by appointment which can be done at the following email address: magosdeorienteenpuerto@gmail.com.
MUNICIPALITY OF PAJARA
The Three Kings Parade Pajara (yet to be confirmed)
Start time: -
Starting point: -
The Three Kings Parade in Morro Jable (yet to be confirmed)
Start time: -
Starting point: -
The Three Kings Parade in Costa Calma (yet to be confirmed)
Start time: -
Starting point: -
The Three Kings Parade in La Lajita (yet to be confirmed)
Start time: -
Starting point: -