Visit Timanfaya National Park - Best Day Trip in Lanzarote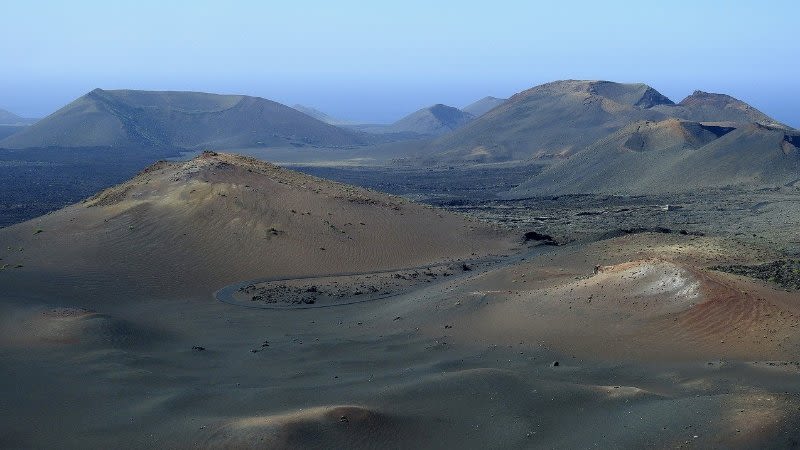 Timanfaya National Park is one of Lanzarote's top attractions, with more than 1 million visitors annually, which makes the second most visited National Park in the Canary Islands, after Teide National Park.
Visiting Timanfaya National Park is a unique experience, which should not be missed by anyone coming on holiday to Lanzarote. You'll get to see a one of a kind landscape, made up of volcanic soil and rocks, which makes you feel like you're on another planet, due to its resemblance to the moon.
Facts about Timanfaya National Park
The park that we see nowadays was formed due to volcanic activity in the area and the largest eruptions date back to the year 1730 to 1736, which was a period of continued eruption that led to the landscape that we know today as Timanfaya National Park.
The park Timanfaya covers a great portion of Lanzarote as a whole, spread over 51,07 km² in the southwest side of the island, in the municipalities of Yaiza and Tinajo.
There are over 25 volcanoes located inside the national park, but only one of them is still active: Timanfaya volcano, which is why the park was named after it.
What to see and do inside Timanfaya National Park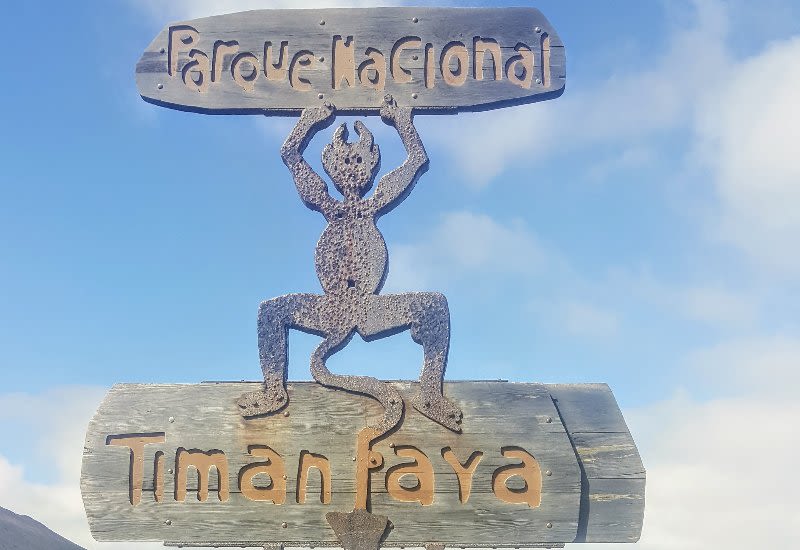 The volcanic landscape inside the national park is the main attraction and there are several ways to explore it.
The vast majority of the park can only be accessed by a bus tour, which takes you through the volcanoes in a guided tour that is available in various languages. There's also the possibility of exploring the park through guided walks on designated paths, but you need to book your spot ahead of time.
Inside the park, there's also a visitor's center where you can learn more information, a restaurant called El Diablo, an area for camel rides and a free car park where you can leave your car if you decide to drive here on your own.
So the main attractions in Timanfaya National Park are:
Timanfaya Visitor Center in Mancha Blanca - we recommend stopping here before going on the bus tour
Audio guided bus tour inside the Timanfaya National Park
El Diablo restaurant - how does it sound to try food that was cooked using the heat of an active volcano?
Guided walks, which must be booked way ahead of time
Camel rides - if you're interested, you can ride a camel and see a bit more of the volcanic landscape
How to visit Timanfaya National Park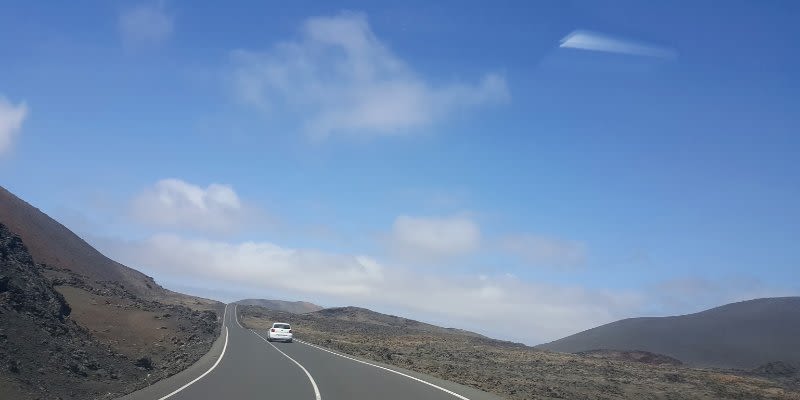 There are several ways to visit Timanfaya National Park and no matter which one you choose, the important thing is that you don't miss it, as it's definitely one of the best things to do in Lanzarote.
By car - rent a car and drive there yourself
Car rental in Lanzarote is popular among visitors, as it's fairly cheap, fuel is also cheap and driving is not that difficult. In fact, we have a dedicated article about driving in Lanzarote, which we recommend that you read if you decide to rent a car during your stay on the island.
Driving to Timanfaya National Park
Depending on where you're staying in Lanzarote it will take you more or less to get here, but in any case, the journey if shouldn't take you more than 45 - 60 minutes even if you're coming from the very north of the island.
Tips and useful info
Puerto del Carmen to Timanfaya - 30 minutes drive
Playa Blanca to Timanfaya - 30 minutes drive
Costa Teguise to Timanfaya - 40 minutes drive
Arrecife to Timanfaya - 30 minutes drive
Orzola to Timanfaya - 60 minutes drive
Parking is free (included in the price of the visit)
If driving here yourself, avoid mid-day hours. Try to come here either early in the morning or later in the afternoon. Between 11:00 and 15:00 it can be crowded with organized tours and excursions and you may need to wait longer to get on the guided bus tour.
Price: Adult: €12.00; Child: €6.00 (7-12 years old) - 20 % discount if you visit after 3 PM.
Book a tour or excursion
If you don't plan to drive while on holiday but you still want to see Lanzarote, there are several options for day tours that you can book and most of them include also a visit to Timanfaya National Park.
Tours are available from all 3 tourist resorts in Lanzarote, so you can book a tour and visit Timanfaya no matter if you are staying in Playa Blanca, Puerto del Carmen or Costa Teguise. If you're staying somewhere else on the island, you may have to drive here yourself or you may have to go to one of the meeting places along the way.
Timanfaya Visitor Center
Mancha Blanca - Ctra. Tinajo-Yaiza, Km 11,500 - 35560 Tinajo - Lanzarote
Hours: 9:00-16:30 h, open every day
Free parking available (57 places)
The purpose of visiting this place first is to understand more about the volcanic phenomenon of Timanfaya, its fauna, flora and coastline, which will make it easier for you to understand everything you observe during your visit to the Park.
There is also a viewing platform on-site, which gives you a hint of what you're about to see when you go inside the volcanic park Timanfaya.
Montañas del Fuego (Mountains of Fire) Bus Tour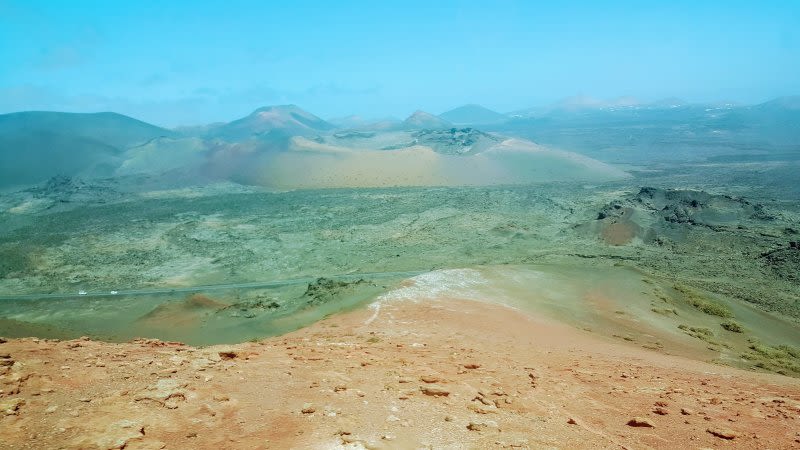 From the Visitor Center you need to drive further along the road LZ-67, then turn onto LZ-602 when you see the symbol of El Diablo, which is the trademark for the park and was designed by none other than Cesar Manrique himself.
When you get to the car park you need to find a spot for the car and then wait for the next tour bus to leave.
Access to Timanfaya National Park is restricted in order to protect the landscape, so you can't drive around the park yourself and you can't go on foot either since it is strictly forbidden.
Once you get to the car park near El Diablo restaurant you need to wait to get on the next guided bus tour, with professional drivers from the park, who know the roads inside and out.
Even if you come with an excursion, you will need to change buses and go with one of the park's guided bus tours.
Tip for the bus tour inside Timanfaya National Park: if possible, try to sit on the opposite side from the driver on the bus. This side has slightly better views, but no matter where you stay don't worry since everyone stands up at the interesting bits in order to see the landscape on both sides.
The guided bus tour is available in several languages and it takes around 40 - 45 minutes.
The roads inside the park are narrow and windy, which may make some visitors scared and uncomfortable, but there is no need to worry, since the roads are only used by the park's buses, so there's no oncoming traffic.
Tips for the bus tour at Timanfaya National Park:
Where to sit on the bus: sit on the right side of the bus if possible
Tours take around 45 minutes for a complete route around the park
Visit the park early in the morning (between 9 am and 11 am) or after 3 pm in order to avoid queues if you visit by car
Buses stop at various points around the park for photos and for people to see the landscape on both side of the road.
You are not allowed to exit the bus during the tour, in order to preserve the park.
Since you'll only be able to take photos from inside the bus, your photos will have the reflection from the glass window.
You can still take some nice photos around the car park before or after going on the bus tour.
Steam geyser at Timanfaya National Park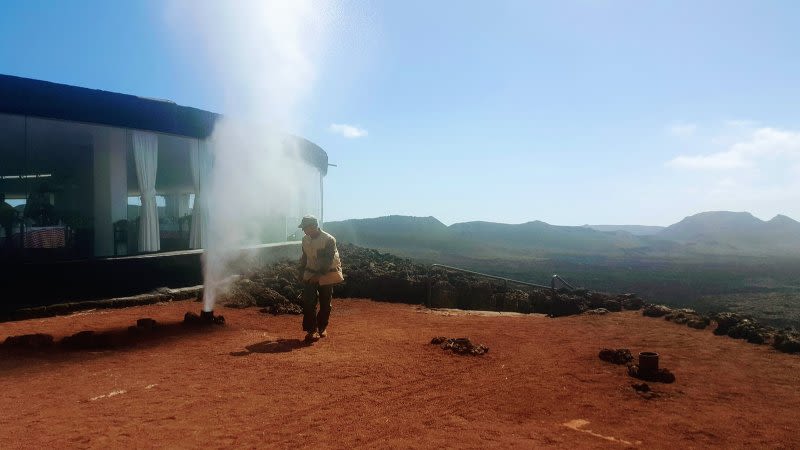 Before or after the bus tour, make sure to ahead next to the restaurant El Diablo, where there's an employee of the park who pours water in order to demonstrate the high temperature of the volcanic, which forms a steam geyser when the cold water gets in contact with the hot volcanic soil.
El Diablo Restaurant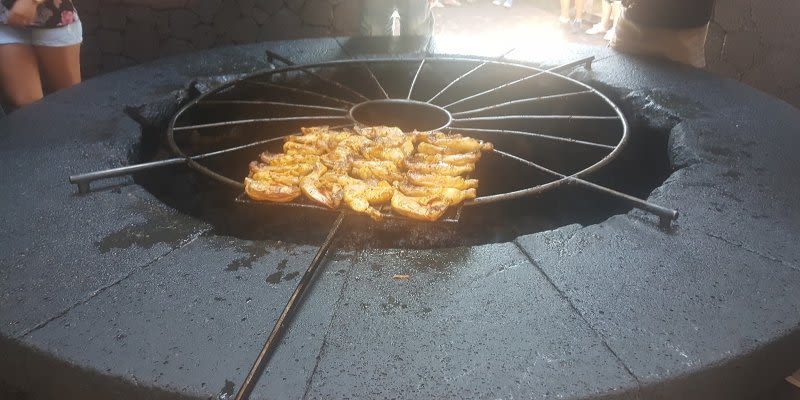 This is the only restaurant in the area, so if you're hungry or you simply want to take a break and get a coffee, this is the only place where you can do that.
The main selling point of Restaurant El Diablo is the fact that they cook most of their meat on a grill which "uses" the heat coming from the volcano. So if you really want a unique experience when visiting Timanfaya National Park, give this restaurant a try. Food is nothing to write home about, but it's not bad either, albeit a bit more expensive, due to its exclusive location inside a national park. A once in a lifetime experience, which is worth it if you don't have very high expectations.
Camel rides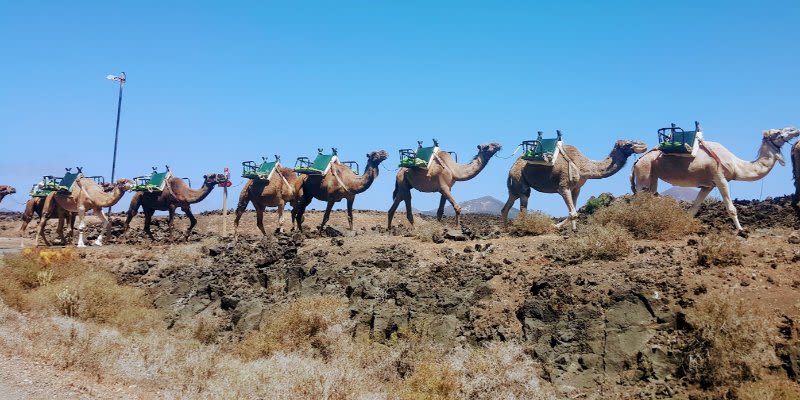 There is the possibility of riding camels when coming to visit the national park Timanfaya.
Although this is not a tourist activity that we encourage, it is still a popular thing to do for many visitors to the park. It costs around €6 per person to ride a camel and the journey lasts around 20 minutes, while you get to see a bit more of the volcanic landscape.
Timanfaya National Park walking tours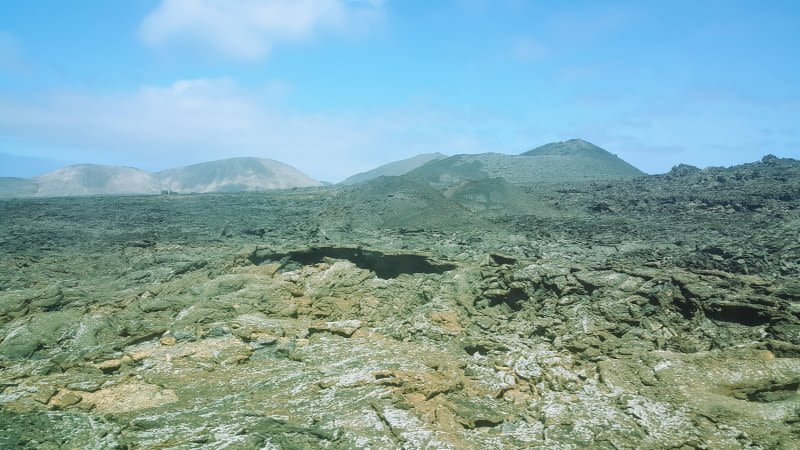 Besides the bus visit, there's also the possibility of seeing a bit of the park by going on guided walks with one of the park's rangers.
We have a dedicated article on the topic, where we explain what these routes and how you can book a spot to go on them. Just keep in mind that you need to book months ahead of time since there are very few spots available.
Honestly, for most people coming to Lanzarote, this is not a viable option for seeing Timanfaya National Park, since there are so few places available on these tours.
Also, due to the rugged landscape of the volcanic park, there aren't any places to hide from the sun along the way on these walks, so if you're visiting during the summer, for example, it will be extremely hot and hard to bear the sun and heat during the walk.
Should you visit Timanfaya National Park?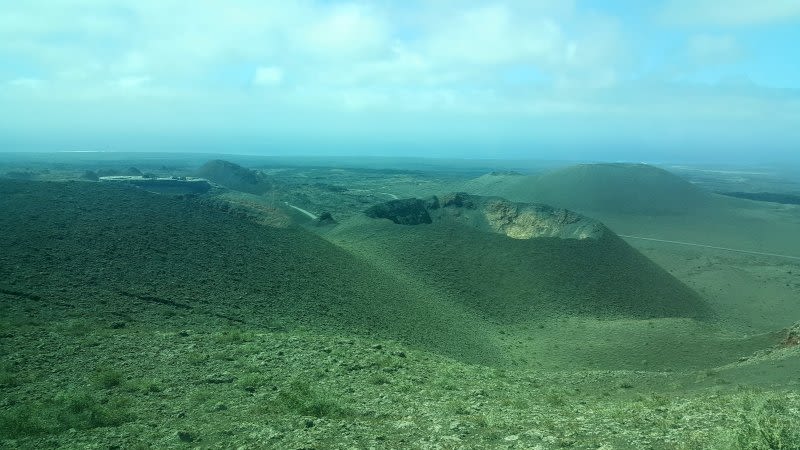 Is Timanfaya National Park worth it? And is it a good place to visit with kids?
In our opinion, YES it is very much worth a visit and depending on your child's age it will be an interesting place to see.
The landscape inside the park is truly unique and out of this world, formed only by volcanic rocks from the past eruptions, which give you a sense of how the Lanzarote we know today was formed.
Around the area there are several other places to explore if you want to know more about Lanzarote's fiery past:
The lava fields between Los Hervideros and El Golfo
Beaches with black volcanic sand and volcanic rocks
One last suggestion for visitors: please don't take any volcanic rocks with you as souvenirs. Keep in mind that they were formed by volcanic eruption hundreds of years ago and there's no way of creating new rocks, unless a new eruption occurs, which is not something anyone wishes to happen. So be considerate and admire the landscape, but leave it intact for future guests to enjoy it as well.