TUI UK cancels all holidays before July 11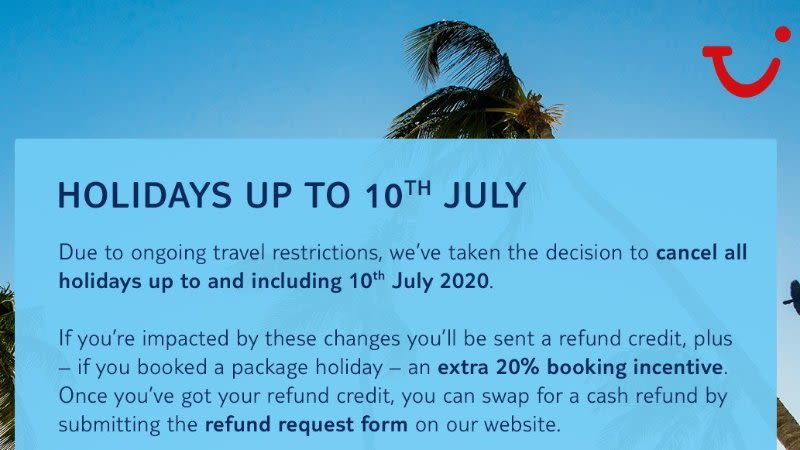 TUI UK, the single largest tour operator in the Canary Islands, has just announced that it's canceling all holidays from the UK that we're supposed to take place before July 11, 2020.
Although Spain has announced that it's reopening for tourism on July 1, TUI has decided to delay the restart of travel from its UK base until July 11th, mainly due to the 14-day self-quarantine imposed by the UK government for citizens who return from foreign countries.
This is the message published by TUI
Due to ongoing travel restrictions, we've taken the decision to cancel all holidays up to and including 10th July 2020.

If you're impacted by these changes you'll be sent a refund credit, plus - if you've booked a package holiday, an extra 20% booking incentive. Once you've got your refund credit, you can swap for a cash refund by submitting the refund form on ur website.

Our travel promise still stands, so if you're due to travel between 11th July and 31st August, you can amend your booking for free. You just need to do it before 30th June.

Those of you who booked in a TUI Store will still need to call 0203 451 2688 between 9am and 5.30pm, Monday to Friday - e've got as many colleagues as possible picking up the phones.

Thank you for undestanding. We look forward to taking you on holiday again soon.
It's clear that the restart of tourism in the Canary Islands not only depends on the reopening of international air connections but also greatly depends on the big tour operators such as TUI, which will set the rhythm for the return to tourism normality after it will resume its activity in Spain and in the Canary Islands.
TUI has 29 hotels and 20,702 accommodation beds in the Canary Islands, and all of them, just like in the rest of Spain, have closed their doors on March 26, a measure decreed by the Government to curb the expansion of the Covid-19.