Visit Mirador de Haria, the newly renovated viewpoint in Lanzarote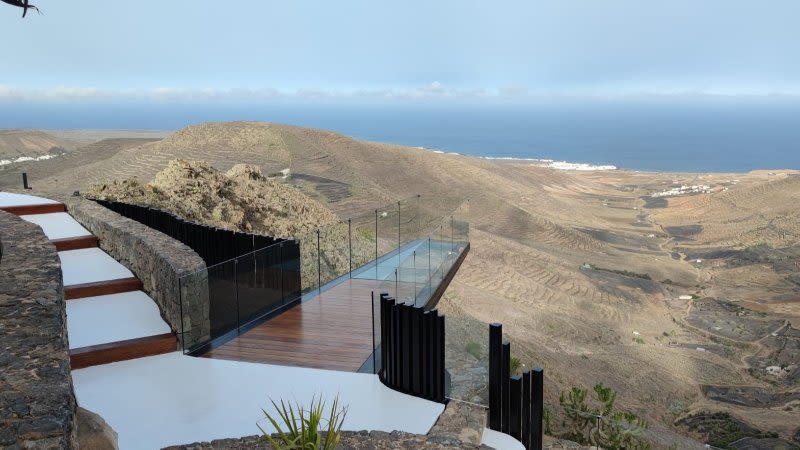 Mirador de Haria is a newly renovated tourist and environmental space in Lanzarote, in the municipality of Haria, in the north of the island.
Dolores Corujo, the president of the Cabildo de Lanzarote: "I want to congratulate the residents of Haría for recovering these facilities, which were completely abandoned, and which will allow our visitors to enjoy the beautiful landscape that the town of Haría has ".
The rehabilitation works of this spectacular space, designed by the Lanzarote architect Miguel Ángel Fontes, have been financed by the Cabildo within the Municipal Cooperation Plan with an investment of close to 245,000 euros.
Mirador de Haria will now be once again a point of attraction for visitors in Lanzarote and will perform as a new tourist space that enhances the natural and environmental values ​​of the northern municipality of Haria.
" Haría", highlighted Corujo, "brings extraordinary value to the experience enjoyed by those who visit us and contributes to drawing the image of a sustainable island that is capable to offer a global experience that goes far beyond the sun and the beach that other destinations can offer ".
With the execution of these works, the Cabildo and the City Council of Haría intend to consolidate an alternative of ecological tourism, which contributes to enhancing the natural and environmental values ​​of the northern municipality, through the knowledge and dissemination of information about the protected areas, endemic flora and fauna, traditional architecture, trails, popular culture and crafts.
In addition to recovering the old viewpoint, the Haría Interpretation Center has been created, which will serve as a tourist information center, emphasizing the more conservationist image of the municipality, while setting an example of good management of the territory and natural resources and promoting respect for the nature among those who visit Lanzarote.
Mirador de Haria - location