Walk From Puerto del Carmen to Puerto Calero in Lanzarote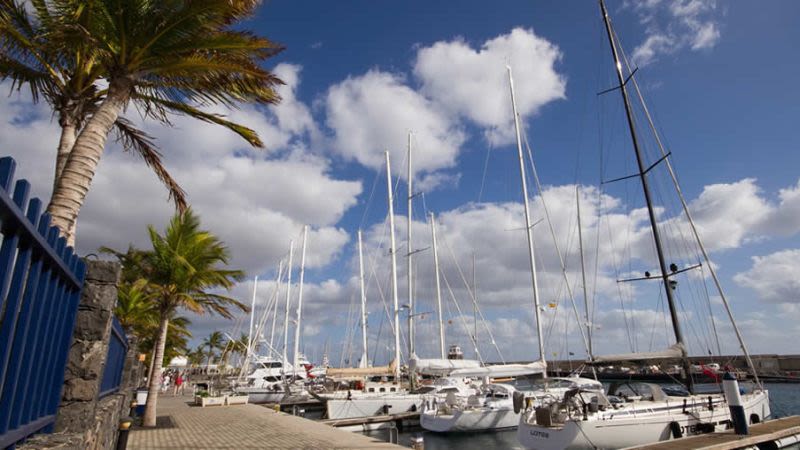 What better way to explore the beauty of Lanzarote's coast, than by walking along the ocean, soaking up the sun and enjoying the amazing landscape? If you're staying in Puerto del Carmen, one of the island's most popular resorts, we highly recommend the walk to Puerto Calero, which can be completed in under one hour one way.
General info - Coastal path from Puerto del Carmen to Puerto Calero
Length: 2,8 km
Duration: 45 - 60 minutes
Difficulty: Low
Coastal walk from Muelle de la Tinosa (Puerto del Carmen Harbour) to Puerto Calero
Start your walk at the old harbor in Puerto del Carmen, by going up the set of stairs. This is probably the most difficult part of your journey.
Then you have to walk along the coast, first on the paved road and then following the dirt road. You will encounter some other sets of stairs along the way, but the walk is generally easy and doesn't require a high level of fitness, although good walking shoes are recommended.
You can admire the beautiful views of the ocean and in the meantime, you will arrive at an interesting point along the way, which is Barranco de El Quiquere (El Quiquere Ravine), a place where you can see rock engravings made by the island's first inhabitants.
Along the way, you'll also be able to see the islands of Fuerteventura and Los Lobos, and you will have lots of scenic viewpoints where you can stop for photographs (you can see a selection of photos from Instagram).
Especially during the summer months, we recommend that you go on this walk early in the morning, before it gets too hot, as there's no place to hide from the sun. Use sun cream and a hat to avoid an unpleasant episode of heatstroke.
Return trip by ferry
There is a boat service between Puerto del Carmen and Puerto Calero.
If you don't want to do the walk, but you still want to visit for a few hours, you can buy directly a return ticket.
But if you are able to do the walk, we recommend that you go on foot and have some drinks and lunch in Puerto Calero, then take the waterbus back.
A return ticket costs 12 Euros and a one-way ticket 8 Euros with Lineas Romero and there are several departures daily.
25-minute boat trip
Choice of sailing times
Free cancellation up to 24 hours before activity starts