Tenerife Weather in January - Is It Still Warm In The South?

We're all looking to escape the cold winter weather and for many people in Europe, Tenerife is one of the top choices for a winter holiday: it's part of the EU, it's well connected via low cost flights, the weather is warm enough that you can get a tan and let's not forget the good food and cheap beer.
What's the weather like in Tenerife South in January
We've frequent visitors to Tenerife in January, just because in our opinion the island has the best climate in Europe during the month of January. If you're interested to read more about winter temperatures in the Canary Islands, go to our page about the hottest island in the archipelago.
During the winter months, the weather in the south of Tenerife is very different compared to the North. It may well be cold and rainy in Candelaria and Santa Cruz de Tenerife and warm and sunny on the southern coast.
During the daytime temperatures in the area of Los Cristianos, Playa de las Americas, Puerto de Santiago, Playa San Juan went up to 25°C and during the nighttime, they went down to about 16°C, so a light jacket or a cardigan was well needed.
How warm is Tenerife in January?
For example, during our 2018 holiday to Tenerife in January, there was massive snow inside Teide National Park and on the peak of Mount Teide, but the weather in the south was still warm and sunny and perfect for the beach. There's nothing more pleasing that sipping from a cold beer in front of the ocean while looking back at the distant snowy peak of Teide. However, if you're planning to do some hiking inside Teide National Park you may want to plan your holidays at another time of the year. In 2018, there was heavy snow inside the park and the roads were closed for several days, as well as the cable car that takes you up the volcano.
If warm is what you're looking for during your winter escape, then we suggest that you stay in the south of Tenerife, where you have the best chance for sunny days and beautiful weather.
Tenerife is an island of contrasts, and this reflects on climate as well. It's not unusual here to leave the warm south wearing only a T-shirt and flips flops, and in a matter of minutes, if you're driving up to Vilaflor for example, to need a jacket and some warm socks. We love wandering around the island and discovering new places and corners each day, so we always have in the trunk of our car warm clothing and shoes, so we can be prepared for the always changing weather in Tenerife. Especially during the winter months, like January, February and up to March.
Average temperatures
Temperatures in January in Tenerife are much higher than on the continent in Europe, so don't forget your bathing suit, as you will need it most of the days, especially in the south.
Average high temperature: 21.8°C (71.2°F)
Average low temperature: 15.3°C (59.5°F)
Daily mean temperature: 18.5°C (65.3°F)
In Tenerife South the daily mean temperature is 18.5°C in January, which is calculated as a mean between the average high temperature of 21.8°C and the average low of 15.3°C.
Record low & record high temperatures
The highest temperature ever recorded in Tenerife in January (at Tenerife South Airport station) was 29.3°C and the lowest temperature was 9°C.
Rainfall
Average rainfall: 17 mm
Average rainy days: 2
January is still one of the wettest months of the year even in Tenerife South, although at 17 mm, you shouldn't be too worried about the rain, as the amount of precipitation is considerably less than in December and November.
In any case, most of the rain will be happening in the north. In 2018, during our 3-week stay in January, there were almost no dry days in the north of Tenerife. Storms after storms and rain after rain, but the weather in the south was great and we didn't see a drop of rain.
However, the weather is always unpredictable, so if you have a few rainy days, check out our article about what to do in Tenerife when it's raining.
Sunshine hours
Monthly sunshine hours in January: 210
Daily average sunshine hours: 7
UV index: 4
Tenerife gets an average of 7 hours/day of sunshine in January, which means that for a winter month you still get a lot of hours to spend time on the beach or by the pool.
The UV index is at a low level this month, situated at a 4 on a scale that goes up to 11 as max.
Sea temperature in Tenerife South

This is the average temperature for the sea temperature in January in Playa de las Americas:
Average water temperature: 20.2°C / 68.4°F
The sea around Tenerife can be too cold for most people to swim comfortably in January.
During our recent stays in Tenerife in January, the beaches with the warmest water were Las Vistas and Playa del Camison, both in Los Cristianos. We also went for a day trip at Siam Park, where the water is heated to a comfortable 24°C all year round. The water in the north of Tenerife is considerably colder than in the south, and most of the natural pools are not accessible during the winter months due to the rough seas.
Calima in January
Calima is a phenomenon where a hot wave of wind and sand arrives to the Canary Islands from the Sahara, and the temperatures rise above their normal rate and the air is filled with sand.
Calima can appear during the summer months, as well as during the winter months, but it's hard to predict when it will happen so you just have no way of taking this fact into consideration when booking a holiday to Tenerife ahead of time. The south is usually more affected than the north, so if you have a car hire you can escape the calima by taking day trips and exploring more parts of Tenerife.
You can also read about weather in Tenerife in December, if you're trying to decide when to come for your winter holiday.
January weather averages for different parts of Tenerife
It's true that the weather in Tenerife in January can be a bit tricky, since it is still winter after all, but as you can see below, the temperatures here will be well above those which we have to endure in mainland Europe.
January Weather
Average
High °C (°F)
Average
Low °C (°F)
Rain
mm (inches)
Rain
Days
Average
Sun Hours
Puerto de la Cruz
21.5 (70.7)
15.3 (59.5)
42 (1.65)
7
6
Tenerife North Airport (SC La Laguna)
16 (60.8)
10.2 (50.4)
80 (3.15)
8
5
Izana (Teide)
7.5 (45.5)
1.1 (34)
47 (1.85)
5
7
Santa Cruz de Tenerife
21 (69.8)
15.4 (59.7)
32 (1.24)
8
6
Guimar
20.6 (69.1)
13.6 (56.5)
49 (1.93)
5
7
Tenerife South Airport
21.7 (71.1)
15.2 (59.4)
17 (0.65)
2
6
Los Cristianos
21.8 (71.2)
15.3 (59.5)
17 (0.65)
2
7
Costa Adeje (Playa de Las Americas)
18 (64.4)
12 (53.6)
37 (1.46)
2
7
Garachico
17 (62.6)
10 (50)
69 (2.72)
7
6
What to pack for a winter break in Tenerife
Most important of all... your bathing suit, of course!
Other than that, you should pack lots of T-shirts and clothes that can easily be worn in layers. Always bring a cardigan with your, or a fleece or even a light jacket that is waterproof.
If you're staying in the north of Tenerife or if maybe you're going to Puerto de la Cruz, you should pack warmer clothes and definitely long trousers.
If you're planning to do some hiking while on the island don't forget to bring adequate shoes and gear if you don't want to go shopping while on holiday.
For more info on the subject you can read our article about what to wear in Tenerife.
Things to do in January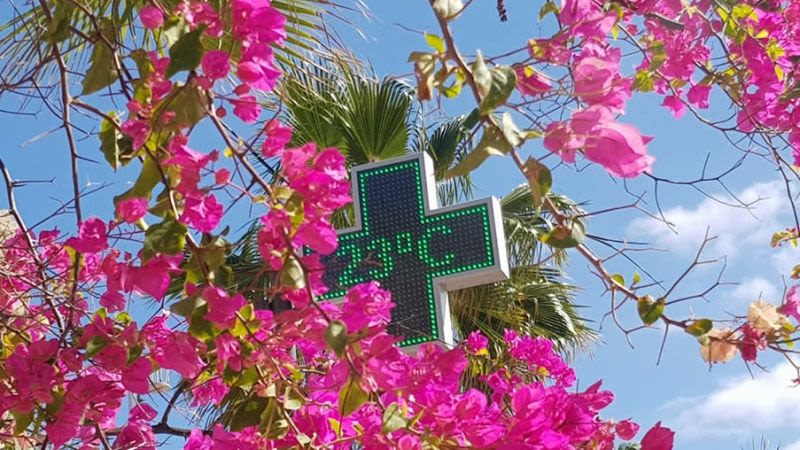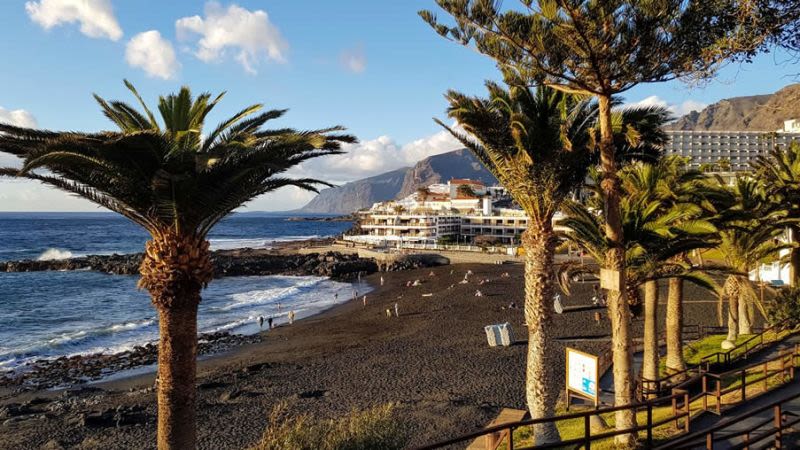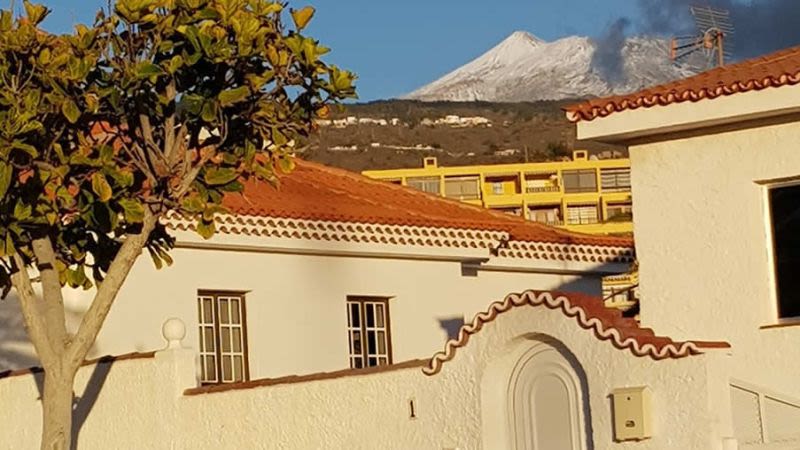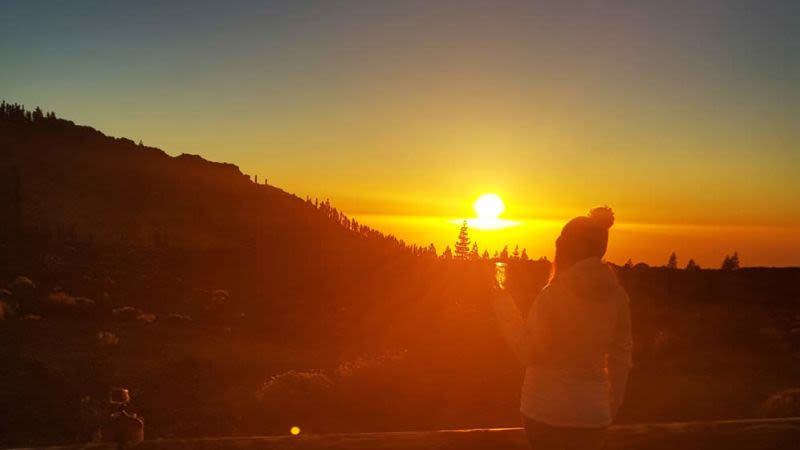 1. Go to the beach in Playa La Arena
Playa La Arena is always busy, despite the fact that it's usually forbidden to swim here in winter, because of the dangerous currents. This is a truly beautiful beach and the nicest one in the area of Puerto Santiago and Los Gigantes.
2. Sunset in Teide National Park
Watching the sunset over a sea of clouds is a unique experience which you should not miss. We went on the Teide by Night tour and in January the weather in the evening was quite cold, but the tour provides everyone with a warm blanket.

3. Spend a day in Playa del Duque
This was the temperature one morning at about 10:30 in Playa de Duque. The start of a great day for January, wouldn't you agree?
This is actually not anything unusual, it's pretty typical for Tenerife weather in January (the south of the island).
4. Day trip to Masca
In the gallery you can see a very green view of Masca valley in January after a few rainy days. The entire landscape looked lovely and it's a recommended visit in Tenerife.
5. A fantastic day at Siam Park
Siam Park is not as busy in winter as it is in summer, plus the water is heated, so it's definitely worth a visit, no matter the time of year. Only be careful to choose a warm and sunny day, especially in winter.
Skip the line ticket
Printed or mobile voucher accepted
6. Admire Teide's snowy peak, while enjoying the warm weather in the south
As you can see in the gallery, it was warm and sunny in Puerto de Santiago, while in the distance you could see the snowy peak of Mount Teide.
Puerto de Santiago is actually one of our favourite places in the south of Tenerife, especially during the winter months.
This is because we often drive to spend our days in other places like Los Cristianos or La Caleta, and many times when the weather was cloudy in those places, we returned home to find that it was a blazing sun in Puerto de Santiago. Of course, this is not always the case, but we really like Puerto de Santiago as a base for visiting Tenerife.