Where To Stay in Tenerife - 10 Best Areas & Hotels 2021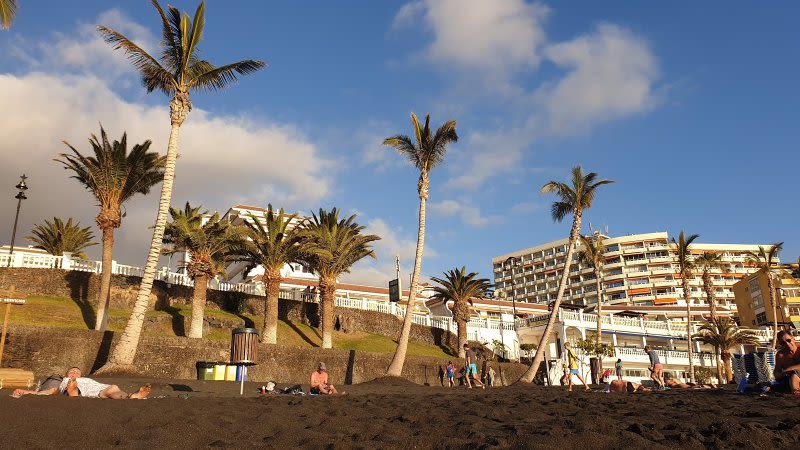 If you have already decided to spend your holidays this year in Tenerife, then the next step will be searching for accommodation. Tenerife is the largest of the Canary Islands, and although the distances between places may not seem long, you should always try to find a spot that best suits your needs.
This is our ultimate guide on where to stay in Tenerife and offers information regarding what activities you can do in that specific area, what shopping opportunities you have and also hotel suggestions.
So it all comes back to what you want from your holiday. Do you want a simple place to relax in the sun and enjoy the ocean? Are you looking for a quiet spot for you and your partner? Or maybe you're planning a family vacation and you're interested in something fun to do with the kids? Tenerife is the perfect place to do all those things and you will have the most amazing holiday if you just do a bit of research first and choose right.
Best places to stay in Tenerife
Best resorts and areas in Tenerife
Most of the tourist areas are in the South of the island, where the weather is nice all year long and you can make the most of this island's subtropical climate.
So if you're looking to relax, sunbathe and swim most of the day, one of the resorts in Tenerife South would be the right choice for you. Here you have plenty of options for beach relaxation and if you prefer to explore you can choose a new beach every day.
The best place to stay is different for everyone, so you must think of what makes the best area to stay in Tenerife for you. Our guide should help you establish what you are looking for in terms of activities during the day and entertainment during the evening.
Once you decide on the part of the island that best suits your needs, you can start looking for accommodation in that particular area. Tenerife offers plenty of options, from luxurious resorts to timeshare clubs and also plenty of affordable private rentals.
Which Tenerife resort is best?
Best Tenerife resorts couples: Los Cristianos, Puerto de la Cruz, Playa Paraiso, Costa Adeje
Best areas in Tenerife for families: Playa La Arena, Los Cristianos, Costa Adeje
Quiet & laid back resorts: Callao Salvaje, Las Galletas, Playa San Juan, Puerto Santiago
Amazing views: Los Gigantes
Great place to stay for surfers: El Medano
Local atmosphere: Santa Cruz de Tenerife, La Laguna
Away from Tenerife South: Punta del Hidalgo, Bajamar
A unique experience: Parador de Las Cañadas del Teide (This place is the only hotel located inside Teide National Park)
Where to stay in Tenerife for hiking: Santiago del Teide, La Laguna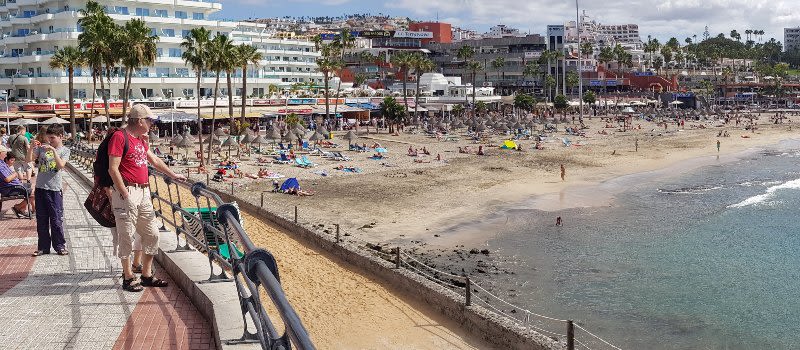 1. Costa Adeje
Costa Adeje is a lively resort in the south and one of the best places to stay for families in Tenerife.
Costa Adeje is one of the top tourist resorts in Tenerife South and one of the best areas to stay in Tenerife if you want to enjoy some of Tenerife's best beaches during the day, while at night you can enjoy the many clubs and bars with a lively atmosphere, like Monkey Beach Bar.
Best Places To Stay in Costa Adeje
Why stay in Costa Adeje?
If you decide to stay in Costa Adeje while in Tenerife, you will be spoiled with beautiful beaches all around. There are several areas where you could stay, as the resort has developed a lot during the years and it's not grown to be massive and with plenty of options for accommodation for all types of travelers and budgets.
The area of Puerto Colon with Playa La Pinta is perfect for families with kids coming to Costa Adeje. Playa de Torviscas and Playa de Bobo are great areas for the younger crowd, with lots of cocktails bars close to the beach; Playa Fanabe is also great for couples and groups, as here you'll find the popular Le Club Beach Club, which offers a lively but classy atmosphere during the daytime.
Playa del Duque is home to premium and luxury hotels, bars and restaurants, like Iberostar Selection Sábila and the famous Gran Hotel Bahía del Duque Resort.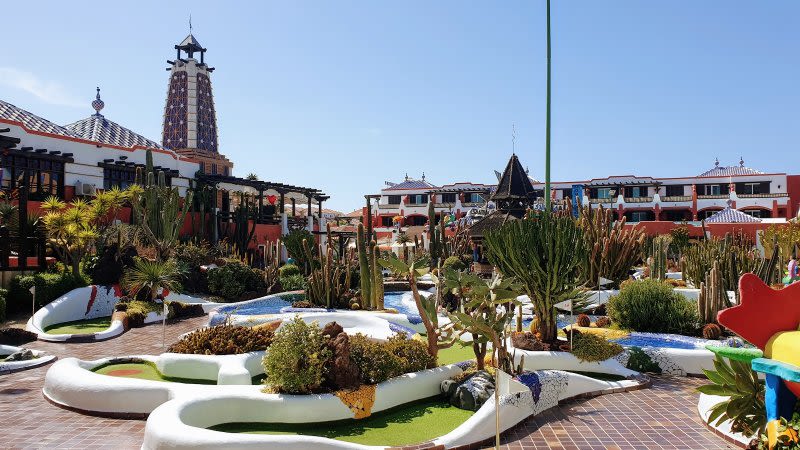 2. Playa de las Americas
Playa de las Americas is the best resort in Tenerife for nightlife and parties.
Playa de las Americas (PDLA) is probably the most famous resort in Tenerife, home to Veronicas Strip and a multitude of restaurants and bars which stay open until morning hours, offering tourists the best chance to do some bar hopping and enjoy the night.
Best places to stay in Playa de las Americas
Why stay in Playa de las Americas?
Playa de Las Americas is not the place to come and complain about the loud music since the resort is not geared towards tourists who want peace and quiet in order to rest and relax.
If you are tired of restaurants and bars and would fancy a change, you can also try a different experience one night and go watch a show that is a mix of opera and flamenco dance at Piramide de Arona. The artists there put a lot of effort and passion into the show and the result is truly wonderful, so this is a MUST SEE if you decide to stay in Las Americas.
During the day you can enjoy the beach and do some shopping. One of the top shopping centers in Playa de las Americas is Oasis Shopping Center. This is situated right in the heart of the town, offering both local and international brands. Another tip is to look for the shops that specialize in selling fruits: these are called Fruterias in Spanish.
Many great hotels in Playa de las Americas will make your holiday unforgettable, like Mediterranean Palace and Europe Villa Cortes GL, or more affordable options like Marola Park and Sol Tenerife.
For more options, you can see our dedicated guide for where to stay in Playa de Las Americas.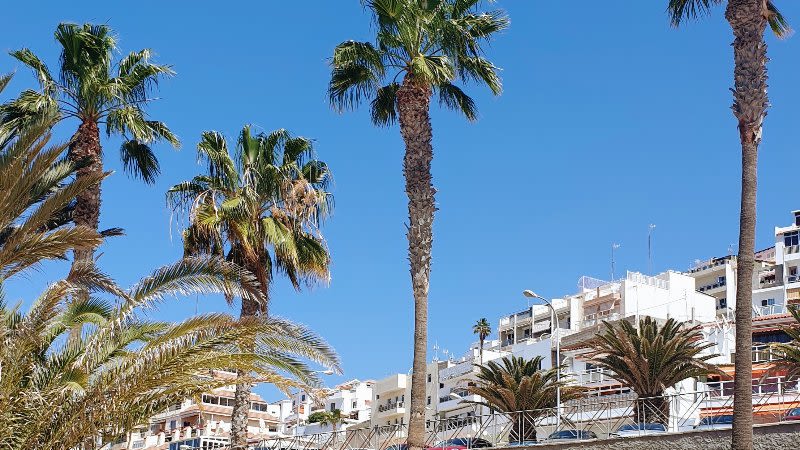 3. Los Cristianos
Los Cristianos is the best place to stay in Tenerife for a family holiday.
Los Cristianos is also situated in the South, very close to Playa de las Americas. It used to be a fishing town, with the harbor still being one of the main attractions. The place has history and there are also many locals still living and working here. Tourism is now a big part of the town's economy, so you will have plenty of restaurants to choose from.
SEE ALSO
Best places to stay in Los Cristianos
Why stay in Los Cristianos?
Los Cristianos has 2 popular beaches: one is Los Cristianos Beach, which is a sandy beach with amenities like showers and a children's playground, making it attractive for families with small kids. The other beach is Playa Las Vistas, which is man-made and also features showers and allows for practicing water sports.
For families traveling with kids, you can also make a day trip to Jungle Park, which is a fantastic zoo situated very close to Los Cristianos and you can get the free shuttle bus to get there. All the family will definitely enjoy the scenery of this park and the shows offered, like the parrot's show and the birds of prey show.
There is also Monkey Park, a smaller animal park that is now also a breeding center for other animals living in Tenerife.
Another alternative for a special day would be a visit to Siam Park or Aqualand, two aquatic parks situated near Los Cristianos, which offer water slides and many other water attractions suitable for kids of all ages.
Read our dedicated article about things to do in Los Cristianos.
On Sundays, there is a popular market in Los Cristianos near Arona Grand Hotel, which is functional between 9 am and 2 pm. Here you can find anything from clothes to souvenirs and food; just be careful and remember to take care of your belongings when you enter a crowded area.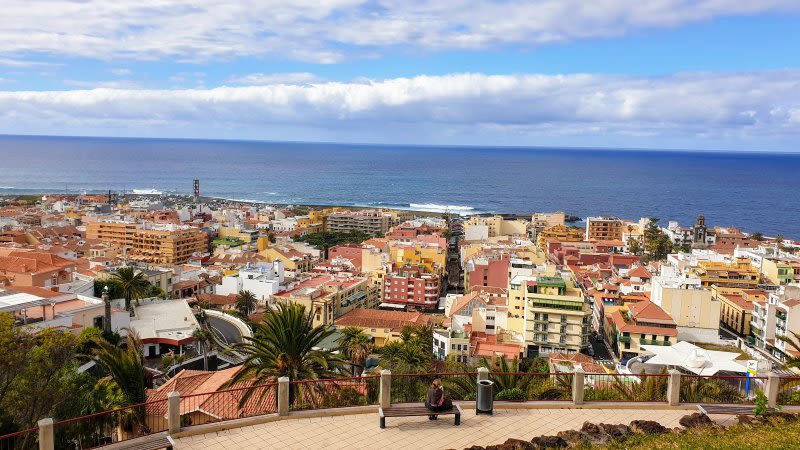 4. Puerto de la Cruz
Puerto de la Cruz is the best place to stay in Tenerife north.
If during summer you prefer to escape the hot climate in the South of the island, then Puerto de la Cruz is a perfect choice, being situated on the North West coast.
Nowadays, the North of the island is not as filled with tourists as the South, but things were not always the same. Since the airport in the North was the first-ever airport built on the island, this meant it was easier to get to Puerto de la Cruz than to Adeje or Playa las Americas. Puerto de la Cruz is today the oldest resort on the island and it's the perfect place to relax.
Best places to stay in Puerto de la Cruz
Why stay in Puerto de la Cruz?
Since Puerto de la Cruz is situated in the North, it has magnificent mountain views and also better temperatures during the summer months, when it can get pretty hot on the Peninsula and also in the south of Tenerife.
Most people from all over the island come here to visit Loro Parque, the world-famous zoo park which offers parrot shows and even a unique show featuring killer whales.
There is also an old town center and many Spanish churches, and also a great Botanical Garden, being the second oldest in the country. The official name is Jardín de Aclimatación de la Orotava and for the modest price you pay as entrance, you can spend a nice afternoon walking and admiring the plants.
If you are interested in short trips near Puerto de la Cruz, then La Orotava or La Laguna could be a nice choice. Both towns are situated fairly close, only a few minutes away by car. You could visit Casa de Los Balcones in Orotava or you could take a walk through the old town of La Laguna. You could also go into the capital of Santa Cruz de Tenerife, which is connected by tram with La Laguna.
In the town center of Puerto de la Cruz, you will find mainly small local shops and a daily market for fruits and vegetables which is open until 2 pm.
If you would like a more extensive shopping experience then you should better go to Santa Cruz de Tenerife, where you will find shopping malls like Centro Comercial Meridiano. Another advice would be to look for Mercado Nuestra Senora de Africa, which is a large market that is opened every day and is not that filled with tourists as you may expect. It's well known in the capital so you could look for the tower that is the market's symbol or ask the locals which will help guide you.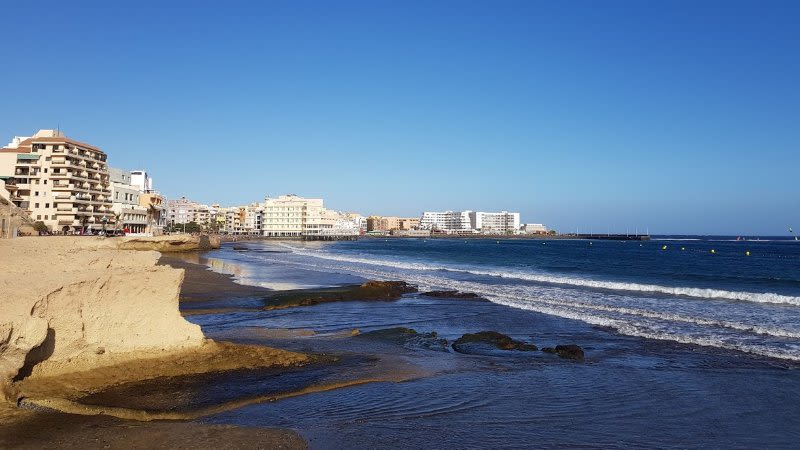 5. El Medano
El Medano is the perfect place for windsurfing in Tenerife.
El Medano is situated on the east coast of the island, very close to the Reina Sofia Airport.
Why stay in El Medano?
This is the perfect place in Tenerife for windsurfing since there are constant winds during the summer months and the area has many beaches to choose from. You can go to El Medano beach and Playa de la Tejita, which offers great views to Montana Roja. If you are into nude sunbathing then this could be the right beach for you.
El Medano is a chilled place to stay in Tenerife, with a relaxed vibe and a bit of a hippie atmosphere.
There are no big commercial centers but there is a local market every Saturday from 9 am to 2 pm. El Medano Market is situated in Plaza del Principe and consists of handmade jewelry, clothes, and souvenirs. This a good place to come and buy something special and different as a memory from the island.
Best places to stay in El Medano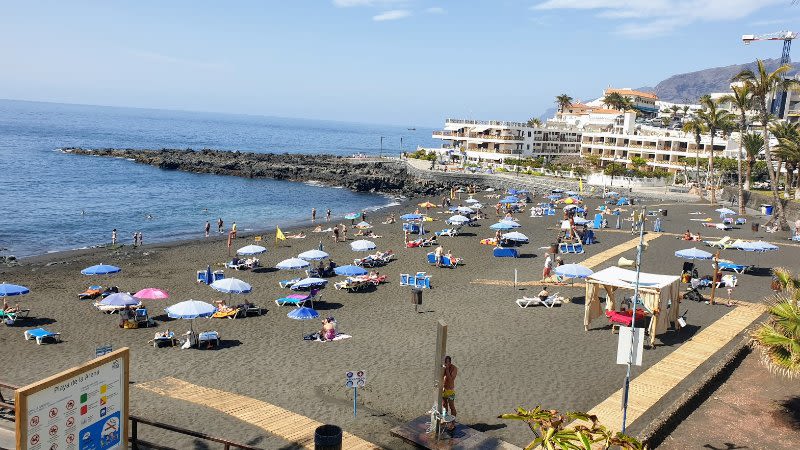 6. Playa La Arena
La Arena is a safe and relaxed area of Tenerife, ideal for families.
Playa La Arena is another popular place situated in the immediate vicinity of Puerto de Santiago, considered by many as one of the best volcanic beaches in Tenerife, being awarded the Blue Flag distinction due to its cleanliness and lovely location. One piece of advice though: don't forget your water shoes or flips flops, as the sand gets really hot and it will literally burn your feet. Otherwise, the beach is great and there are lifeguards on site all year long.
Where to stay in Playa La Arena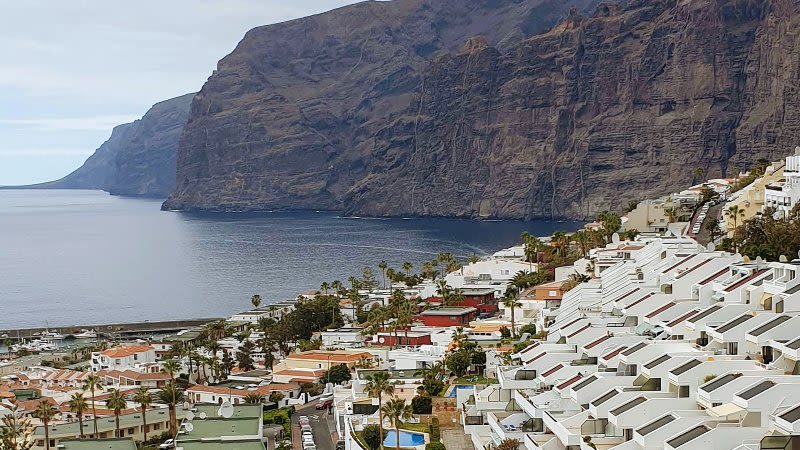 7. Los Gigantes
Los Gigantes has is a lively resort, with amazing views, great for mature couples.
What makes Los Gigantes such a special place for a holiday in Tenerife?
It's the incredible view of Los Gigantes cliffs, of course. Also, due to its position in the southwest of the island, Los Gigantes will reward you with the opportunity to see one of the best sunsets in Tenerife.
Depending on where exactly you are staying, you may get a room with a view towards the cliffs and it's totally worth it.
Also, one thing you need to keep in mind about this side of Tenerife is that it's hilly and not the best for people with mobility problems.
Where to stay in Los Gigantes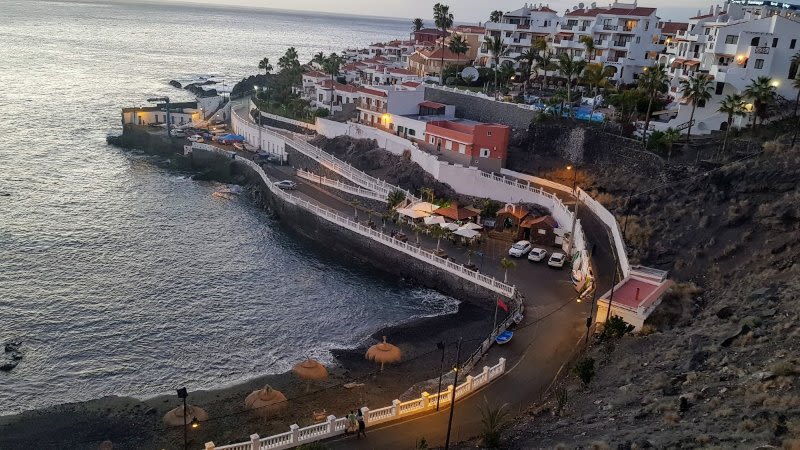 8. Puerto de Santiago
Puerto de Santiago is a good place for a quiet holiday in Tenerife.
Puerto de Santiago is located very close to Los Gigantes and here you get the lovely sunny weather of the south, combined with the chilled atmosphere specific to this part of Tenerife.
But what makes Puerto de Santiago such a great place for a quiet and relaxing holiday?
The main thing is that there are no noisy clubs like in Playa de Las Americas, so the younger crowds are not attracted to this part of the island. There are however some nice and fun restaurants like The Chicken Shack, and you can easily go to either Playa La Arena or Los Gigantes as well for a change of scenery.
There are no big commercial centers in the area but there is a Mercadona, a Lidl or a Hiperdino in case you go self-catering.
Where to stay in Puerto Santiago
Barcelo Santiago

is a great option and their rooms and pool have a view towards the cliffs of Los Gigantes, so it's ideal for a quiet and romantic holiday.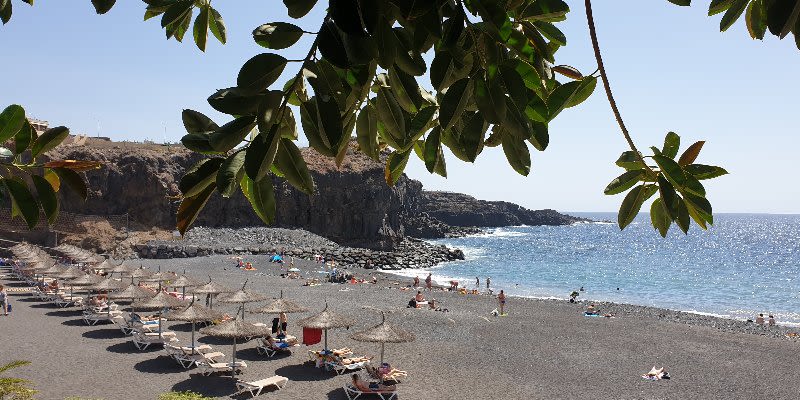 9. Callao Salvaje
Callao Salvaje is a good place to stay in Tenerife if you want to be in a quiet area, but still close to the bigger and livelier resorts.
Callao Salvaje is located only a few minutes away from the lively Costa Adeje and you can take the bus or a taxi if you want to go out at night.
During the daytime, you can go to the local beach, which has volcanic black. There's also a Hiperdino Express where you can do your shopping and then there's all the bars and various restaurants, like the Nebula Restaurant & Cocktailbar, that serves great cocktails.
Best Places To Stay in Callao Salvaje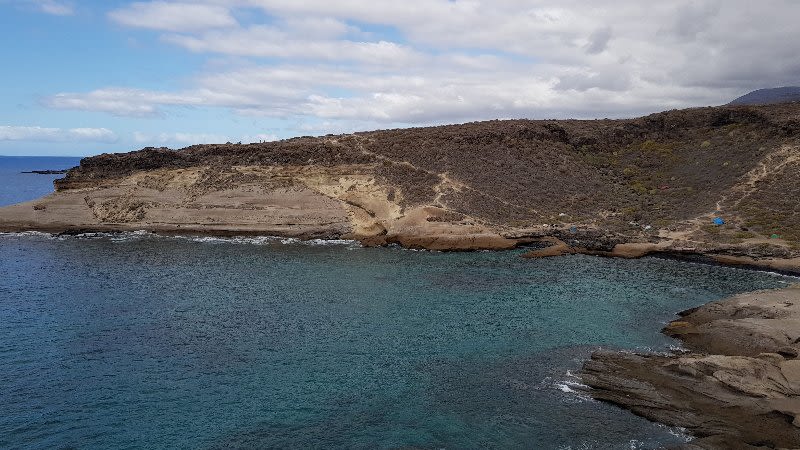 10. La Caleta
La Caleta is probably the best area for a luxury holiday in Tenerife, with amazing 5 stars hotels.
La Caleta is only a few minutes away from Costa Adeje, but staying here means that you can relax and enjoy a quiet day by the ocean or by the pool, while at night you can quickly pop over to the busier Playa del Duque or Playa Fanabe if you want a livelier atmosphere.
Best places to stay in La Caleta
Where to stay in Tenerife for a romantic couples' holiday
Tenerife is a popular destination for honeymooners so there are plenty of romantic hotels that cater to couples.
One of the best hotels on the island is, of course, Hotel San Roque situated in the quiet town of Garachico. The building is in a traditional Canarian style and offers only 20 rooms, which means guests will have privacy and will be able to enjoy their stay in the hotel.
Another landmark is the Iberostar El Mirador Hotel, which has a Moroccan design that gives it a romantic feeling. It is an adults-only hotel, so it's not the place to bring the kids; instead, it's the kind of place where you go to conceive kids.
Don't forget the new Hard Rock Hotel in Playa Paraiso, which is amazing and provides great entertainment, so it's a good option if you like music and party atmosphere, since this is not really the hotel for a quiet holiday. Some say that this hotel is geared more towards young couples visiting Tenerife, but it ultimately depends on each person's personality and older couples may enjoy it as well.
There's also the new Royal Hideaway Corales Suites, the 5* hotel under the Barcelo brand, which was launched at the beginning of 2018. This hotel has a section for adults only and another section for families, so it's a great option for a luxury holiday even if you decide to come to Tenerife for a family holiday.
Playa San Juan, Puerto Santiago and Callao Salvaje are all great options for couples who want to spend a romantic holiday in Tenerife, away from the busy streets of Playa de las Americas.
Where to stay in Tenerife for a quiet holiday
Besides the popular Las Americas, Los Cristianos and Costa Adeje, there are many other places you can choose for your holiday in Tenerife.
Towns and resorts for a quiet holiday in Tenerife South:
Callao Salvaje
Playa San Juan
La Caleta
Playa Paraiso
Las Galletas
Alcala
All these places have their unique charm and are not packed with tourists. Some places, like Las Galletas, are great options if you are on a budget and are looking for a cheap place to stay in Tenerife. The rental prices are lower than in other areas, but this also means that you will not find as many restaurants and facilities as you can get in the most popular resorts.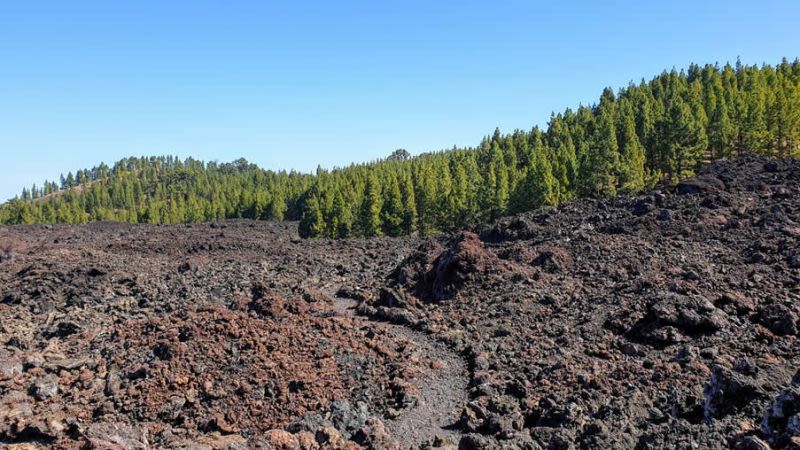 Where to stay in Tenerife for hiking
The north of Tenerife is a paradise for hikers and nature lovers, as this part of the island is much greener than the south.
The city of San Cristobal de La Laguna is a good base for those who wish to explore Anaga Rural Park and all the other trails in the north of the island. You can stay in this modern and cosmopolitan city, enjoy the cuisine and great restaurants, while you have easy access to some of Tenerife's best hiking trails.
Santiago del Teide is also a great area for hiking in Tenerife - you get quick access to Teide National Park, which has an abundance of marked and approved hiking paths, for all levels of difficulty. We absolutely loved the easy Chinyero Volcano walk, but there are many more challenging hikes to do in the area.
Still, this island has the perfect place for everyone, no matter what you look for. If you are planning your own vacation, then take the time to do some research. If you are buying a package from an agency, tell your agent what your needs are. In the end, you will most definitely find where to stay in Tenerife and it will be the ideal place for you.
Tenerife is a year-round sunshine destination
Tenerife is also called The Island of Eternal Spring, due to the beautiful weather all year round.
In winter you can expect sunny days with temperatures between 22 - 26 Celsius. In the evening it gets more chilly, but nothing to worry about - the average temperature in Tenerife South stays above 18 Celsius even during the winter evenings.
You can read more details in our article about the warmest Canary Island; for the wintertime, we think that the south of Tenerife and Gran Canaria have the best weather, with temperatures a bit higher compared to the other islands. If you're still not convinced, check out the statistics for Tenerife in December, the place in Europe where you can spend New Year's Eve on the beach wearing just a T-shirt and shorts.
If you do get back luck and the weather is not on your side, don't be upset for too long, because there are lots of things to do in Tenerife when it's raining or it's cloudy.
FAQ about places to stay in Tenerife
Should you stay in the north or south of Tenerife?
The north of Tenerife is cooler than the south, so for guaranteed sunshine and higher temperatures, the south is best.
What is the best place to stay in Tenerife for cyclists?
For cyclists, we recommend places like Puerto Santiago, Los Gigantes, Santiago del Teide.
Where to stay in Tenerife for honeymoon or anniversaries?
For a honeymoon in Tenerife, we recommend Hard Rock Hotel in Playa Paraiso.
Where to stay in Tenerife at Christmas?
For Christmas and New Year's we recommend Costa Adeje and Playa de Las Americas.