Is Tenerife Windy? What to Expect?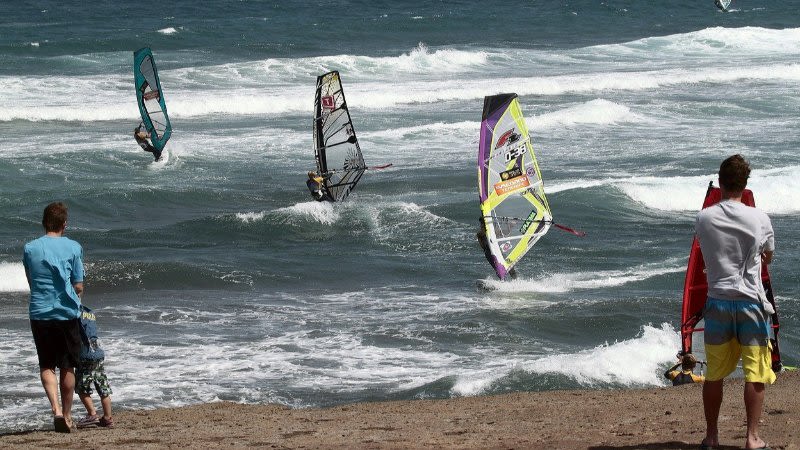 If you're planning a trip to Tenerife and you've never visited the island before, you may be wondering how bad the wind is and how it differs in-between season.
Tenerife is the largest Canary Island and it's home to the Teide volcano, which is actually the tallest peak in all of Spain, which has a big influence on the weather and the differences you get between different parts of the island.
Tenerife is known for its many microclimates, which means that the weather conditions can vary dramatically between various areas of the island.
Which are the windiest areas of Tenerife?
The east coast
The east coast of Tenerife tends to be windier than the south of the island.
El Medano is popular for kitesurfing and there are a lot of kitesurfing schools around the area, so it's an ideal place to stay if you're interested in water sports. Every time we've been to El Medano and the surrounding area the wind was blowing considerably harder, compared to other tourist popular areas like Costa Adeje, Los Cristianos or Playa de Las Americas.
Playa La Tejita is a beautiful beach located very close to the Reina Sofia Airport (Tenerife South Airport) but it's a very windy beach, where you should bring something like a beach tent if you want to spend a few hours comfortably. There's also a nice beach bar, where you could hide from the wind.
The place with the strongest wind we've experienced in Tenerife is Faro de Punto Abona and this is a part of Tenerife that is typically windy; there was no storm on that day, it was just a typical day for that area.
This should come as no surprise if you've ever driven on the TF-1 towards Santa Cruz de Tenerife, as you'll notice a lot of wind turbines, which is an indicator of the fact that the winds are strong and constant on this side of the island.
Teide
Teide National Park is another area of the island where you can encounter strong winds at times, but this should come as no surprise since the area is at a high altitude and in winter it's even possible to get snow and ice on the roads inside the park. Especially at night, it can get pretty chilly and windy; on winter nights when we went up to see the stars, the temperature would drop to around 4°C and the wind up there would make it seem much colder, with a real feel below the freezing level.
The strong wind inside Teide National Park is sometimes responsible for the temporary closure of the cable car, which can not function safely when the wind blows too hard. Remember to always check the cable car's website before venturing up, even if you have bought tickets in advance since you will have to reschedule for another day if the cable car is closed for the day.
Los Gigantes
Los Gigantes can sometimes be windier than other tourist resorts, even compared to Puerto de Santiago which is the neighboring town in the immediate vicinity. For example, we left on foot from Playa La Arena on a very calm January morning and when we got to Los Gigantes the wind was blowing with force (we were lucky to have brought some jackets with us). When we came back to Puerto de Santiago it was as calm as when we left, so it especially windy only in the area around Barcelo Santiago Hotel and around the natural pool in Los Gigantes.
But keep in mind that in Los Gigantes the wind is not a constant issue like it is on the east coast of Tenerife for example. You shouldn't avoid this beautiful area for this reason; it's just something to be aware of.
North of Tenerife: Bajamar and Punta del Hidalgo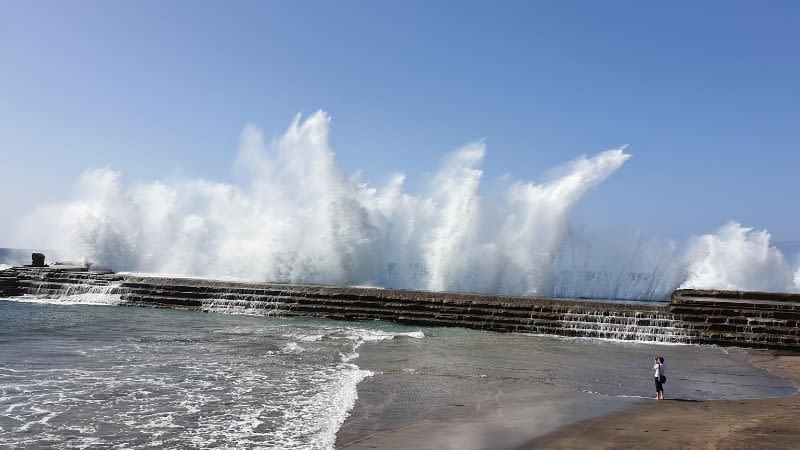 The North of Tenerife also has some areas that are famous for the wind and waves that they get: Puerto del Hidalgo and Bajamar.
If you've never been to that part of Tenerife it's something that we totally recommend if you have a rental car and you want to explore an area that is less touristy than the south. The waves in Bajamar are very impressive and the wind in that part is almost always present; we must admit that we wouldn't be able to endure it for more than a day, but it's still a nice side of Tenerife that we like to visit from time to time.
So is Tenerife always windy? Should you avoid coming to the island?
Definitely NOT.
Not all of Tenerife is equally windy like we've already mentioned.
Tenerife South is less windy than the eastern coast, so staying in Los Cristianos, Las Americas, Costa Adeje, Playa San Juan, Playa Paraiso, La Caleta or Caleta Salvaje will be considerably less windy than El Medano, Punta del Hidalgo or Bajamar for example. The north of Tenerife can also be windier than the south; Orotava Valley can sometimes get some bad winds and you can even notice the usual direction of the wind in that area, by the way the trees are bent.
Wind in Tenerife during the summer and winters seasons
Least windy months to visit Tenerife: December, January, February (winter season)
Most windy months in Tenerife: June, July, August (summer season)
The trade winds, which are the ones influencing greatly the climate in the Canary Islands, are usually more prominent during the summer months than in winter. Although this means that Tenerife is windier in summer than in winter, this is a good thing since the temperatures are higher in summer and you'll wish for a little breeze to help you cool off.