The four wind turbines from Arrecife Wind Farm begin to produce energy in Lanzarote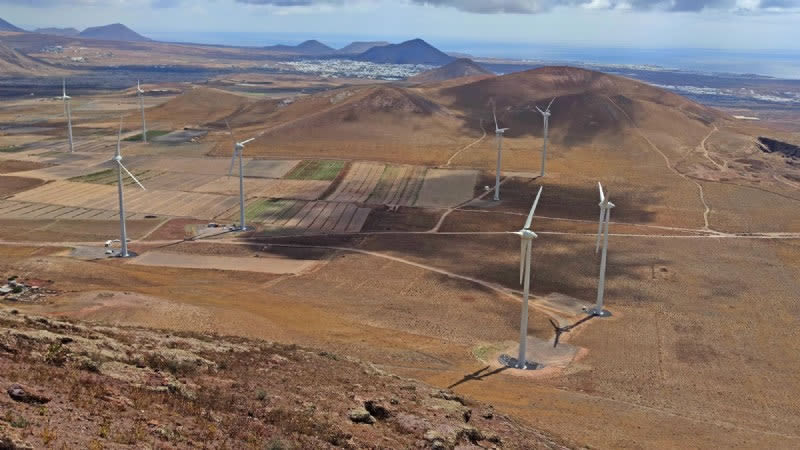 The Cabildo de Lanzarote has launched the four wind turbines that make up the Arrecife Wind Farm, powered by the Consortium Insular de Aguas de Lanzarote. With a hub height of 85 meters and a rotor diameter of 71 meters, up to a height of 120 meters with the blades, these new mills will have the capacity to produce about 27,150-megawatt hours per year and the estimated operation will be 2,951 annual equivalent hours.
The president of the Cabildo, María Dolores Corujo, has stated that "the start-up of these four wind turbines will represent an unbeatable opportunity to continue reducing the consumption of fossil fuels and curb climate change. From the Cabildo we will continue betting on an energy model where clean and renewable energies are prioritized" and cost savings will also be of importance in the entire process.
The wind farm was executed by the company Elecnor, it has 9.2 megawatts of total power through these four mills that will dump the energy produced in the CONSORCIO DEL AGUA electrical substation owned by INALSA, connected to the Callejones electrical substation of REE, in San Bartholome.
It should be noted that the contract with Elecnor has included the supply, installation, start-up and maintenance, during the warranty period, of the 4 Enercon wind turbines of the E-70 model, in addition to all the complementary civil infrastructures. The cost of the entire project for the Arrecife Wind Farm was 11 million euros.
The work for Arrecife Wind Farm began on October 5 in 2019. The concreting of the foundations was carried out between July and August 2020 and the Consorcio Insular de Aguas de Lanzarote received the four wind turbines from the Arrecife Wind Farm at the end of August last year. The parts of the machines arrived from Emden (Germany) to the port of Arrecife, from where they were transferred to their final location for assembly and installation.
The Lanzarote Water Consortium has been a beneficiary for the 2019/2020 period of FDCAN funds (Canary Islands Development Fund, created and regulated by Decree 85/2016, of July 4.