5 Best Water Parks in Spain That You Must Visit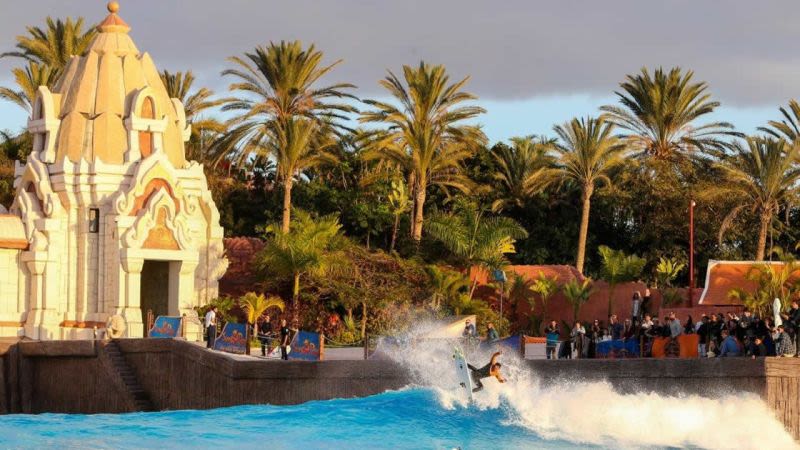 Spain is all about sunny holidays and relaxation, and water parks bring fun to the table, during those summer holidays. There are lots of amazing beaches in Spain, but the kids will love it if one day you will take them to one of the water parks mentioned in the list below.
Top 5 Water Parks in Spain
There are plenty of aqua parks in Spain and many of them are nice for a fun day out, but the ones on our list really are something special and if you are ever in the area, you shouldn't miss the opportunity to pay them a visit.
PortAventura Caribe Aquatic Park
Port Aventura is Spain's most visited theme park and Caribe Aqua Park is a water park fit for family holidays. There is an entire resort built here where you can spend several nights in order to enjoy everything the place has to offer. King Khajuna and Ciclon Tropical are some of the more exciting attractions at PortAventura Caribe Aquatic Park, but there are lots to do even for the younger kids: a dedicated beach for children - Sesamo beach and El Galeón Pirata, a fun attraction for curious and brave kids.
Aqualandia
Aqualandia opened to the public in 1985 and was Spain's first ever water park.
So when it comes to water parks, they know what they are doing, this is why the park remained so popular even after so many other competitors came to the market.
Children can enjoy the Laguna - a dedicated pool with slides and other interesting activities and also The Amazon, which is a type of lazy river. For the most courageous, you have the Big-Bang and the Verti-Go, a set of two slides of 28 and 33 meters high. The 33 is the highest slide in Europe and the tallest slide-capsule in the world.
Water World
Water World is located on the Costa Brava and many people come here to spend a few relaxing days here after visiting Barcelona.
Water World has a kids lagoon, a relax lagoon for the entire family and a wave pool for fun. Other exciting attractions include the Rafting River and Storm - two huge funnels more than 4 meters in diameter, which are for the bold visitors who want to experience all the park has to offer.
Aquopolis Costa Dorada
This is a great place for families with young kids, as they have many attractions that are dedicated to them: Adventure turtle, Mini Park, Treasure Island and Funny Jungle. There are lots of things to explore and lots of places to play around, so it will be a full and fun day.
Also, did you think about trying to surf? How about surfing at a water park? At Aquopolis you can give it a try on the dedicated attraction called Surf Waimea. Also, if the unknown fascinated you (instead of scaring you), then you might want to try the Black Hole, one of the most thrilling attractions at Aquopolis.
Siam Park - Spain's Best Water Park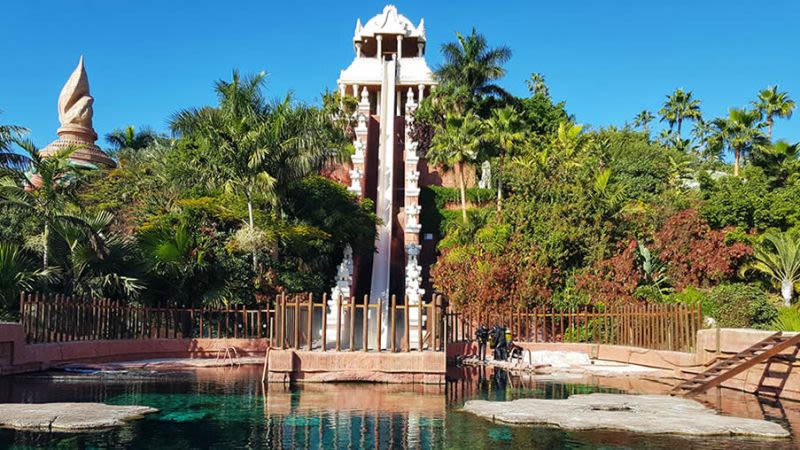 We saved the best for last. And the best is in the Canary Islands.
Siam Park is definitely the best water park in Spain and the best water park in Europe as well.
Why?
Well, because it was actually voted as the best water park in the world on Tripadvisor for the fifth year in a row.
If you are a big fan of water parks then it is worth traveling to Tenerife just so you can go to Siam Park. But the island has much more to offer and you can discover lots of things to do in Tenerife besides visiting the most exciting water park in the world.
The Tower of Power is an attraction reserved only for the bravest of visitors, as you drop through a tube that goes through the shark tank. If you think you can handle the adrenaline, then you have several other attractions that are worth mentioning like Kinnaree and Mekong Rapids.
For the ones who wish only to relax...you have the Mai Thai River and the Beach wave pool.
What makes Siam Park much more attractive compared to other water parks (beyond the amazing rides), is the design, which is inspired by Thai architecture and all the lush vegetation that surrounds the park and "hides" the structures of the rides.
Another advantage of Siam Park is its location in Tenerife, which is why you can enjoy the park all year round, even in winter. The Canaries are the favorite destination for winter sun in Europe and Tenerife South is one of the warmest areas in the Canary Islands in winter.
Plan the perfect holiday in the Canary Islands
We always use Airbnb for apartment rentals and if you sign up from our link you get a 41€ discount for your first booking.
Looking for a hotel? We have selected for you some of the most popular hotels in the Canary Islands:
Also, take a look at our dedicated guide to help you choose which Canary Island to visit.
Best Day Trips in the Canary Islands
These are the top 3 day trips in the Canary Islands: