15 Best Things To Do in Corralejo, Fuerteventura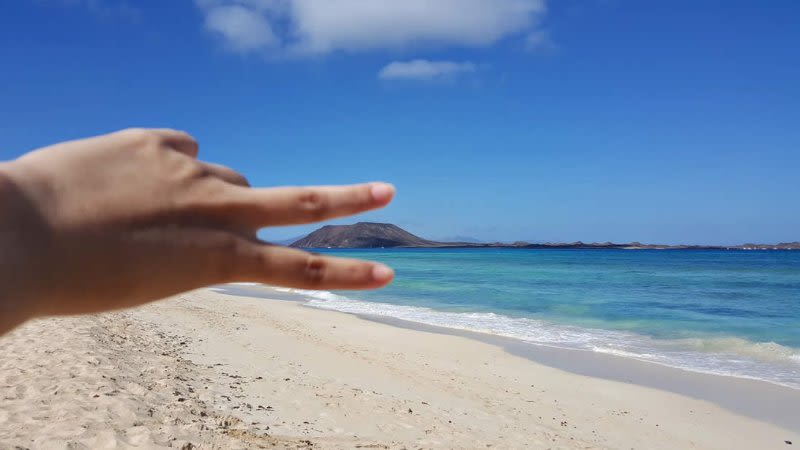 Corralejo is situated in the very North of the island and it's probably the most popular resort in Fuerteventura.
Here you will find great beaches, good food, an active nightlife and many things to do with the kids, if you're planning a family holiday to Fuerteventura.
What to do in Corralejo
Here are our picks for a family holiday in Fuerteventura in the Corralejo area. The area is great regardless of age or status, since there's something to do for everyone. Kids will love the beaches with quiet waters and no waves and couples will find romantic restaurants and plenty of activities to fill the days.
1. Spend the day at the town beaches
Corralejo has more than one beach in the actual town, so you could spend a few days just exploring the local beaches. There are plenty of bars and restaurants close to the ocean so it's easy to take a break from the sun and enjoy a good lunch.
2. El Campanario Market on Sunday
On Sunday there is a fair organized at El Campanario, which is actually a craft market, with local products. This is a great chance to buy special souvenirs for your loved ones at home, so definitely don't miss a visit.
If you come in the morning there are some nice cafes and restaurants where you can have breakfast and enjoy a lazy morning.
For a unique perspective you can climb in the bell tower and look over the city, so don't miss the chance to go all the way up.
Address: Calle Hibisco, 1, 35660 Corralejo
For other shopping opportunities on the island, see our list of markets in Fuerteventura.
3. Corralejo Grandes Playas and Corralejo Natural Park
Corralejo Grandes Playas is a must for everyone visiting Fuerteventura and if you are staying in Corralejo it's just a quick trip by bus, taxi or car. Here you can enjoy beautiful views towards the island Los Lobos and there are around 10 km of shoreline to explore.
Corralejo Natural Park is always at the top of recommended places to visit while in Fuerteventura, so don't miss a walk on the dunes and a swim in the ocean.
4. Boat trip to Los Lobos
Los Lobos Island is a nature reserve and it only takes 15-20 minutes by boat to get to it from Corralejo harbour. There are several companies and prices start at 15 euros/person for a round trip.
You can explore the entire island, swim in the pristine waters and enjoy a nice lunch at the only restaurant in Los Lobos. Just make sure you don't miss the last boat, which usually leaves at 4 PM.
You can book your boat trip to Los Lobos online for € 15 / person and you can choose between 3 starting times: 10:00, 11:00 and 15:30. We would advise to go on the first morning boat.
Free cancellation up to 24 hours before activity starts
Just remember that you also need to get your online permit in order to be allowed to disembark. The permit is free to get and you can do it online. See more details in our dedicated article. The company that sells the boat tickets will also give you instructions, which you will find on the voucher after you book the tickets.
5. A day at the Acua Park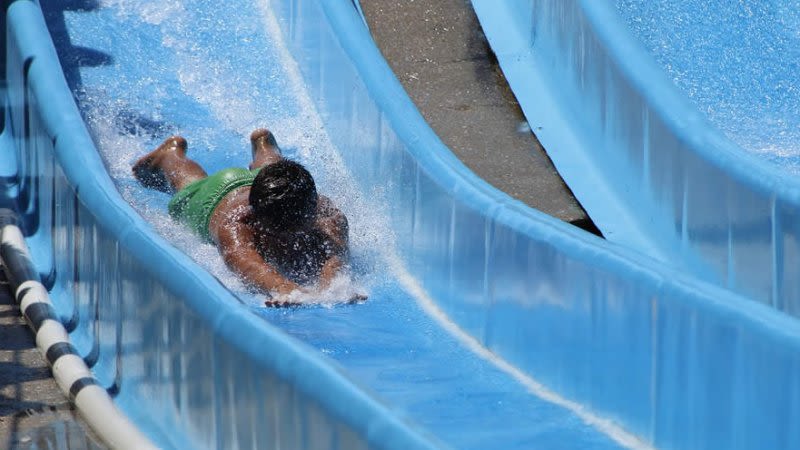 The only water park on the island is in Corralejo, so why not spend a day enjoying the water slides? Especially if you're with the kids, this is a fun day out and they will love it for sure. There's a nice restaurant inside with good prices, so this a plus if you arrive in the morning and wish to spend the entire day here.
6. Day trip to El Cotillo

This isn't something to do actually in Corralejo, but it's a fun and short trip.
Bus no. 8 makes the trip every hour so it's very easy to get to El Cotillo even if you don't have a hire car.
There are plenty of things to do in El Cotillo, starting with a day on the gorgeous beach. You could also go to El Toston Lighthouse and then explore the Cotillo Lagoons.
7. Day trip to Puerto del Rosario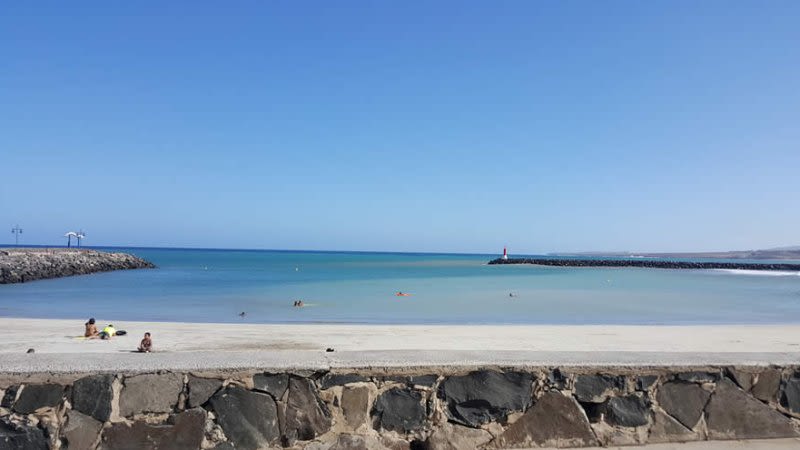 Puerto del Rosario is the capital of the island and it's only 30 km away from Corralejo. You can spend a quiet day on the town beach, look at the big cruise ships (if there are any at that time), or take a walk and discover all the statues and sculptures that are scattered across the city.
We also have a list of the top things to do in Puerto del Rosario.
8. Try different restaurants and the best ice cream in Fuerteventura
If you're on the hunt for the best ice cream on the island, then check out our article about restaurants in Fuerteventura.
Also, Corralejo has some of the best quoted restaurants in Fuerteventura, so there's a lot to explore and try if you're a foodie.
9. Relax and have a pint or cocktail in the Music Square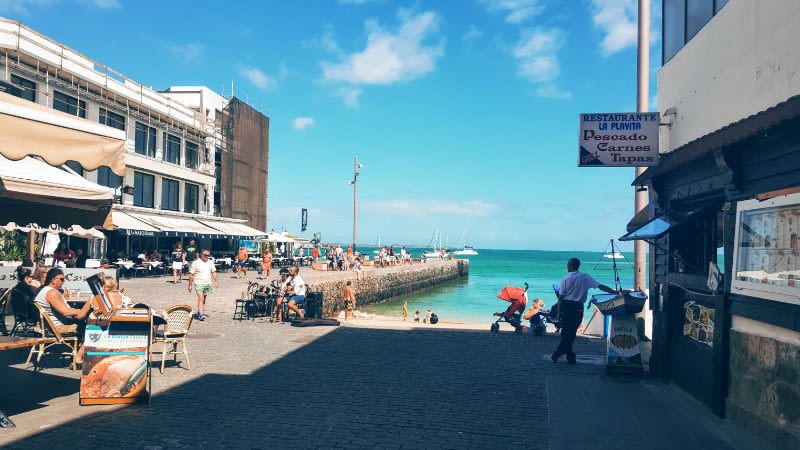 There are so many things to do in Corralejo and the entire town is so lovely, but this place is special.
The Music Square is situated in the north part of Corralejo and it's easy to get here through the pedestrian streets.
There are plenty of restaurants with good food and you can sit an enjoy the live music from any of the places situated in the square.
10. Shopping at Centro Comercial Las Palmeras in Corralejo
Addres: Av. Ntra. Sra. del Carmen, 70, 35660 La Oliva, Las Palmas, Spain
If you need to go shopping or if you just have a day when the weather is not so nice, you can go to Centro Comercial Las Palmeras. Here you will find the typical Spanish clothing brands like Zara, Bershka, Stradivarius, Mango and also other small shops. There is also a large store for sporting equipment in case you need it.
Las Palmeras Shopping center has a free underground parking for customers, so you can come by car if you need to.
If you're interested in doing some shopping whilst on holiday, read more in our dedicated article about shopping in Fuerteventura.
11. Find the chipmunks in Corralejo
The chipmunks in Fuerteventura are a big attraction for lots of tourists and you can see them in Corralejo also. Just walk past Mercadona and you should see a path on the right and on that path you should find loads of chipmunks. Although the authorities have issued a recommendation against feeding them, since they are an invasive species, people like to feed them fruits and vegetables such as apples and cucumber.
12. Day trip to Lanzarote
We know that especially many of the return visitors to Corralejo have their minds set up and wouldn't trade Fuerteventura for another island in a million years, but we're only suggesting a day trip to get a feeling of how Lanzarote is, without the need to compare it to Fuerteventura.
The ferry from Corralejo will take you Playa Blanca, Lanzarote's southernmost resort.
Here you can explore the town, have lunch in Playa Blanca and do some shopping, or you can take a bus trip and go see Timanfaya National Park, which is one of the most popular attractions for those visiting Lanzarote for the day.
In the afternoon you can take the ferry back to Corralejo and enjoy your dinner or evening cocktails in the music square as usual.
Book online a complete Lanzarote volcano and wine region tour (it includes the ferry crossing, the volcano tour and tour of La Geria - the wine region).
Free cancellation up to 24 hours before activity starts
Live tour guide (Spanish, English, French, German)
Pick-up service
13. Participate in the local events in Corralejo
One of the great things about the Spanish is that they know how to party. And they truly have a lot of fiestas throughout the year.
Plus, Corralejo is a year round resort, so there's always something going on.
Some of the events that happen every include Fiestas del Carmen, the carnival (usually in February or March), Baile Canario, Invictorock and many more. Just check out the events page before you arrive to see what is going on.
14. Playa El Hierro, also known as Popcorn Beach
This beach became famous after some photos were posted on Instagram ant they became viral quickly. Visitors now know this place as Popcorn Beach, although its official name is Playa El Hierro.
It is located at around 5 km distance from Corralejo and you can either walk there or drive on the dirt road (although driving with your rental car on a dirt road might not be covered by your insurance).
Instead of sand this beach is full of calcareous algae, which look like popcorn when you look up close. Unfortunately, many visitors have started taking these home as souvenirs, which is something we recommend that you don't do if you visit. It takes millions of years for these calcareous algae to form, so they must be left on the beach where you found them, so that future visitors will be able to enjoy this place as well.
15. Go on a dune buggy tour
This is a unique way to experience Corralejo and the natural area around it. The tour starts in Corralejo, then goes towards the Natural Park, where you will be able to explore the dunes. From here the tours heads towards the volcanic area and Tamaragua, for a true off road experience.
Free cancellation up to 24 hours before activity starts
Corralejo truly is one of the most charming places in the Canary Islands and once you fall in love, you'll always want to come back.