15 Best Things To Do In Puerto del Carmen - Lanzarote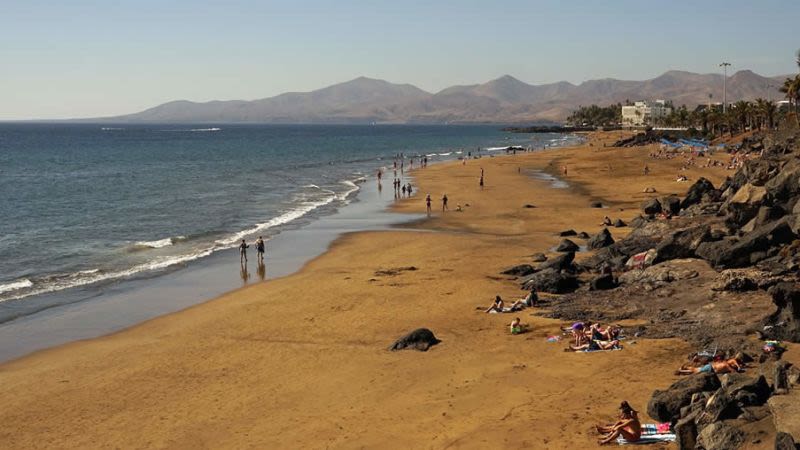 Puerto del Carmen is the most popular resort in Lanzarote and it has an ideal location, in the center of the island, very close to the airport. The town is divided in two: the old town and harbor and the new town. This makes Puerto del Carmen a place with lots of opportunities for activities during the day, lots of restaurants and also plenty of bars and club open all night long.
If you're still trying to decide on where to stay in Lanzarote, read our list and see if the resort is a good fit for you. We've gathered the best things to do in Puerto del Carmen, but also ideas for day trips and tours, for those who wish to see more of what the island has to offer.
1. Playa Grande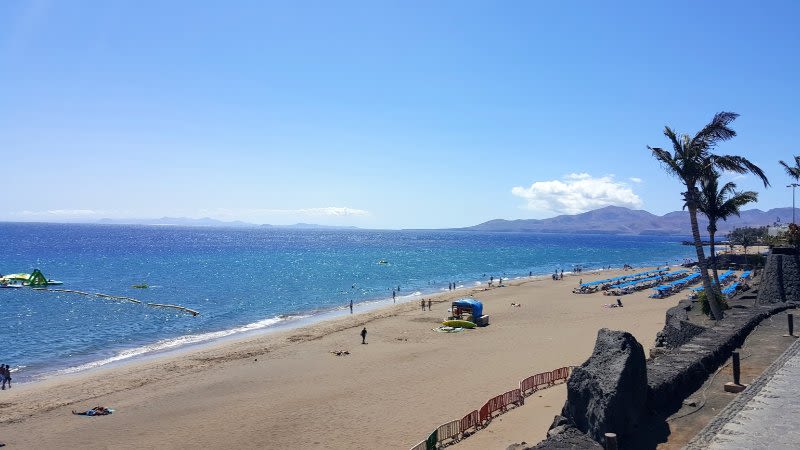 Since the resort is so big, it comes to no surprise that is has more than one beach.
The largest one is called Playa Grande and it has golden sand, clear water and an amazing view of the hills in Lanzarote.
The water here is usually calm, although it's an open beach, so it's ideal for swimming and relaxing, without worrying about the wind or big waves. There is also a section with sunbeds and umbrellas, so every type of visitor should be more than happy with this beach in Puerto del Carmen.
Behind Playa Grande you have a long promenade, with beautiful views at sunset, which is the perfect place for long strolls along the ocean. On the other side of Avenida de Las Playas, you have a great number of bars, shops and restaurants, so you have plenty of choice for dinner and drinks.
2. Playa Chica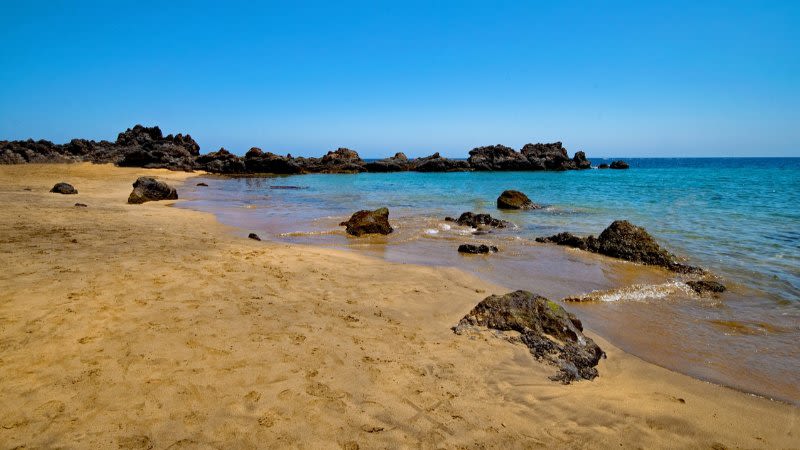 As the name suggests it, Playa Chica is a small lovely beach, located between Playa Grande and the Old Harbour.
It is sheltered by rocks, so the water is usually calm and ideal for swimming. If you want a change of scenery, come and spend the day at Playa Chica, which is a beach popular with locals as well as tourists. During the summer months, Playa Chica gets quite busy, so better come early if you want to catch a good spot near the sea.
3. Rancho Texas, the best day trip for kids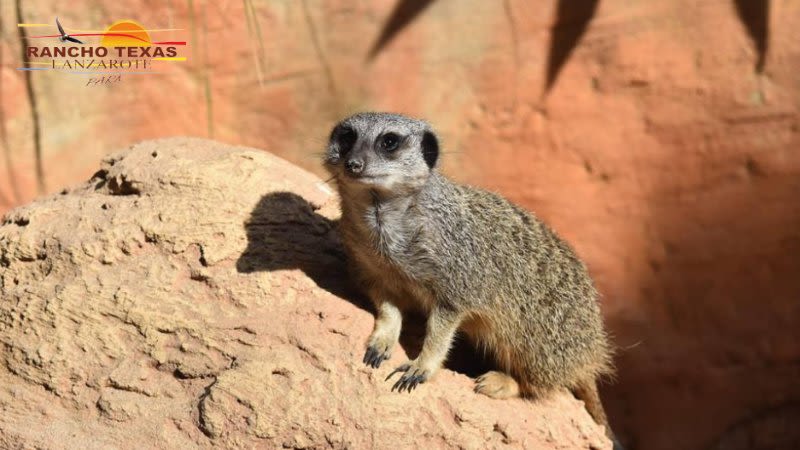 If you're looking for a day trip from Puerto del Carmen, Rancho Texas is the best option as it's close and easily accessible even if you don't have a rental car.
Rancho Texas is an animal park combined with a water park, so it provides an entire day of fun and activity for the entire family. It's situated only a few minutes away from Puerto del Carmen and you can spend a day looking at all the animals and the shows available like the ones with the Birds of Prey or the Sea Lions show.
If you're traveling with kids, then this might easily become their favorite place in Lanzarote.
Skip the line ticket
Free cancellation up to 24 hours before activity starts
4. Watch the sunset from the beach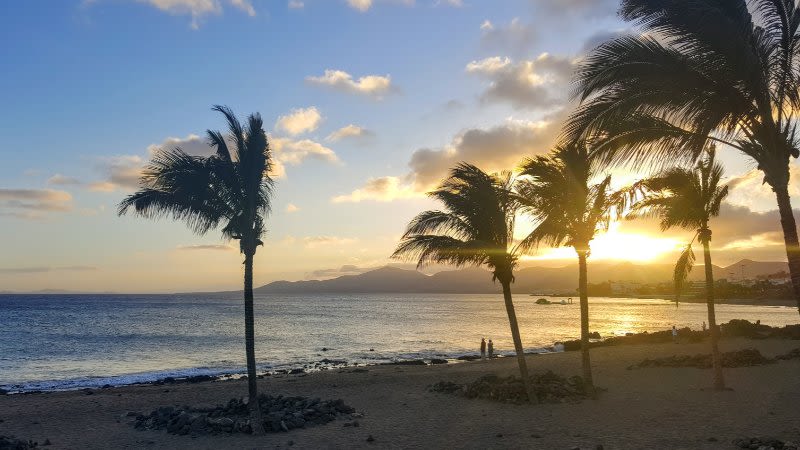 Puerto del Carmen looks wonderful under the sunset light, although the resort is situated on the east coast. The view from Playa Grande at sunset is amazing and you should take at least one evening to enjoy this beautiful moment.
5. Full day tour of Lanzarote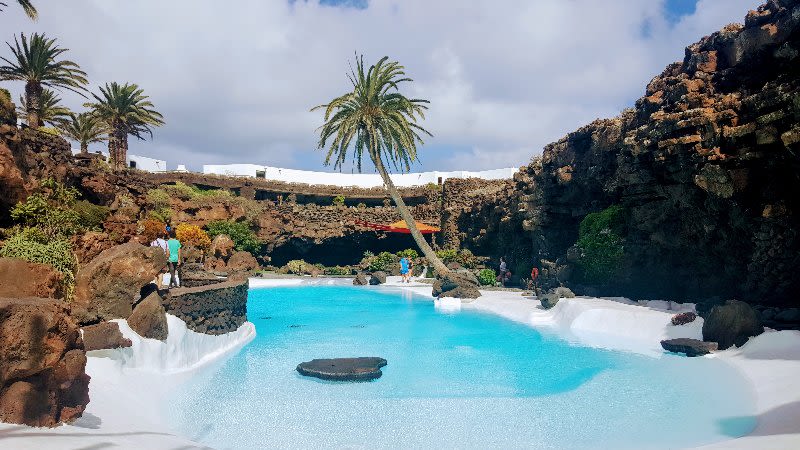 If it's your first time visiting Lanzarote and you want to get to know the island, a day tour can be the best way to see the landscapes, as well as to learn more info.
This tour offers a complete overview of Lanzarote, starting in the south of the island, where you can see Yaiza and the Green Lagoon, then you'll go on a tour in Timanfaya Park, followed by a visit to Jameos del Agua, a unique attraction designed by the famous Cesar Manrique.
Duration 9 - 10 hours
Includes entrance to Timanfaya National Park & Jameos del Agua
Free cancellation up to 24 hours before activity starts
6. Shopping in Puerto del Carmen
You have lots of options, from the Biosfera Plaza Shopping Center to small shops with souvenirs, typical for most Spanish resorts.
At Biosfera Plaza Shopping Center you will find popular Spanish brands, like Zara, Bershka, Mango etc. Another large shop present is the resort is Fund Grube, ideal for cosmetics and perfumes since they always have some sort of promotion going on.
Pay attention when looking for souvenirs in the small shops, since many of them sell similar products, but the prices vary a lot. You will also find plenty of shops with alcohol and cigarettes at better prices than in the UK, Germany or the EU in general.
7. Visit Arrecife, Lanzarote's capital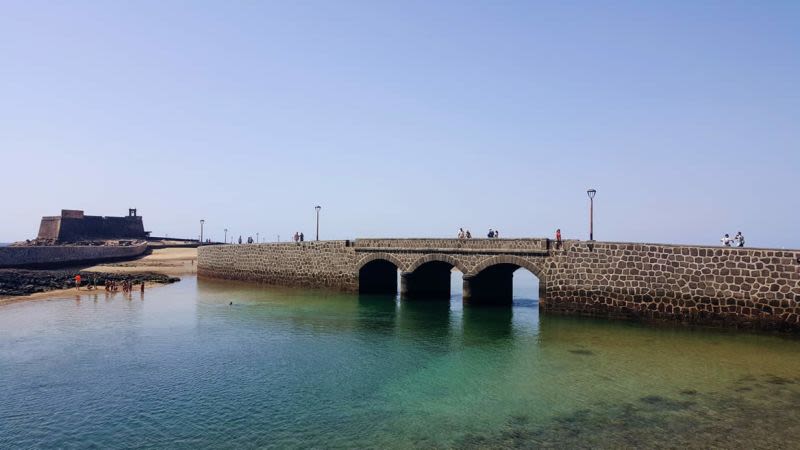 Arrecife is the capital of Lanzarote and it is very close to Puerto del Carmen. You can get there by car or by bus, but you should know the city center is full of narrow streets and parking is sometimes hard to find.
The capital is a beautiful city to visit and you should check out our list of things to do in Arrecife. Don't miss the area of Charco San Gines and also a walk to Castillo San Gabriel.
8. Puerto del Carmen Market in the Old Town Harbour
This is a weekly market in Puerto del Carmen in Plaza del Varadero, with various stalls and stands, from food to craft items and even the usual fake bags and watches. It's not as big as Teguise Market, but it's a great way to spend a morning if you are staying in Puerto del Carmen.
9. Coastal walk to Puerto Calero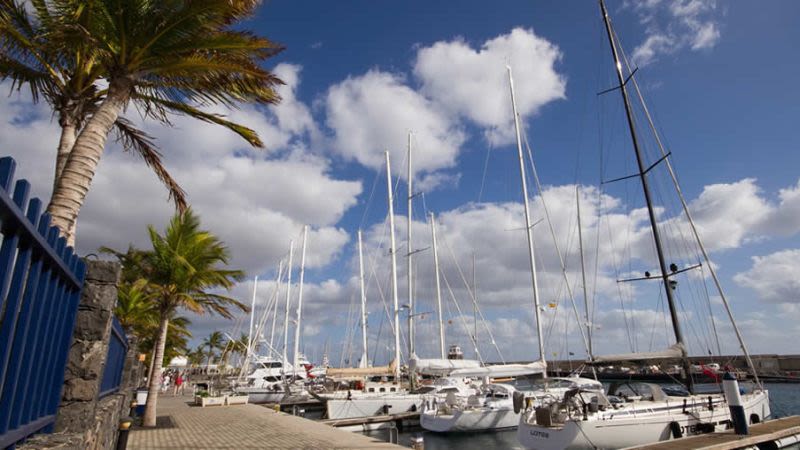 Puerto Calero is just a short distance away from Puerto del Carmen and if you want to admire the beautiful views of the ocean you can walk along the coastline between the two places. The entire walk takes around 1 hour and you should wear comfortable shoes, as the path is sometimes rocky and slippery.
If you are tired and don't want to return on foot, you can opt for the bus or a taxi. In Puerto Calero, you will find a nice marina with some great restaurants and cafes.
25-minute boat trip
Choice of sailing times
Free cancellation up to 24 hours before activity starts
10. Yellow Submarine ride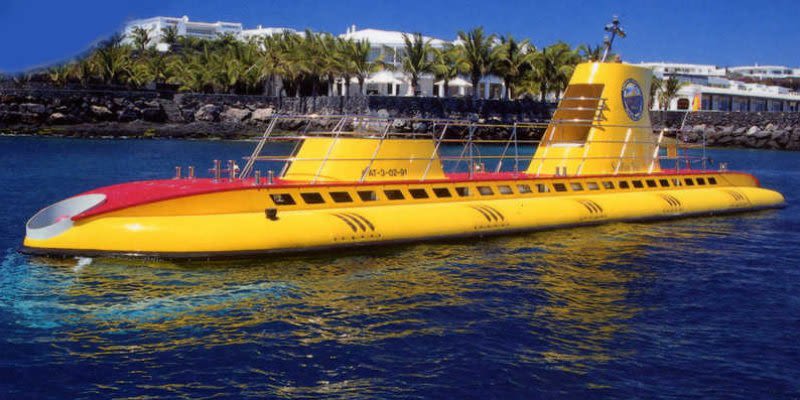 How about a dive to see the amazing marine life off the coast of Lanzarote?
You'll find this yellow submarine in Puerto Calero, which is easily accessible from Puerto del Carmen, as we've already explained before.
This is a favorite activity for the kids, but it's a nice experience for adults as well, especially if you're not a diver but you still want to see the ocean floor and fishes.
Duration 1 hour
Free cancellation up to 24 hours before activity starts
Experience a 1-hour dive on board a real submarine, taking you 30 meters (100 foot) below the unexplored waters of Lanzarote
11. Visit the Old Town Harbour
Puerto del Carmen is divided between the new area and the old town, but even if you are staying in the new side of town you should come and explore the Old Town Harbour. There are many good restaurants on this side of Puerto del Carmen and in the evenings it's a very lively place, with bars and clubs keeping the party alive until morning hours.
12. Events in Puerto del Carmen
Since this is a popular resort in Lanzarote, there are lots of events all year round, from the Carnival of Puerto del Carmen in February/March, to the St. Patrick's Day party, the Ironman Lanzarote competition, Holi Lanzarote - the Hindu festival, Santa Parade before Christmas, the festivities for the Three Magic Kings (Los Reyes Magos) in January and many many more. This is a great way to enjoy the Spanish way of life, by participating in the various fiestas and celebrating all the cultures that live here together.
13. Matagorda, the quiet side of Puerto del Carmen
Depending on what your needs are, Matagorda may be the best fit for you to spend your holidays. You can easily walk from Puerto del Carmen to Matagorda, where there is a large and beautiful beach, ideal for families. In the evenings, it's not as noisy and busy as Puerto del Carmen, which may be what some people are looking for, but you still get good restaurants and bars to eat and have a pint.
14. Try the different cuisines
The great thing about Puerto del Carmen is that it's so diverse and there are so many bars and restaurants that you simply can't get bored. From the typical Spanish cuisine, to British food, Mexican, Irish pubs, Polish cuisine, Asian and even Caribbean, there are so many choices that everyone can find something to their taste.
15. Visit Jose Saramago's house
This is the house where Jose Saramago has spent the last 18 years of his life and one can understand why he loved Lanzarote.
The house is open from Monday to Saturday and it's actually located in Tias. You can reach it by public transport using bus lines L-5 + L-19 + L-34 + L-60 and getting down at the Tias Centro stop.
Day trips from Puerto del Carmen
Puerto del Carmen has a great location in Lanzarote, close to the airport and sort of in the middle of the island, which makes it great as a base if you want to explore. Besides the list above with things to do in Puerto del Carmen, you can venture out of town and take an island tour with one of the local companies, or if you have a rental car you can visit on your own.
The most popular day trips from Puerto del Carmen are:
Playa Blanca - visit the southernmost resort in Lanzarote, where you can go for a dive in the first underwater museum in Europe.
Costa Teguise - another popular resort, this time up north from Puerto del Carmen. Here you have the Aquapark, which is great especially for kids.
Timanfaya National Park - this is the symbol of Lanzarote and you should definitely take the bus tour through the volcanoes.
La Geria - the wine country in Lanzarote, which is a great experience if you are a wine lover