Where To Stay in Fuerteventura in 2020 - Best Areas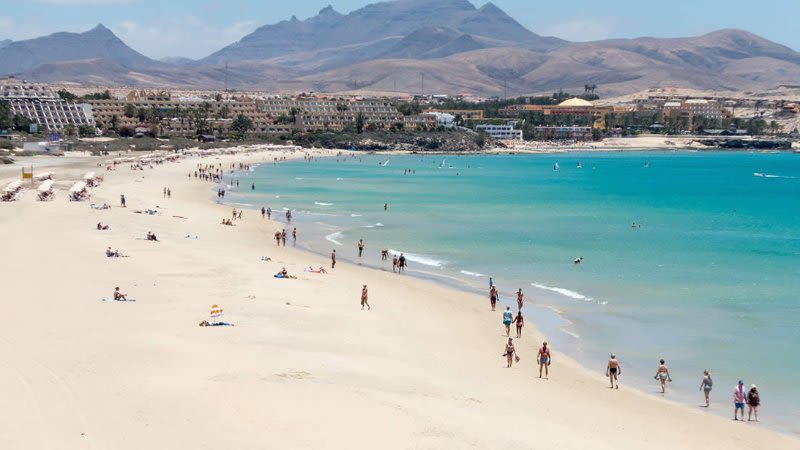 If you're planning a trip to Fuerteventura any time soon, you are probably looking for the best areas where to stay in Fuerteventura, especially if this is your first time visiting the island. In this article, we will share with you where the best places are, which are the best hotels and our favorite beaches and things to do while you're here.
Fuerteventura is the oldest Canary Islands and it's home to some of Europe's best beaches, which means that this island situated in the Atlantic Ocean is one of the best destinations for a beach holiday in Europe.
No matter in which resort you decide to stay in Fuerteventura, you'll always be close to some of the most stunning beaches you've ever seen, with turquoise crystal clear waters and white or gold fine sand. The island is truly a paradise, situated only four hours away from home for most European visitors coming from countries like the UK, Germany, Norway, Sweden etc.
What makes Fuerteventura ideal for a holiday all year long?
The wonderful weather, of course.
Because of its location, the islands have over 3000 hours of sunshine per year, with average daily temperatures of 20°C - 21°C during the daytime in December.
Weather reports for Fuerteventura (every month of the year)
Fuerteventura's Best Areas To Stay In
Best place to stay in Fuerteventura for couples: Corralejo
Best place to stay in Fuerteventura for families: Caleta de Fuste
Quiet & relaxing location: El Cotillo
Amazing beaches: Morro Jable
Ideal place to stay for surfers and kite surfers: Costa Calma
Local atmosphere: Puerto del Rosario
GET YOUR €41 AIRBNB COUPON CODE NOW!
If you create a new account you can get up to €41 Free Travel Credit on Airbnb.
Fuerteventura is a favorite destination for beach lovers and surfers everywhere, with a year-round tourist season, due to the great weather. It has great waves, hundreds of kilometers of coast and sunny weather from January until December.
But there is more than surfing to Fuerteventura. The island also has many small beaches with calm warm waters, ideal for small children to play with no risk of getting hurt. You can try a different beach every day or you can lay back and enjoy one of the resorts that offer both relaxation and entertainment.
The airport in Fuerteventura is placed on the east coast, very close to the capital Puerto del Rosario. If you rent a car you will be able to get anywhere on the island in less than an hour after you pick up your rental.
So which Fuerteventura resort is best?
Corralejo - Best for a couple's holiday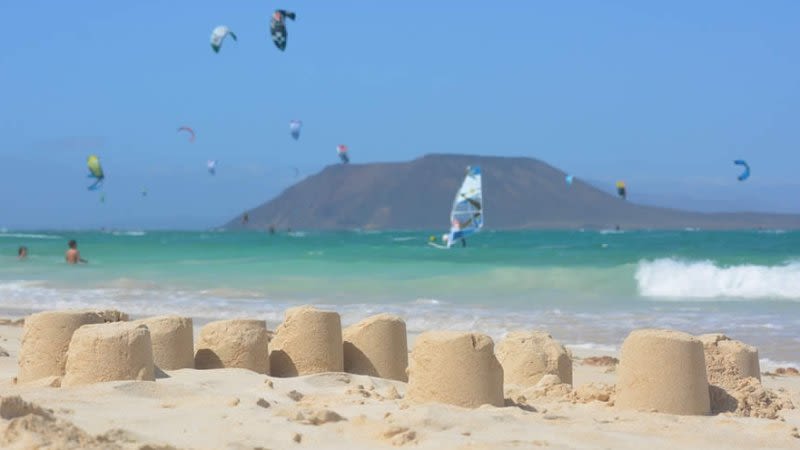 Corralejo is situated in the very north of the island and is the most popular resort in Fuerteventura. Here you will find everything you can wish for in order to have a memorable holiday. If you're looking for both relax and fun, this is the place to go.
WHY STAY IN CORRALEJO?
In our opinion, Corralejo has the best nightlife in Fuerteventura, lots of great bars and let's not forget the Music Square, which is one of the places with the best atmosphere in town (day and night).
Corralejo also has some great restaurants, like 5th Avenue, Fado Rock, Tuxedos or Avenida Restaurante, so you'll be able to enjoy incredible food every day of your holiday.
WHAT TO DO AROUND CORRALEJO
Corralejo Natural Park is a MUST SEE on the island and the scenery looks like it's part of the Sahara. You can park the car somewhere along the road since there are many parking spots for kilometers along the dunes and the beach. After you are finished exploring the Corralejo sand dunes, you have to cross over to the beach, where you can enjoy the fantastic Corralejo Grandes Playas. The water here has an amazing color and you can enjoy swimming or you can practice water sports like kitesurfing.
From Corralejo, you can also make short trips either to El Cotillo, Lajares or La Oliva.
Corralejo also offers some of the best opportunities for shopping in Fuerteventura.
Las Palmeras Shopping Center is right on the main road and has underground parking which is free. Here you will find many international brands like Zara or Pull and Bear.
El Campanario is another commercial center opened all week long, but at the weekend they have a fair with souvenirs and local products. When you get tired of all the shopping you can stop and have brunch or enjoy a cup of coffee while you enjoy the music shows.
As you can see, there are plenty of things to do in Corralejo and there's a lot more to discover in the vicinity if you feel like exploring.
WHERE TO STAY IN CORRALEJO
ClubHotel Riu Oliva Beach Resort is situated right on Corralejo Grandes Playas, is a private space, and 10 minutes away from the town of Corralejo. This is a perfect hotel if you prefer to be right on the beach, in order to enjoy full days of sunbathing and swimming.
Another good option for families is Hotel Atlantis Fuerteventura, where you can have an all-inclusive holiday and just enjoy the good food and amenities the hotel has to offer.
Airbnb is always a great option if you're looking to rent a villa or an apartment. Read our article about the best Airbnbs in Fuerteventura.
Caleta de Fuste - Best place for families

If you are taking a family holiday with your kids, then Caleta de Fuste may be the right choice for you. It is close to the airport and here you can stay at the Barcelo Thalasso SPA Hotel, one of the most popular on the island.
WHY STAY IN CALETA DE FUSTE
Caleta de Fuste has a central location on the island, which makes it the perfect starting point for exploring Fuerteventura, especially for first-time visitors.
Since Caleta de Fuste is a resort town developed especially for tourism on the island, it has all the facilities needed for a relaxing holiday, as well as a beautiful beach, Playa El Castillo, which has been updated recently. There are plenty of good bars and restaurants and the resort has a more relaxed atmosphere compared to Corralejo, which makes it more suitable for families with small children.
WHAT TO DO IN CALETA DE FUSTE
Playa El Castillo is ideal for kids since the water is always calm and children can play safely while parents can relax. The beach has many facilities like sunbeds, umbrellas and beach showers.
There are lots of activities available from Caleta de Fuste, like boat trips, inflatables on the water for the kids to play on, a weekly market for souvenirs, as well as a rock pool where you can swim in crystal clear water.
A few minutes out of town there's a golf course and if you're looking for a bit more adventure, you can take a trike tour from Caleta de Fuste and drive through the stunning landscape of Fuerteventura.
For a half-day trip, you can go to Betancuria, a charming village situated inland, which used to be the capital of Fuerteventura. The route is quite scenic, so make a lot of stops on the way there and enjoy the beautiful views.
Don't miss the Morro Velosa statues and the Morro Velosa Mirador, with one of the most spectacular views of the moonlike landscape this island has to offer. Take a walk through Betancuria, a typical Spanish town and enjoy the rural side of Fuerteventura.
Oasis Park is another option for a family day away from the beach. The park is situated in La Lajita, a 40 minutes drive from Castillo Caleta de Fuste.
This is a great zoo, with many animals to see and entertainment shows. There is also a Cactus Botanical Garden inside, which is the largest cactus garden in Europe. Be prepared for a full day of walking, so make sure you wear comfortable shoes.
For a full view of the resort, see our article about things to do in Caleta de Fuste.
WHERE TO STAY IN CALETA DE FUSTE
Barcelo Thalasso Spa is probably the most famous hotel on the island and it is a massive hotel with plenty to offer. Another great hotel is Sheraton Fuerteventura Beach, Golf & Spa Resort which is a good choice for golf lovers coming to the island.
El Cotillo - Ideal resort for a quiet holiday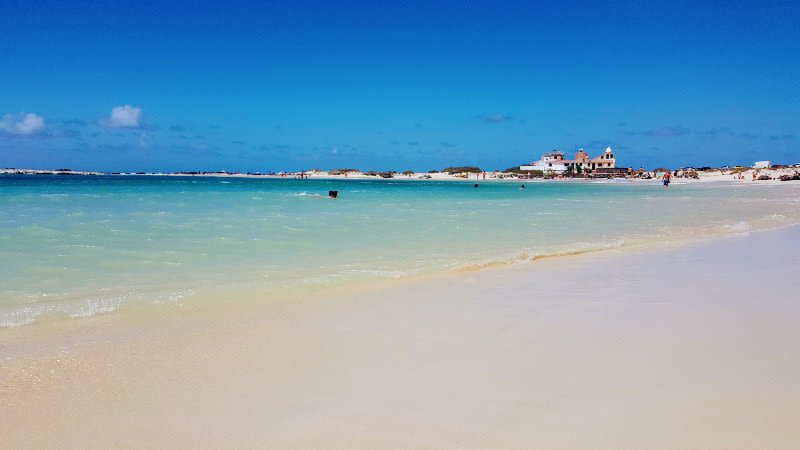 El Cotillo is laid back and quiet in comparison to other bigger resorts in Fuerteventura, but it retains its old charm since it used to be a fishing village before the tourism on the island grew.
WHY STAY IN EL COTILLO?
El Cotillo is a bit remote and it's the only place on our list located on the north-west side of Fuerteventura. If all you want to do is to sit on the beach and relax, away from the noisy bars and the hustle and bustle of big resorts, El Cotillo should be the perfect place to stay in Fuerteventura for you.
El Cotillo is also a popular place to stay for surfers, due to the proximity of Piedra Playa, a good beach for surfing in the north of Fuerteventura.
WHAT TO DO IN EL COTILLO
First of all....sit back and relax. Take in the views and especially try not to miss the sunset from El Cotillo, which is probably the best on the island.
Go to Playa La Concha for a day on one of the best beaches in Fuerteventura, but make sure to brink some snacks and drinks with you.
Don't miss a day exploring the lagoons near El Cotillo, or Los Charcos, as they are called in Spanish. These lagoons are among our top 3 favorite places in Fuerteventura, and we highly recommend you to go there.
Costa Calma - For the best Fuerteventura surf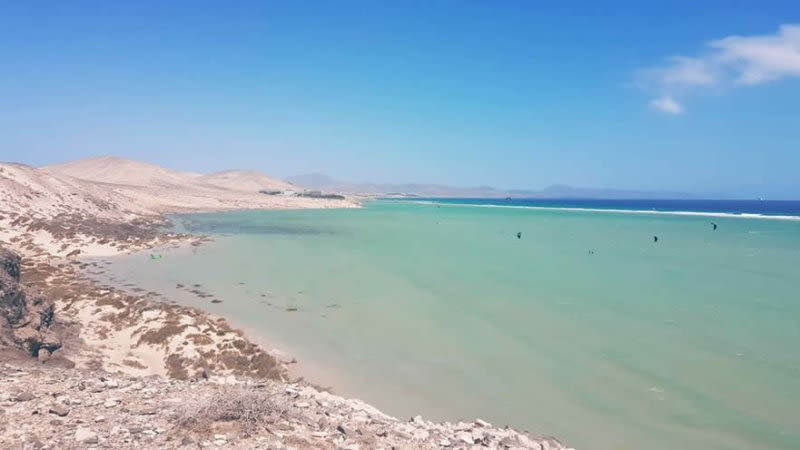 Costa Calma is situated in the south of the island is a very popular area to stay in Fuerteventura among German visitors. There are many hotels, restaurants, clinics, that cater to Germans. Even driving through Costa Calma you will notice that the radio program is in German and many business names or adverts are also written in German.
Costa Calma is located 65 km away from the airport, which means about a 1-hour drive if you decide to rent a car.
WHY STAY IN COSTA CALMA?
Costa Calma is a smaller resort than Caleta de Fuste or Corralejo and it's geared mostly towards the German crowd and popular also with tourists from northern Europe. The resort town of Costa Calma was developed with tourism in mind, so you'll find all the amenities needed for a smooth holiday, but with fewer crowds than in the previous two resorts.
WHAT TO DO IN COSTA CALMA?
The famous Sotavento lagoon is situated close to Costa Calma and is one of the beaches that you will see on many Fuerteventura postcards.
Playa Barca is popular among surfers since the winds are favourable for water sports. During the summer here takes place the Fuerteventura Windsurfing Championship, a popular event that has been organized by over 30 years.
If you are interested in surfing in Fuerteventura, then you can also try Playa la Pared, situated on the west coast, only 10 kilometres from Costa Calma. The beach is accessible by stairs and many surfing schools come here with their students.
On Wednesdays and Sundays, there is a weekly market in Costa Calma where you will find anything from souvenirs, handmade jewellery and also fake goods, like watches and handbags. It is the kind of market where you can bargain for what you buy, so don't be ashamed to ask for a better price.
WHERE TO STAY IN COSTA CALMA
Melia Gorriones Hotel is situated right on Playa Barca and is the best place to stay in Fuerteventura if you came here to enjoy this marvelous beach. If you are looking for a place in the center of the resort of Costa Calma, then you could try H10 Tindaya Hotel. This offers easy access to the beach and good restaurants and interior design.
Morro Jable - Best place to explore Jandia's beaches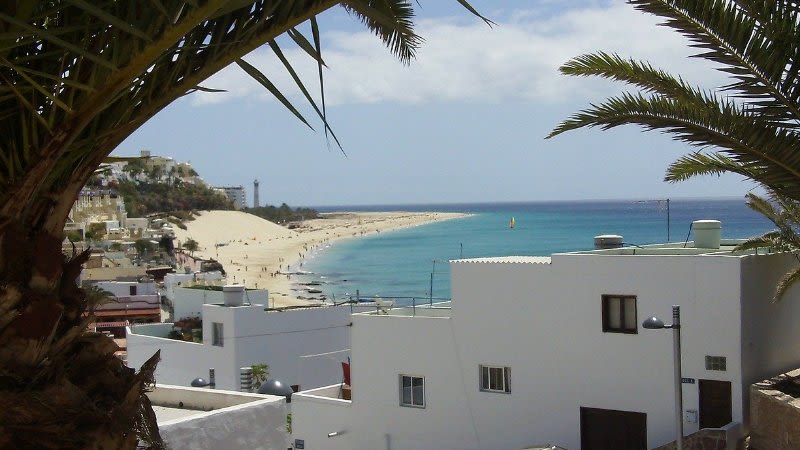 Morro Jable is the southernmost town in Fuerteventura and it has a long history as a fishing village. This is also a popular destination for German tourists, with many restaurants and bars having a German specific. It is located a bit far from the airport, at an 85 km distance and the journey here takes around 75 minutes if you decide to drive hire a car and drive yourself.
WHY STAY IN MORRO JABLE
Morro Jable has a lovely old town, where you can walk and enjoy all the small shops. If you get tired of the old town's charm, you can go on the promenade in the harbor, where the new town began to develop. Since Morro Jable used to be a fishing village, it retains its authentic Spanish charm, as opposed to the resorts which were purposely developed for tourism.
WHAT TO DO IN MORRO JABLE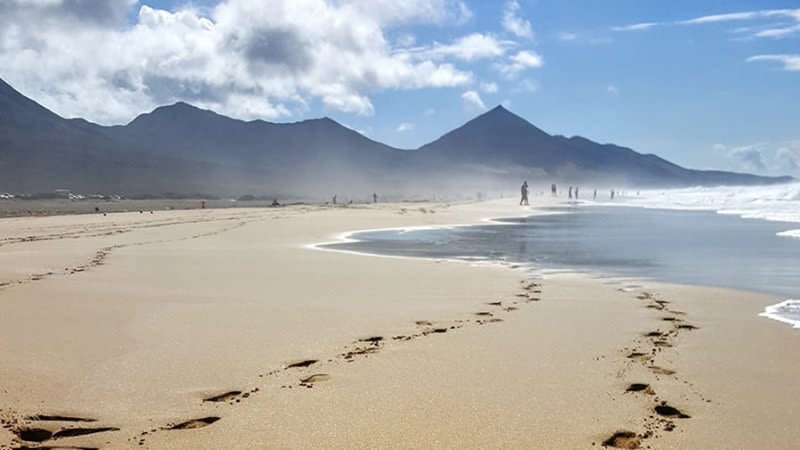 Morro Jable has one of the best beaches on the island, with parking spots all along the beach, so you can get here by car. Playa del Matorral is a popular beach, but since it stretched for many kilometers, you will always find a place to stay near the ocean. There are amenities like sunbeds, umbrellas and beach showers.
Cofete is the pride and joy of Fuerteventura's beaches, with a truly spectacular landscape that takes your breath away. Morro Jable is the closest town to Cofete and from here you can even take a public bus, which will take you all the way to the beach and so you will avoid driving on the dirt road yourself.
Cofete retains her unspoiled beauty, with the ocean on one side and the high cliffs on the other side. It was included as one of the Top 10 most beautiful beaches in Europe by Tripadvisor.
Similar to the other resorts, Morro Jable has a local market which happens every Thursday, between 9 am and 2 pm.
Address: Avenida Del Saladar, Cosmo Shopping Center
There are many other shops both in the new town and old town, with local products and also international brands.
WHERE TO STAY IN MORRO JABLE
TUI Magic Life is a popular hotel among german tourists, with plenty of good reviews. You have many activities included like aerobics or spinning classes, which are great for the more active type of tourist.
When you are looking on where to stay in Fuerteventura in the South, another good place is Hotel Faro Jandia & Spa, which is ideal for relaxation with spa and sauna treatments.
Puerto del Rosario - Best place for local atmosphere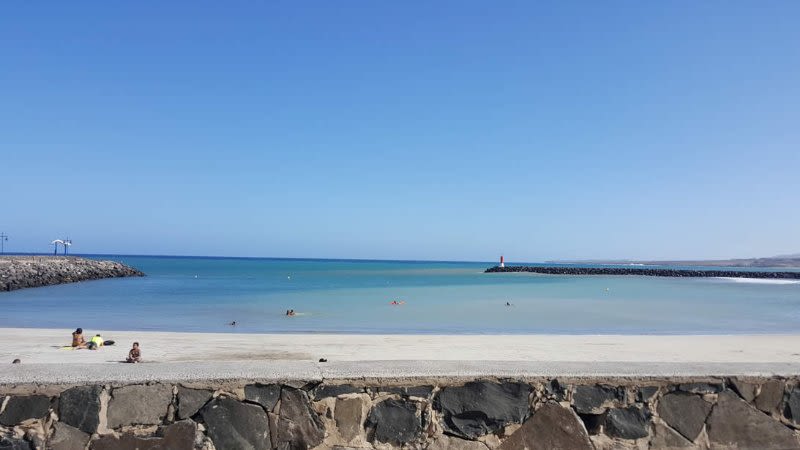 Puerto del Rosario is not a resort town, instead, it's the capital of Fuerteventura and so it's a residential city, where many of the island's residents live.
But with the increased number of cruise ships arriving in the harbour each winter, the town has started to make changes and has improved its tourism infrastructure, trying to attract more tourists and daily visitors.
WHY STAY IN PUERTO DEL ROSARIO
If you want to experience local life in Fuerteventura, Puerto del Rosario is the best place to be. It's the largest city on the island, it has supermarkets like Hiperdino and Lidl, a beautifully renovated beach and bus connections with all other towns and resorts on the island. Plus, prices for accommodation in Puerto del Rosario are lower than in the other resorts, but you will not find as many options for hotels.
WHAT TO DO IN PUERTO DEL ROSARIO
Puerto del Rosario has a lovely beach, called Playa Chica, which has been redone in recent years and it now looks great and has all the facilities found on the beaches in the resorts.
From Puerto del Rosario you can also easily reach Playa Blanca, which is another massive and beautiful beach in this area.
C.C. Las Rotondas is a big shopping mall, where many people come to shop from all parts of the island. It has international brands like Zara, C&A, as well as a big Hiperdino supermarket, a food court, and other local brands.
Puerto del Rosario is also a great place to stay in Fuerteventura without a car since you can use the local buses to explore the island. From Puerto del Rosario you have a direct bus to Corralejo, Caleta de Fuste, Morro Jable and even to the airport, so most places are only a bus ride away and since the distances are not that big, the trips shouldn't take too long.