Where To Stay in Lanzarote - 5 Best Areas & Hotels in 2021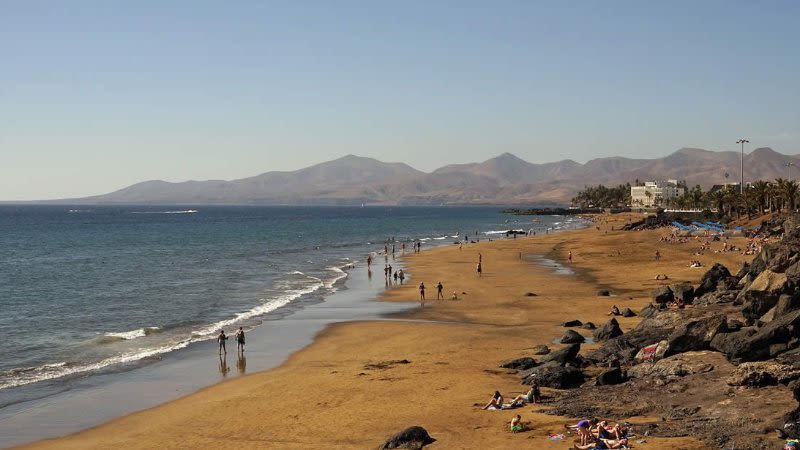 Lanzarote is the easternmost of the Canary Islands, situated very close to her sister island Fuerteventura. The capital is in Arrecife, but this is not a tourist town so not many people choose to spend their vacation in the capital.
Lanzarote offers great weather all year long and this makes it a popular destination even in the wintertime. Timanfaya National Park is the most popular attraction on the island, which you definitely shouldn't miss if you ever come to visit.
If you are trying to decide on where to stay in Lanzarote, then you should take into consideration the fact that the west side of the island has constant winds all year long, and is best suitable for surfers. The north has beautiful views and has lots of vegetation and palm trees, but is quieter and there are no big resorts. The south and east coast of the island is where all the action happens, and where you will find great places for kids, entertainment for adults and lovely beaches to enjoy and relax.
Best places to stay in Lanzarote
Lanzarote is predominantly a sunbathing destination, and most of the popular resorts are either on the east coast or in the south. In order to find the perfect place, you should think of what activities you are interested in. Do you wish to have a holiday just to relax or do you want to lounge during the day and party at night?
Best resorts and areas in Lanzarote
Lanzarote is not only a great destination for beach holidays. The island also offers many things to do for active people who prefer water sports or maybe cycling. Our guide is meant to help you make the most of your time here and choose the best place for your needs.
It is easy to move around Lanzarote especially if you rent a car, so you could also visit the entire island. The rental prices are probably the lowest you will find in Europe so it is worth it to take a car and just drive to see the beautiful scenery that Lanzarote offers.
Best places in Lanzarote for family holidays: Playa Blanca, Costa Teguise
Best nightlife in Lanzarote: Puerto del Carmen
Ideal place for surfers in Lanzarote: Caleta de Famara
Perfect place for a quiet holiday in Lanzarote: Haria
Best places to stay in Lanzarote for couples: Costa Teguise, Puerto del Carmen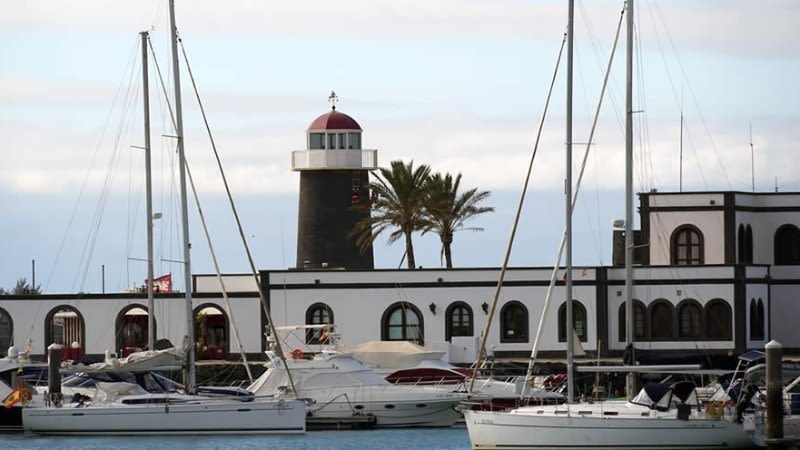 1. Playa Blanca
Playa Blanca is one of the best places to stay in Lanzarote for families.
Situated in the south of the island, Playa Blanca is ideal for relaxing holidays in the sun, where all you want to do is sit by the pool and spend some time with the family.
What to do in Playa Blanca
The resort has 3 main beaches with Playa Blanca beach being just a few minutes away from the city center. This is the smallest of all three so it gets crowded sometimes. In this case, you can take a walk to Playa Dorada, situated in the east. This is the largest and most popular beach in the area and has lifeguards during the day. There are many fun activities for children, the water is warm and safe for swimming, so it is suitable even for small children. You can also find lots of restaurants to enjoy a nice lunch, so you should look for accommodation to be the closest possible to this beach if you want to come here every day.
The most famous beaches on the island are just a few kilometers away from playa Blanca. You can get to Papagayo beach by car in around 10 - 15 minutes since Playa Blanca is the closest resort. At Papagayo, you will find a collection of lovely beaches, each one of them very beautiful and worth exploring.
There are lots of things to do in Playa Blanca and around it and it's a much more chilled atmosphere compared to Puerto del Carmen.
For a day trip, you could take the ferry from Playa Blanca and cross over to Fuerteventura. You will arrive in Corralejo, a very popular tourist resort on the island where you can spend the day or you can rent a car and drive to see the sand dunes, which are really worth seeing.
Best places to stay in Playa Blanca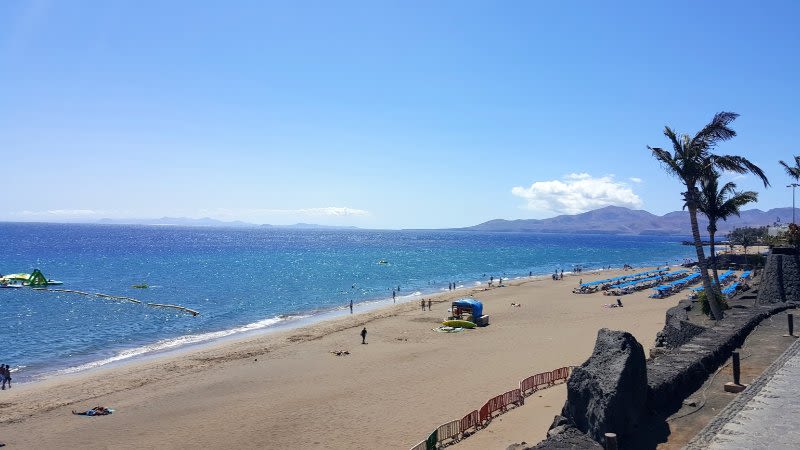 2. Puerto del Carmen
Puerto del Carmen is the best resort in Lanzarote for nightlife.
Puerto del Carmen is by far the most popular resort in Lanzarote and is situated conveniently close to the airport. It has a lively nightlife, so here you won't get bored here if you are looking for clubs, karaoke bars, bingo nights and beach bars.
What to do in Puerto del Carmen
Puerto del Carmen is a great resort for beach lovers as well since it has several beaches, with restaurants and bars nearby and lots of shops.
Playa Chica is the smallest beach, in the old town, near the Hotel Fariones. Especially in summer, it is the busiest beach of all, very popular among the locals as well as tourists.
Playa Grande is the most beautiful beach the resort has to offer, ranked as a Blue Flag beach, with all the comfort and amenities like umbrellas, sunbeds and restaurants close by.
The water at Playa Grande is calm, with no big waves, so this makes it the perfect choice even for families with kids.
Playa Pocillos is another large beach, with kilometers of fine sands. This is situated closer to the airport, so it is a nice place for plane spotting. If you chose to stay in this area, be aware that apartments and hotels situated in Playa Pocillos tend to be noisier, because of all the airplanes. Still, here you can get more value for your money because apartments and hotels are cheaper than the ones you will find near Playa Grande.
Puerto del Carmen is a wonderful resort, with plenty of things to do and in our opinion, it's the best place to stay in Lanzarote without a car. If you're not planning to rent a car while you're on holiday, Puerto del Carmen is well situated close to the airport and you have plenty of supermarkets where to go shopping, without having to travel far.
For shopping you can go to Centro Comercial Biosfera Plaza, where you can also find 2 supermarkets: Supermercado Spar and Supermercado Marcial.
To know more about the resort, you can see our list of things to do in Puerto del Carmen.
Best places to stay in Puerto del Carmen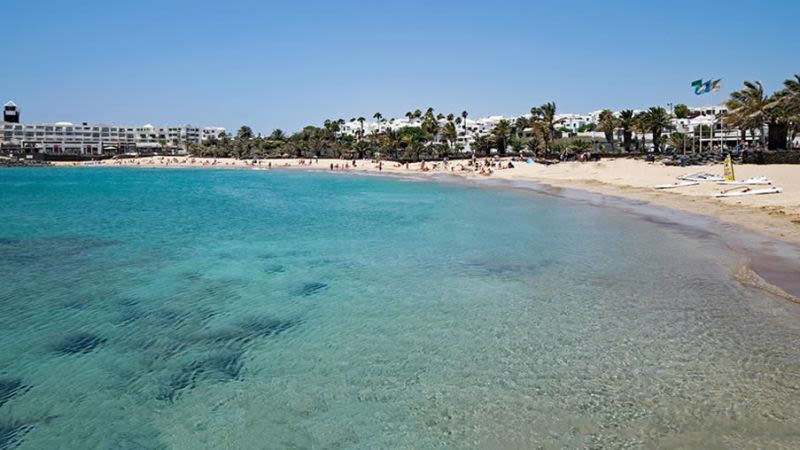 3. Costa Teguise
Costa Teguise is a good place to stay in Lanzarote for couples, as well as for families.
Costa Teguise is situated just north of the capital, 15 minutes away from the airport. The resort was developed with tourism in mind, so you will find all the amenities and facilities that make a good holiday: fine restaurants, a great beach and plenty of activities for children.
What to do in Costa Teguise
Of the 4 beaches of the resort, Playa Bastian is ideal for families traveling with young children. Playa Bastian is very protected, has calm and warm waters, and is ideal to lounge and enjoy the warm sun.
On the other hand, Cucharas Beach is popular among windsurfers and people who like water sports. If you are tempted to learn, here you can find a few windsurfing schools that will help you start in this new sport.
If you want to spend a day away from the beach, you can go visit the Cesar Manrique Foundation, situated just 10 minutes away by car. This is one of the popular attractions in Lanzarote and you will not be disappointed.
You can also make a trip to Castillo Santa Barbara, which is now a house for The Pirate Museum. Lanzarote was a target for many pirate attacks in the old days, so now you can find more about its history and also enjoy the fantastic views. There is a small entrance fee, 3 euros for adults and 1,8 euros for children.
They are not as many shops in Costa Teguise as in Puerto del Carmen or Arrecife, but you can look around the Centro Comercial las Cucharas and also at the small shops on the promenade. You can also make a quick trip to the capital, where you will find a bigger commercial center and various shops.
On Sundays, you can go to the famous Teguise Market, which is probably the largest market in the Canary Islands.
where to stay
The Barcelo hotel is probably the most popular in the resort and offers nice rooms and facilities. Los Zocos Club Resort is also close to the seafront and the hotels says the rooms are receiving new furniture, so this should improve your experience if you chose this hotel.
Best places to stay in Costa Teguise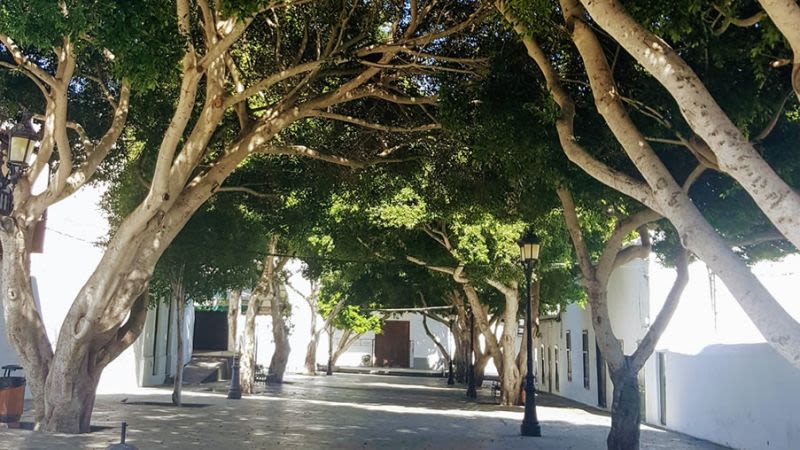 4. Haria
Haria is the ideal location for a quiet holiday in Lanzarote.
Haria is situated in the north of the island, where the climate is different from the rest of the island and the landscape is green, with more vegetation and palm trees. It has a unique look and it looks full of life compared to the arid landscape in the south, especially during the winter months when it tends to get more rain. Here you will have plenty to do, especially if you are interested in an active holiday and hiking.
The name Haria means in Spanish "would you", so the name itself invites to contemplation and a more relaxed approach to a holiday in Lanzarote.
What to do in Haria
From Haria you can go to Famara cliff, where you will find the tallest point in Lanzarote - Penas del Chache at 671 m altitudes. From the top of the cliff you will have a beautiful view of the Famara beach.
You should also go to Jameos del Agua and Cueva de los Verdes, two of the most special places on the island. These are part of the same volcanic tube, where lava used to flow when the volcano would erupt. This is not something you can find in many places in the world, so you should book a tour to visit. It is a unique experience and one of the gems of Lanzarote, besides all the beautiful sandy beaches.
If you want to spend some time at the beach, then you should go to Playa Caleton Blanco in the north of Lanzarote. The contrast between the white sand and the volcanic rocks offer a splendid view, and here you will find crystal clear waters, far from any tourist resort.
For shopping, you should visit the local market on Saturdays, between 9 am and 2 pm. The market takes place in Plaza Leon y Castillo and here you can find souvenirs and local products, from handmade jewelry to artisanal mojo sauces, typical to the Canary Islands.
Best places to stay in Haria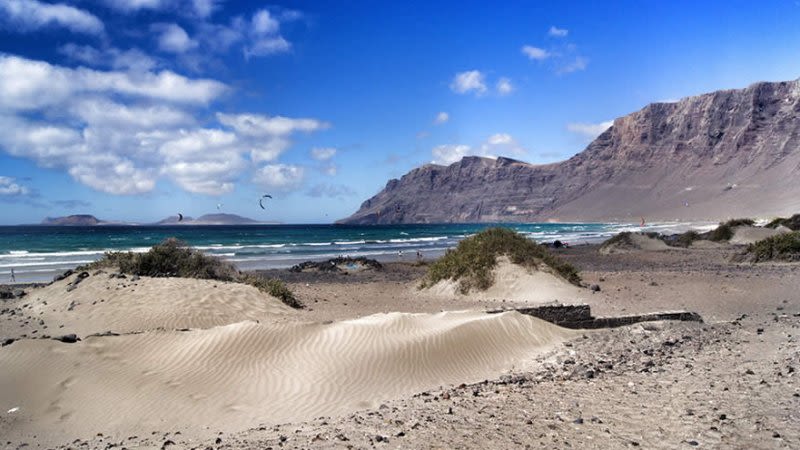 5. Caleta de Famara
Caleta de Famara is the best place to stay in Lanzarote for surfing
Famara Beach is one of the most stunning beaches in Lanzarote, with the ocean on one side and the cliffs on the other and you will fall in love with the place, even if you are not a surfer.
What to do in Caleta de Famara
There aren't many options as to what you can do in the area, besides going to the beach.
Caleta de Famara is situated on the west coast and the beach enjoys constant winds. This makes it the perfect choice for water sports like windsurfing and kitesurfing. Here you will find many surfing schools, so if you plan to take a course, this would be a great place to have your base on the island.
There are no shops or umbrellas on the beach, so come prepared with something to snack on if you want to spend all day here. You can also leave the beach and head back to Caleta de Famara for lunch, where you will find some nice pubs and restaurants that serve fresh fish, given the fact that the village used to be a fishing village in the past.
Best places to stay in Caleta de Famara
As you can see, Lanzarote offers all sorts of accommodation, for any type of visitor. If you plan to stay in places like Caleta de Famara, then it is best to look for studios or apartments that you can rent. If you want a vibrant atmosphere you should go for Puerto del Carmen and if you want lovely beaches and a more relaxed vibe, head over to either Playa Blanca or Costa Teguise.
FAQ about the best places to stay in Lanzarote
Which is the best area to stay in Lanzarote?
The most popular areas to stay in Lanzarote are the 3 main resorts: Playa Blanca, Puerto del Carmen and Costa Teguise.
Which is the nicest part of Lanzarote and the best resort?
This is of course a matter of personal preference. In our case, Puerto del Carmen is our favourite resort in Lanzarote and where we usually choose to stay when we visit.
Which is better: Puerto del Carmen or Costa Teguise?
Puerto del Carmen is usually the busiest resort and the best for nightlife in Lanzarote. Costa Teguise has a more chilled atmosphere and it's ideal for surfing and other water sports.