Tenerife Weather in December - How hot is Tenerife in winter?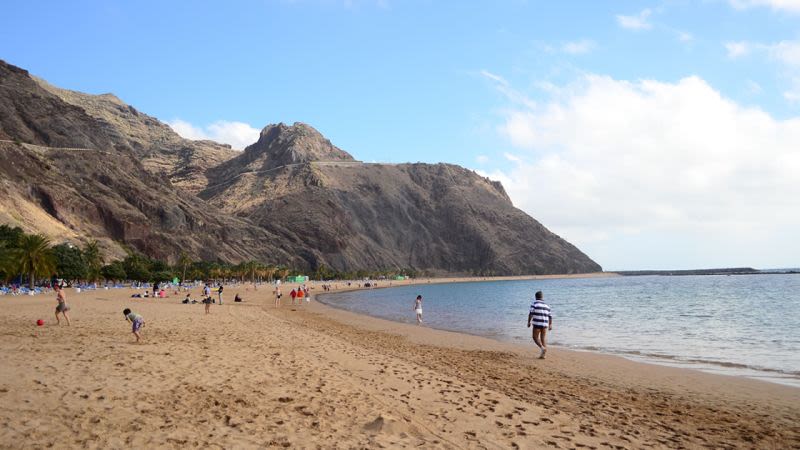 We get this question quite often here at Guide to Canary Islands: what's the weather like in December in Tenerife? How warm will it be and can you sunbathe in Tenerife in December?
Let's also not forget: which is the warmest Canary Island in winter? Where should I go to get my winter tan?
Understandably, people from the UK and mainland Europe are desperate to escape the cold back home and the Canaries are the best choice for winter sun.
How warm is Tenerife in December?
If hot and sunny is what's you're after, then Tenerife is your best bet in December in Europe.
With its privileged position (only 4 hours away from the UK and mainland Spain), Tenerife is also known as the island of the eternal spring.
With Mount Teide situated centrally on the island, Tenerife has many microclimates and the weather can be very different from one coast to the other, depending on which side of Mount Teide you are on.
Weather in Tenerife South in December
The south of the island is always warmer and sunnier than the North, with fewer rainy days, especially during the winter months. Playa de las Americas and Costa Adeje are the most popular resorts in the south if you're still wondering where to stay in Tenerife.
In Tenerife South, the weather is just warm enough to spend the day on the beach and even go in for a swim, although the ocean water is considerably cooler in winter compared to the summer months.
Temperature in Tenerife in December
In December in Tenerife, the temperature can go up to mid 20°C, but most days will have temperatures ranging between 20 - 23°C.
Average high temperature: 22.7°C (80.2°F)
Average low temperature: 16.5°C (68°F)
Daily mean temperature: 19.6°C (71°F)
In Tenerife South, the daily mean temperature is 19.6°C in October, which is calculated as a mean between the average high temperature of 22.7°C and the average low of 19.6°C.
Record low & record high temperatures
The highest temperature ever recorded in Tenerife in October (at Tenerife South Airport station) was 30°C and the lowest temperature was 10.4°C.
Rainfall
Average rainfall: 31 mm
Average rainy days: 4
In theory, December is the wettest month in Tenerife.
But, as we've said previously, the weather in the north can be very different from the south, so you should expect more rainy days in winter if you go to Puerto de la Cruz for example, compared to Los Cristianos, Playa de las Americas, Costa Adeje and the rest of the south.
From an average of 2 rainy days in November in Tenerife, this number rises to 4 even in the south of the island, and in the north, there will be even more wet days. Even so, we think the weather is still better than in most other places in Europe and you have big chances of spending a warm Christmas on the beach.
Sunshine hours
Monthly sunshine hours in December: 197
Daily average sunshine hours: 6.5
UV Index: 4
Tenerife gets an average of 7 hours/day of sunshine in October. The days are getting shorter, but there's still enough sunshine left for you to get your daily portion of vitamin D.
The UV index is situated at a 4 on a scale that goes up to 11 as max.
Sea temperature in December in Tenerife South

This is the average temperature for the sea temperature in December in Playa de las Americas:
Average water temperature: 20.9°C / 69.6°F
If you feel the ocean water is too cold to go in, then take into consideration to booking a hotel or apartment that as access to a heated swimming pool. Siam Park also has heated water to 24 °C in all their installations, so it's still great for a visit even in December.
Calima in December
Calima is a phenomenon where a hot wave of wind and sand arrives in the Canary Islands from the Sahara, and the temperatures rise above their normal rate and the air is filled with sand.
Calima can appear during the summer months, as well as during the winter months, but it's hard to predict when it will happen so you just have no way of taking this fact into consideration when booking a holiday to Tenerife ahead of time. The south is usually more affected than the north, so if you have a car hire you can escape the calima by taking day trips and exploring more parts of Tenerife.
What's Tenerife like in December
Which resort or town is the best for a winter holiday in Tenerife?
December Weather
Average
High °C (°F)
Average
Low °C (°F)
Rain
mm (inches)
Rain
Days
Average
Sun Hours
Puerto de la Cruz
22.9 (73.2)
16.5 (61.7)
35 (1.36)
8
6
Tenerife North Airport (SC La Laguna)
17.1 (62.8)
11.5 (52.7)
82 (3.23)
9
4
Izana (Teide)
8.8 (47.8)
2.4 (36.3)
60 (2.36)
6
7
Santa Cruz de Tenerife
22.1 (71.8)
16.6 (61.9)
43 (1.7)
9
5
Guimar
21.7 (71.1)
14.4 (57.9)
71 (2.8)
8
7
Tenerife South Airport
22.8 (73)
16.5 (61.7)
30 (1.19)
4
6
Los Cristianos
22.7 (72.9)
16.5 (61.7)
31 (1.2)
4
7
Costa Adeje (Playa de Las Americas)
22.7 (72.9)
16.5 (61.7)
31 (1.2)
4
7
Garachico
17 (62.6)
11.5 (52.7)
85 (3.35)
8
6
What to pack for a winter break in Tenerife
First of all... your bathing suit, of course!
In the evenings it can get chilly, even in the south, so a cardigan or a light jacket is a must. Or even both.
It would be better if you can bring a raincoat that protects you also from the wind, that can feel cooler in the evening.
On most days though, when it's nice and sunny, a T-shirt and shorts will be all you need.
For kids you could also buy a wetsuit, that will protect them from the sun, as well as reduce the shock if the water is cold. You can get a wetsuit for yourself also, it's very useful even if you don't practice surfing and nowadays you can find many options in many price ranges, it doesn't have to be top of the top.
For more info on the subject, you can read our article about what to wear in Tenerife.
Things to do in December in Tenerife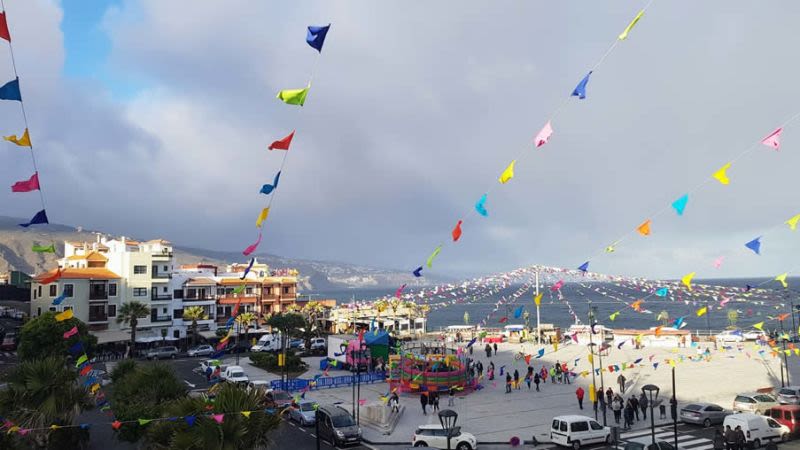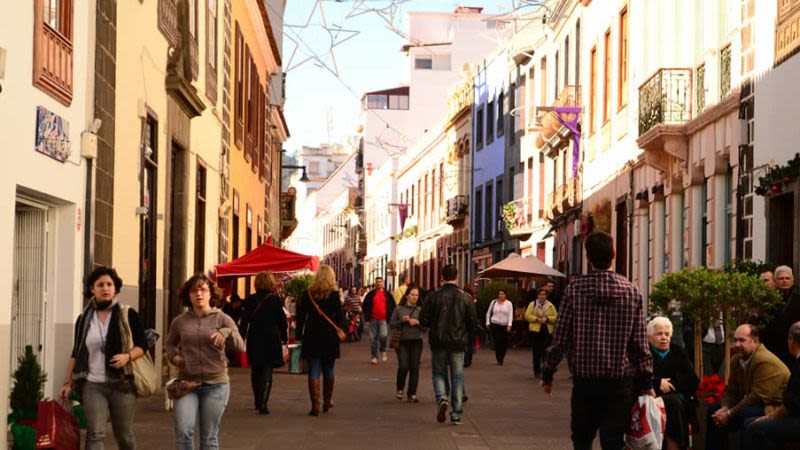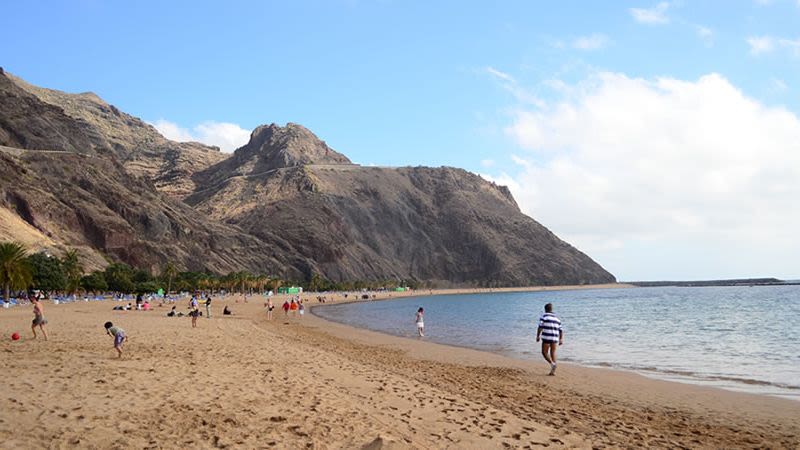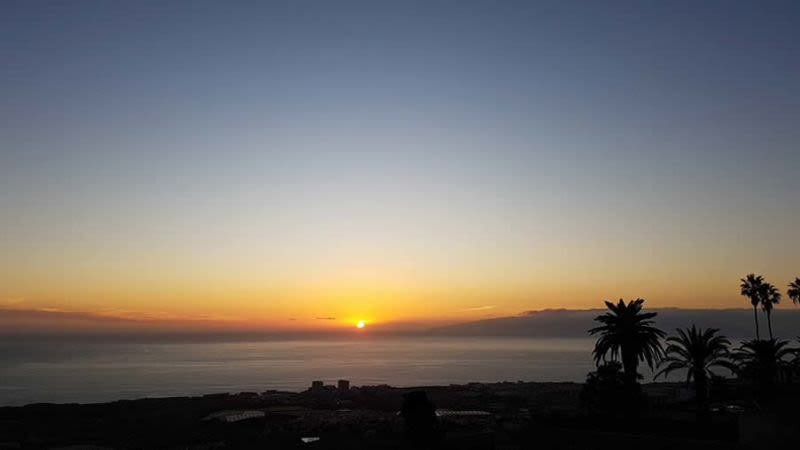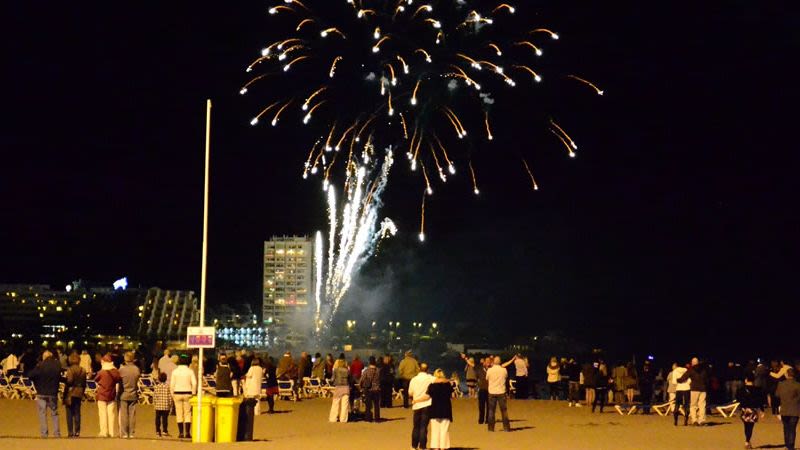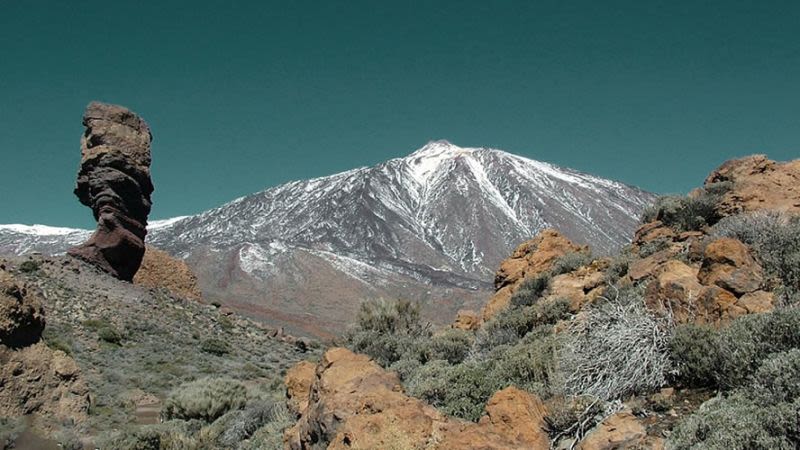 Here are just a few ideas and photos of Tenerife in December:
1. Spend a day on Playa de las Teresitas
With its golden imported sand, this beach is lovely and has a great atmosphere. So, who says you can't get your tan even in the north of Tenerife?
2. Visit Los Gigantes

This is a photo of the beach in Los Gigantes in December: quiet and less crowded than during the summer months, although the sun is shining brightly over the giant cliffs.
3. Climb to the top of Mount Teide
Teide's peak is often white during winter - it is after all the tallest peak in all of Spain. It's a nice thing to lay on the beach in the south and admire the snowy peak of the Teide Volcano from a distance, but it's even nicer to go up there and admire the view from up top.
Discover the most visited National Park in Spain
Hike on top of the highest peak in Spain
4. Go somewhere special to watch a spectacular sunset
The sunset on the island is gorgeous no matter the season and you see many recommendations of romantic spots for sunset in our dedicated article about the best sunsets in Tenerife.
5. Visit Jungle Park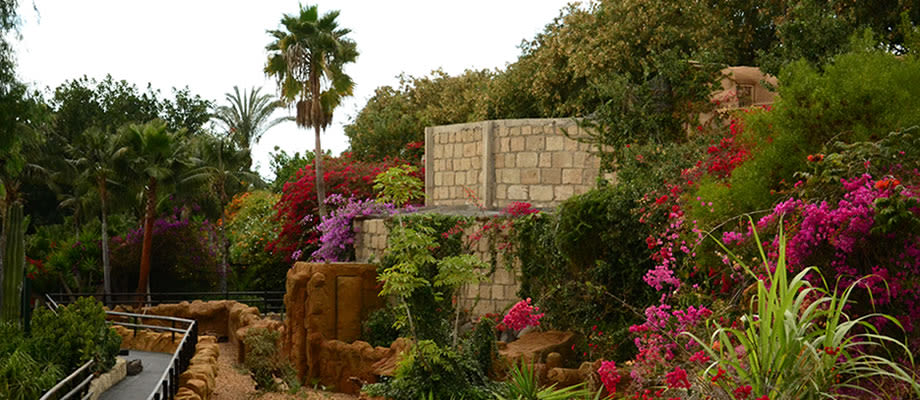 Visiting Jungle Park can be a great day out with the kids when you want to take a break from the beach, or you're looking for something to do on an overcast day.
People are celebrating New Year's all over the island, with fiestas organized in most towns. In the gallery, you can see a photo from the beach in Los Cristianos at midnight. A cardigan or a light jacket will suffice on most nights.
7. Go to San Cristobal de La Laguna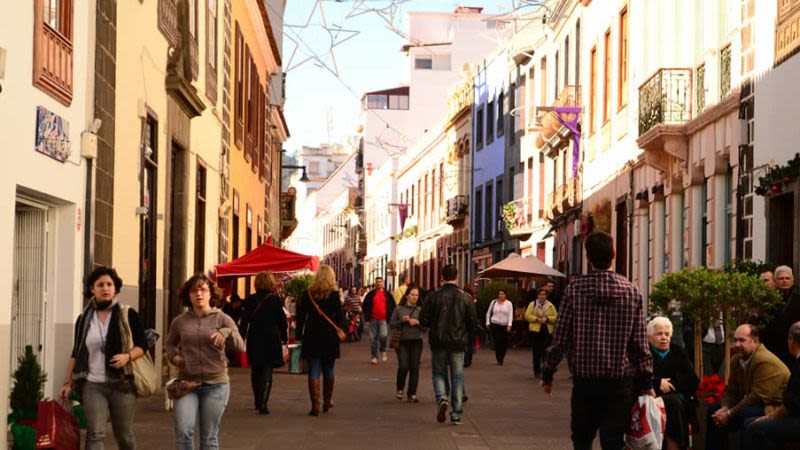 La Laguna had it's first Christmas market in 2016. So this may become a tradition in Tenerife, with more municipalities trying to organize events during the Christmas period.
8. Go to Candelaria
A lovely town on the east coast, close to Santa Cruz de Tenerife, great to explore if you want to see more of the local life. In the photo gallery, you can see the main square, situated right next to the Church and it offers great views over the Atlantic Ocean.
FAQ about Tenerife in December
Is Tenerife hot in December?
Yes, the average temperature in December during the daytime is 22.7°C (80.2°F), which is hot enough for sunbathing.
Can you sunbathe in Tenerife in December?
Yes, it is possible to sunbathe and go swimming in Tenerife in December, especially in the south of the island.
Is December a good month to visit Tenerife?
December is a great month to go to Tenerife if you want to combine warm weather with the festive holiday spirit.
Can you swim in December in Tenerife?
Yes, you can swim in the ocean in Tenerife in December, but a heated pool would be better at this time of year.