Coronavirus in the Canary Islands: 2405 confirmed cases on June 19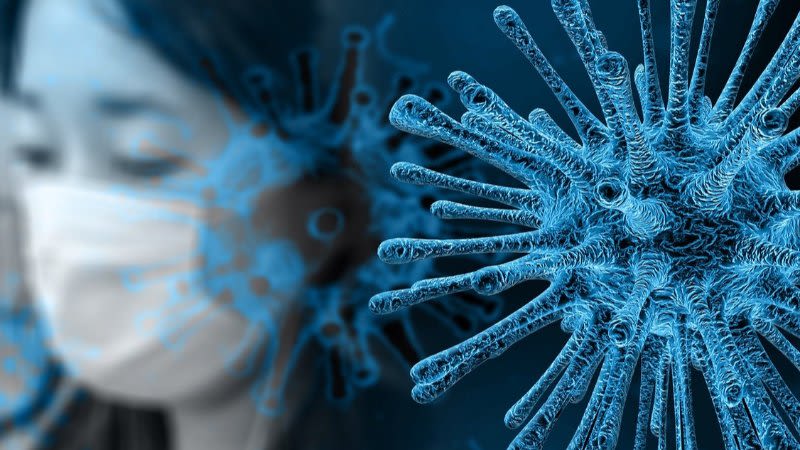 Wondering what is the situation in the Canary Island in regards to the Coronavirus pandemic? Did you have a holiday planned in the Canary Islands which is now affected by the current situation with the Coronavirus spread? We will try to update this page with info about all the islands, as soon as there's something to report.
UPDATE - June 19, 2020

Total confirmed COVID-19 cases in the Canary Islands: 2405

Tenerife: 1594
Gran Canaria: 601
Lanzarote: 75
Fuerteventura: 38
La Palma: 89
La Gomera: 7
El Hierro: 1
La Graciosa: 0

Confirmed cases until 19/06/2020

The General Directorate of Public Health of the SCS has modified and improved the Covid-19 daily epidemiological report regarding the profusion of data, so that the information that will be offered from this Monday is the one that attends to the cases registered according to the place of declaration and not that of residence. This is because there are people who reside on one island but their health card is registered on another, making it difficult to process the data.
162 people have lost their lives in the Canary Islands due to the Coronavirus infection, while 2171 people have been declared cured.
Map to follow the Coronavirus situation in the Canary Islands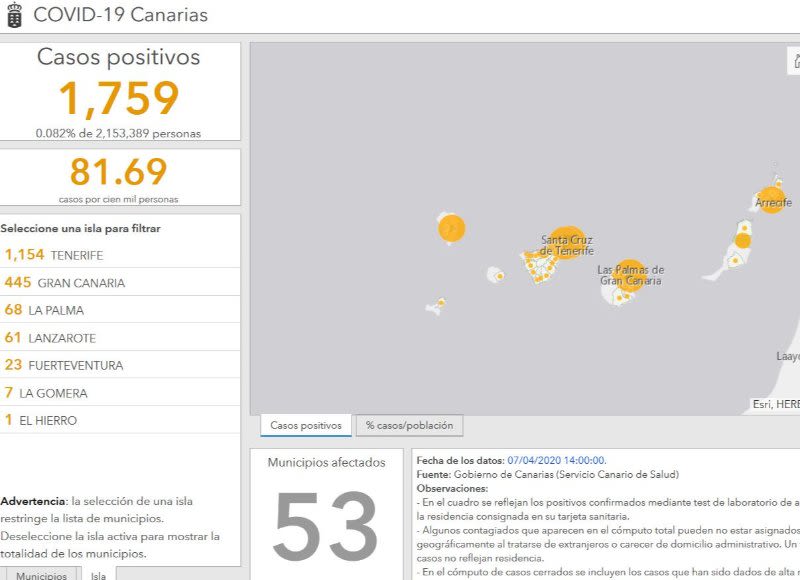 Click here to access the live map for the Canary Islands
The authorities have launched a live map to show the number of COVID-19 cases by island and by each municipality. You can see also the info regarding the number of deaths and recovered cases. This map will be updated constantly by the Canary Islands Government.
Spain is now requiring a 14-day quarantine at home period for international travelers
The order has entered into effect on May 15th and it will stay in place as long as Spain is under the State of Alarm.
You can read more about the 14 day home quarantine in Spain, which is mostly aimed at Spanish nationals and residents who want to return home after being abroad.
Spain is slowly going through the de-escalation phases after a long and strict lockdown period, so it will take some time for tourism to return. Things are still very much uncertain as to when tourists will be able to return to the Canary Islands and especially international tourists.
The quarantine for visitors coming to Spain from abroad will end in July.
Toll-free phone line for questions related to the coronavirus
Gobierno de Canarias has announced on their website that a toll-free telephone line 900 112 061 has been activated, under the coordination of the Canary Islands Emergency Service (SUC), which will respond to requests from citizens for information on prevention measures for Coronavirus infection, possibilities of contagion and false news related to the virus.
How to protect yourself COVID-19 Coronavirus?
Basic protective measures against the new coronavirus from the WHO (World Health Organization)
Wash your hands frequently
Regularly and thoroughly clean your hands with an alcohol-based hand rub or wash them with soap and water.
Maintain social distancing
Maintain at least 1 meter (3 feet) distance between yourself and anyone who is coughing or sneezing.
Avoid touching eyes, nose and mouth
Why? Hands touch many surfaces and can pick up viruses. Once contaminated, hands can transfer the virus to your eyes, nose or mouth. From there, the virus can enter your body and can make you sick.
Practice respiratory hygiene
Make sure you, and the people around you, follow good respiratory hygiene. This means covering your mouth and nose with your bent elbow or tissue when you cough or sneeze. Then dispose of the used tissue immediately.
Why? Droplets spread virus. By following good respiratory hygiene you protect the people around you from viruses such as cold, flu and COVID-19.
If you have fever, cough and difficulty breathing, seek medical care early
Stay home if you feel unwell. If you have a fever, cough and difficulty breathing, seek medical attention and call in advance. Follow the directions of your local health authority.
Calling in advance will allow your health care provider to quickly direct you to the right health facility. This will also protect you and help prevent the spread of viruses and other infections.
Stay informed and follow the advice given by your healthcare provider
Stay informed on the latest developments about COVID-19. Follow advice given by your healthcare provider, your national and local public health authority or your employer on how to protect yourself and others from COVID-19.
Protection measures for persons who are in or have recently visited (past 14 days) areas where COVID-19 is spreading
Follow the guidance outlined above.
Stay at home if you begin to feel unwell, even with mild symptoms such as headache and a slight runny nose, until you recover. Why? Avoiding contact with others and visits to medical facilities will allow these facilities to operate more effectively and help protect you and others from possible COVID-19 and other viruses.
If you develop fever, cough and difficulty breathing, seek medical advice promptly as this may be due to a respiratory infection or other serious condition. Call in advance and tell your provider of any recent travel or contact with travelers. Why? Calling in advance will allow your health care provider to quickly direct you to the right health facility. This will also help to prevent the possible spread of COVID-19 and other viruses.
We will update this page in case anything changes and new cases of Coronavirus infection appear in the archipelago.