Playa La Pared - Wild Beach on the West Coast of Fuerteventura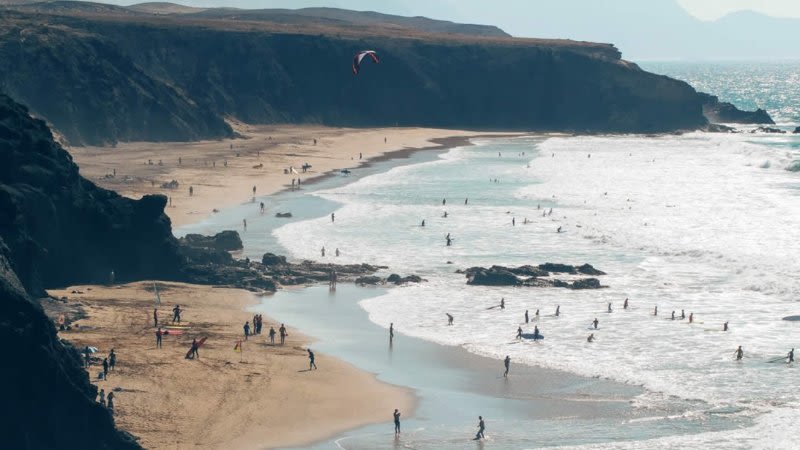 La Pared is a small town on the west coast of Fuerteventura, popular among surfers who come here for the great beach. The town only has a few bungalows, a hotel and some private villas and only one supermarket.
If you plan to go and visit the town there aren't many things to do or see, maybe just a few restaurants to have lunch or dinner.
The reason why you should visit this location is the amazing beach, one of the best in Fuerteventura. Other similar nice villages you can visit on the west side are Ajuy and Puertito de los Molinos.
The village of La Pared is popular among surfers and visitors who are looking for quiet places, where they can enjoy the beautiful landscapes and views of Fuerteventura. This village is very different from the popular resorts like Corralejo or Caleta de Fuste and here you won't find big chain hotels like in the other resorts.
La Pared is great for a quiet holiday in Fuerteventura and there are lots of private rentals, mostly villas or private rooms in guesthouses. We found a lot of great options on Airbnb, with better conditions than the hotels who are located in the same area at similar prices. You can see more options on our list of the best Airbnbs in Fuerteventura.

Playa La Pared
La Pared Beach is 900 m long and just like other beaches situated on the west coast, it has strong winds and currents.
Playa la Pared is a golden sand beach and it's a pleasure to take a long walk here, especially on those days when the beach is empty and you have the place all to yourself.
In order to get to the beach you can park the car near hotel Costa Real and then go down following the stone steps. It takes a few minutes to reach the beach and you'll have to be careful at the end where you will have to walk on some slippery rocks, but you'll be fine if you are careful and pay attention to the steps.
Many surfing schools come to Playa La Pared with their students, because the conditions are ideal for learning.
The beach is not suitable for swimming, since the waves are always strong, but you can lay on the beach and admire the landscape and natural beauty.
Playa La Pared has golden sand and it's usually more quiet than the places you can typically find in resorts and bigger towns on the east coast.
The sunset in La Pared is truly spectacular, so if you have the chance to come here at sunset please do not hesitate, since it's a view you will always remember.
If you'd like to spend the entire day on the beach in La Pared you should bring your own food and drinks, since there are no restaurants or bars on the beach and you'd have to go all the way to town if you need anything.
In the town of La Pared you will find a few small restaurants that serve fresh fish, since fishing is still a popular activity in this part of the coast.
Playa del Viejo Rey
Playa del Viejo Rey, translates to the Beach of the Old King.
It is situated close to La Pared and the sand here is darker in colour.
The strong winds and waves make it also ideal for surfers and dangerous for swimming.
Again, the landscape here is beautiful and wild, so if you're in the area you can visit both beaches in order to decide for yourself which one you like best.
Both Playa La Pared and Playa del Viejo Rey are still wild and not many tourists come here, compared to the most popular places like Corralejo Grandes Playas or Sotavento.
If you want to explore more of Fuerteventura and discover its rough side, with wild beaches and tiny villages, then make the trip to the west coast and you will get to see a whole new image or Fuerteventura that you will also absolutely love.