Puertito los Molinos - A Well Kept Secret in Fuerteventura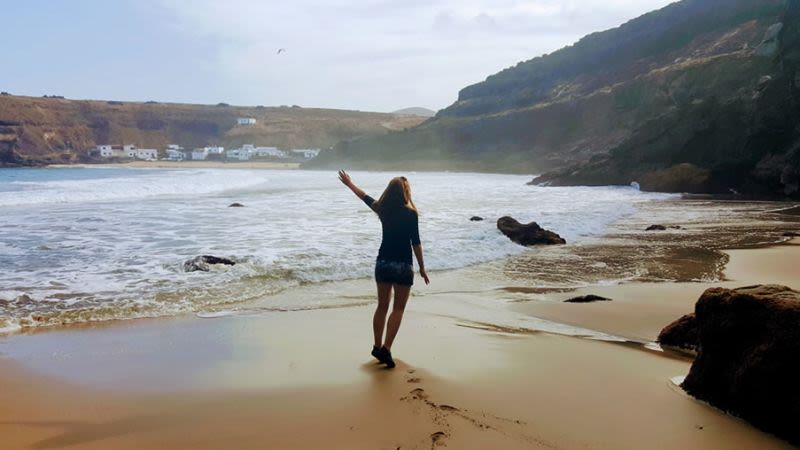 Somewhere on the west coast, down south from Cotillo and close to Tefia, lies the small village of Puertito de los Molinos, or El Puertito as some call it.
With less than 20 permanent residents, Puertito de los Molinos is often overlooked by tourists coming to Fuerteventura. But if you would like to discover one of the hidden gems on the island, a remote, yet charming place, then I advise you to make the trip here.
How to get to Puertito de los Molinos
If you are coming from the north, then you should follow FV-207, the road towards Betancuria. When you reach the village of Tefia, you turn into the FV-221 and follow the road until it leads you to your destination.
Be warned! In 2016, on our last visit to this place, we had no cell phone signal, but it may depend on your operator.
The beach at Puertito de los Molinos
When you get here you will see a small car park right next to the beach, a few houses and some ducks on the small pond.
The place is usually quite and there aren't many tourists, but it depends on the season.
The color of the sand differs from summer to winter, but if you come during the summer months, then you will enjoy a fine white sand, with clear turquoise waters, depending on how the sun is shining that day.
Beware that the ocean here is pretty dangerous and swimming is not usually advised, as the currents are strong. Again, this depends on the day and season and also on the tide, so be careful when going into the water.
The beach has no amenities, so this means no sunbeds, umbrellas, showers or anything else. This also means that it's quiet, mostly empty and ideal for a few hours of relaxation.

A natural pool, hidden behind the rocks
During our exploration here we discovered a natural pool, that we were able to access through the right side of the beach.
We got into the water, went around some rocks, climbed another set of rocks and 1 minute later...there it was: our own private pool!
And this leads me to my most important advice for visiting Puertito los Molinos:
Plan your visit here during low tide
This piece of advice may seem odd at first, but believe me it is of the utmost importance.
There are two things that make this place special and both of them can only be accessed during low tide.
The natural pool is one of them and you have to plan your time there carefully in order to be able to return to the beach.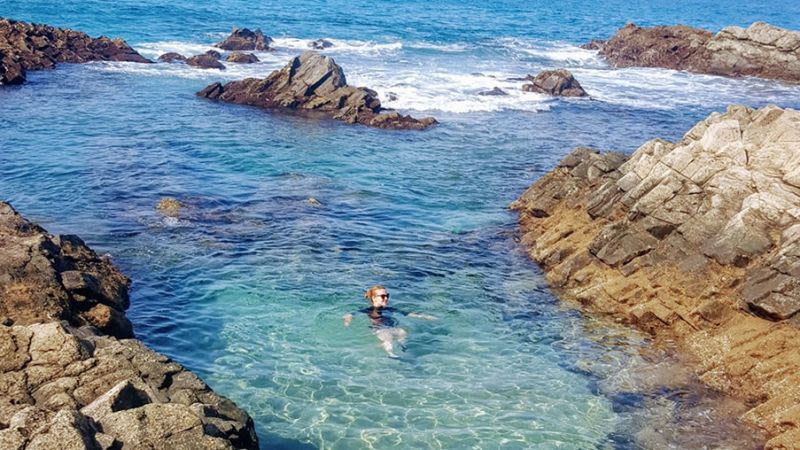 Cuevas de los Molinos or the Caves at Puertito de los Molinos
I said there are two reasons to keep in mind the ocean tide when coming here.
This village hides one of the most special and unique experiences in Fuerteventura: the caves that can only be accessed when the tide is low.
Be very careful, as the low tide varies and you should only attempt to cross the ocean towards the caves on those days when the tide is at it's lowest point.
Let me explain.
One day the low tide is at 0,34 m and a few days later it can be at 0,84 m. That's a huge difference, it means that in the first case the water will barely reach your knee and in the second case, it will almost reach your hip. So you should only attempt to get to the caves in the first case.
We visited the caves at Los Molinos in September and we planned our trip on a day when the low tide was 0,34 m and at a reasonable hour, around 9 or 10 in the morning.
At this point, the water is shallow enough to allow you to cross towards these caves, situated on the left side of the beach.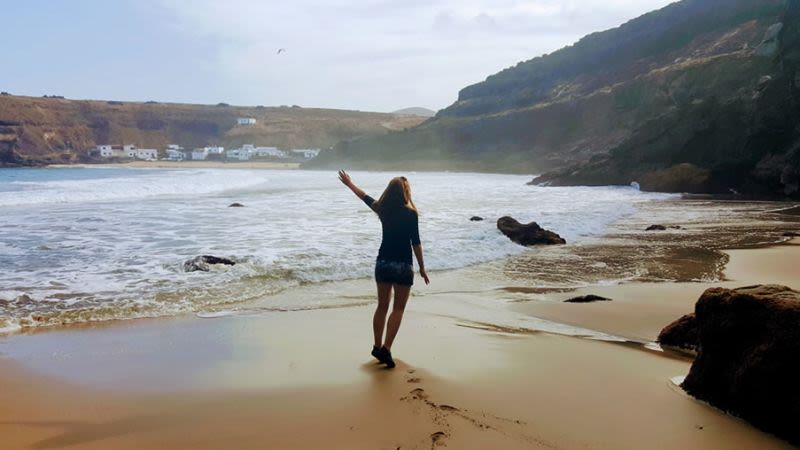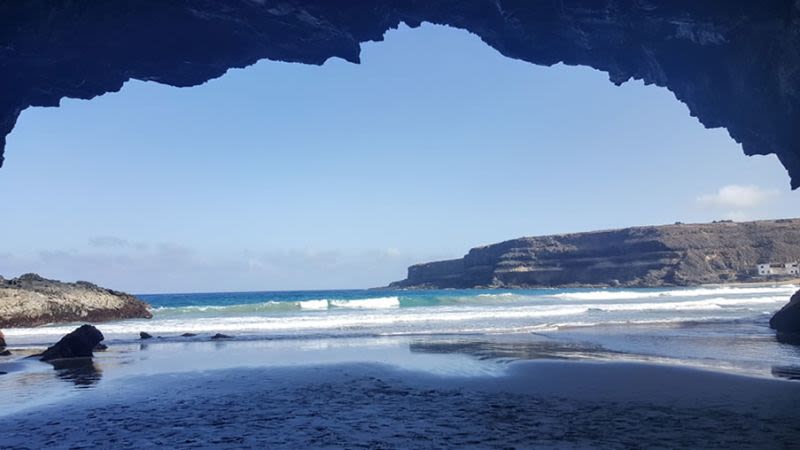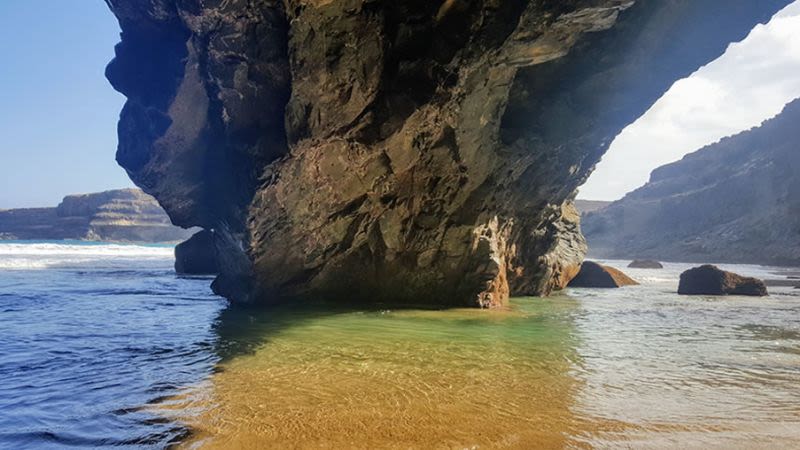 From the caves, you will have the most spectacular view of the ocean and of the village of Puertito de los Molinos.
Take your time to explore, as this a unique experience, one that no tour company has on offer.
We recommend making the journey back to the beach in a maximum of 60 minutes from the time when the tide was at its lowest point before the ocean starts to rise.
During our several visits there we did not see any families with children making the crossing towards the caves and we wouldn't recommend you try it. Keep in mind that crossing over to the caves can be dangerous and you have to be really careful where you step - there's actually a section with a dip and it can be scary when you step in it.
It's true that the caves in Los Molinos are unique and an amazing place to experience, but don't take unnecessary risks and take great care when crossing over. Not all days are ideal for this, as sometimes the swell is too strong and it is too dangerous to take that chance.
We were extremely lucky to be able to get to the caves on our first try, but we went back the next day because we wanted to go over a second time and it just wasn't possible.
So we spent our time relaxing on the beach and swimming in the natural pool.
If you do decide to try it yourself, the caves should be your first visit and then the natural pool, as this one is less dangerous to get to.
If you get hungry, Puertito has not one, but two restaurants where you can have lunch. One of them, Casa Pon, is a typical Spanish restaurant and it opens at around lunchtime. The other one, where we had lunch, is a different story and one that deserves its own article.