Mirador del Rio, Lanzarote - Price, Opening times & How to get there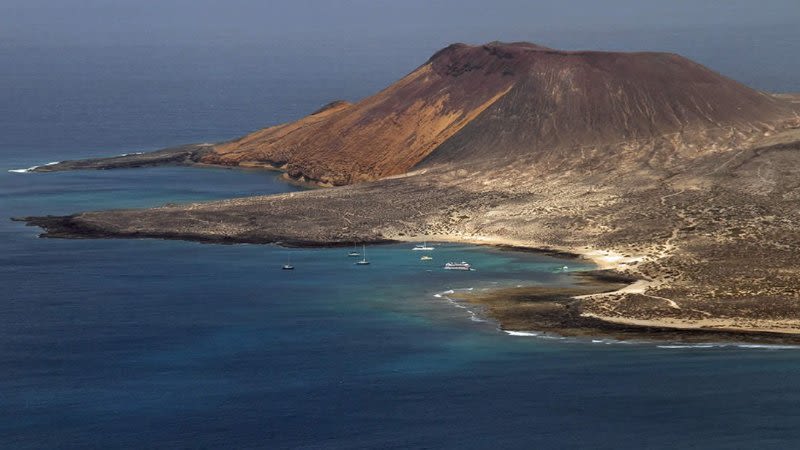 Mirador del Rio offers one of the best views in Lanzarote, in a building that is completely integrated in the surrounding natural space, a feature that is typical for all the works of César Manrique.
Useful info about Mirador del Rio - price & opening times
Address: 35500 Lanzarote, Las Palmas, Spain
Mirador del Rio entrance fee: Adults: 4,74 Euros; Children 7-12: 2,40 Euros. Resident in the Canary Islands: Adults, 3,80 Euro; Children - Canary Islands Residents, 1,90 Euro.

If you plan on visiting several attraction points in Lanzarote, ask to buy a multi-ticket, which will work out cheaper.

Opening times Mirador del Rio: Daily from 10:00 h to 17:45 h. During the summer and until 30th September there is an extended schedule: Daily from 10:00 h to 18:45 h
Estimated duration of the visit: 30 minutes to an hour
Restaurant and Coffee-Bar: 10:00 h - 17:45 h. During summer months and until 30th September, the restaurant at Mirador del Rio is open between 10:00 h and 18:45 h.
Remember you can buy a multi-ticket if you plan on visiting several tourist attractions in Lanzarote.
Mirador del Rio is one of my favorite places in Lanzarote and you should not miss it when visiting the island.
The view from Mirador del Rio is simply breathtaking, but make sure to visit on a sunny day, when there aren't many clouds in the sky.
If you're staying in the south of Lanzarote and even if you're staying in Puerto del Carmen, it's actually pretty difficult to predict how the weather will be up at the mirador, so it's a chance you'll have to take.
The History of Mirador del Rio
Mirador del Rio was used in the past for its strategic position, so that locals could see the pirates approaching the island.
By the end of the 19th century a fortress had been build at the site, with the purpose of defense against USA's ships, while Spain was at war over the ownership of Cuba. The cannons used then can now be seen in Arrecife, at Castillo San Jose.
Mirador del Rio is situated at an altitude of 475 m and it is the work of Cesar Manrique, as well as Jameos del Agua and many other cultural sites on the island. The mirador started functioning in 1974 and its design blends in perfectly with the shape of the rocks around which it's built.
In the clear days, from Mirador del Rio you have a spectacular view over Archipelago Chinijo Nature Park, especially over the neighbor island of La Graciosa. In the background of La Graciosa you can see Montana Clara and Roque del Oeste and the furthest away of all is called Alegranza. These small islands are extremely important for biologists and researchers, since 13 animal species and 20 endemic plant species inhabit these islands, so preserving their natural habitat is of utmost importance.
The name of the viewpoint comes from the name given to the strip of ocean that separates Lanzarote from the nearby islands. This narrow stretch of water is called in Spanish "El Rio" (The river) and from here derives the name of Mirador Del Rio.
If you look down from the viewpoint you can also see the Salinas del Rio (now abandoned) and also Playa del Risco, a wild beach that is accessible only on foot or by water.

The best view over the island La Graciosa
The reason you shouldn't miss a visit at Mirador del Rio is because it provides the best view over the island of La Graciosa. Also, in my opinion, this is one of the most breathtaking views from Lanzarote, one you will never forget.
Inside the mirador there is also a cafe-bar, with a huge glass wall, where you can enjoy a drink while admiring the view. With its widescreen windows and flowy design, the cafeteria makes you think of another era, one where you can envision spy movie characters planning some evil plot while overlooking the beautiful La Graciosa.
How to get to Mirador del Rio
By car
Unless you are coming from Orzola in the very north of Lanzarote, you will have to drive up to Arrieta, where you have to turn unto the LZ-201 road, which will lead you all the way up to Mirador del Rio.
If you are coming from Jameos del Agua or Cueva de los Verdes, you will be following the LZ-204 road until it intersects with the LZ-201 road. You turn right on the LZ-201 road and follow the same route as previously mentioned, which will take you directly up to Mirador del Rio.
When you arrive you will see a parking, where you can leave your car.
You can see the view also from the area surrounding the mirador, but believe me when I tell you that it is not the same and it's really worth it to go inside.
Day trips
There are lots of trips available on the island and many of them are centered around the works of Cesar Manrique, which is understandable given the fact that he was born in Lanzarote.
Free cancellation up to 24 hours before activity starts