10 Best Things To Do in Playa del Ingles, Gran Canaria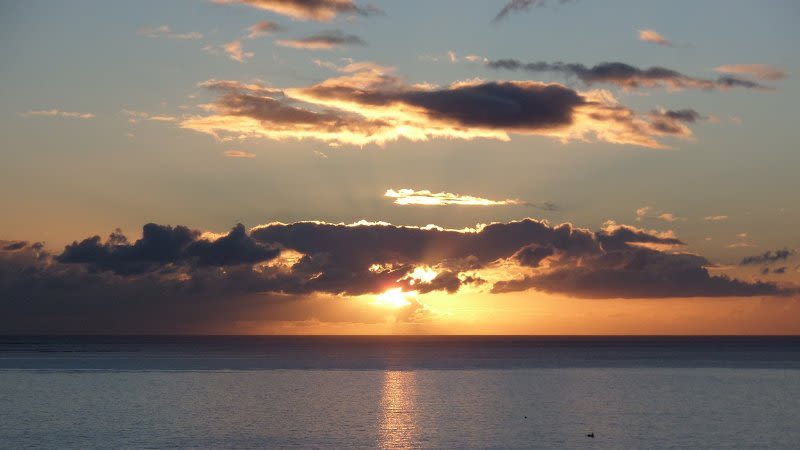 Playa del Inglés is a beach resort in Gran Canaria, situated in the southern part of the island, where the weather is sunny and warm all year round, which is why it's so popular among many visitors.
The area where Playa del Ingles is located is actually an important tourist center on the island, with other big resorts like Maspalomas and San Agustin in the vicinity.
Since Playa del Inglés is situated in the south of Gran Canaria, the weather here is mild year-round, which means few precipitations even during the winter months, when you can still sunbathe and swim on most days when the sun is out.
See out dedicated section for weather in Playa del Ingles throughout the year (month by month historic data about the weather conditions in this part of Gran Canaria).
What to do in Playa del Inglés - Places to visit & attractions
Playa del Inglés is a lively resort, similar to Maspalomas in terms of nightlife. It is not really the place for a quiet holiday in Gran Canaria - for that we would recommend Puerto de Mogan, which is a more relaxed and quiet resort in Gran Canaria.
1. Playa del Ingles beach
The beach in Playa del Inglés is long and with yellow sand, a really beautiful place to spend the day while soaking up the sun and enjoying the ocean.
You have lots of restaurants around and even a supermarket, which means that you can grab something quick to eat and maximize your time on the beach.
Since it is an urban beach you have all the amenities available to be comfortable: sunbeds, umbrellas and beach showers.
2. Surfing and windsurfing
Playa del Ingles is a great spot for windsurfing, especially during the winter months, due to the west winds which create the perfect conditions at this time of year.
The only drawback of windsurfing in Playa del Ingles can be the number of people on the beach since it is quite a big and popular resort. But the beach is quite large and usually there's enough room for everyone to enjoy their day as they please.
If you haven't tried surfing yet and you want to try it for the first time, Gran Canaria is a great destination to do so, as you can take a learning class and see if you like it and if you'd want to continue.
Duration 5 hours
All surf equipment, including surfboard, leash, rash vest, and long or short wetsuit; Surf instruction, beach picnic, insurance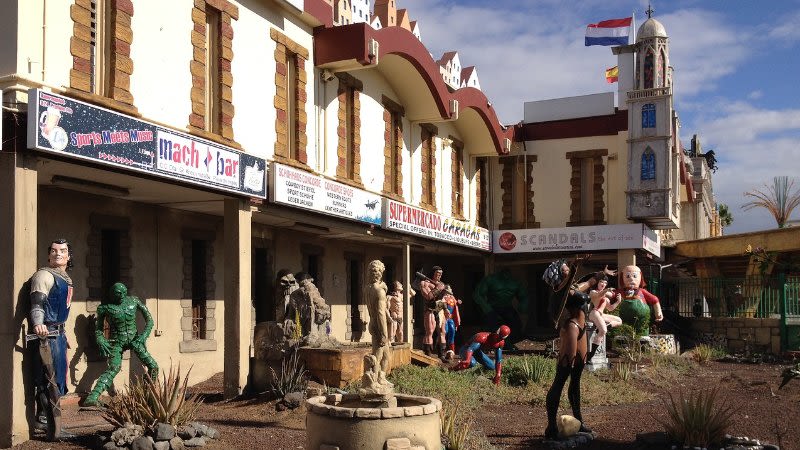 3. Yumbo Centrum
Playa del Ingles has long been a popular destination for gay tourism in Gran Canaria and Yumbo is probably the epicenter for gay bars and nightlife on the island.
At night it's when the Yumbo Centre comes to life, with lots of bars and night clubs attracting visitors of all ages and nationalities. With around 20,000 square meters, the Yumbo Centre is also the home of many shops and cafes, where you can relax during the daytime, before the nighttime madness kicks in.
4. Dolphin Watching Cruise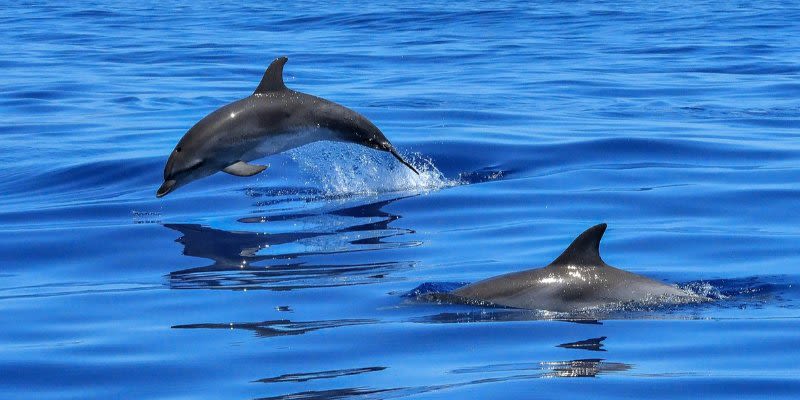 Doing a boat trip is one of the best activities in Gran Canaria and you shouldn't miss this opportunity. The boat leaves from Puerto Rico, but the trip includes the transfer from your hotel in Mogan, Taurito, Playa del Inglés, Maspalomas, San Agustin, and Bahia Feliz.
Sail along the southwest coast of the island in search of marine animals like pilot whales, bottlenose dolphins, green turtles, and flying fish.
Pickup from Mogan, Taurito, Playa del Inglés, Maspalomas, San Agustin, and Bahia Feliz.
Duration 2 - 3 hours
Unlimited soft drinks
Free cancellation up to 24 hours before activity starts
5. Walk on the promenade Paseo de Costa Canaria
This coastal path takes you from the north of Playa del Ingles all the way to San Agustin, so it's a great place for a long walk on the coast, where you can enjoy the views of the ocean and beautiful villas.
This is a great walk to do on an overcast day, when you might not want to sit on the beach, waiting for the sun to come out. It's actually a perfect thing to do in Playa del Ingles on a cloudy day, since otherwise, it can get too hot during midday hours, especially during the summer months.
6. Spend the day in San Agustin
If you decide to go on a walk on Paseo Costa Canaria and you get to San Agustin, why not spend the entire day there and see how you like this resort as well? It's smaller and quieter than Playa del Ingles, so it's great for a chilled day in Gran Canaria.
7. Paseo Maritimo
Paseo Maritimo is a long promenade, where you'll find lots of restaurants and other places to eat. It gets quite lively at night and it's a good place for an evening stroll, where you can stop and grab some tapas at different places along the way.
8. Stand-Up Paddle
For those who wish to try an activity on the water but don't want to go surfing or windsurfing, there's always the option of stand-up paddling which is also a widely popular activity in Gran Canaria.
If you've never tried it before you can grab a lesson with a licensed instructor, who will also show you some good spots for stand-up paddling in the south of Gran Canaria.
Pickup from your hotel/apartment in the south of Gran Canaria.
Duration 4 hours
Included: Wetsuit, stand up paddleboard, snorkeling Equipment, energy bar & water, full Insurance covered you during all excursion, a theoretical and practical lesson on the beach with qualified instructors
9. Templo Ecumenico el Salvador
This is a Catholic church, with rather modern design, being built in the 1960s.
You can go in just for a visit or you can attend mass - see the schedule inside, as there are masses in different languages since there are so many foreign visitors and residents in the area.
10. Maspalomas Dunes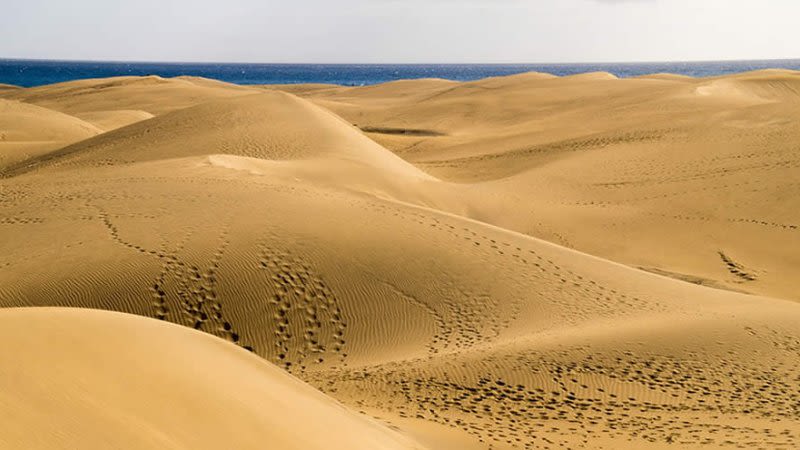 We think that no visit to the south of Gran Canaria can be complete without a walk on the Maspalomas Dunes, which are the highlight of the area and the main natural attraction in this part of the island.
The dunes are also a great place for photoshoots and an ideal spot for birdwatching, so there are many reasons why you should dedicate a day to exploring this Nature Reserve, which has been a protected space since 1987.