Christmas in Corralejo 2020, Fuerteventura: Where to go for Christmas meal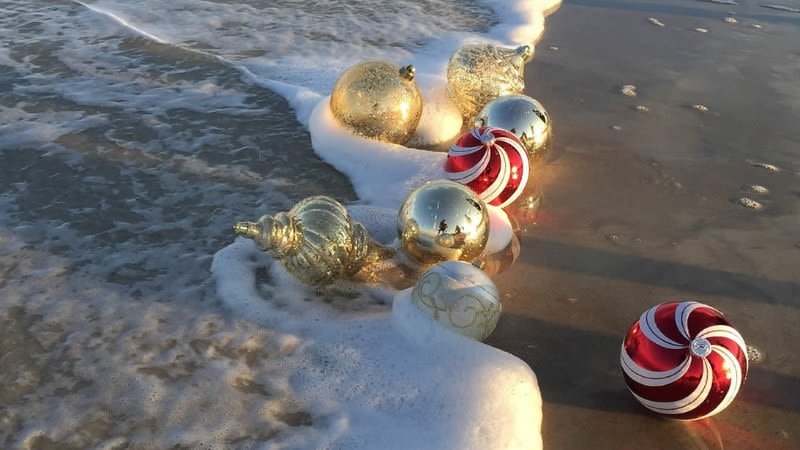 Christmas in Fuerteventura is a unique experience, a mix of wonderful weather and mostly sunny days. And what's better than a sun tan in December?
If you decide to spend your winter holiday here, you are lucky because there is nothing better than Christmas on the beach!
With 3000 hours of sunshine per year, this means that you have a big chance of spending the holidays in flip flops with a cocktail in hand.
Fuerteventura Christmas holidays during the times of Covid
As you may well realize, things will be different in 2020, compared to other years.
Not all hotels and restaurants have reopened, and sadly some of them have closed definitively. There aren't as many tourists as in previous years, so the resorts are quiet and the bars not as full.
But it's not all bad and you can still have a good time.
There are enough bars and restaurants open so that you can have different choices. The atmosphere is more relaxed, so if you're looking to recharge your batteries after a hard year, Fuerteventura might be the best place (and safest) during these times.
Christmas Market in Corralejo 2020
Each year there's a Christmas market organized in Corralejo.
In 2020, the market will be held on December 19 and 20 and January 2 and 3 on Avenida Nuestra Señora del Carmen. The Market will have workshops, music and entertainment activities.
On Saturday, December 19, there will be a Christmas concert "Fantástico" by Los Cantadores in Corralejo.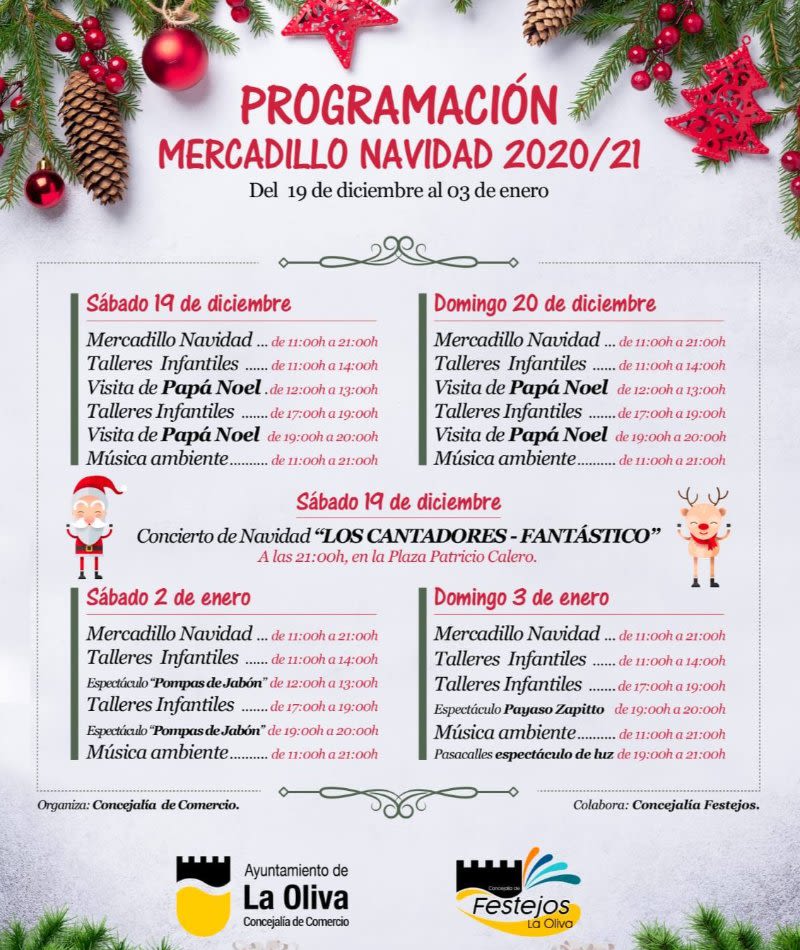 Where to go for Christmas meal in Corralejo, Fuerteventura
How about Christmas dinner? What options do we have?
This is what most people are wondering when coming for the first time to Fuerteventura during the holidays.
There are some restaurants in Corralejo that serve a magnificent Christmas dinner, places where you will not be disappointed.
Hoplaco Beach Bar - proper British Christmas Dinner
Address: Hoplaco beach, Corralejo
For details and reservations see their Facebook page
" A truly traditional British Christmas at Hoplaco - our long-awaited Christmas menu. On arrival, you will be greeted with a glass of bubbles and a warm friendly welcome. All 4 courses for €32. Book now as places are booking quickly"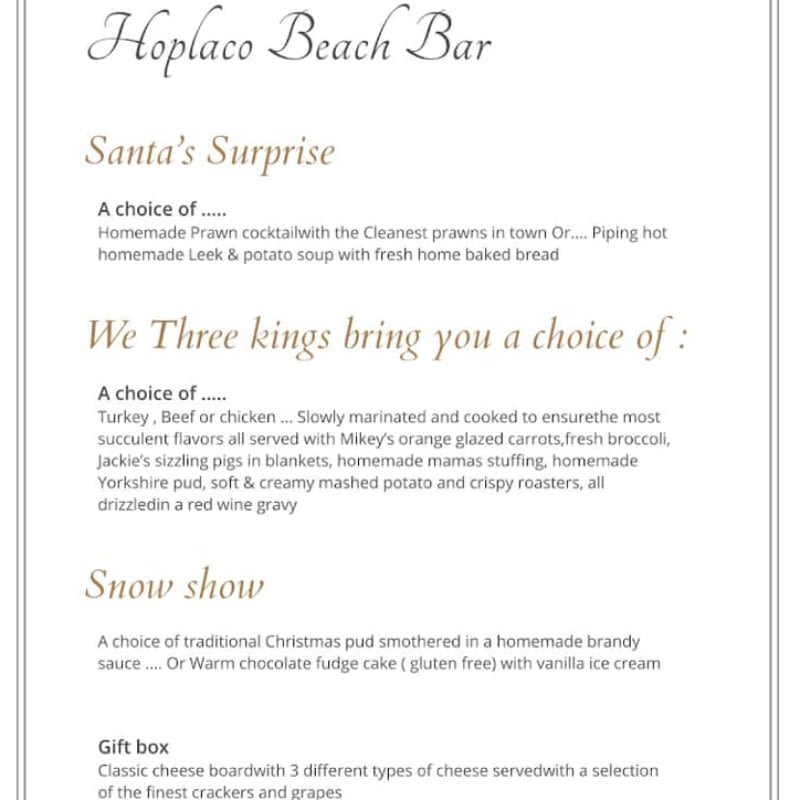 Retro Bar & Restaurant
Centro Comercial Lobos Bahía No, 2 35660 Corralejo, Spain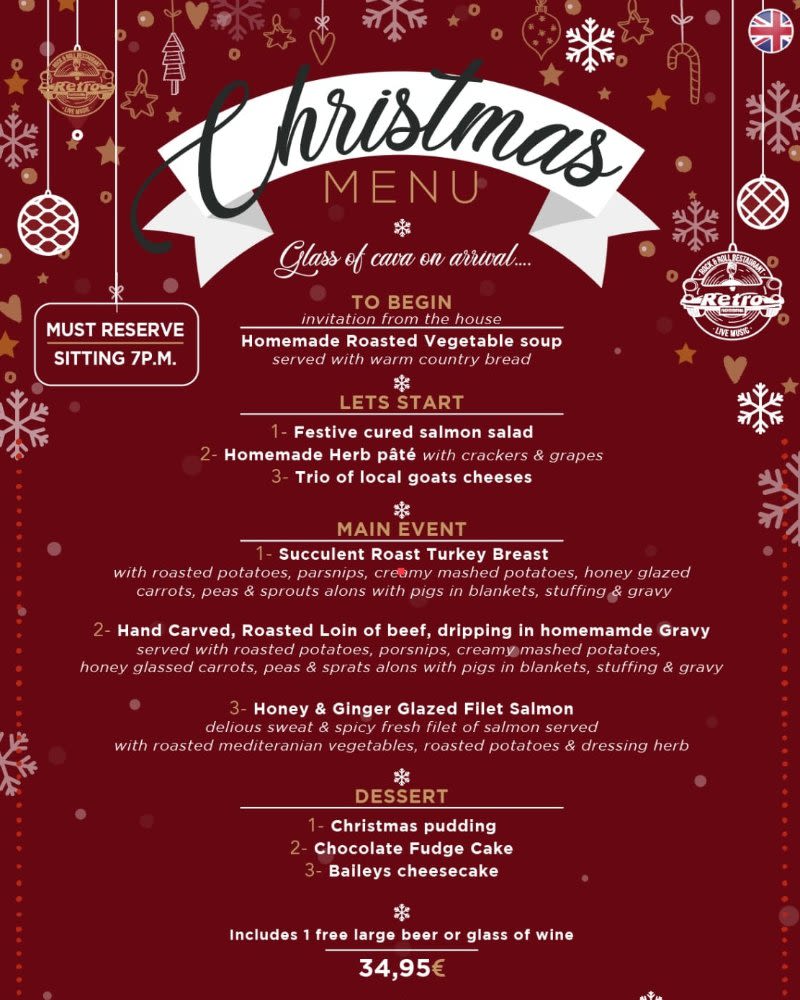 Cantante cafe Fuerteventura
Paseo Atlantico 2 35660 Corralejo, Spain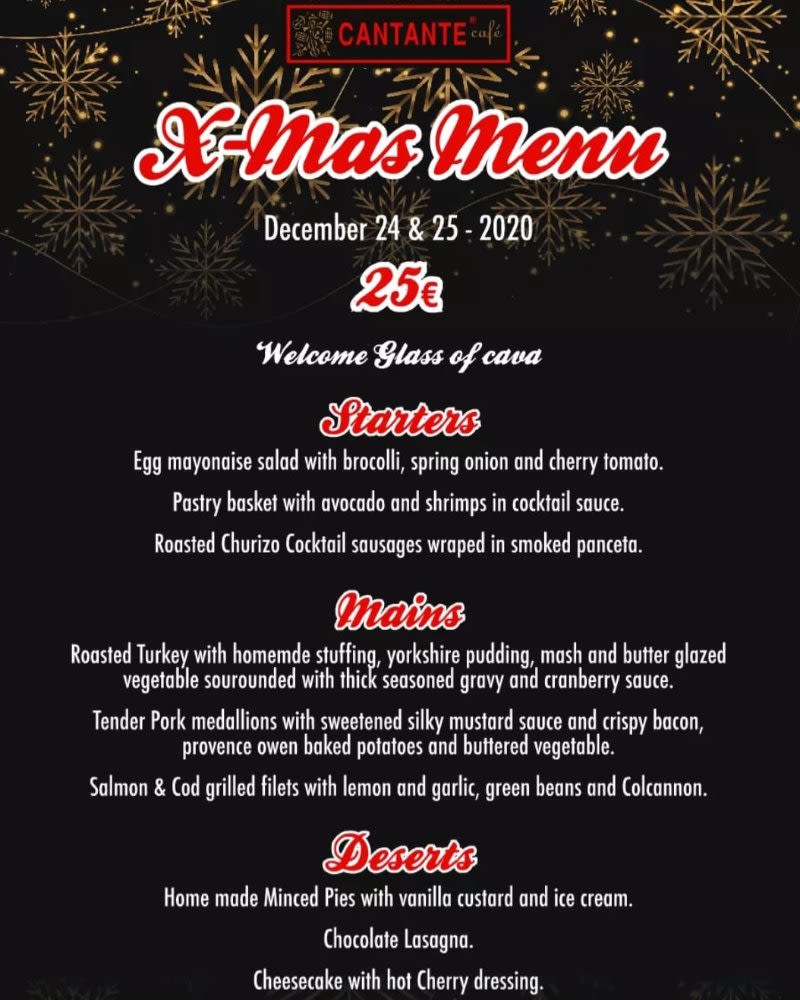 Other places open on Christmas in Corralejo
Clarkies Bar
13 Bistrot & Tapas Bar
Rogues Gallery
The Smiths Arms
Christmas at the beach in Corralejo
The main reason why people choose to spend the holidays here is the nice weather.
So why not spend Christmas day on the beach? You can have a family picnic on Corralejo Grandes Playas or at the beach in El Cotillo.
The average temperature during the daytime in December is around 20 - 22 Celsius, so you can forget the heavy coats and put on some bathing suits.
Please remember that most supermarkets are closed on Christmas day, so you need to do your shopping ahead of time.
Fuerteventura is a great choice for a winter escape and Corralejo probably has the best atmosphere on the island during the holiday season.
SEE ALSO