Christmas in Caleta de Fuste 2019 - Events & What To Do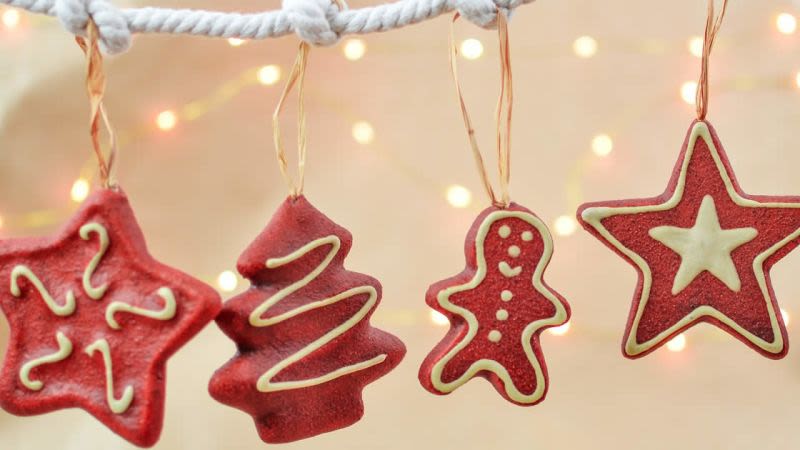 For many people in Europe, the Christmas season is associated with low temperatures and snow, so for those who are looking to escape the bad weather back home, Caleta de Fuste might be the perfect getaway.
Caleta de Fuste is the place to be if you're wanting a warm and sunny Christmas, in a relaxed and chilled atmosphere, while still feeling the holiday spirit.
How is the weather in Caleta de Fuste at Christmas time?
Usually, at this time of year, the temperatures in Fuerteventura are still in the low twenties during the day time, so it's still warm enough to wear T-shirts and flip flops while you stroll through town. When the sun is shining the real feel temperature will be much higher and it's usually warm enough to spend your day on the beach and getting a tan.
On Christmas day in 2018, the maximum temperature in Caleta de Fuste was 23°C and the minimum temperature was 14°C.
See what to expect in terms of weather in December in Fuerteventura
Christmas events in Caleta de Fuste 2019
Usually, there's a Christmas Market organized in Caleta de Fuste, selling craft items like jewellery and decorations. The market takes place every Friday, from 4 PM to 10 PM, in Plaza del Castillo.
Christmas Market 2019 in Caleta de Fuste
The official 2019 schedule for the Christmas Market in Caleta de Fuste has been announced by the Ayuntamiento (City Council).
Dates: 6, 13, 20 27 December 2019
Time: 16:00 - 22:00
Location: Plaza del Castillo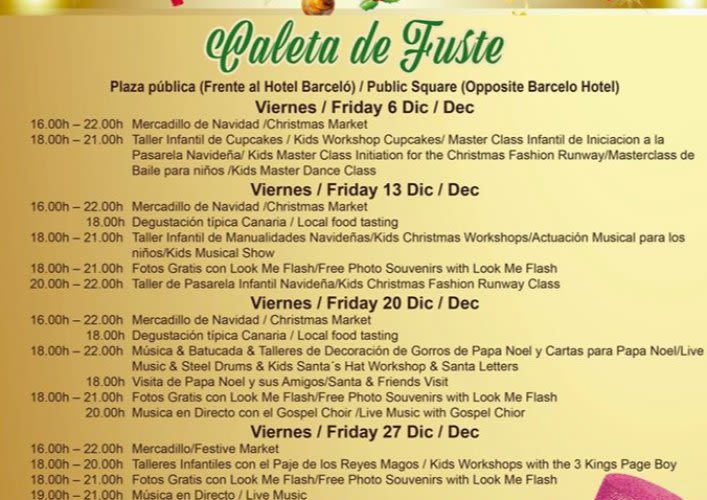 Christmas dinner in Caleta de Fuste 2019
Most restaurants in Caleta de Fuste will be open on Christmas day and many of them will serve a special set menu, while others will serve their usual menu.
Some restaurants get booked up quickly, so if it's a popular restaurant you're after you should make a reservation in advance and pay a deposit.
Tartan Terrace Diner
Address: Castillo Centro Local 28, Calle Juan Soto Morales, Caleta de Fuste - Fuerteventura
Tartan Terrace will have 2 sittings at 3 PM and 7 PM
For reservations go to their Facebook page
Price:
Adults - 35 Euros
Children - 20 Euros
A deposit may be required to make a reservation. You can contact them on their Facebook page (link above)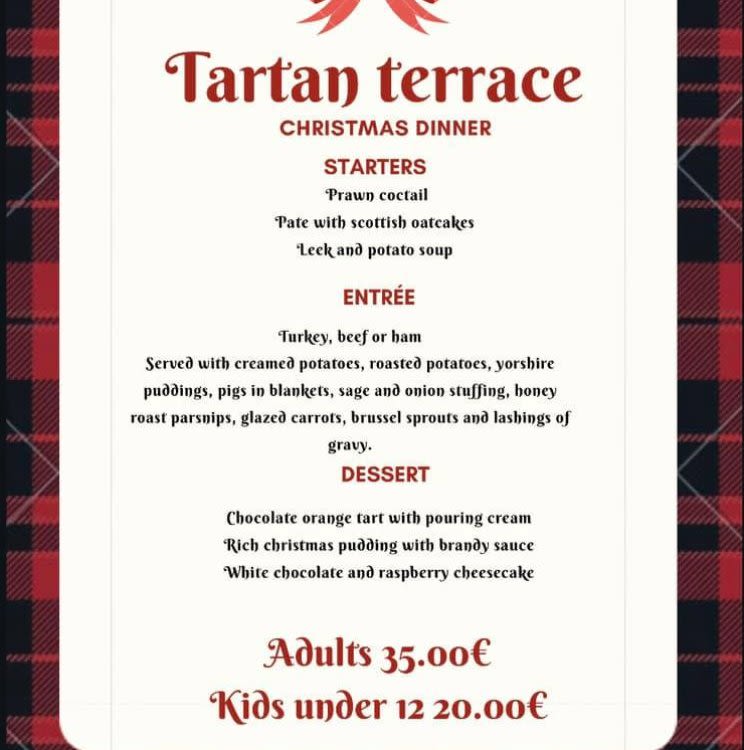 View Bar & Restaurant
Address: CC Monte Castillo Center up the hill in Caleta de Fuste - Facebook page
Christmas menu - 5 courses
Reservations only, so you need to book ahead of time
Ascension Caleta de Fuste
Address: CC Broncemar Beach, Av. del Castillo, Caleta de Fuste Facebook Page
Seatings between 1pm and 7pm. Adults 37.50€ and Children 25€
50% deposit it required before December 1st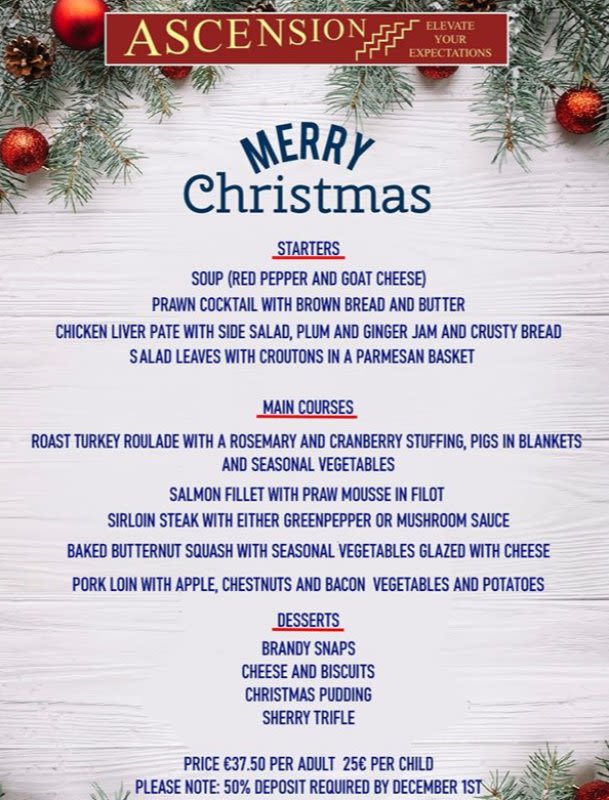 Fun in the sun
Address: Calle Maestro Juan Cabrera Cabrera, 86, 35610 Castillo Caleta de Fuste
Sittings from 1pm until 6pm.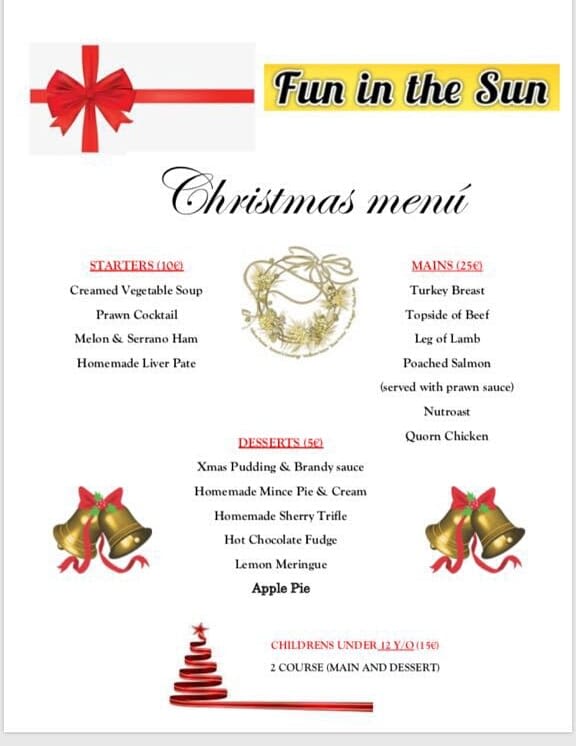 Christmas on the beach in Caleta de Fuste
If the weather is nice and sunny, spending Christmas day on the beach is always a good idea!
And with a beach as lovely as the one in Caleta, you could simply do some shopping the day before and bring a simple lunch and something festive to drink, while soaking up the warm sun of the Canaries. Afterwards, you can go out for a proper Christmas dinner (minus the cold and the snow) if you wish at one of the many nice restaurants in Caleta.
You can also read more about Christmas in Corralejo.