Fiestas in Costa Calma - in honour of Santa Marta 2018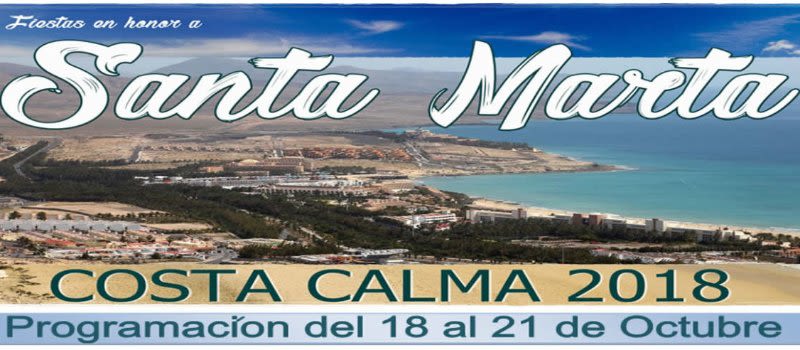 See the program of the festivities organized in Costa Calma in honor of Santa Marta.
Festivities in Costa Calma (Fuerteventura) in honour of Santa Marta: 18 to 21 October 2018
PROGRAM
Thursday, October 18
4:30 p.m. Children's activities
6:30 p.m. Karate tournament. Organized by: Martial Arts Club ABORAKYOKUSHIN
7:30 p.m. Performance of the Entresiluetas dance group
Friday, October 19th
4:30 p.m. Children's entertainment with inflatables and face painting
7:00 p.m. Performance dance group Datana
8:00 p.m. Election Miss and Mister Costa Calma 2018
9:30 p.m. Concert by SIMON SALINAS, young Canarian talent presents his album "Avante Toda".
23:00 h. Performance of the Cuban group ASERES
Saturday, October 20th
11:00 h. Santa Marta 2018 soccer tournament
1:00 p.m. Day party with children's entertainment, inflatables and music. Stay to eat with us !!!
5:00 p.m. Children's animation with MINIDISCO "Come dance with your favorite animated characters".
7:00 p.m. Show African Footprints JAMBO JAMBO, Art, dances, juggling and much more ...
8:00 p.m. Costa Calma Talent 2018 contest
9:30 p.m. Verbena with Grupo Bomba and the Nuevo Klan group
Sunday, October 21
11:00 h. GIANT water POOL. Place: Soccer Field.
2:30 p.m. Family entertainment: animation for the little ones and fun guaranteed with the group Mejor con copas.