Fuerteventura Weather in November - Will it be warm weather?
November is pretty much a transition month - the weather is transitioning towards the winter season, which means that the temperatures will drop a bit and the wind will make its presence felt more than in the previous month.
November is not as busy as the summer months; it's actually one of the more quiet months in Fuerteventura since most people will wait to visit in December during the winter holidays.
Weather in Fuerteventura in November
Compared to October, the average temperature drops by about 2°C, but during the daytime, you can still expect temperatures of about 23-24°C, which will feel pretty warm when the sun is out.
The wind starts to pick up strength in November, which is why this is the perfect time of the year for the Kite Festival, which takes place on the beautiful Corralejo dunes in the north of the island. If you are in Fuerteventura in November during the time of this festival, we highly recommend you to go and see the wonderful kites that the participants bring with them from countries all over the globe (see more details at the end of this article).
Although not as hot as during the summer months, November here in Fuerteventura will still be considerably warmer compared to most places in Europe like Germany, France, the UK or any other country in northern Europe.
Average temperatures in Fuerteventura in November
The average high temperature in November in Fuerteventura is around 24°C, while at night you can still expect temperatures of around 19°C. At night you will probably need a jacket to feel comfortable, but during the day beach attire will be sufficient when the sun is out.
Average high temperature: 24°C (75.2°F)
Average low temperature: 17.7°C (63.9°F)
Daily mean temperature: 20.8°C (69.5°F)
In Fuerteventura, the daily mean temperature is 20.8 °C in October, which is calculated as a mean between the average high temperature of 24 °C and the average low of 17.7 °C.
Record low & record high temperatures
The highest temperature ever recorded in Fuerteventura in November (at the Airport station) was 34.8°C and the lowest was 10.5°C.
The wind makes all the difference in how the temperature feels. On large and open beaches the wind will create the sensation of a lower temperature than it really is, while on smaller and protected space the wind will not bother you as much.
Rainfall
Average rainfall (mm): 13 mm
Average rainy days (>=1mm): 2
Fuerteventura does see a bit more rain in November than October, but the month with the most precipitation remains December.
The average rainfall in November is around 13 mm and this happens over 2 or 3 days, so there's not much precipitation happening over the course of one day usually.
Sunshine hours
Monthly sunshine hours in November: 203
Daily average sunshine hours: 7
UV Index: 5
Fuerteventura gets an average of 7 hours of sunshine per day in November, while the sun sets at around 18:00 during this month.
Sea temperature in November in Fuerteventura

This is the average sea temperature in November in Corralejo:
Average sea temperature in November: 21.2°C / 70.2°F
Can you swim in Fuerteventura in November?
With an average of 21.2°C / 70.2°F, the water is still warm enough to swim. Some may prefer a heated pool at this time of year, so it might be useful to ask if the pool at your hotel is heated in November.
What's Fuerteventura like in November
What's the island like and what's the weather like in Fuerteventura in November?
See what you can expect in terms of temperatures and rainfall in different parts of the island.
November Weather
Average
High °C (°F)
Average
Low °C (°F)
Rain
mm (inches)
Rain
Days
Average
Sun Hours
Fuerteventura (Airport)
24 (75.2)
17.7 (63.9)
13 (0.51)
2
7
Corralejo
23.4 (74.1)
17.3 (63.1)
11 (0.43)
3
6
Morro Jable (Pajara)
25.1 (77.2)
19.2 (66.6)
4 (0.17)
1
6
Things to do in November
Even if the weather is not always suitable for sunbathing, you should see it as an occasion to explore the island and visit some of the wonderful places around. In November the weather is still pleasant enough to allow for long walks and the heat of the sun will not be a problem anymore like it is during the summer.
Playa del Viejo Rey in La Pared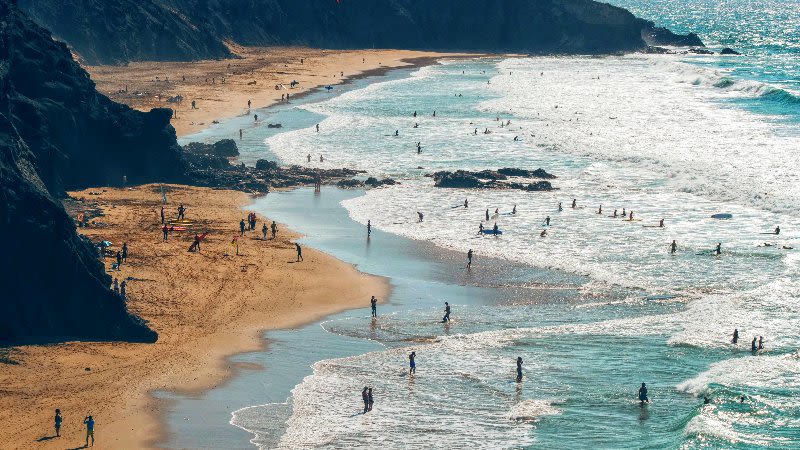 Located on the west coast of Fuerteventura, Playa La Pared provides amazing views and it's a favorite place for surfers. Even if you're not into water sports, you can still take in the beautiful views and explore this area of Fuerteventura, which is less known to visitors who usually stay in the more popular resorts like Caleta de Fuste or Corralejo.
The Colonel's Route in La Oliva
Each Tuesday and Friday you can visit 5 interesting places in La Oliva, where you can find out more about the historical heritage of La Oliva and Fuerteventura. The route will take around 4 hours, so you will still have the afternoon free to enjoy a few hours on the beach if you want.
Events in November
5 - 8 November 2020
These were the dates initially announced, but there has been no new confirmation from the authorities about this event in 2020, so we are not sure if it will be organized as planned.
This event has a history going back more than 30 years and it has grown continuously during this time. Nowadays participants gather from corners all over the world and it is an attraction for everyone visiting Fuerteventura in November. The Corralejo dunes are the perfect place for the event and provide a gorgeous backdrop for pictures.
FAQ about Fuerteventura in November
Is it warm in Fuerteventura in November?
Yes, Fuerteventura is one of the top warmest destinations in Europe in November, along with the other Canary Islands. The average high temperature is 24°C, so it is warm and perfect for sunbathing.
What is Fuerteventura like in November?
In November, the weather is still warm and usually gorgeous, just perfect for sunbathing during the daytime. The resorts are quieter than in summer or December, but everything is still open from restaurants to hotels.