La Palma Weather in February - Warm and Pleasant Temperatures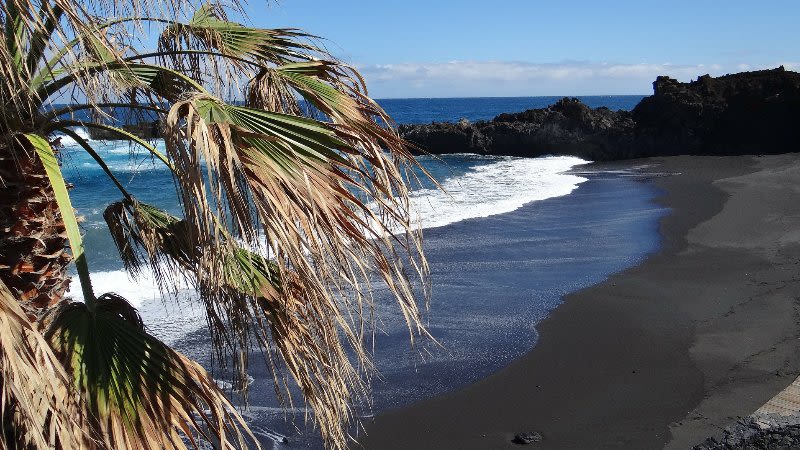 February can be a hard month in Europe, with plenty of snow, cold winds, low temperatures and pretty bad weather in general - but that is not the case in La Palma and in the Canary Islands in general.
La Palma is an ideal destination for hiking and walking, so if you're interested in this type of activities you probably don't even want very high temperatures, which make it uncomfortable to be out in the sun.
Keep in mind that February is still considered a winter month here in La Palma, although the temperatures are high compared to the UK or Northern Europe and Germany.
Weather averages for February in La Palma
These temperatures are measured at the meteorological station in La Palma Airport (close to the island's capital - Santa Cruz de La Palma), on the east coast of the island.
RECORD HIGH TEMPERATURE: 31°C
AVERAGE HIGH TEMPERATURE: 20.6°C
DAILY MEAN TEMPERATURE: 18 °C
AVERAGE LOW TEMPERATURE: 15.3 °C
RECORD LOW TEMPERATURE: 10.9 °C
AVERAGE RAINFALL: 54 mm
AVERAGE RAINY DAYS: 4
MEAN MONTHLY SUNSHINE HOURS: 141
MEAN DAILY SUNSHINE HOURS: 5
SEA TEMPERATURE: 19 °C
What is the weather like in La Palma in February
The last month of winter is similar in temperatures and precipitation to January, being the 2 coldest months in La Palma.
The weather can be "moody" in February in La Palma, especially at high altitudes and on the east coast, where it tends to rain more than on the west coast. But even so, rain is not something to keep you from traveling to La Palma in February, because the average rainfall is of only 54 mm, considerably less than other destinations in Europe at this time of the year.
See our recommendations for the best things to do in La Palma
Average temperature in Santa Cruz de La Palma
The average temperature is 18 °C, which is a mean value calculated between the average high temperature during the daytime of 20.6 °C and the average low temperature of 15.3 °C.
With a daily mean of 18°C in February, this means that during the day you can still wear shorts and T-shirts if you stay near the coast. Of course, the situation changes with every 100 m that you climb above sea level, as the temperature will drop by about 1°C for every 100 m.
Even so, the temperature will be good if you plan to do some hiking, just be prepared with water repellant gear: boots, jacket, backpack.
Rainfall
The average rainfall in February: 54 mm
February is still one of the wettest months, although the amount of rain is considerably smaller compared to the month of December, which is the month with the largest amount of precipitation.
Rain usually happens during the course of 4 days in February, which is why we recommend bringing a jacket and water-resistant shoes, so that you can be prepared for any type of weather.
Average sea temperature
Average sea temperature in February: 19°C
The ocean temperature drops to around 19°C and this is the lowest water temperature throughout the year.
It will be too cold for most people to swim in February and pools will be cold as well, unless you find somewhere to stay with a heated pool.
Average sunshine and average daylight hours
Daily hours of sunshine: 5
Similar to the previous months, February has an average of 5 hours of sunshine per day, which will make the temperature feel a lot higher than it actually is.
If you are staying on the west coast of La Palma, either in Tazacorte and Puerto Naos you may get even more sunshine than this, at that area is the sunniest on the entire island.
Events in February
The carnival in La Palma is one of the best in the Canaries and very different to the big one in Santa Cruz de Tenerife.
This carnival takes place in the capital of La Palma, in Santa Cruz de La Palma and everyone dressed in white and throws talcum powder, in what is a really original event, which you shouldn't miss if you're on the island on that day.
Should you come on holiday to La Palma in February?
The truthful answer to this question is: it depends.
It depends on what you are looking to do during your stay in La Palma.
If you are only expecting to have sunny and warm days, then chances are that you will be disappointed, because the probability of rain is still much higher than in spring.
If you are especially looking to escape the tremendous cold in Northern Europe and escape the snow as well, then La Palma will be a pleasant destination for you: mild temperatures, a few hours of sunshine per day and plenty of things to do outside. In February there are not as many tourists as in summer, so it will probably be quiet, relaxing and very laid back (compared to the bigger islands like Tenerife or Gran Canaria).