Las Canteras Beach - World Class Beach in Las Palmas de Gran Canaria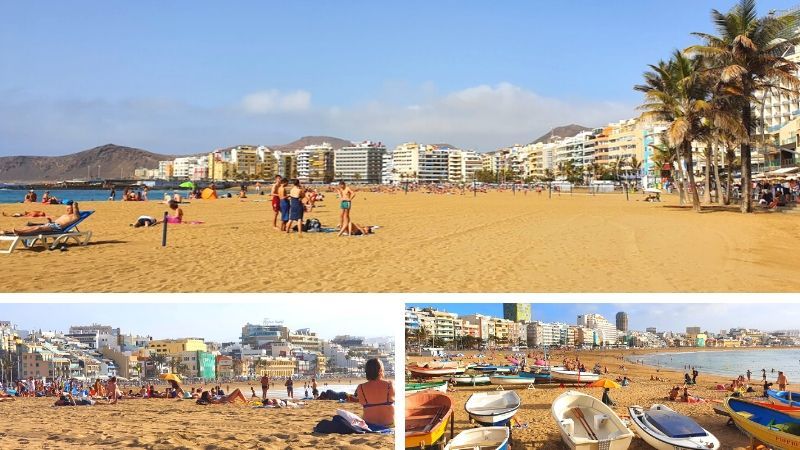 Playa Las Canteras is the main beach in Las Palmas de Gran Canaria and the best city beach in the Canary Islands and probably in all of Spain. We would go as far as saying that Las Canteras beach is one of the top city beaches in the world, due to its privileged location, year-round mild climate and top amenities, which you will notice for sure if you decide to visit.
Las Canteras - the best city beach in the Canary Islands
Playa Las Canteras is without a doubt the best urban beach in the Canary Islands since Las Palmas is the largest city in the archipelago and the beach is the heart and soul of Gran Canaria's capital.
Las Canteras was also nominated many times as one of the best city beaches in Spain, along with other popular beaches like La Concha beach in San Sebastian or Malvarossa beach in Valencia.
Due to its vantage points, Las Canteras can also easily compete for the title of best city beach in Europe and even for the title of best city beach in the world.
Why is Las Canteras such an amazing beach?
Las Canteras is located in the city of Las Palmas de Gran Canaria, the 9th largest city in Spain
Being part of the Canary Islands (and implicitly a Spanish territory) this means that Las Palmas is an Outermost Region of the European Union, which means that especially European citizens can easily travel here while enjoying all the benefits of a territory that is part of Spain
You can sunbathe on Las Canteras even in winter, due to the island's geographical location, which makes the climate in Las Palmas great all-year-round
Las Canteras is part of a lively area of Las Palmas, with many bars and restaurants from various international cuisines
Las Canteras beach is easily accessible on foot since it's right in the city and it's also a wheelchair-friendly beach
The beach is long and with many facilities, with dedicated areas both for sunbathing and surfing
The beach Las Canteras is protected by a natural reef, which makes it extremely safe for swimming and great for snorkeling
Las Canteras has been a Blue Flag beach since 1989
As you can see, Las Canteras checks a lot of boxes in terms of attributes of a great city beach: it's in a large city part of a European country, it has a great climate all year round and you can enjoy the beach in winter as well, plus it's easy to get around without a car.
What to do around Las Canteras beach
Las Canteras is a huge beach with more than 3 km of sand and promenade along its shores, so there's something to do for everyone.
Auditorium Alfredo Kraus
This is a cultural building that bears the name of a Canarian tenor and it's located next to the beach in the southern part. You can walk around the building, rest on one of the benches, admire the waves crashing or chill under the big palm trees.
La Cicer - the surfer's section in Las Canteras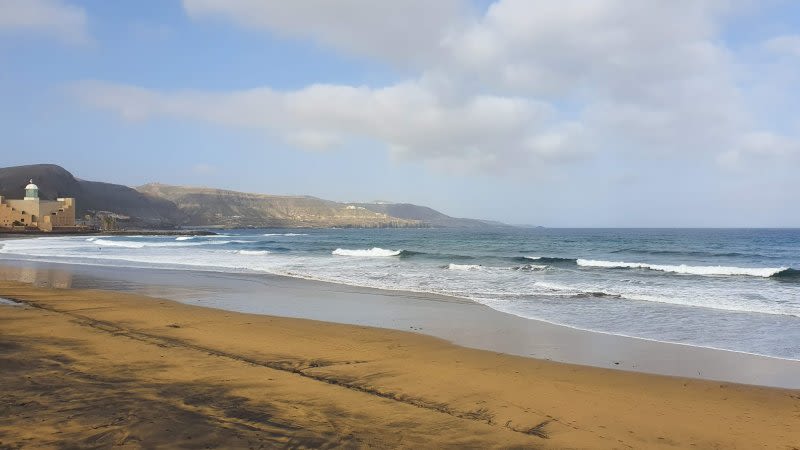 Close to the Auditorium, you have the section of beach which is dedicated to surfers and it's known as La Cicer. La Cicer is where the natural reef ends and so the area gets great waves and there are many surfing shops and surfing schools in the area. It's also a nice place to hang out and just watch the surfers catching the waves.
Peña La Vieja rock
If you continue walking from La Cicer towards the north of the beach you will see the rock called Peña La Vieja, which some people climb on in order to jump in the water. The landscape is very transformed by the tide, so if the tide is low you can't really swim in this area.
El Charcon and Los Lisos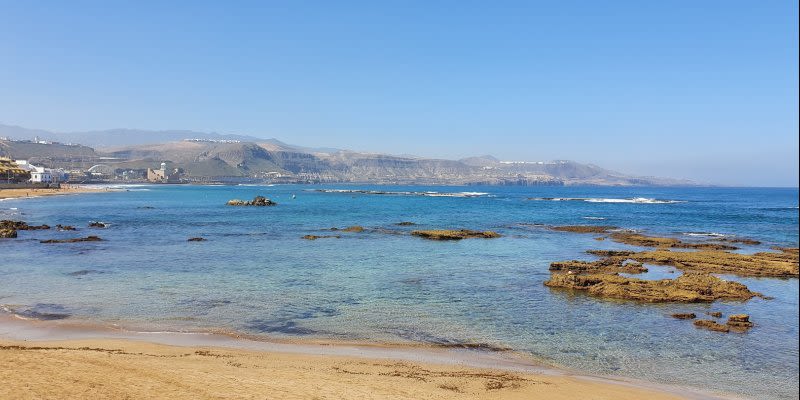 These 2 areas are great for snorkeling when the tide is low, as some natural pools are revealed and you can easily watch all the beautiful marine life around Las Canteras.
These two areas are really interesting to explore and we usually spend a lot of time just watching the fish and crabs, or looking for sea glass.
Playa Chica
Playa Chica comes after El Charcon and Los Lisos and there is a small bay, which is why it's called Playa Chica (Little Beach). The water here is very clear and calm, thanks to the protection offered by the natural reef La Barra.
El Penon and Playa Grande (big beach)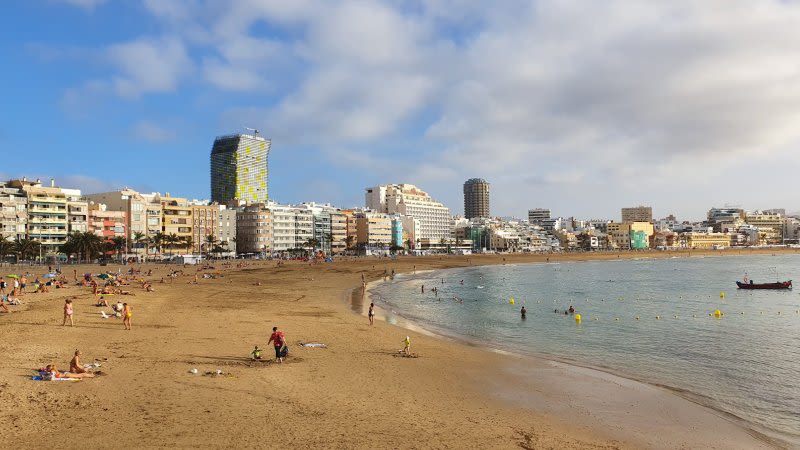 These two sections, El Penon and Playa Grande, are the largest parts of Las Canteras Beach.
In these sections is where you can find sunbeds, umbrellas and lifeguards on the beach. There are also public toilets, showers, lockers and some parks for kids to play.
The price for a sunbed or an umbrella in Las Canteras beach was 2,5€ or 3€ in March 2020 depending on the beach section.
This is the largest and most popular part of Las Canteras, where the beach section is wide, with golden sand and clear water, ideal for swimming and sunbathing.
Playa Grande is ideal for families with kids visiting Las Canteras.
Smoking on Las Canteras beach has been forbidden since 2017!
La Puntilla
Las Canteras beach ends with the area known as La Puntilla, which is the fishing area and here you'll find many restaurants that serve fresh fish and seafood. From this point, you can admire the beautiful boats and you also have an overview of the entire golf of Las Canteras. It's also a good spot to watch the sunset in Las Canteras.
Parking close to Las Canteras beach
Where to park if you come to Las Canteras by car?
Parking next to Las Canteras is usually difficult and getting a free spot is nearly impossible (this is very important to know from the start).
There are several paid parking close to the beach, with prices around 10€ - 15€ per day or 35€ per week.
Parking Padre Cueto is in a very good position next to the beach and also Parking Luis Morote.
Parking Intermodal El Rincón is located close to Alfredo Kraus Auditorium and Las Arenas Shopping Center and it's and outdoor car park that costs only 2,5€ per day and also includes 2 one way tickets for the bus, in order to allow for the decongestion of the main area near the beach.
Aparcamiento Sanapú is also good and it's located in the opposite side of the beach, near Poema del Mar and the cruise ship harbor.