3 Amazing Natural Pools in Lanzarote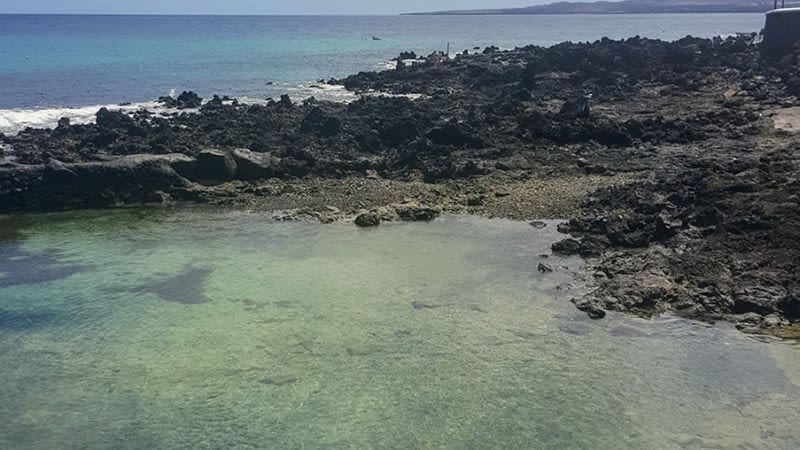 Lanzarote is the perfect destination for a beach holiday since you have beautiful weather all year round and lots of amazing beaches to choose from.
And if you want a change of scenery from your hotel pool or the city beaches, you can go and swim in one of the natural pools of Lanzarote.
1. Natural pool in Punta Mujeres
The small village of Punta Mujeres is situated on the east coast and you can stop here on your way to Jameos del Agua and Cueva de los Verdes.
Not many tourists come to visit Punta Mujeres, but if you want to see an authentic Canarian village, quiet, peaceful and with a wonderful natural pool in the center, then you should come here for a few hours.
There are a few steps that you down to the pool, which is full of children especially in the summer months when the sun shines bright many hours of the day. Besides the main pool (pictured above) in the middle of the village, there are several other smaller pools, that run for around 2 km along the coast.
There's a popular bar right next to the pool in the village and although they only had one English menu, which they couldn't find that day, we managed to communicate with the staff enough to get us sorted with some delicious seafood and beers. Everything is reasonably priced also, as the restaurant is mostly frequented by locals (hence the menus only in Spanish).
2. Los Charcones - the natural pools close to Playa Blanca
A place that isn't very popular, despite its natural beauty, is the one known as Los Charcones (charco means puddle or pool).
Los Charcones are situated at 2 km distance from the Peciguera lighthouse and can be accessed only via a dirt road. It's just a five minutes drive from Playa Blanca and you should definitely pay a visit to this place if you're spending your holidays in the area.
Los Charcones are made up of several small natural pools that get filled with water from the waves when the tide is high. We would recommend visiting this place during low tide since it's safer to get into the water at that time.
3. Charco del Palo - nudist natural pool in Lanzarote
Charco del Palo is the name of a beautiful natural pool in Lanzarote but is also the name of the village where this is found, which is the first naturist resort / village in the Canary Islands.
This village is situated in the municipality of Haria and naturism is permitted throughout the village, in all the public spaces, including restaurants and bars.
We realize this may not be everyone's cup of tea, but if you're looking for a naturist beach in Lanzarote, you should know that you also have the option to visit Charco del Palo, one of the nicest natural pools on the island.