Food Diaries: Restaurants in Fuerteventura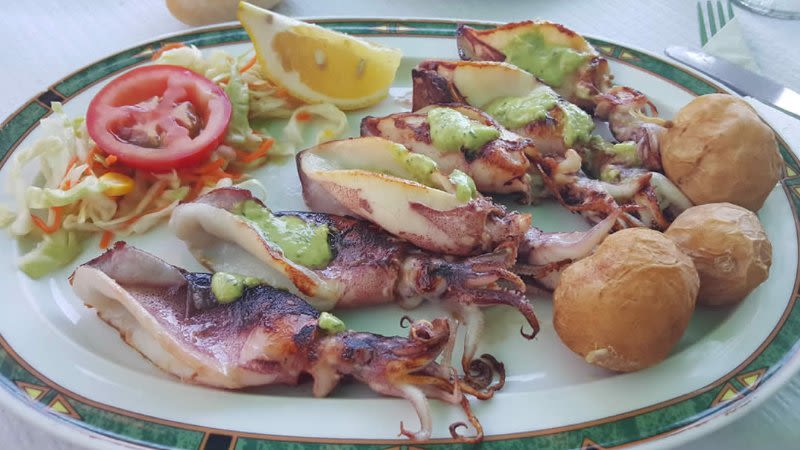 Fuerteventura is a place to relax and unwind in the sun and while you're here, there are several things you just have to try when it comes to food. So if you get hungry while exploring the beaches in Fuerteventura, you may want to stop at some of these bars and restaurants that we have already visited.
This is not a list of the fanciest restaurants on the island and we don't even pretend to have a complete list of the best restaurants in Fuerteventura.
Best restaurants in Fuerteventura (according to our personal opinion)
These are places we have personally tried, with good food and nice atmosphere. Some are off the beaten track, with typical canarian food, so if you want to taste a bit of the traditional Fuerteventura, you should pay them a visit.
Los Caracolitos - Salinas del Carmen
Lugar Diseminado Salinas Carmen, 24, 35610 Antigua, Las Palmas, Spain

This restaurant is close to the Salt Museum, almost across from it.
It is situated right on the beach, but this is not the kind of beach full of tourists, as it's not on the popular route in Fuerteventura.
Most people come here just to eat at the restaurant, as the view from the terrace is spectacular, with the ocean and the deserted beach right in front of you.
Los Caracolitos Restaurant is specialized in fresh fish and seafood and a main course will cost between 8 and 15 euros, including a side of wrinkled potatoes (see the picture at the start of the article, which is from this restaurant).
We recommend this restaurant on a day then the weather is good for sitting on the terrace with a glass of wine or beer, while waiting for the food the come.
Casa Luis - Tiscamanita
Calle Principal, Tiscamanita, Tuineje, Fuerteventura
We stopped at Casa Luis for dinner in the middle of the week and we had the surprise to be the only tourists there.
Luis himself attends to the tables and his wife is the one who does all the cooking. They have no other waiters or help in the kitchen. The couple has been running the restaurant for more than 20 years and you can see how passionate Luis is and how proud he is of his achievements.
It would be good to know a few Spanish words, as Luis does not speak English or any other language besides Spanish.
We didn't get a proper menu on paper and we don't know if it usually exists, but Luis told us what was available and what we should try and we ordered based on his recommendations.
We tried a type of fish that was really good and a type of coffee with rum, honey and lemon, that was very different from any other coffees we've had and it's something Luis is very proud of.
The meal was around 20 - 25 euros for 2 people and we recommend this place if you want to try some local food, such as fish or goat meat.
Fun fact, just before leaving, we told Luis we want to come back on Friday and his reaction, in translation, was something like this: "On Fridays we have a full restaurant, many clients, it's good, but ... UFFFFF, it's a lot of work!". It was an honest reaction from someone who works hard but is also passionate about his job, so please go and meet Luis at his tiny restaurant in Fuerteventura, in the village of Tiscamanita.
Abuelo Camilo - Puerto del Rosario
Calle Secundino Alonso, 88, 35600, Puerto del Rosario, Fuerteventura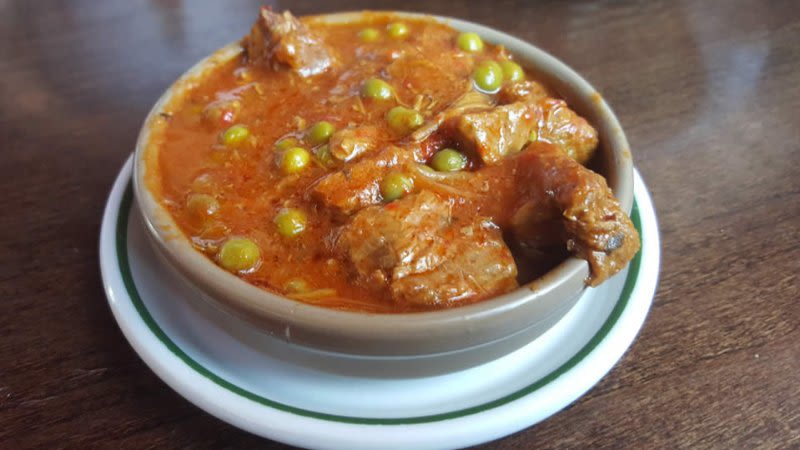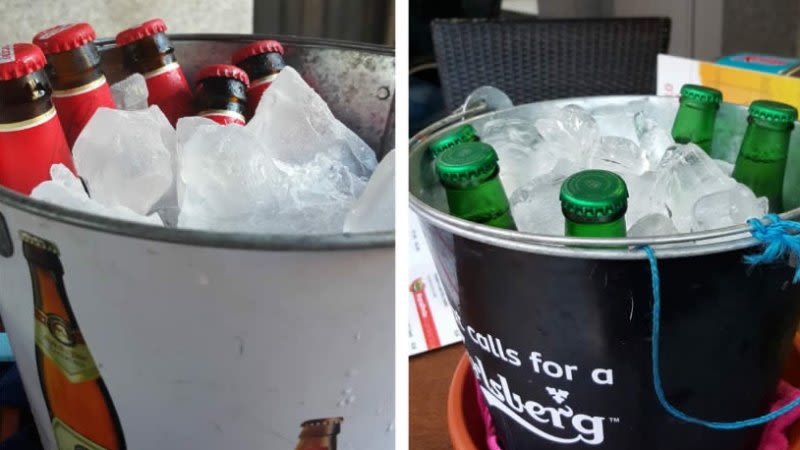 This is not a proper restaurant, it's more like a local bar, where they also serve tapas and a menu of the day.
We've spent many nights in this bar and we got to know Camilo, the owner, and we really enjoyed our time around locals who welcomed us and treated us like friends.
We were the only tourists here every night, as Puerto del Rosario is not a touristic place like Corralejo or Caleta de Fuste.
We recommend to order a Cubo - a bucket full of ice and with 5 small bottles of beer that will only cost 3 or 4 euros. If you want to eat something then try some of the tapas, each day they have different varieties but the best are the carne mechada and the octopus salad. Another recommendation would be a kind of beed stew with peas, the meat was tender and the sauce delicious.
We loved this place because we got to interact with friendly people from Fuerteventura, who were very friendly and open to us and tried to help us with recommendation on what to see and how to spend our days. We've never been received with such open arms in a new place before so we recommend Abuelo Camilo for the awesome people we met there, who we consider as our friends now.
Again, it would be better if you knew some Spanish, as most of the locals don't speak English.
Go, order a Cubo of Tropical or Cruz Campo beer and enjoy a few moments in the capital of Fuerteventura among the local people.
La Cremeria - Corralejo - Best ice cream in Fuerteventura -
Calle Lepanto 13, 35660 Corralejo, La Oliva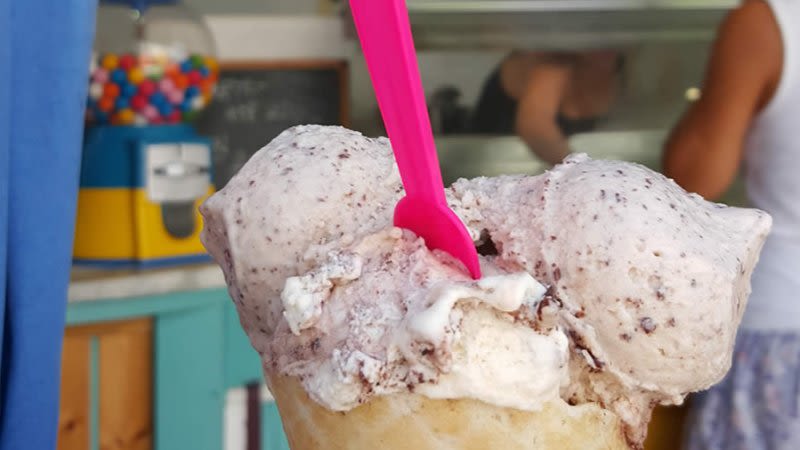 If we are talking about good restaurants in Fuerteventura and recommendations, then La Cremeria has to be included in this list, because it's the best ice cream you will find on the island.
In terms of desserts you will not have many choices in Fuerteventura and if you have a craving for something sweet, La Cremeria is your best bet.
It has many types of ice cream, they are produced locally and they are found only at their location in Corralejo.
A big ice cream with 3 flavours will cost around 3 euros, but it's well worth it on a sunny day when all you can think about is a good cooling ice cream.
La Cremeria sells italian gelato, creamy and with a great variety of tastes like Oreo, Bounty, Kinder and also plain flavours like frozen yogurt.
La Frasquita - Caleta de Fuste
2017 Update - The restaurant has been rebuilt and is now open again.
This restaurant is pretty popular and you will find it recommended in many tourist guides and even on Tripadvisor.
Although it's right on the beach in Caleta de Fuste, a popular resort in Fuerteventura, this restaurant is quite good. It's not the typical tourist trap you usually find on the beach and the restaurant actually dates back in the '80s, with over 30 years of history.
The restaurant is famous for the fresh fish and the menu is a tray full of raw fish and seafood and you can choose whatever you like.
A one person main course was around 14 euros and a 2 person course was 27 euros, but the 2 people portion was extremely large, more than double the single portion.
This is our list of recommendation from Fuerteventura in terms of restaurants and bars.
Of course there are many more on the island, and we are happy to learn from you what other places deserve to be on this list.