Teguise Market - Schedule, What to buy & How to get there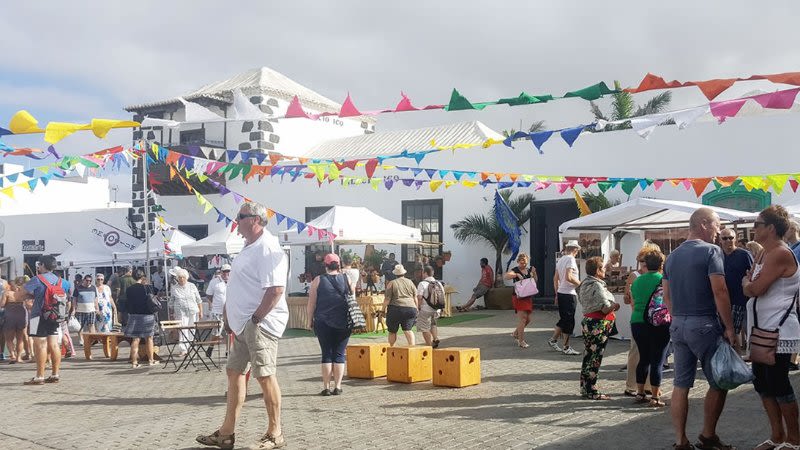 Teguise is the former capital of Lanzarote, and during the week it's a very quite town. But on Sunday Teguise comes to life and all the streets are filled with market stalls.
Teguise Market Schedule: Every Sunday, from 9:00 to 14:00
Teguise Market is the biggest market in Lanzarote and probably one of the largest in all the Canary Islands.
How to get to Teguise Market
There are special buses from Arrecife, Puerto del Carmen, Playa Blanca and Costa Teguise traveling on Sunday to Teguise Market. Check the timetable if you plan to come here by public transport.
How to get to Teguise Market from Costa Teguise
Duration: 30 minutes
Bus line 11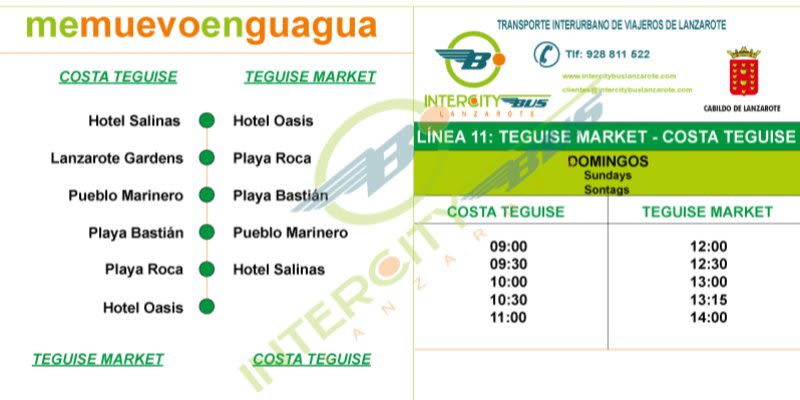 How to get to Teguise Market from Arrecife
Duration: 30 minutes
Bus line 14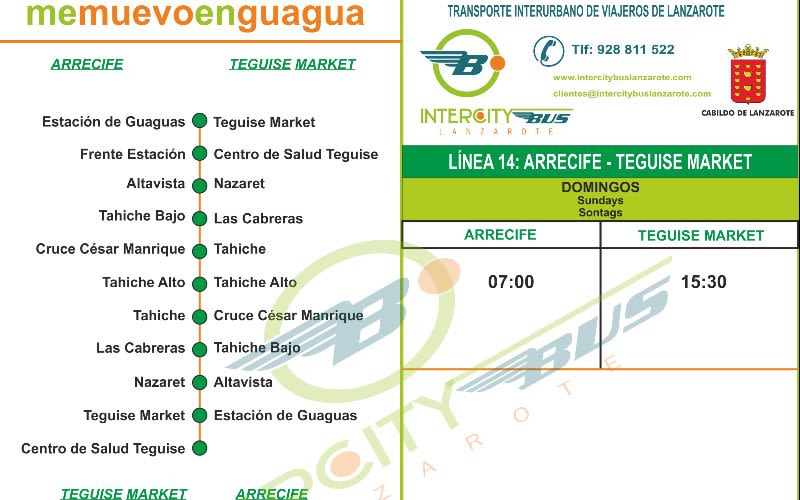 How to get to Teguise Market from Puerto del Carmen
Duration: 55 minutes
Bus line 12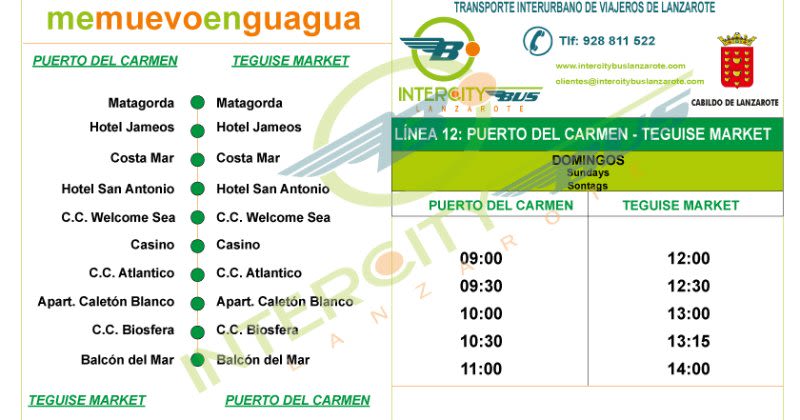 How to get to Teguise Market from Playa Blanca
Duration: 70 minutes
Bus line 13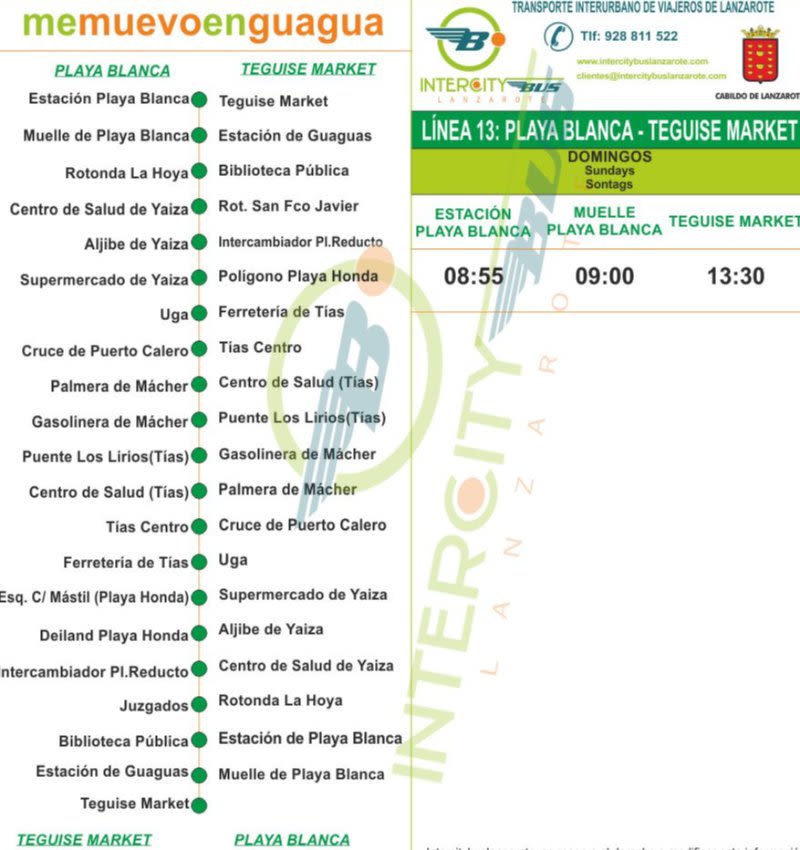 Drive to Teguise Market
We usually prefer to drive to Teguise Market when we visit, since we always rent a car for the duration of our stay. We find driving in Lanzarote easy and this way we can explore places on our own terms.
Distance from Playa Blanca to Teguise: 41 km (25.4 miles); via LZ-2 and LZ-30; approximately driving time: 45 minutes
Distance from Puerto del Carmen to Teguise: 21 km (13 miles); via LZ-35 and LZ-30; approximately driving time: 30 minutes
Distance from Arrecife to Teguise: 13 km (8 miles); via LZ-1 and LZ-10; approximately driving time: 20 minutes
Distance from Costa Teguise to Teguise: 14 km (8.7 miles); via LZ-34 and LZ-10; approximately driving time: 20 minutes
Teguise Market parking
Since the market is so popular in Lanzarote, special bus lines are traveling towards Teguise on Sunday from all over the island.
If you prefer to come to the market by car, then you will have to leave the vehicle in one of the parking places available. The fee for parking is usually around 2 euros and if you arrive early in the morning you have a chance to get a parking spot close to the market. If you will arrive at noon it will be more difficult to find a spot close, but people are selling parking spots in every piece of land close to the market.
Be prepared for a big crowd and beware of pickpockets!
We would recommend arriving early, before 10:00. This way you will have around 2 hours or so before it gets very crowded. By then you can take a break and enjoy a cup of coffee or something to eat.
Excursions and day trips to Teguise market
If you don't want to drive here or use public transport, there's also usually the option to book a half-day excursion, which will take you to the market from your hotel (just ask in reception).
What can you buy at Teguise Market?
Everything you can think of!
Starting from handmade goods to fake goods, there are hundreds of stalls covering fashion, jewelry, souvenirs, and food.
Teguise Market offers a large variety of handmade goods like 100% organic cotton clothes and jewelry made with volcanic rocks found on the beaches of Lanzarote.
If you are looking for souvenirs to take home wait until you get to Teguise Market. Fridge magnets, 6 for 5 euros and even 8 for 5 euros, depends on what you are looking for. Postcards at 10 cents apiece, a total bargain if you know where to look! (we found these postcards in a small shop, next to the cash register)
Besides the local and authentic stuff, you can also find a lot of fake goods like bags and sunglasses. These types of objects seem to be pretty popular among some tourists, but if you decide to buy something remember to haggle!
Most of the stalls at Teguise Market sell overpriced objects, so don't be fooled into paying the full price. You should always haggle the price, especially with fake goods. You can always find another vendor selling the same thing, so there's no need cave and buy something that is extremely overpriced.
Canarian Dance & Music
Visitors can enjoy watching a show of Canarian dance & music in the square close to the church.
Local people gather to perform an example of dance typical to the Canary Islands, dressed in traditional clothes.
The food at Teguise Market
Looking for breakfast or just a break from all the walking?
All the bars and restaurants in Teguise are open on Sunday, so you will have many options. You can choose anything from a proper English breakfast to a variety of tapas.
The main square also houses a great number of food stalls, with hamburgers, German food, English food, homemade sweets and cheeses and there's even a truck with kurtos - a dessert from Transylvania, Romania.
If you don't want to travel all the way to Teguise for the Sunday market, then you should know that there are several markets in Lanzarote, in almost every town or resort on the island.