How windy is Fuerteventura really?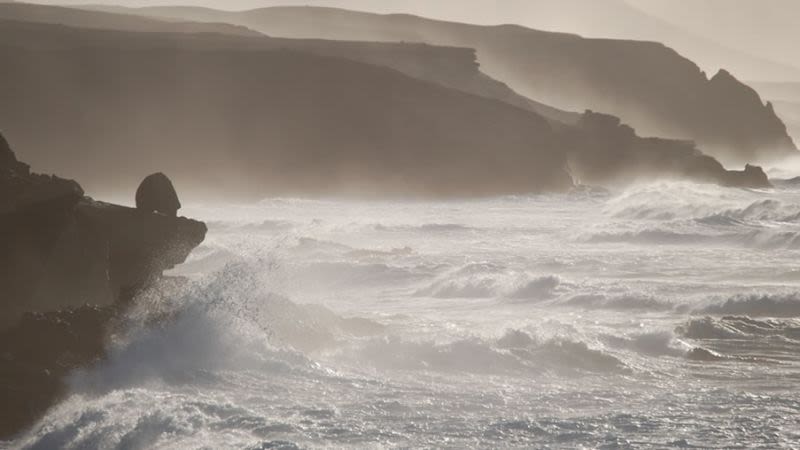 The wind in Fuerteventura: a topic that never ends and a question that we hear often - how windy is it really?
Due to their location, the Canary Islands get their fair share of strong winds from time to time, but no big storms like hurricanes or cyclones, similar to the ones that happen in the Caribbean for example.
But, how bad is it really?
Well, since we're talking about a weather-related topic, it's very hard to predict how strong the wind will be at a certain time and how it will affect your holiday.
During the summer months, especially in June and July, the wind in Fuerteventura tends to blow harder compared to other months. This is the reason why each year, in July, Fuerteventura is the host for the World Windsurfing Championship, which happens in the south of the island in Jandia.
Starting with September the winds tend to settle down a little, but you still get a breeze, typical for any island, no matter where it is located.
As a piece of general advice, beaches that are open and exposed tend to be windier and you can get "slapped" with sand everywhere, which can be an unpleasant feeling.
This can be the case with Flag Beach (near Corralejo), one of the most popular beaches in Fuerteventura. This shouldn't discourage you though, since the beach is so beautiful, that you can't let the wind spoil your experience.
Beaches with less wind
On the opposite side of the spectrum, the small beach - Muelle Chico - in front of Music Square in Corralejo is more sheltered, so you won't have the same issues there.
The lagoons in El Cotillo can be a peaceful place to spend a day at the beach, but you should check the weather forecast before you go.
In the south, in Morro Jable, you will also find some small beaches that are more sheltered due to the fact that there are restaurants nearby or other constructions that keep the wind from blowing so hard.
Another sheltered beach is the one known as Barlovento, which is situated very close to Cofete but doesn't get the strong winds typical for that side of the island. This beach is however more difficult to access and you would need to have a car in order to get there, so it's not an option for everyone.
The strongest wind we've encountered in Fuerteventura was inland, in the area between Betancuria and La Pared. During the daytime, it was warm and pleasant and in the evening the wind was blowing quite hard, especially when we went up to Mirador Sicasumbre. If you have the opportunity, definitely go and visit the Sicasumbre viewpoint to get a spectacular view and a better understanding of why the island is called Fuerteventura.
Is Fuerteventura windier compared to the other Canary Islands?
Probably yes. Especially compared to some of the areas in Tenerife or Gran Canaria, the wind may be stronger in Fuerteventura. If you compare it to Lanzarote, it's pretty much the same, but it does matter where on the island you are staying.
The strongest wind ever recorded in Fuerteventura is 27.5 m/s and it occurred on December 4th, 1991 at 22:40.
On average the wind speed ranges between 7 km/h( what it would feel like a light breeze) and 28 km/h (what it would feel like a moderate breeze), and on occasions, it can go up to 40 km/h (strong breeze).
Wind in Fuerteventura during the winter months - December, January and February
The highest wind speed during winter in Fuerteventura usually occurs in December, with an average daily maximum wind speed of 28.8 km/h (moderate wind breeze). The month of February usually brings more mild winds, with an average speed between 10 km/h and 28 km/h, with a maximum of 43.2 km/h.
Wind in Fuerteventura during the summer months - June, July and August
With high temperatures, also come strong winds in Fuerteventura.
The breeze during the summer months is much stronger than the wind you can feel in winter. Starting from June temperatures in Fuerteventura start to rise and the wind can be a blessing sometimes, as you won't feel the heat as much.
Be careful though, as the UV index is usually high most days, so a high SPF sun cream is necessary in order to avoid getting sunburns.
July and August bring even stronger winds with them, which is to be expected given the fact that in that period of time the World Windsurfing Championship takes place in Fuerteventura.
Wind in Fuerteventura during spring & autumn - March, April, May and September, October, November
During spring and autumn, both temperatures and winds are milder and not as extreme as during the summer months.
In September the wind changes and it's one of the best months in Fuerteventura weather-wise, but this is only a personal opinion.
Conclusion
Although it's true that Fuerteventura is one of the windiest Canary Islands, this fact shouldn't deter you from coming here on holiday.
The island has so much to offer and it would be a shame not to enjoy some of the best beaches in the Canary Islands, just because you're afraid of the breeze.
Get a cardigan or a light jacket to wear in the evenings and you're good to go. A holiday in Fuerteventura is always enjoyable and the wind is part of the experience!