7 Best Airbnbs in La Palma - Holiday Homes & Apartments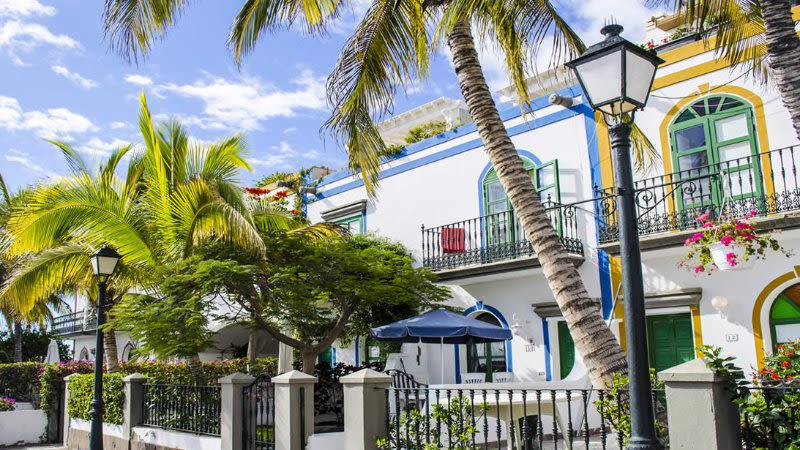 When most people think of La Palma they think of hiking, green landscapes, forests and volcanoes. Read our guide for the best Airbnb rentals in La Palma and you will be on your way towards a great holiday!
The tourism here is different from the one in Tenerife and the other big islands. In La Palma, you can find peaceful places, undiscovered paths and stunning views. Just check our post that shows why La Palma is called La Palma La Isla Bonita (The beautiful island).
We have prepared a list of the best Airbnbs in La Palma, so if you decide to visit, you can choose to stay in one of the fabulous places.
GET YOUR €41 AIRBNB COUPON CODE NOW!
1. Villa Cruz - Brena Alta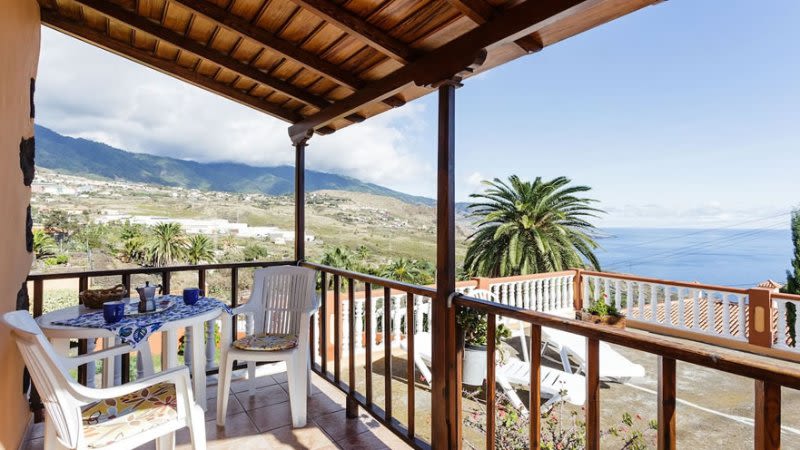 See the listing page on Airbnb
When we first saw images of this place we were simply hooked!
It has amazing views of the ocean and it's just ideal for a romantic couple holiday. Other facilities wireless internet, free parking and also a private terrace.
This is by far the nicest Airbnb in Puntallana, and definitely one of our favorites in La Palma. It's just 10 minutes away from the harbor and the airport, so you are close to everything important, but far enough so you can enjoy the tranquility of the place.
2. Spectacular sea view apartment - Puerto de Naos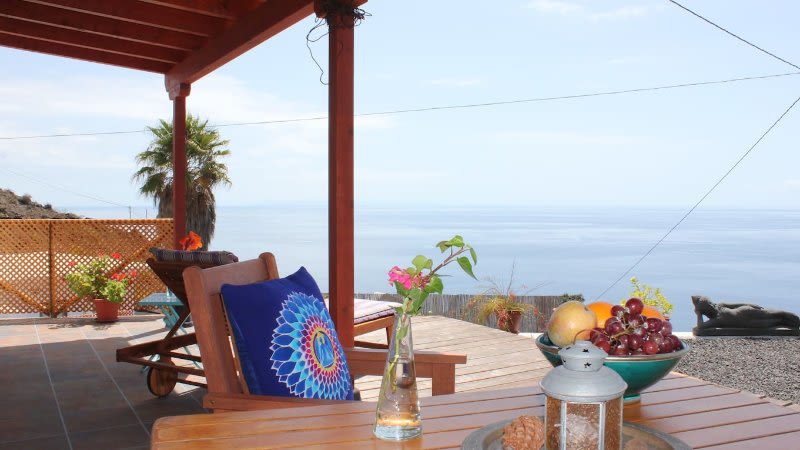 This apartment is located on the west coast, at 170 m above sea level and it offers a spectacular 180 degrees view of the ocean.
The rental apartment is in a very quiet and private location, where few cars pass each day, so you will not be bothered by noise.
This property is not suitable for small children, since the terrain is very abrupt, so take this into consideration.
3. Casitta Estrella - Los Llanos de Ariadne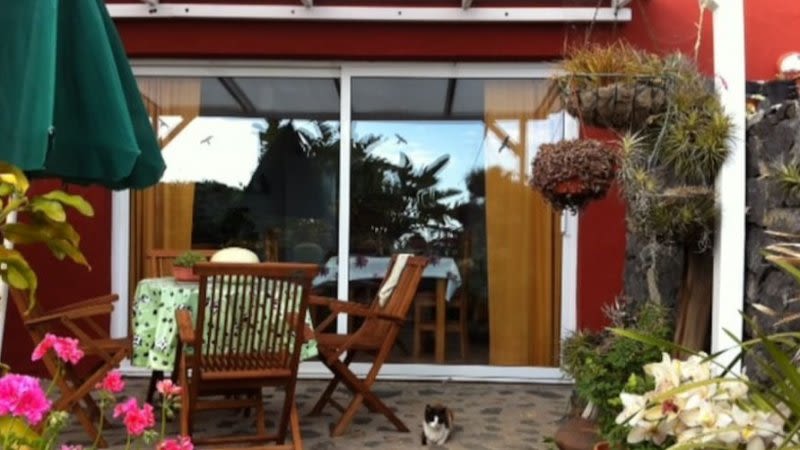 A small house, ideal for a couple, hidden inside a rural area, but close to Plaza Glorieta.
The main attraction of this property is the beautiful lush garden, full of colorful flowers and trees. This is an ideal set up for someone looking to relax and enjoy the green landscape of La Palma.
4. Seaview chalet with tropical garden & pool - Los Llanos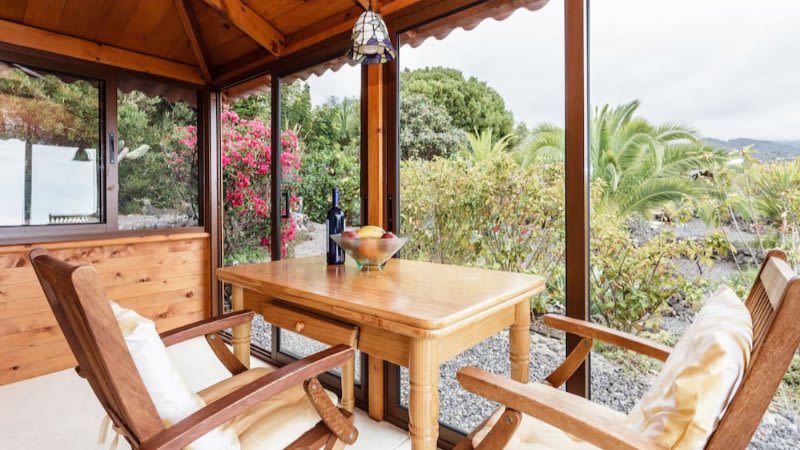 This chalet is located very centrally in La Palma, so you will be able to discover all the island.
Enjoy both the sea and mountain view! The place has a spacious bedroom, a well-equipped kitchen, bathroom and also WiFi. It is situated on the west coast, in Todoque.
Guests have their own private terrace and the chalet is surrounded by a beautiful tropical garden with different terraces. With these beautiful surroundings, you will not want to leave!
The hosts have great reviews and this is probably one of the best properties you can get in La Palma, with a lovely pool and designed in a Scandinavian-style.
5. Wonderful rural house - Tijarafe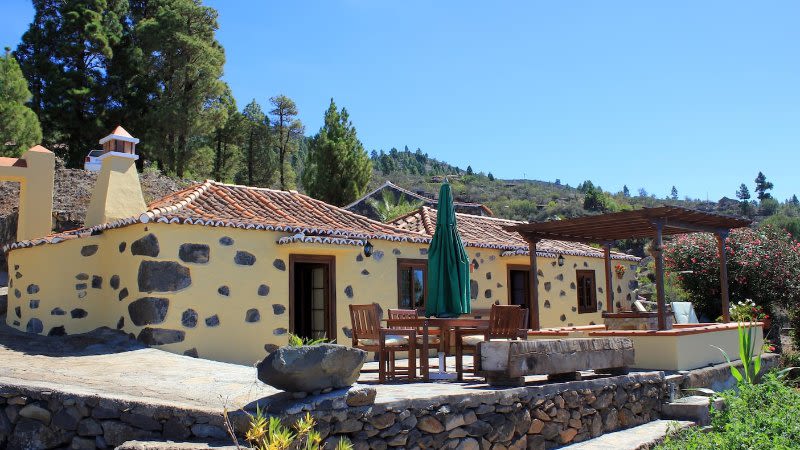 The property is a typical Canarian house, in the area of La Punta de Tijarafe (750 m above sea level). Outside there is a large terrace with ocean views, some fruit trees and a vegetable garden. The owner ensures total privacy during your stay and you will be the only one to have access to the garden during your stay in the house.
If you'd like to stay in one of the best climates in La Palma and explore small paths that lead to the forest or to the sea, then this might be the place for you.
6. Apartment on the beach - Brena Baja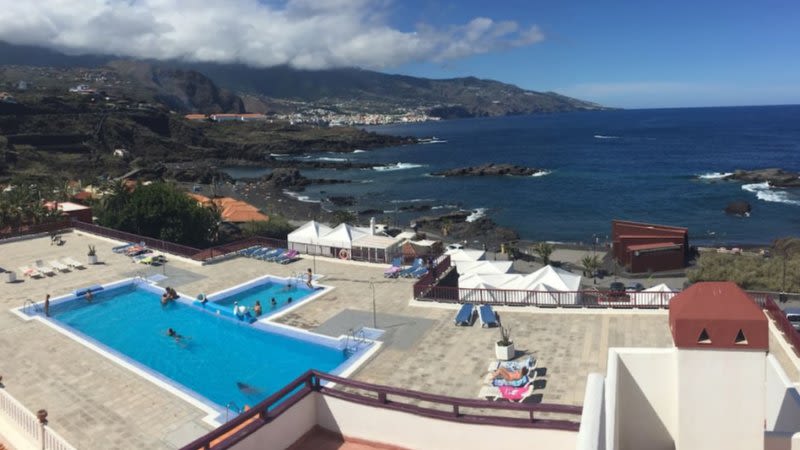 See the listing page on the site
You will not find many rental apartments on Airbnb in La Palma so close to the beach and with beautiful views such as this.
The apartment is very close to the beach and also close to the capital, Santa Cruz de la Palma. It has access to the pool in the complex and is newly furnished and renovated.
Don't miss our list of suggestions for best things to do in La Palma
7. House above the clouds - Puntagorda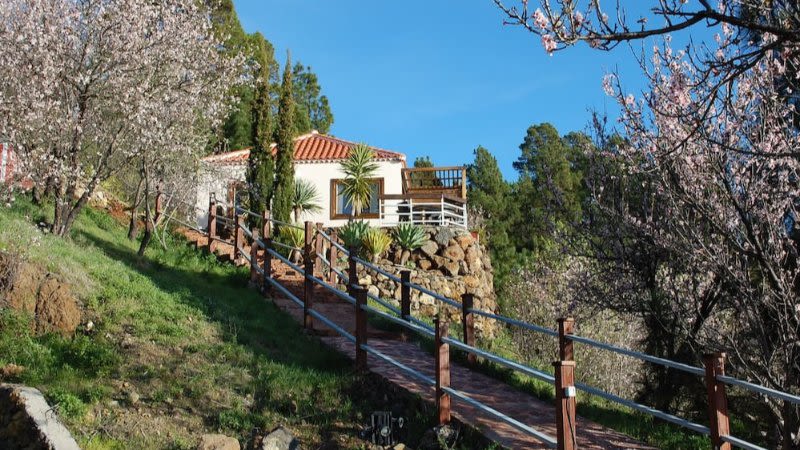 This villa has a truly unique location, situated in the Natural Reserve of Puntagorda, at a point where you can sleep with the sun and clouds below you.
During the night you will have an unobstructed view of the amazing sky in La Palma, one of the best places in the world for stargazing.
The house has an amazing balcony, which invites to spending long evenings with a glass of wine in hand.