Top 10 Best Airbnb Rentals In Tenerife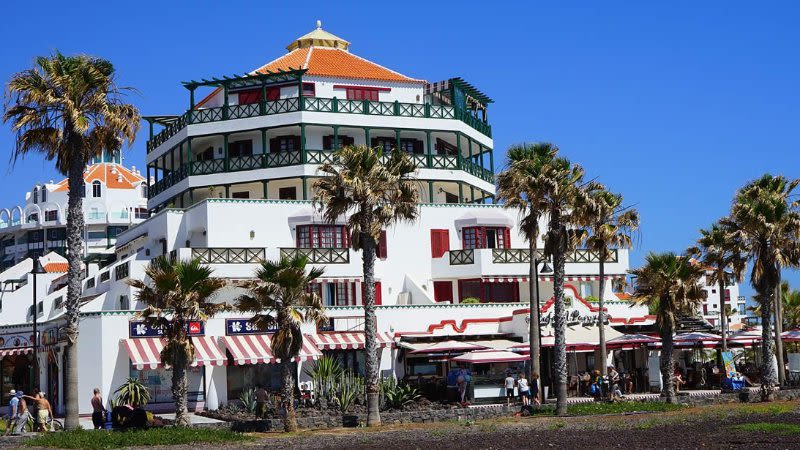 If you have already decided on where to stay in Tenerife, then it's time to find the best accommodation in that area!
Airbnb offers amazing places in Tenerife, from penthouses with spectacular views to a cave with a private pool! If you have a large budget you will be able to rent even private Spanish farmhouses, also called Finca in Spanish. But there are plenty of great properties at any price range, you just have to have a little patience to look, or just read our list to discover our choices.
GET YOUR €41 AIRBNB COUPON CODE NOW!
If you create a new account you can get up to €41 Free Travel Credit on Airbnb.
So here are the 10 best Airbnb rentals available in Tenerife:
1. Typical Canarian Finca, Santa Cruz de Tenerife area, 4-6 guests - 100€/night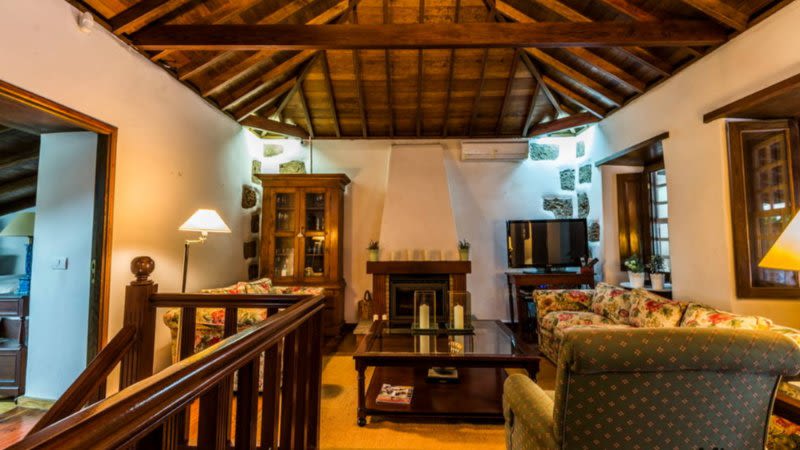 This house has a 2500 m2 garden, with lots of trees and flowers specific to the Canary Islands.
It has 2 bedrooms, 3 beds and it can accommodate a maximum of 6 guests.
2. Luxury Penthouse With Ocean View, Puerto de la Cruz, 2 guests - 46€/night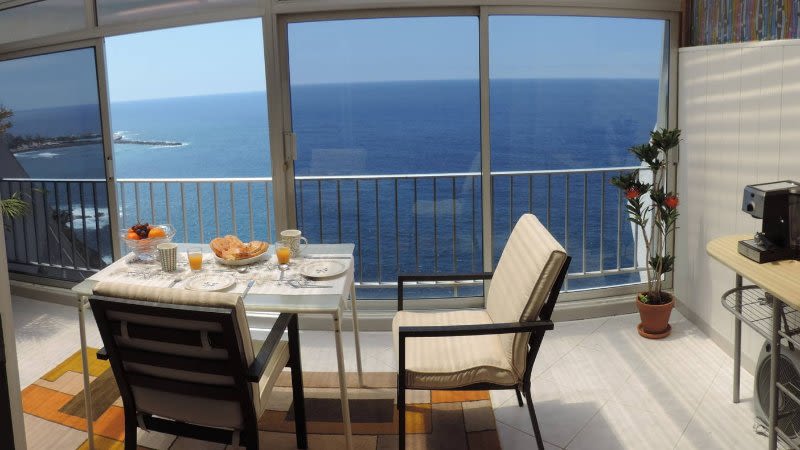 Situated in the residential area of La Paz, this penthouse in Puerto de la Cruz is recently renovated.
400 m to the closest beach.
3. Bungalow with large terrace and barbecue, Los Cristianos, 6 guests - 85€/night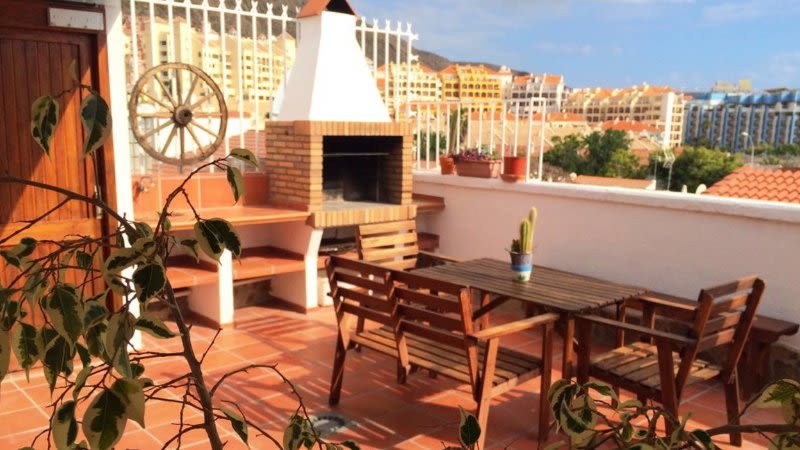 Ideal for couples and families, in a quiet part of town, with private parking.
Fantastic terrace and views of Los Cristianos. This house is also close to the bus station in Los Cristianos, so it's easy to move around using public transport.
4. Best view, with parking and WIFI, Tacoronte, 2 guests - 75€/night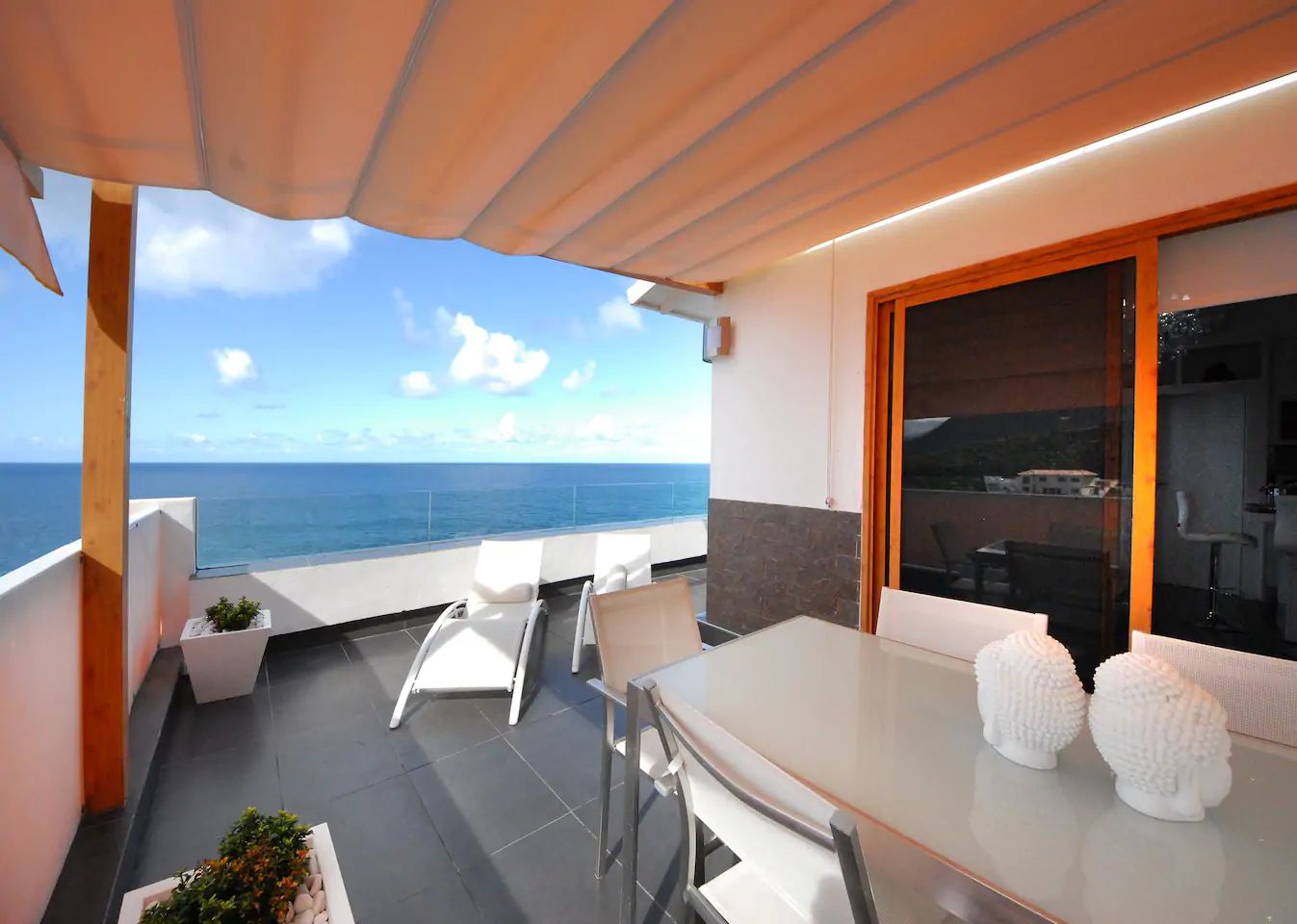 First line sea penthouse, with an incredible terrace.
Beautiful scenery and amazing view. Car rental would be recommended for this part of the island.
This a unique accommodation, away from mass tourism, with a modern design and with all the amenities you could possibly need.
5. Modern And Spectacular Ocean View Apartment, Playa las Americas, 4 guests - 180€/night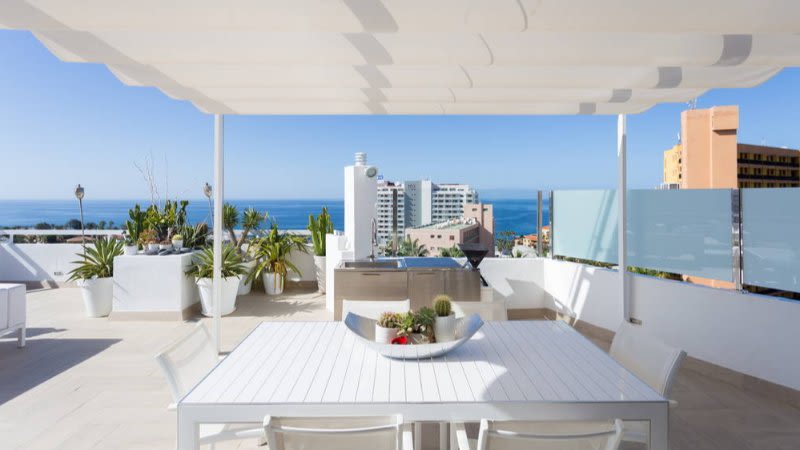 This apartment is situated in Playa las Americas and it's very close to the ocean, at just 150 m.
The best feature is the terrace, with nice furniture and spectacular views to the ocean.
6. Casa Mirador, Palm-Mar, 6 guests - 160€/night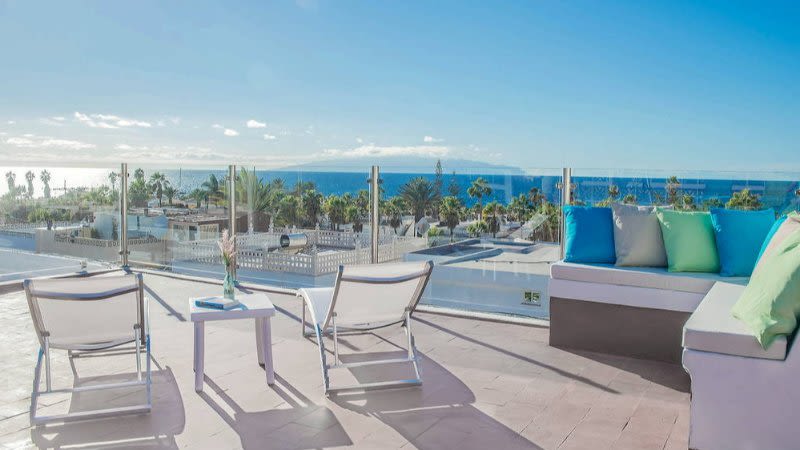 This amazing property is situated very close to the ocean in the urbanization Palm-Mar, which is in proximity to Los Cristianos and Playa las Americas.
The apartment has bikes available for guests so you can explore the area.
7. Seafront apartment, Oasis del Sur, 6 guests, 102€/night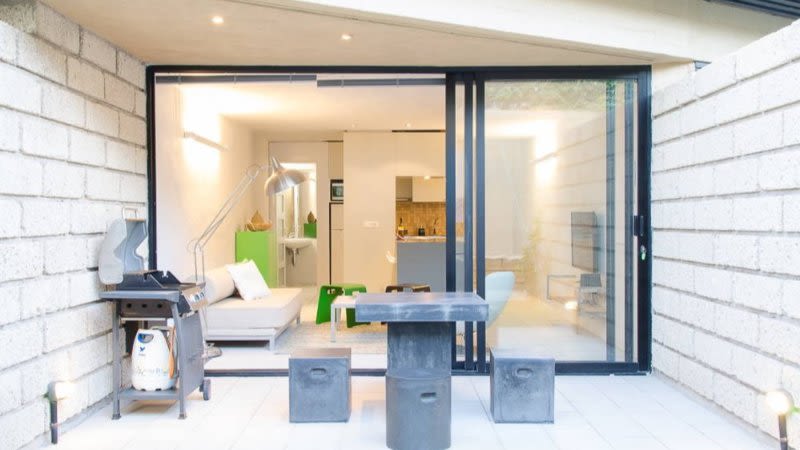 This is a 2 story apartment, very close to the sea.
It has an open space living room and 2 bedroom, but it can accommodate up to 6 people, so it's a very affordable apartment in Tenerife to choose for your holiday.
8. Casa Canaria with a pool, Candelaria, 8 guests - 110€/night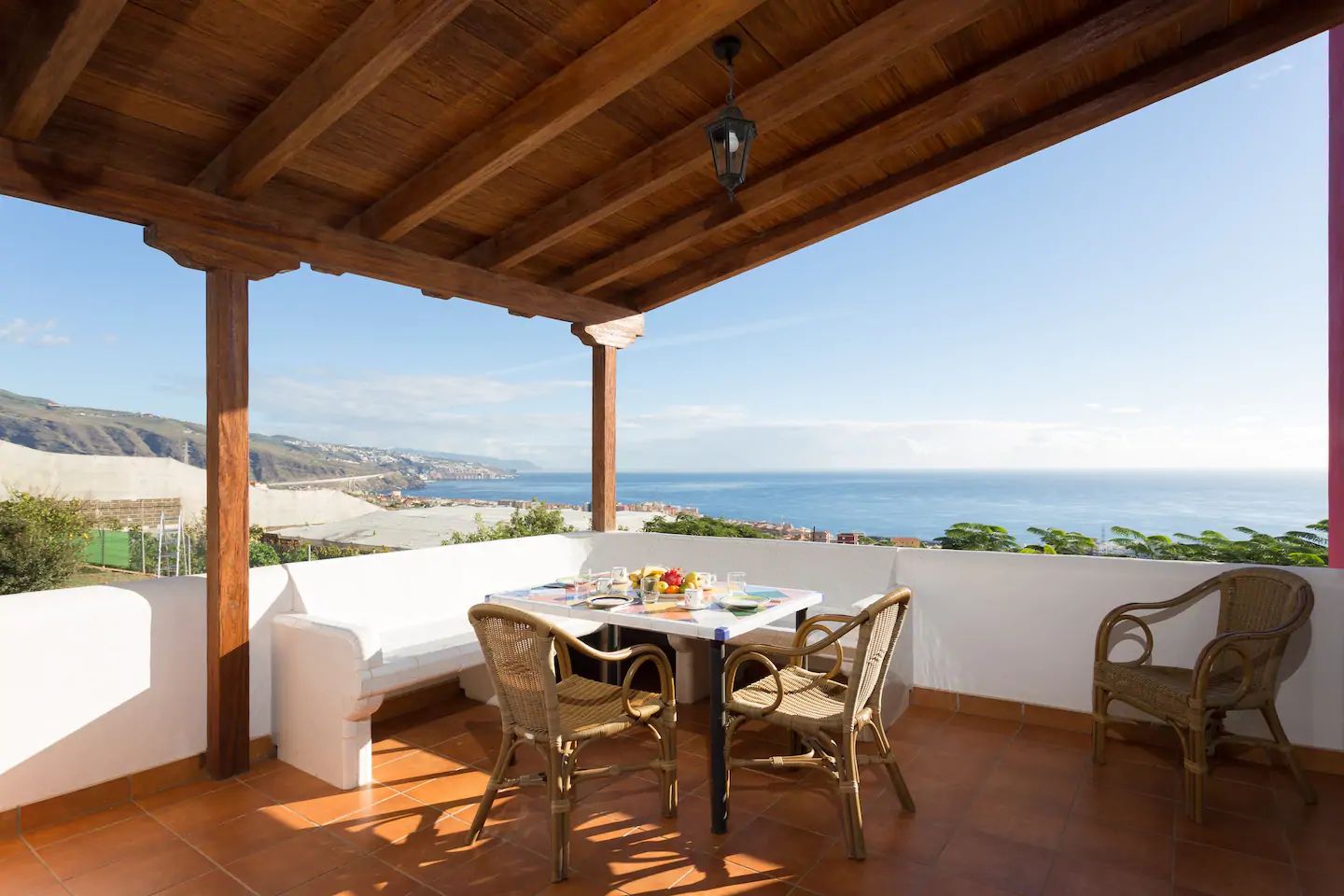 This house is situated in an area of Tenerife away from mass tourism, so you will be able to enjoy a quiet and relaxing vacation.
The design is typical for canarian houses and it's beautifully decorated keeping the same charming style throughout the entire house.
9. Casa Lydia, Erjos, 2 guests - 50€/night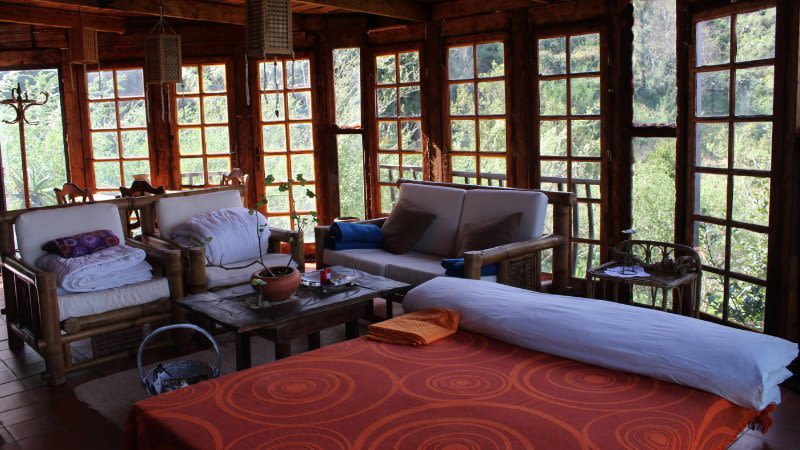 Casa Lydia is situated in the mountains and rural area of Tenerife, at over 1000 m altitude.
This house is well appreciated by guests who have stayed here before, since the place has over 120 reviews on Airbnb at the time of writing this article.
This is probably the most charming place of all included in this post as it looks like a house from a fairy tale, so cozy and inviting.
10. Eternal Spring Apartment, Tijoco, 4 guests - 50€/night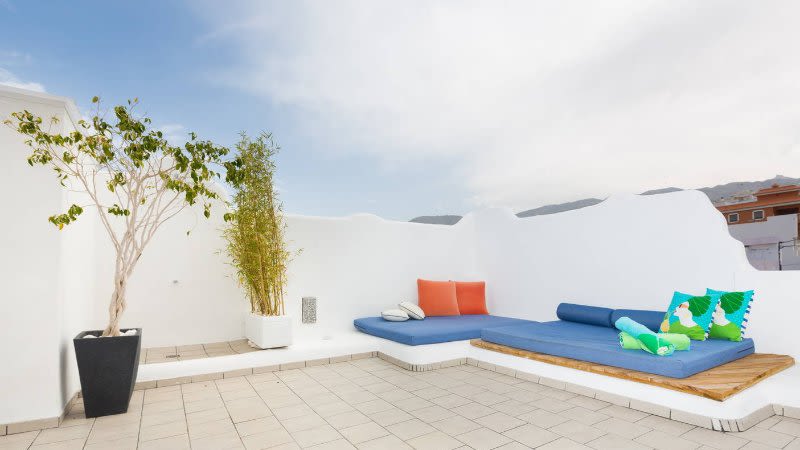 This apartment is also situated in a rural area of Tenerife and it offers the supreme chillout terrace.
You can lounge on the outside beds, that give the whole terrace a Moroccan vibe and you can simply relax and enjoy the good weather.
These are our top pick for Airbnbs in Tenerife. You can find anything from amazing cheap rental apartments to luxury houses, it only depends on what you are looking for.
Have you stayed in an Airbnb in Tenerife? Do you know of an amazing place that deserves to be on this list? Send us a message to let us know.