Best Time To Go To The Canary Islands - When To Visit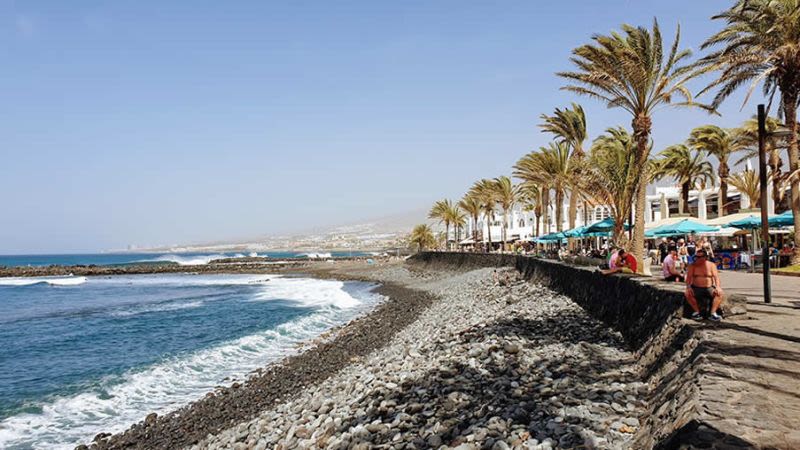 The Canary Islands are a popular holiday destination, especially for Brits and Europeans in general, who are looking for a sunny place where they can escape the cold weather back home in winter.
Due to their position, the Canary Islands have a privileged climate, with very few differences in temperature from one season to another, which makes them a popular choice during the colder months.
When is the best time to go to the Canary Islands
Very simply put, we would say that ANYTIME is great for a visit to the Canary Islands.
The islands have a subtropical climate, which means moderately warm winters and an extended summer that lasts up until October.
Of course there are differences in between the island, especially due to their exact position and geography, so you will find more detailed articles in our dedicated section for weather in the Canary Islands.
See also: Hottest Canary Island in Winter
In winter you can expect temperatures of up to 23°C on most sunny days, while at night the temperatures drop to around 16 - 17°C.
That is in places which are usually located in the south of the islands, because on some islands, like Tenerife and Gran Canaria, the weather in winter can be very different between North and South.
La Palma and La Gomera have a slightly different type of climate, known as subtropical humid, where it tends to rain more than in other parts of the Canaries. The subtropical humid climate is also found in Tenerife in the North, where it is essential for the developmentof the laurisilva forest, one of the most magical places that you can visit in Tenerife.
Spring and Autumn are usually considered the best seasons for hiking in the Canary Islands, since it tends to rain less than in winter, but it's also not as hot as in summer. Best places for hiking in the Canary Islands are La Palma, La Gomera and the north of Tenerife. The landscape is breathtaking, you see a lot of greenery and different types of vegetation, while enjoying gorgeous views of the coast.
In summer, the climate is greatly influenced by the trade winds, which are most predominant between June and August.
July and August are the hottest months in the Canaries, which means that they are also very popular times to visit for family holidays. In summer you will see many Spanish families coming over from the continent, in order to enjoy the sun and the lovely beaches as well.
Best months for swimming in the Canary Islands are from August until October, when the water really warms up (as much as it can warm up, considering the fact that the islands are surrounded by the Atlantic Ocean). It is true that in summer the water will never be as hot as in the Mediterranean Sea for example, but it's also true that in the Canaries you can swim even in January or February, while that is not possible anywhere else in Europe at that time of year.
Winter is a wildly popular time to visit the Canary Islands, because when other places already experience their first snow, the Canaries stay mostly warm and sunny, with temperatures still in their 20s°C. In winter we personally prefer Tenerife and Gran Canaria and we always look to stay in the south of the islands.
High season in the Canary Islands: Winter and Summer
Unlike most travel destinations, the Canaries have 2 high seasons: winter and summer.
While in summer you will see many families from mainland Spain and families with school aged children in general, in winter it is mostly the opposite. Many pensioners and retired persons are coming to the Canaries in winter looking to stay here for a few months, until the weather back home starts to warm up.
This means that if you are planning a sunny winter escape and you're looking to come to the Canaries, you should book well ahead of time in order to get a good deal on accommodation.
People coming over to stay over winter usually book a year in advance or even more, in order to get a good deal on price and to find something that suit their needs and is located in the right place.
Families who depend on school holidays usually come over to the Canaries in summer, when their children are on summer break.
This means that the prices for package deals will be higher in summer and winter, as opposed to spring and autumn. If you usually book your holiday on your own (like we always do), then you should know that prices for flights go up in summer and usually during school holidays, so we advise to book them ahead of time. Last minute affordable accommodation is a bit easier to find, especially if you are not picky.
Autumn and spring are not however considered low season in the Canary Islands, as the archipelago is a year round holiday destination. They are just not as wildly popular, but still attract a fair amount of visitors.
So, when is the best time to travel to the Canary Islands?
Best time to go for hiking and active holidays: March - May & October - November
Best time to go for sunbathing*: all year round
Best time to go for swimming: August - October. October usually has the highest water temperatures.
Best time to go to escape the cold: December - April
Best time for surfing in Fuerteventura and Lanzarote: for beginners from July until November; for advanced from October until December
Best time for surfing in Tenerife and Gran Canaria: all year round; but for advanced surfers the best months are from October until March
* Although sunbathing is technically possible all year round in the Canaries, no one can predict the weather exactly and so it can happen that you get a few overcast days even in the middle of summer. But remember that, even if you think it's cloudy and you don't see the sun, you can still burn your skin, so you should still use sunblock.
We have had sunbathing weather on all our visits to the Canaries, even in January, February or March. In February and March 2019 we were even able to swim on Playa Las Teresitas (located near Santa Cruz de Tenerife), a beach where you wouldn't normally expect to get such a great weather in winter. But that's not always the case, as in 2018 we weren't that lucky with the weather in the North, although it was still great in the South.
For a first time visitor to the Canary Islands we would recommend either to visit in September if you want to have the best beach experience, or come in December, in order to spend a different kind of Christmas, with sand castles instead of snowmen.
If you already know which Canary Island you would like to visit, you can read our more detailed dedicated guides