Best Time to Visit Gran Canaria - When To Come On Holiday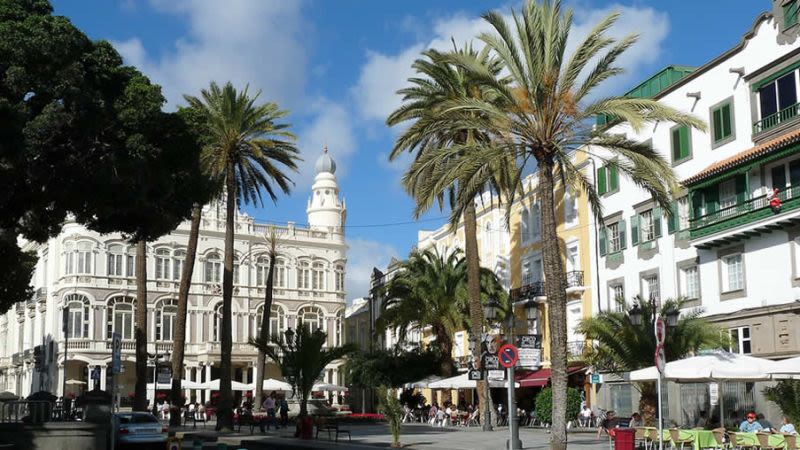 Gran Canaria is the second largest of the Canary Islands in terms of population and tourism, especially among visitors from European countries like the UK, Germany, Poland and all of Scandinavia.The island is filled with lovely beaches and also offers a diverse landscape, with many things to do for those visitors who wish to explore its best sights and attractions.
When to visit Gran Canaria
This is a difficult question to answer, because almost any time is good for coming over to Gran Canaria. This is due to the island's climate, which is favorable even during the winter months, when most other European destinations are fighting low temperatures and snow.
Also, it depends on why you want to visit Gran Canaria and what you plan to do there. Although most tourists come here to enjoy the sun and the beaches, other people come over to surf, to hike or practice other types of sports like cycling. In these cases you may want to study the weather a bit more in detail, in order to make the right choice in terms of which season you pick for your holiday.
Gran Canaria climate
The island is considered to have a desert climate, due to the lack of precipitation and high temperatures all year round. Especially during the summer months, the island gets almost no rain and temperatures are often above 30 °C, with a maximum UV index of 11 from June to August.
The good thing about Gran Canaria is that it's an all year round destination
If you want more details about the weather in Gran Canaria, see each detailed article regarding the month that interests you
Gran Canaria in Winter - Top destination for winter sun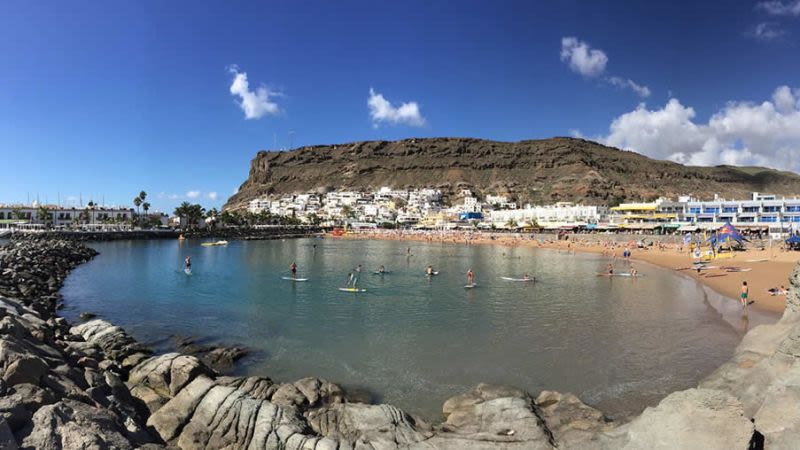 The winter months are considered high season in Gran Canaria, due to the fact that the temperatures are in their low 20s°C and you can still sunbathe on most days when the sun is out.
For a winter holiday to Gran Canaria we definitely recommend choosing one of the resorts in the south of the island, because this region enjoys the best weather conditions during the cold season. The north is more prone to rain during the winter months. But anywhere between San Augustin, Playa del Ingles, Maspalomas, Puerto Rico and Puerto Mogan is a good choice for a winter holiday.
For us, winter is the best time to visit the Canary Islands, because we want to escape the cold back home.... like all the other tourists who travel here from December to February.
You can expect temperatures from 20°C up to 25°C during the daytime, however at night the temperatures usually drop to about 16 - 18°C and you will need a coat or at least a cardigan. December is typically the wettest month of the year, while January and February are the coldest, with an average high of 20°C in Maspalomas.
According to weather averages and statistics, Gran Canaria and Tenerife are the hottest Canary Islands during winter, but only if you choose to stay in the south. Also, the Canary Islands are by far the warmest destination in Europe in winter, so if you want to go somewhere sunny and relatively close to home, the Canaries are your best bet.
Gran Canaria in Spring - Best time to visit if you are interested in hiking
We think that Spring is the best time to visit Gran Canaria if you are interested in hiking and discovering the island on foot.
The temperatures are a bit higher than in winter, the amount of rains drops considerably by the time May comes around and the island is in bloom.
The busiest time in spring is during Holy Week and Easter weekend, as well as during the half term school holiday, when prices increase considerably.
Gran Canaria in Summer - Guaranteed Sun and Hot Weather
Summer is one of the 2 high seasons in Gran Canaria (as previously mentioned, winter is the 2nd high season).
Summer is popular especially among families traveling with small children, who can only come over during the school holidays.
You will also see many Spaniards coming over from the continent, as well as people of all nationalities in Europe.
July and August are the hottest months, but the UV index is at its maximum starting from June, so make sure to use a high protection sun cream.
Summer is the best moment to come to Gran Canaria is you are looking for a sunny and HOT holiday, where you can sunbathe all day long and also swim in the ocean comfortably.
In summer you can even choose to stay in other parts of Gran Canaria besides the south, as the weather is warm and great all over the island.
Gran Canaria in Autumn - Make your summer last longer
Especially September and the first half of October still feel like summer in the south of Gran Canaria.
The temperatures remain high and in September and October you also get the warmest water for swimming in the ocean.
Autumn is also the best time to come to Gran Canaria for surfing, but the surfing season also extends throughout winter, all the way until April. But Gran Canaria is a good destination especially if you are just getting into surfing and are still a beginner.
November comes with the risk of some storms and rainy days, as the change of seasons happens during this months and the weather makes the transition to winter.
Gran Canaria low season - When is the cheapest time to visit Gran Canaria
If you are looking for a budget holiday to Gran Canaria you should avoid the high seasons, especially the months of July, August and December and January, when prices are at their highest level. This is the case for package holidays, as well as is you book independently flights and self catering accommodation.
You may find some good deals for June and the second half of January, but you would need to book well in advance. Even if you find a great deal on flights, accommodation may prove expensive if you leave it to the last minute, especially in winter when many places gets book for 3 or 4 months, by people who come over to spend the entire season here.
It is hard to name a low season in Gran Canaria, as the Canary Islands are a all year round destination and you can visit them during any season, because there is always something great to do and the weather stays fairly consistent throughout the year.
Cheapest time to visit Gran Canaria would be during March, April, May, October and November, as long as you avoid school holidays, Easter and the carnival season.