Gran Canaria Markets - Times, Locations & What To Buy There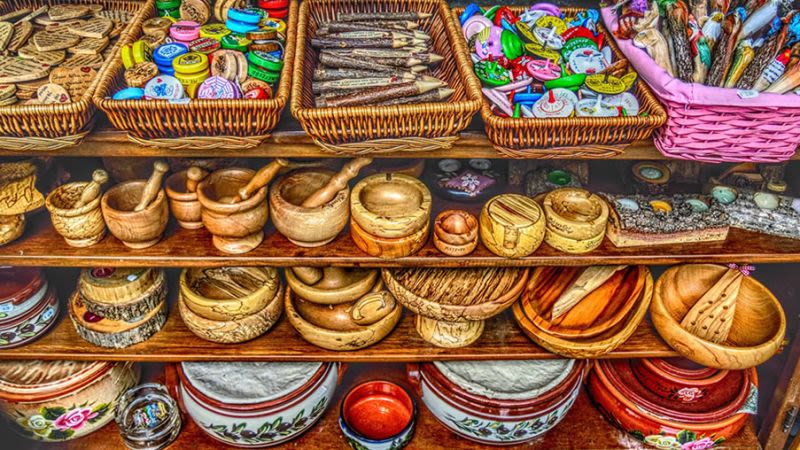 Gran Canaria is an ideal place for shopping during your holiday, as the island has over 20 weekly markets and a few annual ones. See which are the best markets in Gran Canaria and where you should go for your souvenir shopping.
No matter where you are staying, you will be able to find a local flea market or craft market close by. In Spanish these are called Mercado Artisanal or Mercadillos, depending on their size and the products that are being sold.
A great number of weekly markets are scheduled during the weekend, but you will also find on our list some options for midweek shopping.
Las Palmas de Gran Canaria is the capital of the island, so it makes sense that the largest city on the island is a great place for clothes, perfumes, jewellery and also souvenir shopping.
MARKETS IN LAS PALMAS DE GRAN CANARIA
The street markets in Las Palmas all take place on Sunday morning, so make sure to visit at least one if you find yourself in the city.
1. Vegueta Craft Market / Mercado de Vegueta
Plaza del Pilar Nuevo
Every Sunday, 11:00 - 15:00 (except July, August, September)
2. San Lorenzo Farmers Market
General de San Lorenzo avenue
Every Sunday, 8:00 - 13:30
If you want local produce and you want to taste fruits, vegetables and other products native to Gran Canaria, then this is the place to come.
3. Municipal Flea Market Las Palmas / Mercado Central Las Palmas
San Telmo Park
Every Sunday, 9:00 - 14:00
4. Annual Craft Fair in Las Palmas de Gran Canaria
San Telmo Park
Every year, 2 - 5 January
Organized by FEDAC
MARKETS IN THE SOUTH OF GRAN CANARIA
The markets in Gran Canaria South are the most popular among tourists since here is where the big resorts are located. You'll find plenty of stalls with souvenirs and fake brand items of clothing, handbags and pieces of jewelry, as well as some stalls selling handicraft items (which we encourage you to support).
5. Mogan Market
Puerto de Mogan
Fridays, 8:00 - 14:00
The Friday market in Puerto de Mogan is one of the largest in Gran Canaria and it has a huge offering of products, from fresh fruits and vegetables to clothes and souvenirs. The crowds are big here on Fridays, so come prepared and watch out for pickpockets.
6. Mogan Arts & Crafts Market / Mercadillo Playa de Mogan
Playa de Mogan
Mondays, 9:00 - 14:00
Following the success of the Friday market, there is another market now held on Mondays, focused on artisanal products, handmade on the island. If you are looking for something more special to buy as a gift or souvenir, then this might be a better choice for you.
7. San Fernando de Maspalomas Market
Wednesday and Saturdays, 8:00 - 14:00
Maspalomas market is one of the largest markets in the south of the island. You can come here by public bus since there is a special bus route that brings people to the market.
If you're only coming here for the day, make sure to hit some of the other places to visit in Maspalomas, especially the amazing Maspalomas Dunes.
8. Arguineguin Market
Plaza de Arguineguin
Every Tuesday, 8:00 - 14:00
9. Vecindario Market
Plaza de San Rafael
Every Wednesday, 8:00 - 14:00
OTHER MARKETS IN GRAN CANARIA
The rest of the island has plenty of shopping opportunities to offer also; most of the smaller towns inland host their own market or Mercado.
10. Teror Market
Basilica of la Virgen del Pino
Every Sunday, 8:00 - 14:00
11. Aguimes Market
Close to the municipal swimming pool
Every Thursday, 8:00 - 13:00
12. San Mateo Market
Town center
Saturdays and Sundays, 8:00 - 14:00
Similar to Santa Brigida and San Lorenzo, this market has fresh products from Gran Canaria: mostly fruits and vegetables. It's a traditional market, so ideal if you want to taste the charm of the island.
13. Galdar Market
Plaza de Santiago
Every Thursaday, 8:00 - 14:00
14. Santa Brigida Market
Friday, 18:00 - 20:00, Saturday 7:00 - 20:00, Sunday 7:00 - 14:00
A very popular food market for vegetables and fruits. The products sold here and usually more expensive that the ones you can find at the San Mateo Market or San Lorenzo Market in Las Palmas.