La Palma Weather in April - Warm & Perfect Spring Weather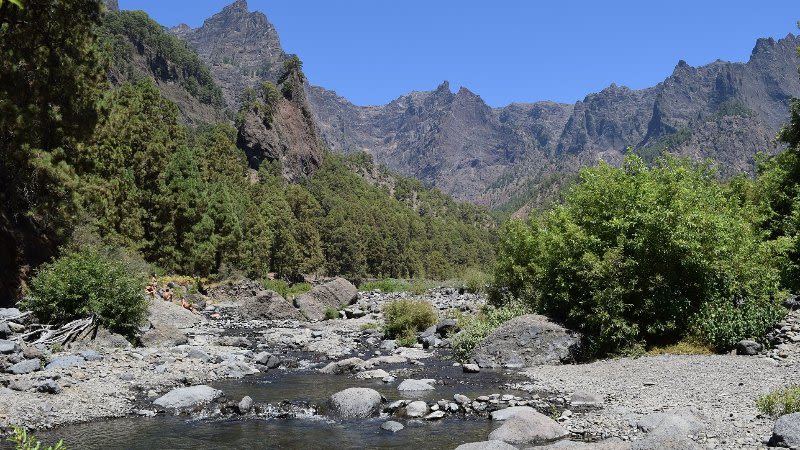 If you're looking for a travel destination for April, where you can be outside and enjoy nature, then la La Palma is a top choice, as here you have beautiful weather, tall mountains, volcanic beaches and lots of sunshine, compared to the rest of the Northern hemisphere of the world.
La Palma is also called La Isla Bonita, which means The Pretty Island, and this is because of its natural beauty, with unique volcanic landscapes, which make it into a real gem, even among the rest of the Canary Islands.
Weather averages for April in La Palma
These temperatures are measured at the meteorological station in La Palma Airport (close to the island's capital - Santa Cruz de La Palma), on the east coast of the island.
RECORD HIGH TEMPERATURE: 36.6°C
AVERAGE HIGH TEMPERATURE: 21.6°C
DAILY MEAN TEMPERATURE: 19 °C
AVERAGE LOW TEMPERATURE: 16.3 °C
RECORD LOW TEMPERATURE: 10 °C
AVERAGE RAINFALL: 23 mm
AVERAGE RAINY DAYS: 3
MEAN MONTHLY SUNSHINE HOURS: 177
MEAN DAILY SUNSHINE HOURS: 6
SEA TEMPERATURE: 20 °C
What's the weather like in La Palma in April
The weather in April in La Palma is really pleasant and warm, without being overly hot or rainy, as some places in Europe can be in spring.
The rainy months are almost behind us by the time April comes around, so the precipitation really shouldn't worry you too much.
The number of hours of sunshine and the sea temperature also increase towards the end of the month, but this can't be guaranteed, as the weather has become quite unpredictable even in the Canaries lately. April will be a much hotter month than the previous ones anyway, so bring mostly T-shirts and bathing suits with you, but don't forget a rain jacket or a cardigan as well (the jacket is necessary especially if you plan to go hiking).
See our recommendations for the best things to do in La Palma
Temperatures in April in Santa Cruz de La Palma
The average temperature is 19 °C, which is a mean value calculated between the average high temperature during the daytime of 21.6 °C and the average low temperature of 16.3 °C.
With a daily mean of 19°C in April, La Palma is still one of the warmest destinations for a spring holiday in Europe.
Temperatures will drop of course if you go on top of the mountains and keep in mind that Roque de Los Muchachos is situated at 2,423 m above sea level, so a good windproof jacket will be useful.
Rainfall
The average rainfall in April: 23 mm
The amount of rain the island gets continues to drop considerably in April, with only 23 mm of rainfall (compared to 33 mm in March).
Rain usually happens during the course of 3 days in April, so there are slim chances that rain will ruin your trip to La Palma.
Sea temperature in April in La Palma
Average sea temperature in April: 20°C
The ocean temperature starts to warm up a bit, getting to 20°C, which might be comfortable for swimming for some people.
This temperature depends of course on the beach that you choose; we recommend sheltered coves and natural swimming pools, which are more protected and the water has more time to warm up from the sun.
Sunshine hours and daylight hours
Daily hours of sunshine: 6
The average daily hours of sunshine stay pretty much similar to the previous month, although the days will get longer as the month progresses.
With 6 hours of sunshine per day in April, La Palma is still one of the sunniest destinations that you can find close to home when traveling from a European country.
Events in April
28 March - 3 April 2021 - Semana Santa
Easter is often celebrated in April, so Semana Santa is usually the busiest week during this month on the island. There are many Spanish families who visit from the continent and there are also residents from the other Canary Islands, coming on holiday to another island.
If you plan to spend Easter in La Palma we recommend that you don't leave for the last minute, as prices will go up and it's unlikely to find cheap flights on short notice.
Should you come on holiday to La Palma in April?
In our opinion YES, because the weather is really pleasant compared to most other European destinations, which usually face a lot of rain in spring.
April is still quiet and the accommodation prices are lower than in summer (in many places). The weather is great for hiking and walking, as the sun is not as strong and hot as in summer when it can be hard to be out on the trails.
La Palma is a year-round destination and April makes no exception; if you love the outdoors then you will love La Palma and you shouldn't postpone your travels any longer.