Las Teresitas will become a dog friendly beach in 2018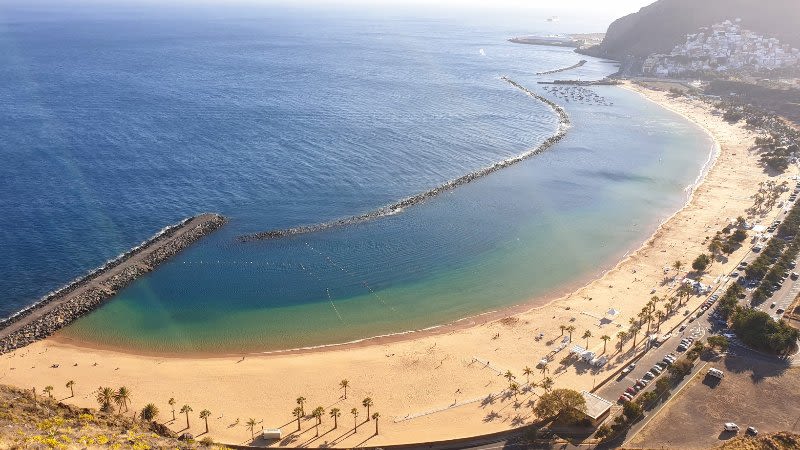 The City Council of Santa Cruz de Tenerife has announced the fact that starting from 2018 dogs will be allowed to go in the ocean on the beach of Las Teresitas.
The council has allocated a budget of 25 000 euros in order to create an area dedicated to dogs on the beach Las Teresitas.
Playa de Las Teresitas will become a dog friendly beach in the north of Tenerife
Up to this point bathing for dogs on this beach was strictly forbidden. The area dedicated for dogs will be towards the end of the beach, where wooden posts will be attached in order to tie the dogs when they are on the beach sand. The mayor of Santa Cruz has declared that they still have to establish the exact amount of space that will be dedicated for this area and another important thing to be noted is the fact that while on the sand, the dogs will have to remain tied to the wooden posts - they won't be allowed to run freely among the people present at the beach.
This will be a pilot project in Tenerife and depending on how it works, there may be some other changes made in order to accommodate everyone's needs better. There are no exact dates as to when it will be ready, but the mayor estimates that before summer 2018 owners will be able to take their dogs for a swim at the Las Teresitas beach.
Also, the municipality will make more efforts next year regarding Playa de Las Teresitas in order to obtain again the Blue Flag distinction, that this beach has lost 14 years ago. It would be nice to see some improvements made in this area, as this is truly one of the best beaches in Tenerife and it deserves to be well taken care of.