Hike the famous Masca Canyon in Tenerife, Canary Islands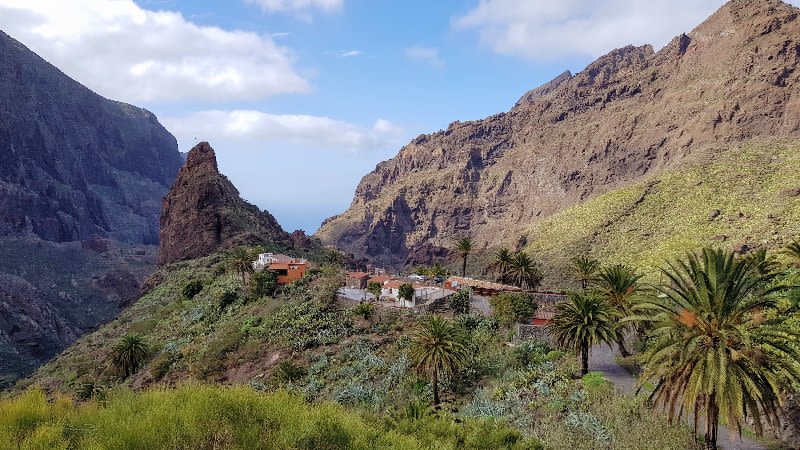 After years of being closed, while works have been underway to prepare for the reopening of the trail, the Masca Canyon will reopen on March 27th, 2021.
If you want to do the hike through Masca Canyon in Tenerife, please read the following rules and regulations regarding tickets and visitation:
If you want to go on the trail, you have to get to Masca village only by public transport from Buenavista del Norte or from Santiago del Teide.
In order to access the ravine, it is recommended to reserve the entrance in advance at www.caminobarrancodemasca.com
You can also reserve your ticket at the Masca Visitor Center, although availability for the same day is not guaranteed.
For the moment, this ticket will be free.
In the future, a rate of € 8 will be charged for Canarian residents, and € 16 for non-residents.
The ravine is not recommended for children under 8 years old.
The tour will be carried out with a helmet and requires a high physical effort.
You have to do the hike both ways - down and then back up from the beach (in no case will the trip be made by boat).
Access will be in groups of 25 people every half hour.
The opening hours of the canyon trail will be from 8:00 a.m. to 6:00 p.m. in summer, and from 8:00 a.m. to 5:00 p.m. in winter (at the moment, only weekends and holidays). Three control points have been established at the beginning, in the middle of the ravine and on the beach.
Active tourism companies will have 50% of the tickets reserved.
It is nice to know that visitors and locals will be able to enjoy this unique place in Tenerife once again, respecting the rules in place, in order to ensure sustainable tourism in the area, protecting both the inhabitants of Masca village, as well as visitors.
The village of Masca is actually one of the most charming villages in Tenerife, so it's really worth visiting and for people who love hiking, the reopening of the canyon will provide just one more reason to visit the place.