Masca, Tenerife - A Pretty Village Hidden in the Mountains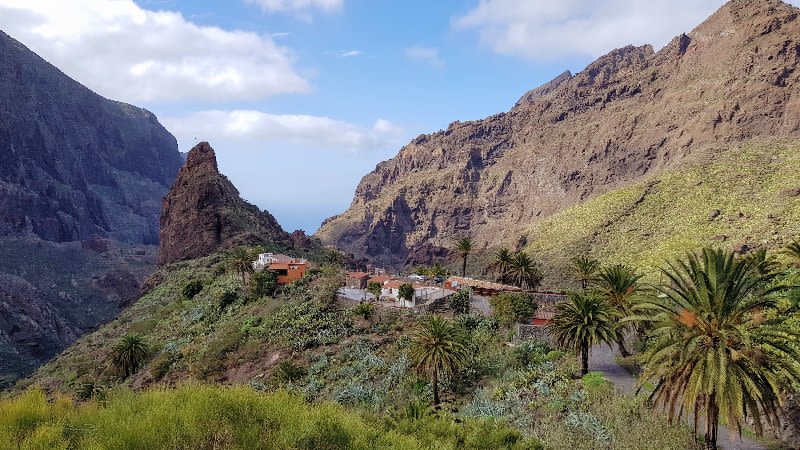 The story of Masca valley in Tenerife is the perfect mix of mystery, legends of pirates, and incredible scenery, making Masca befitting of the title of Tenerife's prettiest village.
Tenerife was the first Canary Islands that we ever visited and we absolutely fell in love with it the day we visited Masca.
We went to Masca on one of our first drives in Tenerife because it was one of the first things that stood out from the research we had done at that time about the island. I remember the thrill and the combination of fear, amazement, and excitement while we were driving up to Masca for the first time. Many years later, whenever we go back there, we still feel excited and even a bit anxious about the journey.
The village Masca is situated at a high altitude of around 750 m in the Teno mountains, on the western side of Tenerife.
Nowadays, the village is part of the municipality of Buenavista del Norte and it's home to around 90 people who still choose to live here.
There are legends that say that a long time ago, pirates used to hide in the valley of Masca, but none of these claims were ever proven. Still, it's a story that every tour guide loves to tell and this bit of mystery is what makes the village even more attractive to visitors.
Why should you visit Masca in Tenerife?

What's all the hype about Masca and what's the village like?
Although nowadays it's a very touristy place, Masca is one of those special places in Tenerife that anyone visiting the island should get to see.
The view from the top of the village is spectacular and by the time you'll get there you'll already be amazed (or incredibly scared) by the road you had to take to get there.
It's all about the breathtaking views, the plants and vegetation (especially if you're visiting in winter after it's been raining) and the atmosphere of the place, which is very different from the one in the big resorts, especially if you get there before the bus tours.
Bars and restaurants in Masca
Although it's a small place with only a few houses, there are some bars and restaurants where you can enjoy lunch with a view or even only a coffee and an almond cake.
Restaurante El Guanche is the best-reviewed restaurant in Masca and offers incredible views from the terrace.
Masca Canyon hike (Barranco de Masca)
Hiking the Masca ravine all the way down to the ocean is now once again possible!
See in our dedicated article all the info needed to do the hike through Masca Canyon, since you will need to go accompanied in a group and them hike back up, as it is not possible to return by boat.
How to get to Masca in Tenerife

You have 3 options to get to Masca village
By car - rent a car and drive here yourself
By public transport - there are some small buses (Guaguas) that come here from either Santiago del Teide (no. 355) or Buenavista del Norte (no. 355 and 365).
By a bus tour, with an organized excursion
If you're a confident driver, we recommend that you drive to Masca yourself, since the journey there is a huge part of the experience. The road to Masca is incredible with many hairpin turns and twists, so it's not for beginner drivers or for the faint of heart. The road is also very narrow and there are a lot of big buses circulating with tourist groups, so it can be challenging sometimes.
Most visitors will come to Masca from the south of Tenerife, so you will come from the direction of Santiago del Teide. Along the way, there are several viewpoints where you can stop to admire the view if you have the room where to leave the car without blocking traffic.
Parking at Masca
There is public parking when you arrive at Masca, but the number of parking places is not sufficient for how many tourists arrive here at the same time during the day.
Advice no.1: Get there early, preferably before 10 - 11 am.
Traffic gets really busy when the bus tours start and it will also be more difficult to find a parking place.
Advice no.2: Don't leave anything of value in the car!
Unfortunately, many rental cars have been broken into when tourists stopped to take a picture or wander through the village, so don't give them a reason to be tempted to break into your car.