Lunar Landscape Hike in Tenerife - Paisaje Lunar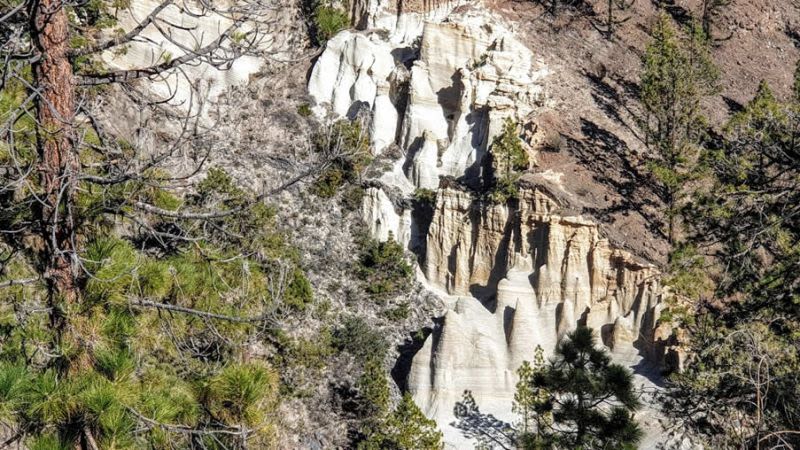 TWe did this hike on a sunny and warm day at the beginning of March and we started our journey in the South of Tenerife where it was a bit cloudy. On our way towards the Lunar Landscape (Paisaje Lunar), we started to see the clouds beneath us and when we got at a high point, above the clouds, we were able to get a glimpse of Gran Canaria, which made for a pretty amazing view.
The Lunar Landscape hike in Tenerife is among our favorites on the island, because of the location, the beautiful pine forest, the views towards Gran Canaria and the amazing sensation of walking above the clouds.
Our advice: go on this hike for the journey, not for the destination
We've seen some reviews online regarding the Lunar Landscape saying it wasn't anything special or worth seeing.
And we agree that the Lunar Landscape itself might not be amazing enough to justify the long and pretty hike up there. But we loved the entire journey up there, we loved the beautiful path among the pines, the volcanic landscape, the view towards Gran Canaria and the feeling of freedom we get when we're out exploring the nature around us.
If you love hiking, walking or exploring nature, then you will enjoy this hike. This isn't just a short hike or an easy walk, so keep in mind that you should also be prepared with hiking boots or shoes if you plan to do this route.
Tenerife has some pretty amazing sights and views and when exploring the mountain trails you will get to see a totally different side of the island, as opposed to the most popular places in Tenerife South.
Paisaje Lunar Hike PR-TF 72 is an officially approved hiking trail in Tenerife
This means that the entire route is marked with signs and there is no chance of you getting lost, even if you don't use a hiking app or a map.
You can just follow the signs and you will be able to complete the PR-TF 72 hike.
The Lunar Landscape is a circular hiking trail in Tenerife
There are 2 possibilities for completing the Lunar Landscape hike.
The long and official route: Vilaflor de Chasna - Lunar Landscape
Start: Vilaflor
Finish: Vilaflor
Difficulty: Intermediate
Distance: 13 km
Duration: 4-5 hours
Highest altitude: 1967 m
Lowest altitude: 1381 m
The official route of this hike starts in Vilaflor, the town situated at the highest altitude in Tenerife out of all other towns and villages.
You can park at the public car park next to the church and close by you will find the first signs indicating the direction you have to take for the Lunar Landscape.
The first half of the hike is the hardest part because it continuously goes up. You will be climbing from 1381 m to 1967 m and it's a pretty difficult climb, depending on your level of fitness.
Please bring enough water and wear good hiking shoes.
Don't go on this route wearing sandals or simple trainers, as your feet will hurt and you won't be able to enjoy this hike properly.
Also, bring something to eat, as you will be burning some calories along the way and you will want to stop for a picnic at some point.
We actually stopped for a quick picnic at the very highest point, when we reached the 1967 m altitude, because from there we had a gorgeous view of the clouds beneath us. It was truly a lunch with a view and there was no one else around!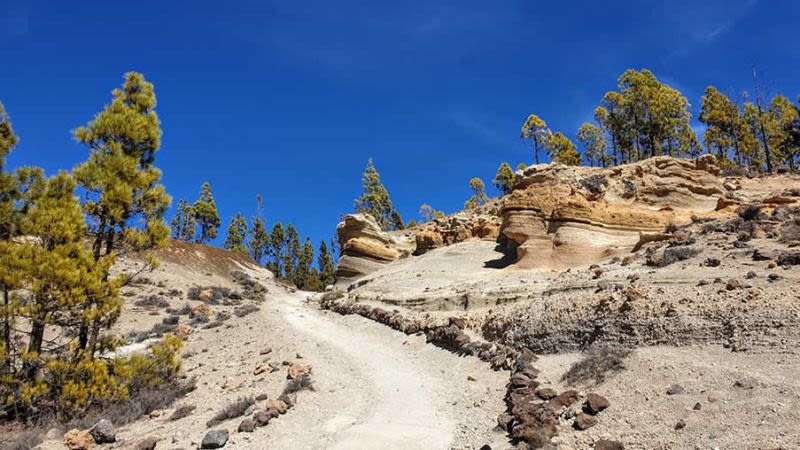 The shorter route of the Lunar Landscape Hike: from TF-21 take the unpaved road that will take you to Entrada a la ruta a un Paisaje Lunar
Start: See here on Google Maps. On foot, you will start where it's marked La Entrada a la ruta a un Paisaje Lunar
Finish: At the same point where you started and left the car - this is a circular route
Difficulty: Intermediate
Distance: 8,2 km
Duration: 2,5 - 3 hours
You can see below the version of the hike that we did and we had a moving time of 2,5 hours and a total time of 3,5 hours, including all the stops for photos, water and a quick picnic.
Once you get to Vilaflor you can keep driving on the TF-21 road until you get to this point (coordinates: 28.1652759,-16.6344329).
Here you can drive on the unpaved until you will see a carpark where you can leave your car and join in the route to the Paisaje Lunar.
If the road is closed on the day when you drive there (it can be closed with a barrier depending on the weather), then you have to leave the car in the public parking in Vilaflor and walk from there.
From Vilaflor to the point where we started the route you have to walk 3,3 km on foot each way. See here on Google Maps.
If you start the hike early in the morning, then you can go for the long route.
If you started later in the day as we did, it is advisable to take the shorter route or to postpone the hike for another day.
Read also: Best Things To Do In Tenerife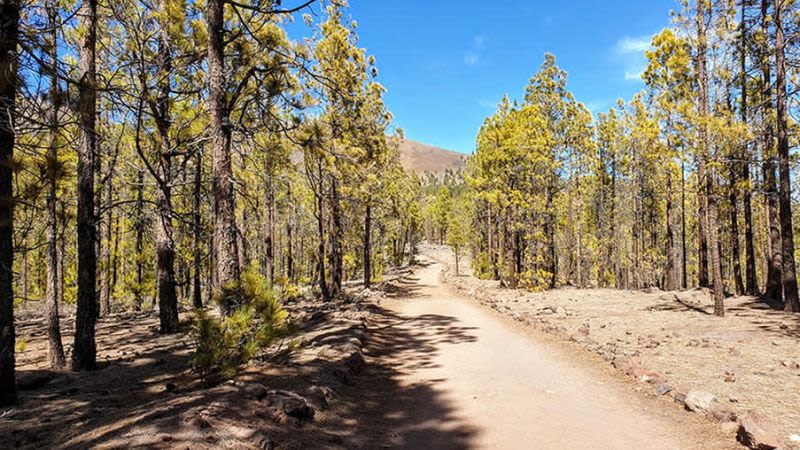 Our impressions of the Lunar Landscape hike in Tenerife
We absolutely loved the hike more than we thought we would.
We had read the reviews and opinions online and we started the hike without great expectations.
But we really enjoyed the walk from start to finish and especially we loved seeing Gran Canaria and the sea of fluffy clouds beneath us (we realize that this won't be the case for everyone, but in our case, it was a great experience).
The Lunar Landscape itself isn't anything out of the ordinary and you shouldn't do this hike just to see it. You will see it from afar anyway, from a lookout point, and it may not be so impressive from a distance as it may be from up close.
We did the hike at the beginning of March and when we left Puerto de Santiago it was a bit cloudy and the forecast for Vilaflor said a maximum temperature of 12°C. But when we got to the starting point of the route our car thermometer indicated 19,5°C, so it was significantly warmer and it was full-on sunshine.
How to get to the Lunar Landscape in Tenerife
By car
We advise that you have a car if you plan to do this hike.
You can drive on your own up to Vilaflor or up to the other starting point that we mentioned and from there you have to walk. It's not a short or an easy walk, so you need at least half a day for this activity. If you prefer an easier hike, we recommend the Chinyero Volcano Walk.
By bus
You can get to Vilaflor by bus and from there you can do the entire 13 km hike. You will need a full day for this activity and we advise that you check the bus schedule ahead of time, to see when the last bus passes through Vilaflor. You can also book accommodation in Vilaflor, as there are lots of hiking trails in this area.