Rambla de Castro - An Amazing Coastal Walk in Tenerife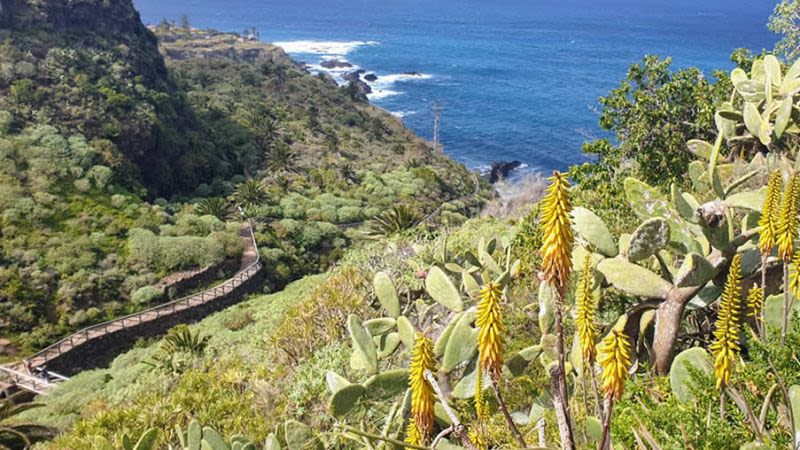 Rambla de Castro is a protected natural space covering around 46 ha, situated in the municipality of Los Realejos and very close to Puerto de la Cruz.
A tasty surprise in Los Realejos...
Since we weren't staying in this area of Tenerife and we came here by car, we first parked our car in Los Realejos to have lunch and only afterward proceeded on our walk. In Los Realejos we had the pleasure to discover a lovely restaurant which we recommend that you visit if you are ever in the area: Mi Guachinche Casa Pedro (see what a guachinche is, in case you do not know). We had lunch here before we went to Rambla de Castro and when we came back we had an early dinner here as well since we didn't want to go back to Puerto Santiago (where we were staying) without having another meal here.
How to get to Rambla de Castro path in Los Realejos
First of all, this is a linear walk, which means that if you come by car, you will have to go back to where you started using the same route. Or, of course, you can choose to go back by walking through Los Realejos, instead of taking the coastal path on your back.
From Restaurante Mirador de San Pedro
If you are coming from Garachico, Icod de los Vinos, El Tanque
This is one of the most popular places to start your walk on Rambla de Castro. Park near the restaurant, grab lunch here if you want and then you can start your walk.
From Playa Los Roques
If you are staying in Puerto de la Cruz and you are coming from that direction
You can park close to the Maritim Hotel Tenerife and from there you can go towards the beach easily and start your walk.
These are the easiest points from where you can start the walk, as they are the extremities of this wonderful route, that will simply blow you away.
From Calle Romantica I
We actually started our walk on Rambla de Castro from Calle Romantica I, as we were coming on foot directly from Guachinche Casa Pedro in Los Realejos.
We did not move our car to this point, instead, we just walked here but you can come by car and park it here if you want to start your walk at this point.
A bit about the history Rambla de Castro
The protected space that is now known in Tenerife as Rambla de Castro was once the property of Don Hernando de Castro, who owned this space after the Spanish Conquest.
This space is known for its luxuriant vegetation and many different types of flora, which you will be able to observe on your own while walking along the coast.
La Casona, also known today as the Aula de la Naturaleza, was once the home of the Castro family and when you get there, you have to stop and think for a while how it must have been living in this house back in the day, in this wonderful part of Tenerife, surrounded by palm trees and with the ocean only a few feet away.
Unfortunately when we visited the building was closed, although it looked somewhat restored, as opposed to some of the other buildings around it.
From La Casona, it only takes you a few minutes to walk also to Madre de Agua, a beautiful pond nearby and from there continue on the wooden bridge to Cueva del Naciente de Madre de Agua. It was really peaceful and quiet when we visited and we almost felt like in a zen garden, surrounded by water, greenery, palm trees and the wonderful wooden bridges and benches.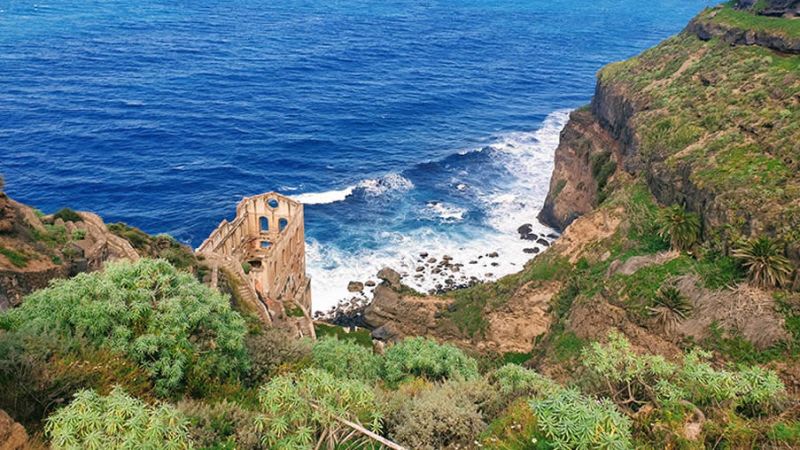 What you will see along the coastal walk Rambla de Castro - points of interest:
Ermita de San Pedro Apostol
La Casona / Aula de la Naturaleza
Fortin de San Fernando (San Fernando's Fort)
Playa de Castro
Playa Fajana
Barranco de Godinez
Elevator de Aguas de la Gordejuela
Playa Los Roques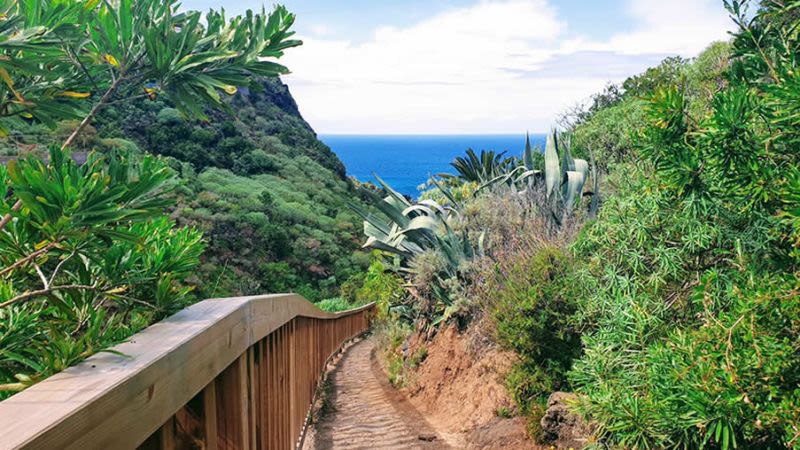 Our impressions of Rambla de Castro in Tenerife
We 100% recommend Rambla de Castro coastal path to anyone interested in walking in Tenerife and discovering the coast on foot.
We did this walk at the end of February 2019 and although it wasn't a sunny day, it was a warm day and only a bit windy.
As we said, we entered the Rambla de Castro path from Calle Romantica I and from there we walked up to La Casona and Madre de Agua (we did not walk all the way to the Restaurante Mirador de San Pedro).
From La Casona, we came back on the same path and continued our walk until we reached Playa Los Roques.
In total, both ways, it took us around 2 h 30 minutes to do this walk, with all the stops for photos, since there are so many lovely views along the way.
We recommend that you wear hiking shoes if you plan to do this walk since it will be much easier for you this way. There are some parts where you have to climb a steep path, but in general, it is an easy walk and if you aren't in a hurry and you take your time, it is a suitable walk for anyone, including children.
We really loved discovering Rambla de Castro and this part of the coast. We did a lot of walking in Tenerife and this particular walk, plus the walk from Los Gigantes to Playa San Juan, are our big favorites. If you want a fairly easy walk with breathtaking views of the ocean, Rambla de Castro will win your heart immediately. The landscape here is so green and lush compared to the south of Tenerife, that you will love every minute of this walk.
But be aware that there are some portions where you have to climb and also the terrain can be rough sometimes, but if you have the proper shoes and you take your time (bring water with you!), you should have a wonderful time doing the Rambla de Castro walk!